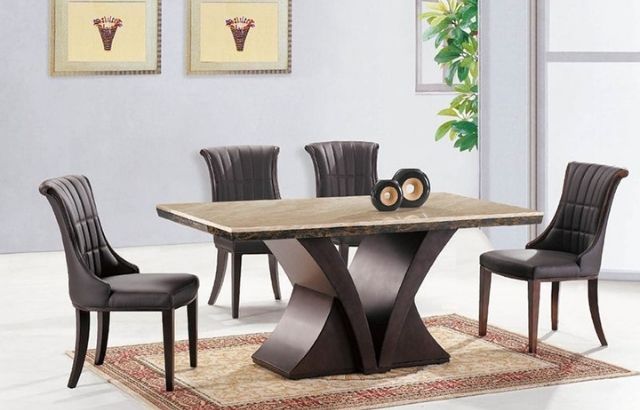 Type of Dining Tables for Small Kitchens | 6 Best Types in Modern Day
Disclaimer
Articles, products, and services offered on this site are for informational purposes only. We are part of the Amazon Services LLC Associates Program, an affiliate advertising program. Amazon.com is compensated for sales resulting from links on our website.
Please review our disclaimer before acting based on anything you read or see.
The kitchen is the symbolic place of the home. Place where we elaborate the daily delicacies, making our palates happy. It has several elements to fulfill this function. They have a variety of sizes, depending on the style of the house or apartment.  Small kitchens are now popular, so they include the essential equipment. As a result, due to the area and the corresponding table, we discover stoves as neat cabinets. The sort of dining tables and combo that work well in tiny kitchens are morning bars. Everything must be done in accordance with the space's décor and dimensions.
Nowadays, having a dining table in the kitchen is the trend. This fulfills different functions. In addition to eating, work and school tasks are performed with the children. For all these reasons, below, we will name the types of tables used in this decade:
Type of Dining Table for Small Kitchens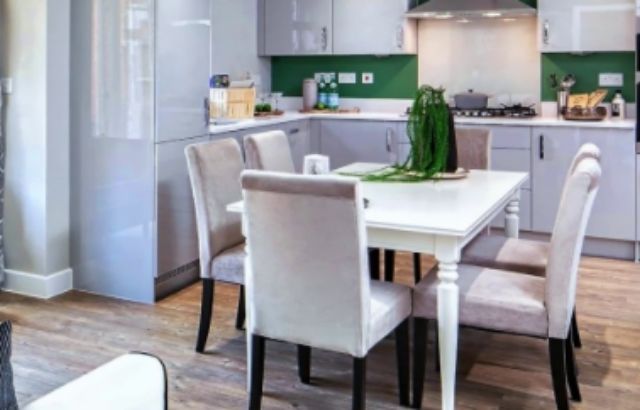 Modern tables
Modern tables are open to the dining room, joining with the kitchen. They mix decorations with design, style, finish, and luxury materials. Currently, modern tables are combined with classic chairs. They must be in harmony with the rest of the decoration.
Learn More: Dining Room Chair Dimensions
Corners Tables
Corner tables are ideal in small areas. They have the diversity to take advantage of the spaces in a pleasing way. They allow having a reduced number of diners.
Rectangular Tables
Rectangular; this classic of tables is widely used. They are usually used for large spaces, giving options for several people when eating thus, also having a comfortable working space.
Square Tables
Square tables are ideal for any space. In the market, we get them in different sizes. Thus, it adapts to any existing dimension.
Triangular tables
Triangular is made for small spaces and few diners. It adapts to the decoration and style, giving the correct use to the area to be selected. They provide comfort without saturating the space, giving a special flavor to breakfast corners.
Extendable or folding Tables
Extendable or folding, recommended to take advantage and save all the floor space with a great variety of models and sizes. It gives you the alternative to reduce or enlarge the size to your liking.
Round, at sight, they seem light, offering food stands according to their size. They can be extendable or fixed. It is a matter of evaluating the space to be used; to define their place. They are classic and are available in any material. They are usually combined with different types of flooring.
There is a lot of variety and diversity in the type of dining table for small kitchens. You should evaluate all factors. To achieve an aesthetic and practical balance, you must use the spaces you have in the right way. In this way, we will name you some tips according to space:
Having enough space to place a formal dining room is a great virtue of the apartment in an independent space. It has to be decorated depending on the occasion. You can alternate decorations for breakfast nooks, lunch, and dinner since space allows it. The ideal is to create a natural environment in the kitchen-dining room. It has to have a balance with the other areas of the house. Dining rooms have different styles and shapes, based on the design of the chairs and tables. Having the right space is a matter of imagination when choosing it. Combine with a table according to the kitchen; it is a start.
Now; the thing is
The dining room in the kitchen; they are practical. You have everything at hand. You can use the different types of dining room. Use a modern dining table for small spaces modern, a very current option, which allows you to give that elegant balance—saving an appropriate space, highlighting the area's decor. It is widely used in studio apartments with narrow spaces. These should be in harmony with the lighting and colors.
Dining rooms in the living room or bedroom are currently used near the windows. However, it is rarely used for eating. It is a drop-leaf table, ideal for reading and doing work without stress, taking advantage of the day or night's natural light. The furniture should be proportional and adaptable to the site. 
Dining rooms in the office are those that occupy spaces attached to the kitchen. These are ideal for breakfasts and sudden dinners. They use benches with cushions on the seat and backrest.
Installing a type of best table for small kitchens is possible with this information. We have a place to share and satisfy the palate and utilizing the available spaces in the home—the goal to be accomplished. Thus, a variety of questions are generated, which we will answer with criteria and emphasis.
Type of Dining Table for Small Kitchens: FAQs
What type of table is best for a small kitchen?
There is a wide variety of tables for small kitchens. They are convenient and practical to use. The transfer of food is short, up to the palate. They are useful to interact with family members during meals. Having little space in the kitchen limits a certain number of models. It is necessary to take into account a series of aspects before choosing the type of table:
Know exactly how big the area to be used is. Take into account how many people will regularly use the dining room.
In this way, choose the size on a logical basis. Thus, do not saturate the area and take advantage of the space. You will decide which the best tablet for a small kitchen is. Among the types of the table for a small kitchen we have:
Rectangular or square tables are recommended for their versatility of use and space-saving. It can be placed on the wall when not in use—combined with the correct decoration and benches. They provide a harmonious state to the place.
Extendable or folding tables can become larger. You will save space in the day-to-day. And if you have guests, it will also be useful—ideal for small kitchens. Nowadays there is a great variety of designs and models.
What are small kitchen tables called?
The referential term used by the small kitchen table is mise a place kitchen, which means set up. It is guided by space-saving and functional, being one of the versatile in the home, becoming more than a place to eat and a work area or place to discuss important issues. 
Types of Small Tables
Here are some valuable options:
Table with drawer unit, usually made of wood. Apply space-saving function. We are adding drawers for storage and creating harmony with the kitchen design.
Table IKEA, ideal for urban and small places such as studio apartments. They give great visual harmony to the area.
Expandable table with shelf, with great versatility, including a side shelf, with a folding wing system for the surface. Ideal for making the most of space.
A small and modern folding table comes with a great variety of materials. They give that necessary modern and classic style. These modern kitchen tables for small spaces are the boom nowadays.
Tables with folding chairs have space where you can store the chairs.
What is the best dining table for a small room?
The tables that fit in small spaces are rectangular or square footage because of their ability to fit close to any wall. It gives the advantage to save space and, for its variety of types, an unbeatable versatility, fulfilling an eat-in kitchen dual function to consider. Next, we will name the currently recognized ones:
All in one are tables with shelves ideal for taking advantage of space. You can use it to place necessary and useful objects. They have a great variety of styles and designs. They are only a few inches wide. Folding wall-mounted, they are part of the decoration and can be picked up. It is very practical, offering unbeatable options at the moment of taking advantage of the spaces and taking advantage of all the room's square feet. 
Folding and flexible tables, for their already known capacity for expansion, is an option that you should always consider. Dining tables for small spaces that expand are viable options. It provides a dual function of decoration and work. Overhead or wall tables are attached to the surface. They are usually used with benches and chairs with backs. Becoming; in a small dining table, which is used for basic tasks.
Final Words
At this point, based on the information we have had. We are recognizing the different types of dining tables for small kitchens and knowing their types and benefits. Differentiating; is the option to manage to choose the right one, depending on your space. We manage to conclude:
Dining tables in small kitchens provide flexibility and great harmony in daily activities. By having clear objectives such as dimensions and space, choosing the right one is the child's play.
Motivated by the great variety on the market, there are many options regarding economy and casualness. This way, you can combine with the diversity of existing materials. You are using different chairs and benches to enhance the decoration of the area. As we observed, you can use dining tables and the kitchen in other home areas based on space.
This information's primary function is to allow you to create a pleasant and comfortable environment. This double-duty thing is nice, regardless of the space you possess.
In this way, your ability to choose has grown to one hundred percent, with the ability to capture an idea that decorates and is useful in the kitchen—highlighting all the basic aspects creating the necessary harmony that the site requires. You are showing your work of art to the world.