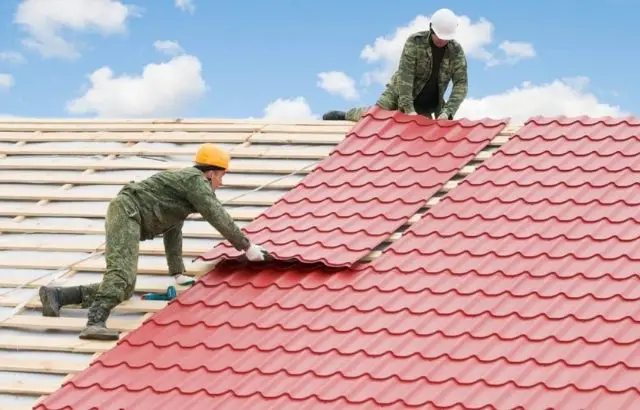 Weight of Roofing Materials | A Full List of Roofing Materials Weight
Disclaimer
Articles, products, and services offered on this site are for informational purposes only. We are part of the Amazon Services LLC Associates Program, an affiliate advertising program. Amazon.com is compensated for sales resulting from links on our website.
Please review our disclaimer before acting based on anything you read or see.
The roof is in charge of protecting us from the weather and the different climatic changes of the region. For this reason, it is necessary to take into account what type of material has ours to take into account the benefits and disadvantages, to take advantage of all its benefits. Taking this into account, we must be mystical when building or remodelling our house. Regardless of whether the arrangement is made by qualified personnel or us is hired for the work. You must consider the weight of roofing materials to match the architectural structure.
In this way, we have to consider different aspects that will guide us to make the right decision:
Consider your current roof. Be aware of the type of material you have, and it will give you an idea of the weight that supports the structure of your home. Different considerations are taken to replace with the same material or try a different one considering the age of the work and the roofing system that suits you.
Age of the structure, taking into account the age of your home, is an important fact. Which, with the damages caused by the years and different daily problems, tend to weaken? Leaks, constant weather changes, and tectonic movements are inconveniences that can affect. Therefore, replacing the roof with a lighter one will restore and preserve the architectural structure.
Choosing your next roof, the first thing to do is know if you will replace, restore or remove the old top. Once you have evaluated the best option, you should consider applying two coats to make a long-term investment for durability and safety. The weight of your roof is essential. The lower its importance, the more protection it will provide to your home. It will not strain your foundation because it will not strain it. Don't forget when changing or replacing your roof; have a dumpster according to the material to be removed.
Weight of Roofing Materials
Asphalt roll roofing (1.1 lbm/ft2, 5.4 kg/m2)
Asphalt shingle or asphalt-fiberglass composite shingle (2.7 lbm/ft2, 13.2 kg/m2)
Metal roofing – aluminum or steel – panel, sheet or shingle (1.2 lbm/ft2, 5.9 kg/m2)
Terne plate – copper bearing steel sheet (0.7 lbm/ft2, 3.4 kg/m2)
Wood shingle or shake (2.4 lbm/ft2, 11.7 kg/m2)
Zinc roofing (1.6 lbm/ft2, 7.8 kg/m2)
Copper-asphalt composite shingle (4.2 lbm/ft2, 20.5 kg/m2)
Asphalt roll roofing (1.1 lbm/ft2, 5.4 kg/m2)
Felt, tar and gravel roofing – 3 ply (4.8 lbm/ft2, 23.4 kg/m2)
Felt, tar and gravel roofing – 4 ply (5.3 lbm/ft2, 25.9 kg/m2)
Felt, tar and gravel roofing – 5 ply (6.1 lbm/ft2, 29.8 kg/m2)
Felt, tar and slag roofing – 3 ply (4.5 lbm/ft2, 22 kg/m2)
Felt, tar and slag roofing – 4 ply (4.8 lbm/ft2, 23.4 kg/m2)
Felt, tar and slag roofing – 5 ply (5.3 lbm/ft2, 25.9 kg/m2)
Ceramic slate (5.8 lbm/ft2, 28.3 kg/m2)
Reconstituted slate (4.4 lbm/ft2, 21.5 kg/m2)
Clay tile (10.8 lbm/ft2, 52.7 kg/m2)
Asphalt roll roofing (1.1 lbm/ft2, 5.4 kg/m2)
Concrete tile (9.3 lbm/ft2, 45.4 kg/m2)
Slate – 1/4″ to 3/16 thick (9.1 lbm/ft2, 44.4 kg/m2)
Slate – 3/8″ thick (12.8 lbm/ft2, 62.5 kg/m2)
Slate – 1/2″ thick (18.8 lbm/ft2, 91.8 kg/m2)
Slate – 3/4″ thick (26.0 lbm/ft2, 127 kg/m2)
Currently, there are a variety of roofing materials, which must take into account the environment and the homes where they will be installed. Below, we will give you a breakdown of all the relevant information about them:
Roofing Materials
Aluminum and cardboard
They are very light, ideal for structures with little resistance. Very modern, they can be installed on any construction site with simple foundations of any load. Their resistance lies in adding scissors under the plate, ideal for tile roofs with dead loads. On the exterior, the aluminium shears carry the sheets of special plasterboard for covers, which are waterproofed and insulated, applying a correct operation in the tile roof or other type.
Acrylic and metallic
It is ideal for terraces and outdoor patios, for its versatility and lightweight. They are very light and easy to install due to their structure based on angles and anchoring to the walls. Acrylic & metallic should not have 60 centimetres of separation, where the acrylic plates will rest, forming the roof. They support the weight of the 24 gauge metal roofing weight, widely used in these areas.
Wood
Depending on the kind of slate, this form of construction has to be painted. Because there are so many different varieties of volumetric timber available, woods are fairly affordable. The best solution is to leave the structure exposed and add your own color of paint for a decorative touch. Applying the necessary waterproofing will give you a roof that is secure, affordable, long-lasting, and attractive.
Brick
Also called brick vaults, they provide an original and warm design, ideal for interiors. Bricks on joists offer stable support with a lot of strength. They are generating cozy designs; based on the light and climate of the region. They are very economical; to make the structures and roofs today. You can apply a few coats of paint, thus highlighting and giving an original touch.
Wood and tiles; very used in outdoor spaces such as galleries and terraces. Its simple structure is based on wooden beams and bars; this structure rests on clay tiles or other material. It provides a cozy, simple, fresh, and safe place, combined with any tile.
Reeds on steel
It is ideal for outdoor spaces that need to support a significant weight. The structure is applied in steel beams, reinforced with squares in the columns, sides, and medium angles. Nowadays, planks are used transversally to secure the reeds. A modern style allows the use of natural light as a decorative element.
They are a standard metal structure with metal profiles and fabrics where the fabric rests, forming the ideal roof for exteriors. Its economic and versatile application gives an option in this modern era to combine decorative elements. The material; can be replaced at any time for another or to be washed. They are allowing you to change your decoration for events or family gatherings.
Apparent concrete slab
Is a monolithic structure combined with steel without special finishes? The idea is to show the interior of the slab naked, giving an elegant touch. The exterior must be waterproofed and adequately insulated. As its structure is not distributed with large soffits and finishes, it is an economical and safe option. Installing modern industrial style light fixtures gives that essential decorative touch to the area.
Lightened joist slab used for tile roofs
A concrete and steel reinforcement joined by a series of interlocking beams and combined with polyethene, as an insulating material. They are supported by dimensional wood formwork on the sides and underneath, whose function is to load the slab of these heavy roofs.
Lightened joist slab used for tile roofs is ideal for laying tiles because of their robustness and safety. They provide shelter for a long time. They are not economical, but they are the safest at present, supporting the weight of asphalt shingles, aluminium shingles, and their components.
Roofing sheets
They are used to make roofs, which function as a structure due to the versatility of the material and design of these metal roofs. Roofing sheets bring that industrial and contemporary touch to the home and are formed through steel beams that support sheet metal plates. They have a variety of ribbed designs that invite your imagination. They must be covered with special anti-corrosive roofing paints, with adequate waterproofing. Fill a container if you want to buy roofing sheets!
In analyzing all this information regarding the type, warranty, structure, and weight of roofing materials, specific frequently asked questions arise:
Weight of Roofing Materials: FAQs
How much does the roofing material weigh?
Nowadays, there is a countless variety of roofing materials, which generates a range of options. Thus, we find materials with different packaging, weight, and quality, which must be suitable for the structure where you will install it. On the internet, some applications work as roof weight calculators which with a series of data average the weight that the roof should have for your structure. However, based on the materials currently used:
Aluminum with a weight of 0.50 PPS.
Painted steel, 0.80 PPS.
Copper, 0.85 PPS.
Stone coated steel, 1.25 PPS.
Lightweight asphalt shingles, 2.75 PPS.
Dimensional fiberglass shingles, 4.5 PPS.
Wood shingles, 4.5 PPS.
Wood shingles, 6 PPS.
Concrete tile, 8-10 PPS.
Clay tile, 8-10-12 PPS.
How much does a roof weigh per square foot?
To establish the total weight of a ceiling per square foot, you must take the whole length of the area of the house into account. This way, you know the exact size of the roof. Identify the roofing material and its waterproofing components. With this data, you can apply a rule of three and obtain the approximate weight of your roof. You can also use applications available on the web to make this calculation. In this way, you know the importance of the weight of building materials that make up the site. The roofing materials' weight per square meter can vary depending on the area and components used.
What is the lightest roofing material?
Based on today's materials, it can be specified as the lightest roofing material in the market, such as aluminum. It is widely used for its adaptation to any structure because it is so weak. It is providing freshness, security, a guarantee, and a modern design. Resistant to continuous climatic changes, they survive any region, such as cold, heat, wind, among others. They offer savings for being economical and their long duration in time. There are various designs of aluminum tiles; that decorate with warmth and harmony in exteriors and interiors of homes.
Bottom line
We have the necessary information to know the weight of roofing materials that will help us remodel or change the roof of your home.