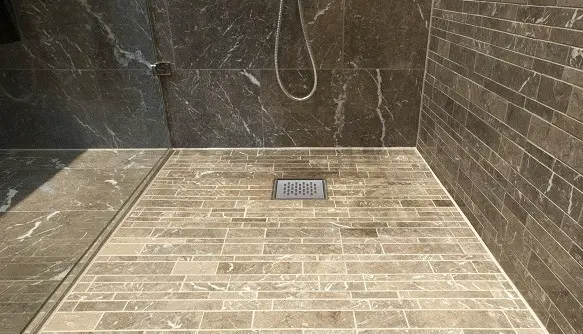 Wet Room Flooring Types | Different Types & Characteristic
Disclaimer
Articles, products, and services offered on this site are for informational purposes only. We are part of the Amazon Services LLC Associates Program, an affiliate advertising program. Amazon.com is compensated for sales resulting from links on our website.
Please review our disclaimer before acting based on anything you read or see.
When you plan to design a wet room, it involves careful attention and consideration to ensure that it will look great and works well for all materials. So when you plan a damp room, you have to choose the layout, materials, and style that suits your entire home building. Therefore, you have to consider the number of factors that imply wet room flooring types.
Wet Room Flooring Materials
The proper flooring materials are an essential component for wet rooms because they need non-slip bathroom flooring options. The type of wet room flooring materials depends on the uses you go for, and the prices also vary on this factor.
Popular options for a wet room are as under:
Tiles are an excellent option for wet rooms as they are available in various colors, and look, give a hard-wearing and beautiful looks.
Vinyl tiles are cost-effective and in a wide range of colors and styles are available, also water-resistant and mold.
The last is rubber; it is a durable, warm underfoot and is available in different unique colors and patterns. 
When designing a wet room, one of the most critical decisions is to opt for a type of floor to be used in your bathing place. You can choose different wet room flooring types that all have their characteristics and configurations.
Tiles are the most popular options to design wet room floorings. 
Let's discuss few options.
Wet Room Flooring Types
Ceramic
Ceramic floor tile is durable, waterproof, and is available in many colors, styles, and sizes, and is the most popular material used for wet floors. 
They are made up of sand, clay, and water and fired in the kiln to make it harder and denser.
It would help if you chose textured tiles to get a more secure footing.
These tiles are resistant to stains and easy to clean, and long-lasting.
Porcelain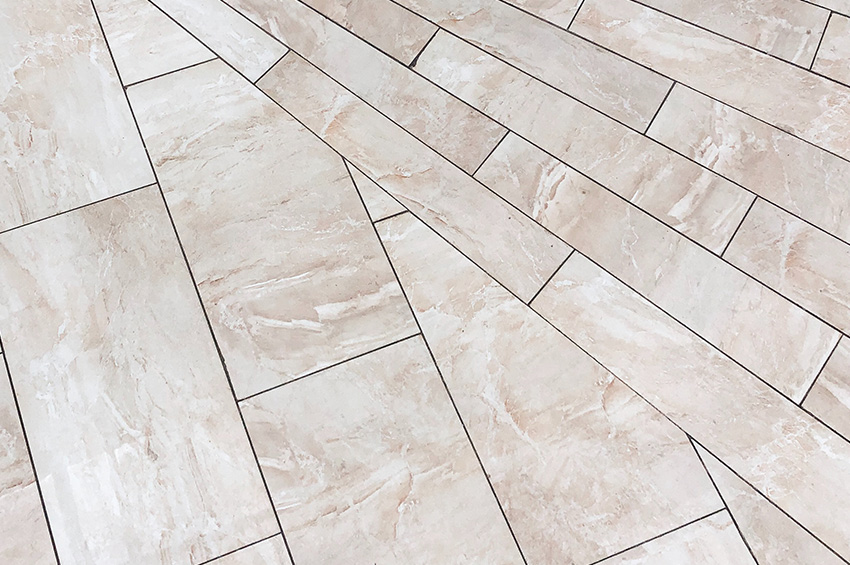 Porcelain tiles are made up of denser clay as compared to ceramic tiles and manufactured at higher temperatures. According to the report organized by the American society for testing and materials, it can absorb water rate up to 0.5% or less.
The porcelain tile agency needs all porcelain tiles to absorb less than 0.5 water, making it the most water-resistant flooring option.
If you want 100% durable, low maintenance, and 100% waterproof material, porcelain and vinyl tiles are the best options.
Vinyl floors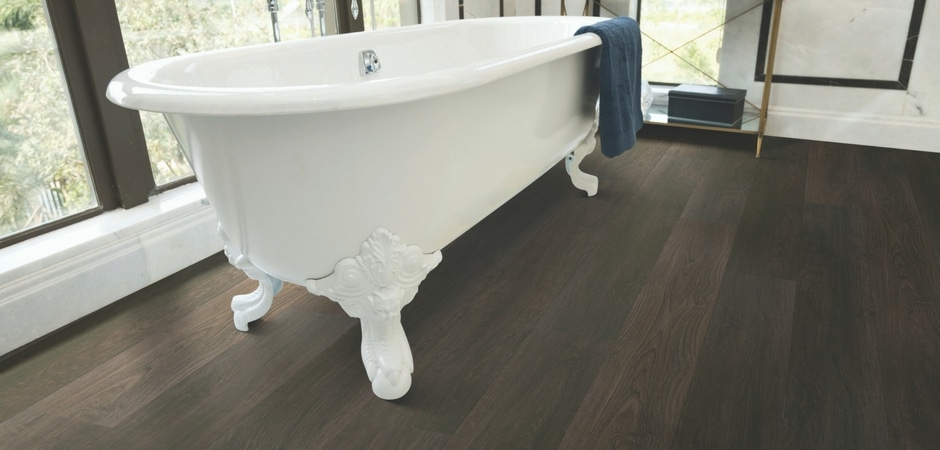 It is a cost-effective and easy to clean type of flooring.
The vinyl tile option is 100% waterproof like other waterproof materials and is also 100% waterproof for hard surfaces.
The 100% vinyl floors are available in two styles like wood plastic composite and stone plastic composite.
How to Pick the Right Wet Room Flooring
When planning to opt for tiles for wet rooms or bathrooms, pick the tile of your choice first. Choose the three different types of tiles and stick to one show stopper. Now you should think about maintenance into consideration and the cost of it. Also, it will help if you opt for those highly water-resistant, durable, and long-lasting options that can overcome moisture and mold issues.
If you opt for concrete flooring will give your wet room a rough and uneven look. On the other side, if you opt for non-porous materials like ceramic and porcelain, it will be the best option to go for. Porous tiles like marble and slate need sealing after six months because they let the water go through them.
Learn More: How To Cut Marble Tile
Types of Waterproof Vinyl Flooring
Luxury vinyl is durable, waterproof flooring with the same look as the hardwood stone without the hefty price tag. It is also referred to as LVT/LVP; luxury vinyl comprises multiple layers that aid in the design, durability, and ease in drainage, ease for cleaning purposes, and ease in maintaining this beautiful flooring choice.
Read More: How Many Coats Of Water-Based Polyurethane On Hardwood Floors
Construction of water-resistant laminate flooring
With the new laminate technology, many manufacturers now offer water-resistant and waterproof laminates that can withstand spills and surface moisture in wet rooms like bathrooms. The laminate floors include Aqua guard, Shaw repels, Dream home X20.
Moreover, depending upon the flooring quality, it can last between 15 to 20 years on average or more extended.
Best Flooring Coverings for Damp/ Wet Locations
The places in a wet, damp, and moist home expose some significant challenges like mold, moisture, and mechanical breakdown of the materials used in floors.
Stone floors
If you want a luxury option for your waterproof floors, stone-made floors are considered best. Stone tiles include marble, granite, slate, and limestone. It is incredibly stylish, less expensive, and durable.
Read More: How To Clean Grout Between Marble Tiles
SlipX Solutions Extra Long Deep Foot Massager Bath...
Foot Massager: Made of durable, high-quality vinyl uniquely designed to feel as though you're walking on a stone beach from it's various depths & dimensions. Creates a beyond compare deep tissue massage on tired feet.
Benefits: Walking on pebbles is a perfect deep tissue massage that is known to reduce tension and lower blood pressure from stimulating acupressure points on your feet. Enjoy spa-like treatment from your own home with this smooth textured pebble shower mat.
Oversized Coverage: Great extended length providing 25% more slip-resistance coverage than other standard bathtub mats. Measures 38"L x 17"W
Hybrid floors
Hybrid floors are the best options for wet and moist places like bathrooms and kitchens because they are 100% waterproof.
These floors are unique in their characteristics with both vinyl and laminate flooring types. They are made by compressing different layers of materials and are available in various styles and patterns.
Bathroom Flooring Ideas for Damp /Wet Locations
Laminate flooring
Traditionally the laminate floors have not good experience with water and moisture, but with the introduction of waterproof hybrid floors, the few manufacturers of laminate floors had made highly water-resistant laminate types of competing for. 
Laminate floors can hold water and moisture for more extended periods and make them water-resistant to the high level in most conditions.
Engineered timber flooring
If you are not fond of manufactured vinyl and timber floors and are looking for natural wood floors, you can opt for a wide range of engineered timber floors. It is made of a 100% waterproof multi-layer core attached to the surface layer of authentic timber. It comes in the original Australian timber types and the first kind of engineered wood.
Vinyl flooring ideas for guest bathroom
The vinyl flooring for bathrooms has mainly two types, and it is essential to know the difference between the two types when you are planning to update your bathroom floors.
Waterproof vinyl floor plank flooring
Having tiles in your bathrooms can upgrade your standard of living and style. It comes in big and long sheets and planks that mostly resemble traditional hardwood floors. If you like the artificial wood floor, then it will be your right choice.
Waterproof vinyl tile flooring
If you are worried about the moisture and mildew in your bathrooms, these square-shaped waterproof vinyl tiles come with a great variety of colors, materials, and patterns. These are as good for bathrooms and wet areas of your homes because they are highly water-resistant.
Vinyl flooring is always the right choice.
Vinyl floors have always been a good option because of the following reasons
It has always considered being more durable, budget-friendly.
With the advancement in technology in printing patterns, it is more water-resistant and waterproof.
It gives a high-end finish look that resembles hardwood flooring type and stone flooring.
Learn More: How To Remove Candle Wax From Hardwood Floor
Wet Room Flooring Types: FAQs
What flooring is best for wet floors?
Porcelain tile is often used in showers, bathtubs, pools, and other pure-water areas. As with porcelain tiles, ordinary ceramic tiles is an excellent choice in the regions that see pudding or standing water.
Can you use vinyl flooring in a wet room?
Vinyl can be provided with slip-resistant forms making it perfect for wet rooms.
What is the best floor for a walk-in shower?
Porcelain tile is the most durable option. It is made of denser clays than ceramic and fired for longer at a higher temperature, making it more robust and has fewer pores. As a result, it's highly resistant to water. Porcelain is also low maintenance, which is an upside for many homeowners.
How do you waterproof a wet room floor?
Make sure the surfaces are flat, even, and smooth. Apply the first coat of primer and leave the primer to dry. Apply the second coat of primer and apply waterproof tape. Tape the joists between the floor, and seal around the drain. Ensure the video is securely stuck. 
What's the difference between a walk-in shower and a wet room?
The difference between the walk-in shower and a wet room is the hat; in a damp room, the space is entirely open plan, and the water flows away through a drain in the floor, whereas a walk-in shower typically features one or two glass screens and a low-level shower tray.
How long should wet room flooring last?
These strict regulations mean that wet room lighting and electronics should last 50 years. It is good to get the services of a qualified electrician when undertaking any electrical installations in a damp room.
Conclusion
So it is concluded that planning and designing wet rooms like bathrooms need attention and consideration regarding materials and flooring options. There is a wide variety of floors and materials marched according to your entire home décor and choice. Most people want to have their wet rooms more stylish and more attractive than traditional bathrooms, so they opt for the best materials, type of flooring ideas, colors, and patterns are concerned. Therefore, if you want your floors to protect from damage, wear, and tear, you should not compromise on the materials and cost of the best flooring options.