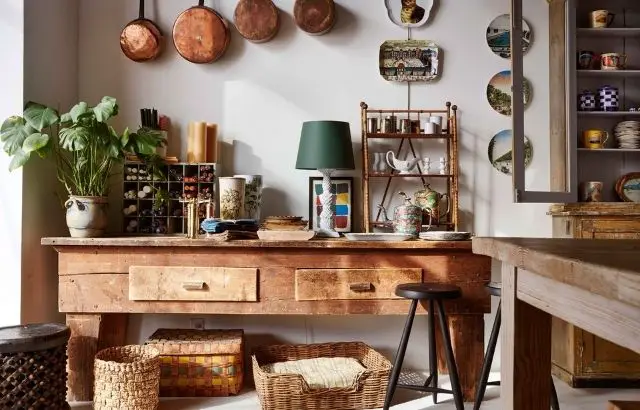 What is Home Decor | A Definitive Guide With Ways Of Decoration
Disclaimer
Articles, products, and services offered on this site are for informational purposes only. We are part of the Amazon Services LLC Associates Program, an affiliate advertising program. Amazon.com is compensated for sales resulting from links on our website.
Please review our disclaimer before acting based on anything you read or see.
The decoration is understood as modifying the interior or exterior appearance of a particular area of the home. Its function is to change the established environment, following specific patterns until the desired satisfaction is achieved. The combination of different elements such as furniture, pictures, paintings, among others, is sought. To have a home where to feel relaxed. The point is to achieve comfort, intimacy, and style with a decoration to your liking. The question; what is home decor? In simple words, the Home decor is the art of making your home look nice. It refers to the aesthetic components used to make a home more attractive and visually appealing. There are numerous styles of home decor. The options of colours, styles of furniture, and arrangement of objects in a room are limitless. To learn more analyze the following aspects:
Ways to Decorate my Home
Our decor for the home should reflect our lifestyle; it is the identity of our naked personality. We are living our tastes and experiences mainly. It is necessary to combine materials to make a correct combination. Here are some tips:
Decorate with fabrics
There is an excellent variety of decorating styles and materials in the market, which you can use to dress windows to remodel sofas. Suppose the intention is to upholster a sofa. In that case, the ideal is to use resistant neutral fabrics, which are easily incorporated into any contemporary design structure, for window dressing, viscose fabrics, linen, or cotton with spectacular durability and very bright colors. Not to forget; solid and patterned fabrics, giving a great look and variety of design choices.
Decorating with wallpaper
Using patterned paper gives a special touch, great character, and style, with various color schemes. They are used in rooms to provide an ideal motif for children and teenagers. In which you can reflect their personality and ingenuity. You can also use it in bathrooms; they provide decisive criteria to the area. They are very economical compared to other forms and fulfill the function to the fullest.
Decorate in a vintage style
Tiles on walls are a modern and exclusive work of art. Combine these coverings with mirrors and lights, an unbeatable option. The areas where they stand out are bathrooms and kitchens. However, in living and dining rooms, they are being used a lot nowadays with great decoration offers. The idea is to achieve the perfect balance between all and reach the desired harmony.
Decorate with natural finishes
Giving the subtle touch to combine elements in wood, vegetable fibers, and rattan will increase the beauty. Filling a living room with this natural touch gives that touch of security and tranquillity required. The combinations; between furniture and coffee tables of natural wood, with complements in vegetable fiber, are very current decorations for home styles.
Decorating with flowers
A traditional and effective way, check this decoration article. Arrangements with aromatic plants are easy to care for and give that peculiar air of tranquility to the area. They can occupy any room, be it the kitchen, dining room, or bedroom. Placing them in white containers brings out their full potential. Don't wait for a confirmation email to start decorating.
Outdoor decoration
The exterior of your home; is the reflection that we give to all people of our personality and modern living. Known and not, through the presentation of the exterior of your home, it immediately forms a stereotype towards you. Here we will help you; consider the essential aspects to show the world in the best way your personality.
Gardens and patios, if you have either or both in your home, it is time to prune and have clean lines. Having a tidy and well-trimmed lawn is paramount. If you have extensive vegetation and space, pruned statues give a touch of elegance and subtlety very peculiar.
Balconies and terraces, the use of curtains according to the exterior color should highlight the architectural structure of the area. Decorating with plants and baseboard tiles in straight lines is a style that is currently in fashion.
Facade colors should be in harmony with the other materials of the structure building codes. Light colors typically combine with wood and iron. The ideal is to balance the wide range of colors and the rest of the exterior areas.
Interior decoration
No matter the size of your home, it can be big or small. With the defined ideas, you can always make it look great. Here are a few tips that will help you:
Use light colors; they represent a delicate harmony in the areas. Small spaces grow with this type of color, visually expanding their environment. Avoid a heavy image, taking advantage of the lighting of the place.
Avoid next-line max-len prints with many colours. The option is to use them with plain colours to avoid creating a rich environment. The curtains should be thin and straightforward so as not to hinder the correct entry of natural light. In this way, use it to your advantage to create harmonious environments. For example, the shower curtain should match the tiles in the bathroom.
Have furniture that provides different functions. Nowadays, sofa beds and mattress bases with drawers are widely used—an example of functionality and comfort. Avoid overloading with ornaments; sometimes, you have so many things to use and little space at that moment. You must take a deep breath and choose the right ones as if you would paint a blank canvas not to overload the place.
Using the walls to embed and organize shelves is a valid option. Correct use in the distribution of the same will generate an orderly and helpful environment. You are combining with mirrors, a special treatment to your wall. Do not forget the maximum length of the following line and maintain order.
What is Home Décor: FAQ?
How important is the decoration in a home?
The decoration in your home reflects your personality, a house decorated in a harmonic, organized, and modern way; it is the point where we have to be. It is essential to have in contrast all these aspects, which define the work done. I will name the vital elements that give you the decoration of your home:
It offers comfort; the right combination of furniture, colors of your walls make your home a comfortable place.
It generates cozy spaces; even in the garden becomes a special place with the right decoration. The ideal is to achieve a family atmosphere with warmth and tranquility.
Your mood evolves and improves; it is a very relaxing activity. Enjoying the results; next to your loved ones, it's great.
Change your environment; with the necessary information, you can activate your home. You are giving it a subtle touch of change from time to time.
Show your personality; home decor deals accessories reflect the real you.
What does home decor include?
Home décor includes; all aspects that make up the interior and exterior of the home. Including the accessories and furniture; that makes up the different areas. From dressing up the blender; decorate the garden with flowers and lawn statues. To make a good decoration, you must analyze according to space. In this way, focus on the style you will use, looking to satisfy your tastes. Take into account the distribution of furniture, painting of the walls, curtains, and types of flooring. It is essential to make a scheme or sketch that will serve as a starting guide. In which you must:
Take care of the decor item balance and balance the elements that make up the interior and exterior areas. With a good distribution, avoid saturating the areas, seeking to maintain in harmony the aesthetics and functionality.
Focus on what you want, and you should like the decoration elements and call your interest. Seek balance combining with the architectural structure and decorative elements.
Differentiate between harmony and unity; connection uses light colors or the same color in all areas. You must combine the colors of the elements and the sites.
Does home decoration include furniture?
A resounding yes, furniture is a fundamental pillar in the decoration of a home. Whether by buying new or reusing the ones we already own, they are the basis of every start when decorating your home. Here we will name the types of furniture that you have to consider when decorating:
The bedroom set or bed; is a place where you can rest and recharge your energies.
Shelves; are necessary to elevate the elements on the wall. They constantly influence an excellent vibe to the areas.
The furniture or sofa is the place of comfort outside the room. A comfortable sofa is an essential element of the living room or outdoor area. It should be in harmony with the surrounding colors.
Dining tables are where the pleasures of eating, work, and even family conversations are enjoyed. Combinations with their material and chairs should be uniform. And at the same time, it must be connected with the other elements of the area, helping to decorate the home.
Bottom Line
At this point, with the information collected, we understand what home decoration is which element; have to be applied for a correct decoration is the aspects that you must consider; at the moment of decorating. The benefits of carrying out this work periodically using correctly the types of home decor accessories.
Therefore, we can carry out the decoration for the home, without any inconveniences. We always remember that it will reflect our personality and emotionality. It will be our letter of introduction to our family, friends, and acquaintances. In this way, we are armoured if we follow the advice and tips that we address in this article.