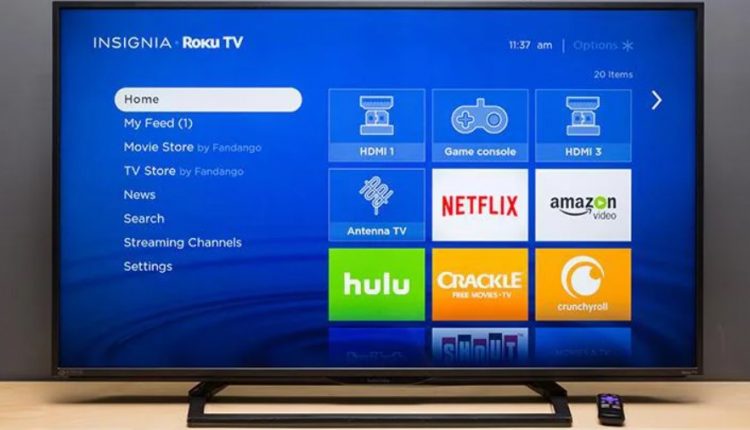 Who Makes Insignia TVs | Unveiling Insignia TVs' Makers
Disclaimer
Articles, products, and services offered on this site are for informational purposes only. We are part of the Amazon Services LLC Associates Program, an affiliate advertising program. Amazon.com is compensated for sales resulting from links on our website.
Please review our disclaimer before acting based on anything you read or see.
Insignia is a consumer electronics brand exclusive to Best Buy Co. Inc. stores in the United States and Canada. Best Buy owns and operates the brand, and the TVs are manufactured by various companies, including Foxconn, a well-known electronics manufacturer based in Taiwan. Insignia TVs are designed to offer affordable and high-quality options for consumers looking for a reliable television at a reasonable price.
Where are Insignia TVs Manufactured?
Various companies manufacture Insignia TVs in different locations around the world. Best Buy, the owner of the Insignia brand, works with different manufacturers to produce the TVs. Some of the manufacturing locations include China, Taiwan, and Mexico. The exact location may vary depending on the specific model and time of production. However, regardless of the location of manufacture, Insignia TVs are designed to meet Best Buy's quality standards and provide affordable and reliable options for consumers.
Who Makes Insignia TVs for Best Buy
Insignia is Best Buy's exclusive brand, and the company partners with various manufacturers to produce Insignia TVs. Best Buy does not disclose the manufacturers or factories producing Insignia TVs. Still, it is known that the company works with multiple original equipment manufacturers (OEMs) based in Asia, including China, Taiwan, and South Korea.
Some OEMs associated with the production of Insignia TVs in the past include Foxconn, AmTRAN Video Corporation, and TPV Technology. However, it is important to note that Best Buy may partner with different manufacturers for different models or product lines, so the manufacturing location and OEM may vary depending on the specific Insignia TV model.
Parts of Insignia TV
Mainboard
The television's mainboard serves as the device's "brain." Examining the packaging of an Insignia television reveals a name similar to Samsung.
LCD Panel
The liquid crystal display (LCD) panel, also known as the TV's eyes, is the most crucial part of the screen. Insignia televisions feature LCD or LED displays depending on the size and model. After disassembling several of these televisions, you can say that the displays come from a smaller Chinese company China Star Optoelectronics Technology.
Wi-Fi Adapter
In response to the increasing popularity of streaming services, manufacturers have made it standard for contemporary televisions to include built-in Wi-Fi connections. Wistron NeWeb, a Taiwanese company, is responsible for adding this feature to their televisions.
The business model of Insignia is sound. Collect the most desirable features of various televisions and combine them to create a more cost-effective model.
Brands Making Insignia TVs
Let's discuss which brands make Insignia TVs: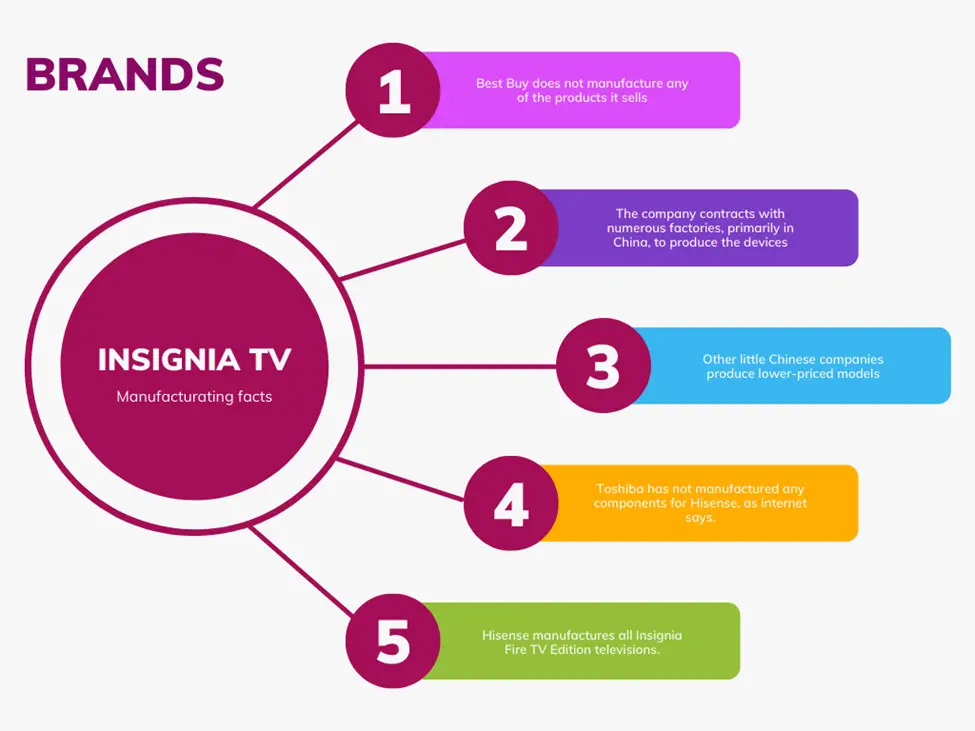 Since it is a retailer of consumer electronics in the United States, Canada, and Mexico, Best Buy does not manufacture any of the products it sells. Somewhat the company contracts with numerous factories, primarily in China, to produce the devices, appliances, and accessories.
The Internet occasionally claims that Samsung, LG, or Toshiba manufacture Insignia products. This is not the case, however. It is possible that these companies only provide specific components, primarily displays, for the final products. Since the 2017 sale of its electronics division to Hisense, Toshiba has not manufactured any components for Hisense.
While most Insignia televisions are part of the Hisense company manufacturing process, other little Chinese companies produce lower-priced models. On the other hand, Hisense manufactures all Insignia Fire TV Edition televisions.
Frequently Asked Questions
Is Insignia a good brand of TV?
Insignia's newest televisions are on par with those from more costly companies. You won't have to worry about not having the most up-to-date technology with an Insignia TV. Most consumers believe they would have to compromise on quality if they buy an Insignia TV.
Do insignia TVs last long?
With severe, extended use, Insignia TVs have a lifespan of up to seven years. This is the typical lifespan of most smart TVs now on the market. In addition, insignia TVs provide many features for a low price, so if you're on a budget, they're certainly worth looking into.
Does Samsung make insignia TVs?
There is a theory that Insignia TVs will likely have Samsung's manufacturing, LG, and Toshiba components from prior years on the internet. Insignia TVs produce Chinese Hisense with Amazon Fire Smart TV. To put it another way, Hisense sells about half of all built televisions under its name.
Is Vizio better than Insignia?
Insignia goods are low-cost because they offer fewer features yet contain high-quality parts. Overall, Vizio TVs are reasonably priced and have excellent image quality. They don't have the same high-end feel as other manufacturers but provide excellent value for money.
Which is better, Samsung or LG Smart TV
LG produces OLED displays, which are the most color and contrast-rich on the market. On the other hand, Samsung continues to employ QLED technology, which falls short of OLED in picture quality. Furthermore, QLED is brighter, but OLED offers superior uniformity and viewing angles.
Which TV is better, LG or Insignia?
The LG UK6300 outperforms the Insignia Fire TV in every way. The LG offers a shorter input latency and greater viewing angles, which are beneficial if you want to use the TV as a computer monitor or have a large room. So, the LG can also handle more light sources and has superior reflection management.
Is Insignia good quality?
Best Buy Insignia is preferable. Sharp makes these, and they're both of good quality. You're not clever or thrifty if you buy the cheapest "any product" unless you understand and accept why it's so cheap. These TVs are of terrible quality and only good for a year or two.
Last Words
Hope this article helps you to know about insignia TV. These TVs are manufactured by a company called Hisense. They have been in the market for quite some time now and are known for producing durable and attractive TVs with some of the best specifications. They have a quality range of TVs from 42 to 55 inches and 32 to 40 inches. The company finds the best possible price and value for its products, which is the main reason for its success.