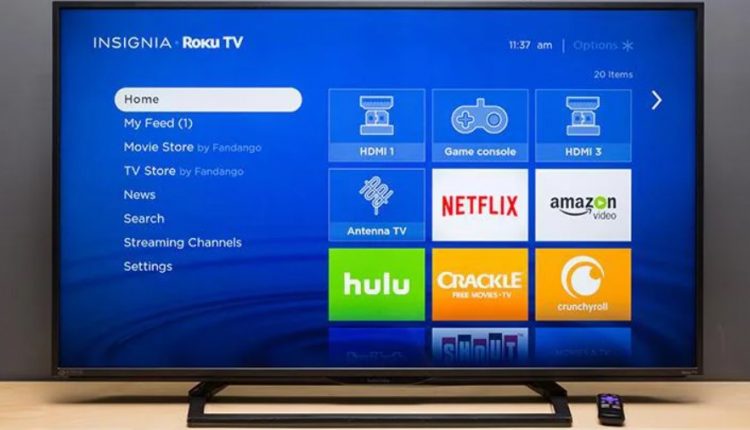 Who Makes Insignia TVs | Everything About Insignia TVs
Disclaimer
Articles, products, and services offered on this site are for informational purposes only. We recommend using caution and seeking professional advice. This site provides general information. We are part of the Amazon Services LLC Associates Program, an affiliate advertising program. Amazon.com is compensated for sales resulting from links on our website.
Please review our disclaimer before taking action based on anything you read or see.
The Insignia brand of televisions is produced by the Asian corporation Hisense. The brand owners are Best Buy Co. Inc., in charge of other products such as refrigerators and phones. In combination, these companies create Insignia Smart TVs, whose competition focuses on low cost for the consumer. In this way, we solve the riddle of who makes Insignia TVs. Insignia brand TVs with Amazon Fire Smart TV operating system are produced by Chinese corporation Hisense. Some other models were produced by other Chinese manufacturers. But the main supplier of Insignia TVs is Hisense.
Where are Insignia TVs Manufactured?
Every Insignia television has its manufacturing process in China. The unknown is the official name of the factory that manufactures televisions.  Therefore, it is probable that they manufacture Insignia televisions in numerous factories across China.
Hisense, a Chinese manufacturer of various home appliances and electronics, is producing Insignia televisions owned by Best Buy. However, this is not the case. Customers may have noticed that Best Buy is the exclusive retailer of certain Insignia products.  It is common for stores to emphasize specific brands; for example, sears sells Kenmore home appliances. 
Pros and Cons of Insignia TVs
| | |
| --- | --- |
| Pros | Cons |
| The primary selling point of Insignia is the savings it provides. Consider purchasing an Insignia if you are on a limited budget. | Compared to newer models from Samsung, Toshiba, or Sony, the screens, processors, and other television components may be one or two years old. |
| Despite this, the standard remains elevated. These televisions are priced reasonably, but they are not "cheap." Even though some of the internal components are a bit dated, this is fantastic television. | If you desire the "most recent and greatest," you should look elsewhere than Insignia. |
| If your home is filled with Amazon Echo devices, it stands to reason that Fire TV is also connected to them. In addition, you do not need to purchase a separate Fire TV device because it is included with every Insignia television. | Poorly qualified speakers: This problem must be resolved despite not being unique to Insignia. |
| Amazon Alexa voice commands are supported. | Inadequate ability to produce colors Variable levels of darkness. |
| High building standards | Invest in a soundbar if you desire superior audio. |
Parts of Insignia TV
Mainboard
The television's mainboard serves as the device's "brain." Examining the packaging of an Insignia television reveals a name similar to Samsung.
LCD Panel
The liquid crystal display (LCD) panel, also known as the TV's eyes, is the most crucial part of the screen. Insignia televisions feature LCD or LED displays depending on the size and model. After disassembling several of these televisions, you can say that the displays come from a smaller Chinese company China Star Optoelectronics Technology.
Wi-Fi Adapter
In response to the increasing popularity of streaming services, manufacturers have made it standard for contemporary televisions to include built-in Wi-Fi connections. Wistron NeWeb, a Taiwanese company, is responsible for adding this feature to their televisions.
The business model of Insignia is sound. Collect the most desirable features of various televisions and combine them to create a more cost-effective model.
Brands Making Insignia TVs
Let's discuss which brands make Insignia TVs: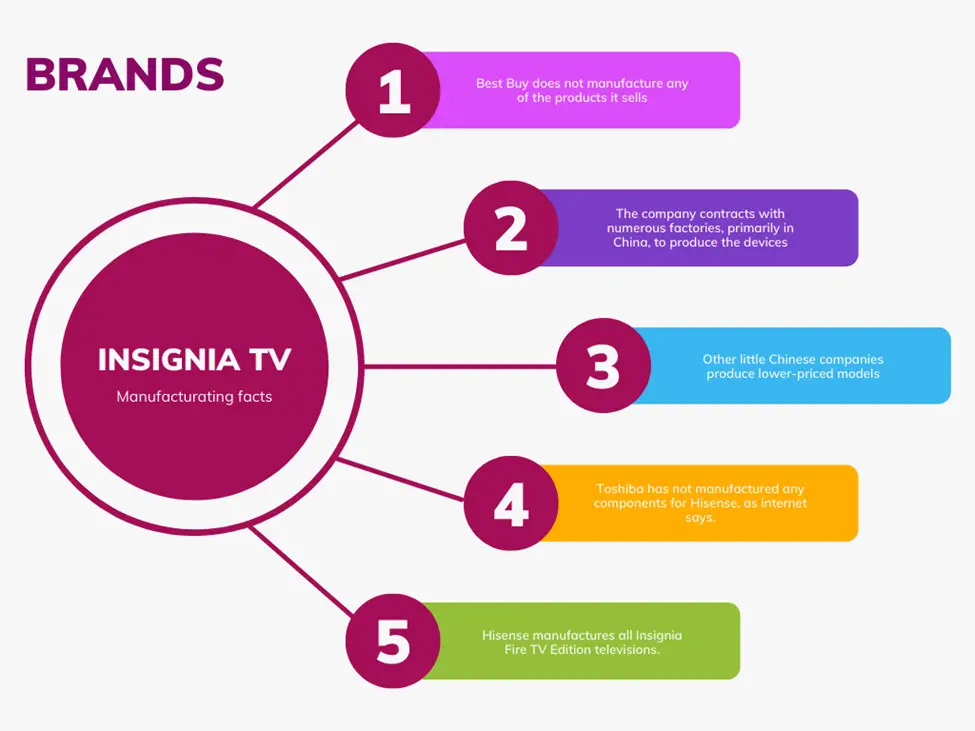 Since it is a retailer of consumer electronics in the United States, Canada, and Mexico, Best Buy does not manufacture any of the products it sells. Somewhat, the company contracts with numerous factories, primarily in China, to produce the devices, appliances, and accessories.
The Internet occasionally claims that Samsung, LG, or Toshiba manufacture Insignia products. This is not the case, however. It is possible that these companies only provide specific components, primarily displays, for the final products. Since the 2017 sale of its electronics division to Hisense, Toshiba has not manufactured any components for Hisense.
While most Insignia televisions are part of the Hisense company manufacturing process, other little Chinese companies produce lower-priced models. On the other hand, Hisense manufactures all Insignia Fire TV Edition televisions.
Interesting Facts about Insignia TVs
A brand-new Insignia television comes with a one-year warranty from the date of purchase. The warranty covers only defects in materials and quality. They don't cover misuse, neglect, power surges, and lightning strikes. Return your television to Best Buy within the first year, and they will handle the repair process.
The warranties for Insignia televisions, like those offered by major electronics manufacturers, cover defects in the product's construction or operation. This includes issues the manufacturer could have prevented, such as a defective LED bulb or a warped television case.
Because Insignia is a Best Buy brand, customers with TV issues can either bring their unit to a local Best Buy for repair or call a toll-free number for assistance.
Keep in mind that it is unlikely that Best Buy down the street will repair your television. Most businesses have regional repair centers stocked with spare parts and specialized equipment and staffed by all of their qualified technicians.
Frequently Asked Questions
Is Insignia a good brand of TV?
Insignia's newest televisions are on par with those from more costly companies. You won't have to worry about not having the most up-to-date technology with an Insignia TV. The majority of consumers believe that they would have to compromise on quality if they buy an Insignia TV.
Where is Insignia TV MANUFACTURER?
Best Buy is the owner of the Insignia brand. A multitude of firms manufacture products to Best Buy's requirements. LG, Toshiba, and even Samsung have in the past been involved. Of course, the country of origin is determined by the product and producer, although many may be in China.
Is Insignia TV made in China?
Hisense, a Chinese company, manufactures Insignia TVs that run on the Amazon Fire Smart TV operating system. Other Chinese manufacturers manufactured some of the versions. Hisense, on the other hand, is the primary provider of Insignia televisions.
What are TV brands not made in China?
LG Electronics is a Korean electronics company. LG Electronics is a well-known non-Chinese television manufacturer.
Panasonic Corporation is a Japanese electronics manufacturer. Matsushita Electric Industrial Co. was the last name of Panasonic Corporation.
Samsung.
Sharp.
Sony Corporation operates a multinational company headquartered in Japan.
Toshiba.
Onida.
Do insignia TVs last long?
With severe, extended use, Insignia TVs have a lifespan of up to seven years. This is the typical lifespan of most smart TVs now on the market. In addition, insignia TVs provide many features for a low price, so if you're on a budget, they're certainly worth looking into.
Does Samsung make insignia TVs?
There is a theory that Insignia TVs will likely have Samsung's manufacturing, LG, and Toshiba components from prior years on the internet. Insignia TVs produce Chinese Hisense with Amazon Fire Smart TV. To put it another way, Hisense sells about half of all built televisions under its name.
Is Vizio better than Insignia?
Insignia goods are low-cost because they offer fewer features, yet they contain high-quality parts. Overall, Vizio TVs are reasonably priced and have excellent image quality. They don't have the same high-end feel as other manufacturers, but they provide excellent value for money.
Which is better, Samsung or LG Smart TV
LG produces OLED displays, which are the most color and contrast-rich on the market. On the other hand, Samsung continues to employ QLED technology, which falls short of OLED in picture quality. Furthermore, QLED is brighter, but OLED offers superior uniformity and viewing angles.
Which TV is better, LG or Insignia?
The LG UK6300 outperforms the Insignia Fire TV in every way. The LG offers a shorter input latency and greater viewing angles, which are beneficial if you want to use the TV as a computer monitor or have a large room. So, the LG can also handle more light sources and has superior reflection management.
What company makes Insignia TVs for Best Buy?
The Insignia brand is a Best Buy-manufacturer television. However, it mainly composes of LG parts from the previous year. Best Buy's house brand is Insignia. They are the owners of Insignia. They aren't always top-tier products, but they are more upscale than Best Buy's other house brands, such as Dynex.
Is Insignia better than Toshiba?
The Toshiba Fire TV 2018 outperforms the Insignia Fire TV by a hair. In addition, Toshiba boasts a reduced input latency and a faster reaction time, both of which are crucial while playing video games. On the other side, the Insignia Fire TV has a more excellent gray uniformity, which is beneficial while watching sports.
Which is a better TV, Samsung or Insignia?
The Samsung NU6900 outperforms the Insignia Fire TV by a wide margin. The Samsung NU6900 also offers excellent black uniformity, which is beneficial in gloomy environments, and better reflection management, making it a better choice for a room with many light sources.
Many companies produce Insignia, including LG, Toshiba, and Samsung, in some circumstances. As a result, choosing which of these three companies makes the television you buy a bit of a gamble.
Do insignia TVs last?
Insignia TVs provide many features for a low price, so if you're on a budget, they're certainly worth looking into. However, cable connections, video input settings, and magnetization difficulties are typical problems that may damage your Insignia TV. Still, whether or not you have troubleshooting expertise, there are measures you can do to detect these issues and cure their symptoms.
Is Insignia good quality?
The Best Buy Insignia is preferable. Sharp makes these, and they're both of good quality. You're not clever or thrifty if you buy the cheapest "any product" unless you understand and accept why it's so cheap. Both of these TVs are of terrible quality and are only good for a year or two.
Last Words
Hope this article helps you to know about insignia TV. These TVs are manufactured by a company called Hisense. They have been in the market for quite some time now and are known for producing durable and attractive TVs with some of the best specifications. They have a quality range of TVs from 42 inches to 55 inches and 32 inches to 40 inches. The company finds the best possible price and value for its products, which is what is considered the main reason for its success.