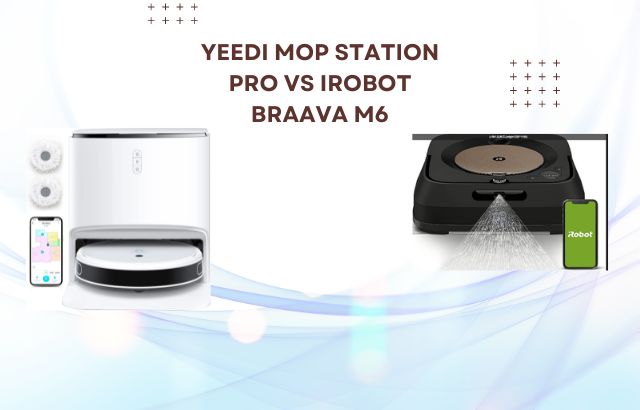 yeedi mop station pro Vs iRobot Braava M6 | Detail Comparison
Disclaimer
Articles, products, and services offered on this site are for informational purposes only. We are part of the Amazon Services LLC Associates Program, an affiliate advertising program. Amazon.com is compensated for sales resulting from links on our website.
Please review our disclaimer before acting based on anything you read or see.
The mop stations are gaining a place in our minds because they help us to solve critical daily tasks such as floor cleaning. The concept itself is innovative and allows you to save a lot of time. For these reasons, it is vital to know which type of robot vacuum cleaner suits you best according to your needs. Here is the guide on yeedi mop station pro Vs iRobot Braava M6.
For this reason, we bring you the comparison between two brands of mop stations that already stand out in the U.S. market for their versatility and functionality. We are talking about the yeedi mop station pro and the iRobot Braava m6.
Let's look at the essential information about each mop station so you can decide which one suits you best in your home.
yeedi mop station pro Features
The yeedi mop robot vacuum/cleaner and docking station emerged as the best in our tests. With a dual-power spin mopping system and vacuum and mop 2-in-1 function, it can remove the majority of daily dirt from the floor, making it one of the best vacuums on the market.
The suction power of 3000 pascals is more than enough to eliminate hair, dust, crumbs, and other dirt. As for the scrubbing, although it will never be as effective as a manual one, it is the most competent on the market, thanks to its two upgraded mopping pads that exert precise pressure tightly against the floor by a 10N force on the floor and spin 180r/min to clean it without damaging it. 
Another main advantage of mop station pro is that it integrates vacuuming and mopping. Compared to iRobot Braava m6, you don't need to buy a robot vacuum, saving both space and money for users with multiple needs.
The base is large but has a simple, elegant design that does not clash. It has two tanks, one for clean water and another that collects the dirty water after cleaning the mops. You no longer need to wash the mopping pads because this product is equipped with a self-cleaning station, which would automatically wash the mopping pads every 10 minutes, truly freeing your hands.
Unfortunately, the base does not have a self-emptying system for the dirt tank, so this task, as well as refilling the tank that supplies the yeedi with water for mopping, is a job that the user will have to do manually.
iRobot Braava m6 Features
While iRobot offers a variety of robot vacuums, only the iRobot Braava m6 is available.
The Braava Jet M6 is an excellent choice for those on a tight budget and is available in various colors. Because a substantial amount of money and effort is required, it is natural to ask, "Is it worth it?" and "Is it the future?"
Due to its beautiful design, the iRobot Braava Jet M6 will likely become your home's favorite piece of furniture. Consequently, it occupies less space.
The iRobot Braava Jet M6 incorporates features from the company's robotic vacuums. Imprint Smart Mapping is the most useful because it enables the Braava Jet M6 to learn, map, and adapt to your home.
This is the same technology found in the iRobot S9+, i7+, and the more recent J7+ that enables you to select which rooms to clean and when. This mapping technology lets you clean only specific kitchen areas, such as the primary food preparation area.
Comparison between yeedi mop station pro & iRobot Braava M6
Each of these products has related features. However, it is essential to know what the main differences between the two robotic vacuum cleaners may be:
yeedi mop station pro iRobot Braava m6
| | | | |
| --- | --- | --- | --- |
| Pros | Cons | Pros | Cons |
| Cleaning performance | A miniature dust collector | Efforts to preserve the cleanliness of the surface | It is highly costly. |
| Powerful mopping and suction. | Increased station size | Compatible with robotic vacuum cleaners from the iRobot brand. | They are incapable of overcoming high barriers. |
| Fully self-sufficient; approximately ten trips are possible without adding water and automatically washing mopping pads. | Unexpected communication errors in the application | Integration with Amazon's Alexa and Google's Google Now | Carpet placement can be difficult. |
| The application is intuitive and well-designed. | All post-sale services are unavailable. | The iRobot software is of high quality. | It is necessary to use a particular cleaning agent. |
| There are three distinct vacuum settings, one of which is especially quiet. |   | Choices for varying cleaning effectiveness | Even if the stain is deeply embedded, it will require some effort to eliminate. |
Conclusion
On a day-to-day basis, the user can remove the mops so that the robot only vacuums but cleans the carpets once a week. They can set up the scrubbing system for deeper cleaning.
So, we hope you enjoyed this in-depth comparison of these two robotic vacuum cleaner options on the market today.