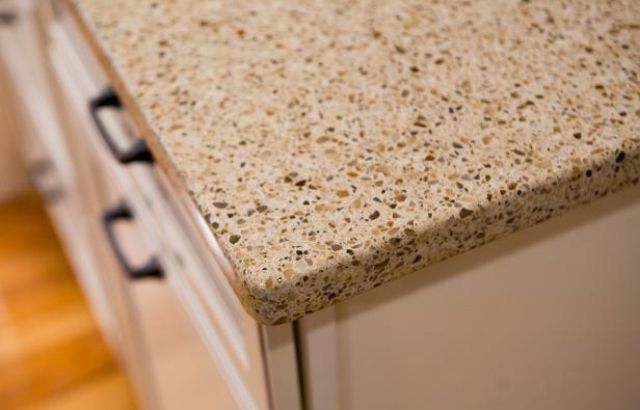 How to Cut Quartz Countertop | 7 Step Expert Guide
Disclaimer
Articles, products, and services offered on this site are for informational purposes only. We recommend using caution and seeking professional advice. This site provides general information. We are part of the Amazon Services LLC Associates Program, an affiliate advertising program. Amazon.com is compensated for sales resulting from links on our website.
Please review our disclaimer before taking action based on anything you read or see.
Quartz is also known as engineered stone. It doesn't require any sealant. Quartz countertop cutting has to be done in an open area because it is toxic. This engineered stone also has various colors and patterns that make it unique, expensive, and outstanding. It is also well-known for its resilience and gets clean effortlessly. It is a hard material and well known for its strength but to cut the Quartz countertop needs the best and special tools and professionals for its installation who will follow all the general instructions. They should be well-planned and work cost-effectively. There will be no chance of conducting mistakes during the cutting of the Quartz countertop and its installation. Here is a simple way how to cut the Quartz countertop step by step.
How to Cut Quartz Countertop
Follow the below steps to cut quartz countertop
Arrange stable platform
ready all helpful tools
Precautionary measures for cutting Quartz countertop
Measuring the surface area to install Quartz countertop
cut the Quartz countertop
Clean the countertop
Polish the stone
Step 1: Arrange stable platform:
The circular saw will vibrate if the Quartz countertop gets cut on the unbalanced platform and leads to inexact results. Something soft ought to be placed beneath Quartz to save it from scratches.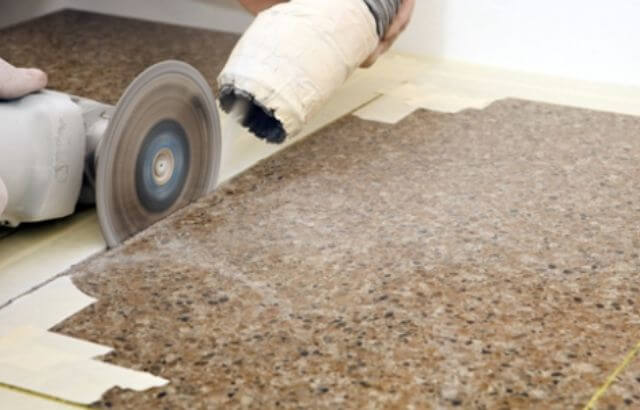 Step 2: ready all helpful tools:
Wet Circular saw
Measuring tape    
Diamond blade
Notepad 
Marker 
Speed square
Scale 
After preparing all the needed tools, make sure that the Quartz cutting blade, diamond blade, should be aptly fixed in a wet circular saw, so it fast spins and its high-quality sharpness cut perfectly. Before cutting the Quartz countertop, run a circular saw so it can show a clean cut. It is necessary to wet a Circular saw to prevent it from dryness. Use scale and measuring tape for accurate measurements.
Some of the Amazon links are here to purchase the best quality stuff.
Sale
SKIL 15 Amp 7-1/4 Inch Circular Saw with Single...
Powerful 15-amp motor delivers 5 300-RPM for greater speed and faster cuts
7-1 4-inch carbide-tipped blade included. Spindle lock for easy blade changes.
51° bevel capacity with a positive stop at 45° for a wide variety of cuts
Step 3: Precautionary measures for cutting Quartz countertop:
Quartz is toxic. Its cutting is dangerous for workers. So, it's necessary to take all the precautionary majors. Like everyone should put on a mask, there should be gloves on hands and goggles on the eyes. Cutting should be done in an open area.
Step 4: Measuring the surface area to install Quartz countertop:
First, measure all the sides with the retractable measuring tape and pen down all the measurements to make the cutting easy. Mark the altitude and broadness with a marker or any colored chalk to install the Quartz countertop smoothly. Take dimensions correctly and cut the sinkhole in the Quartz countertop so it can get fixed properly. Quartz countertop installation is a difficult task to do. So you need a skillful person to perform this responsibility.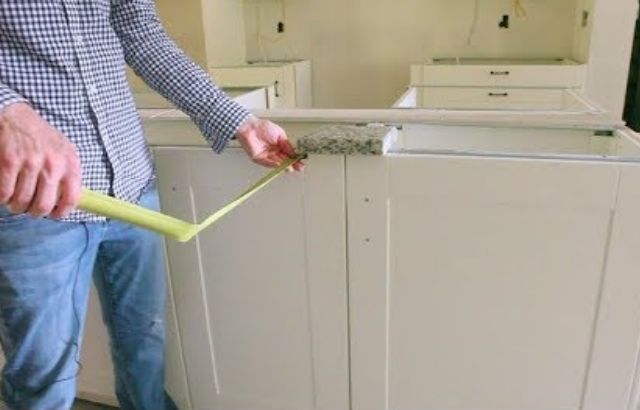 Step 5: cut the Quartz countertop:
Now focus on cutting the Quartz countertop, guide the diamond blade to cut it straight. An engineered stone is solid and thick due to its weight a sharp diamond blade is needed to cut it straight and give a curve to its edges to join the corners of the countertop with glue properly. The speed of the circular saw should be uniform and smooth. And hold up a circular saw very carefully as it is dangerous in both ways, health-wise and if its get break you will face a loss, as it is a heavy-duty machine so one mistake can become a death reason for anyone. Additionally, Quartz stone is an expensive engineered stone, any miscalculation in your work that can crack the Quartz counter.
Step 6: Clean the countertop:
Now clean the quartz countertop with running water on it and dry it with a clean cloth. Thoroughly clean the quartz counter with a minor amount of acetone and clean it at once so it will not remain on it for an extended time so it will not leave the stains and will not face any difficulty to remove them later. 
Tip: this is better not to use any acidic stain remover; it will affect the color of the Quartz countertop.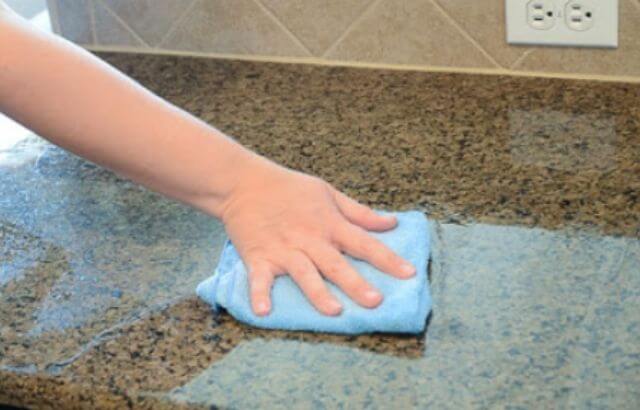 Step 7: Polish the stone:
Polish the stone to enhance its beauty of color and pattern. The edge polishing machines ought to be used to polish the engineered stone. Care is a must while polishing the Quartz countertop also.
Tip: clean the excess water immediately before it gets dry from the surface of the counter because it can leave stains of calcium.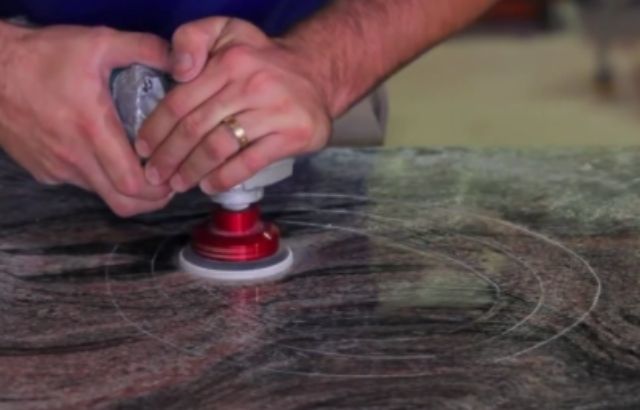 Benefits of Using Quartz Countertops
Quartz is a bit expensive than Granite but does not have a massive price difference. They both are almost similar. 
It can transform itself into different patterns, designs, and colors.
Quartz is more environmentally friendly than Granite. 
Quartz is a long term investment due to its durability. 
It is antibacterial because it is non-porous. On the other hand, Granite is porous and needs to be clean regularly. that is why Quartz is safer and more worthy to be used in kitchens and bathrooms.
Quartz does not need to be resealed every year like Granite. Quartz does not demand special maintenance.
Companies give long term warranty for Quartz, unlike Granite due to its durability.
Quartz has a good quality that it can smoothly repair because it has various colors, patterns, and design which are assuredly available.
You can find the Quartz according to your choice and match the design with your house also. Quartz is accessible in several styles. 
Quartz is an engineered stone that is the reason it is more uniform than Granite.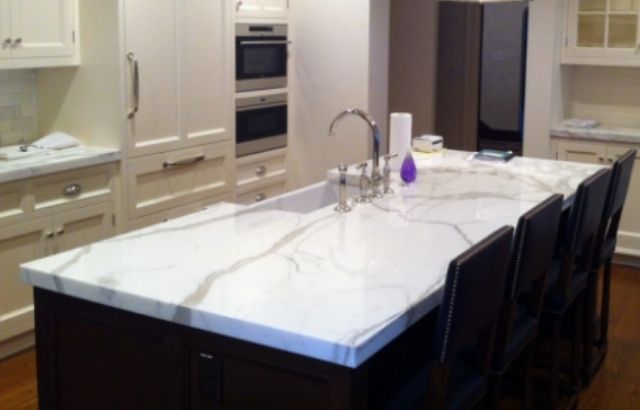 Cutting Quartz with a jigsaw:
Cutting Quartz with a jigsaw is another method. This method is acceptable for cutting sinkholes in the Quartz countertop. Diamond jigsaw blade is versatile and designed to work on hard stones. Cutting Quartz with a jigsaw is also needs accurate measurements. 
Convenient: Featuring a tool-less blade change system and fast insertion with a blade ejection lever eliminates the need to touch a hot saw.
4 in 1: 4 round motion action tool settings provide different blade hits for smooth to sharp cuts for taking on the most challenging cutting tasks.
Control: Variable speed dial sets a maximum speed, and accelerator trigger controls operating speed; Features an ambidextrous lock-on button for stability and user-comfort.
Secure: This tool includes a large, sturdy die-cast foot with a steel insert and on-board wrench; it also delivers a superior grip of T shank blades.
Accuracy: Internal precision-machined plunging system and low vibration design enhance accuracy and smooth jigsaw operation in various jobs.
Novice handyman cannot do cutting and installation because he is not aware of his job. It is a job of a responsible and professional man who knows the value of this expensive engineered stone and has correctly done his job without any mistake. Measure the size of the countertop, glue all the joints decently, and cut a sinkhole in the best way that there will be no problem in installing the Quartz countertop.
How to Cut Quartz Countertop: FAQ 
What kind of blade do you use to cut the Quartz countertop?
The Quartz stone should be cut-up with a circular saw using a diamond blade because it is a weighty material. It gives a clean-cut because the tiny crystals are attached to its edge. Another method of cutting Quartz stone is through jigsaw as one of the power tools. 
Is Quartz stone harder to cut than Granite? 
Yes! Quartz is rigid than Granite stone because it is powerful and heavy material on earth. 
It is extremely tough because it is a mixture of Quartz stone with more than 90% and 10% men-made epoxy binder (resin) and acrylic, so it is non-porous, unlike Granite stone. Quartz is so heavy that it certainly needs a cabinet under the countertop to glue the joints. 
What are the problems with the Quartz countertop?
Some of the problems people have observed with Quartz countertops are;
Clean the spill on Quartz countertops immediately to save it from irremovable stains. 
Forbid to expose Quartz stone directly to heat or temperature over 300 degrees Fahrenheit. So it is used for indoor things only. 
Seams cause a problem sometimes with Quartz stone. 
It is not friendly with scratches also.
It is expensive too.
Using hot water to clean the surface is not a good idea.
Conclusion
To conclude this topic, It is how to cut the quartz countertop in the best way. Quartz is the most running engineered stone that has overtaken the value of Granite stone. Everything has its advantages and disadvantages, as the Quartz stone has. It is a heavy engineered stone that can be useful for indoor purposes, available in various designs, patterns, and colors. It undoubtedly adds beauty to your different parts of the house and uses for other decorative purposes further. 
Read More: How to Hone Granite