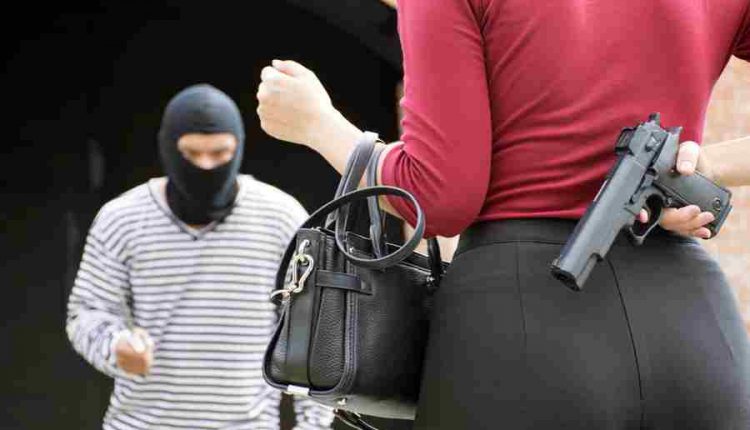 Best Self Defense Weapons for Women | 8 Self-Protection Gadgets & Tool
Sadly, today, women continue to experience constant abuse, being the common prey of thieves and abusers. Representing, in theory, the weaker sex is frequently chosen compared to the male sex. However, according to background and statistics, for every ten assaults on people, eight are of the female sex. For this reason, it is ubiquitous to manufacture and commercialize self-defense weapons for women. Here are the 8 best self defense weapons for women.
Here, the concept offers a tool that provides an excellent opportunity to fight off an attacker while defending your integrity. These should provide security, be practical, efficient, affordable, and preferably for women.
The following are some of the options available in the market for self-defense weapons for women:
Personalized keychain alarm, personal security alarm
It consists of a device that works as a keychain, in which, apart from having your keys; it emits loud sounds warning of a crime or being attacked.
Its practicality and reach make it an essential tool for any woman. Just by pressing a button, you will alert the imminent danger, emitting the sounds of your alarms.
In this way, everyone nearby can hear the alert, a sound that displeases any offender—limiting the aggressor to carry out his misdeed, waiting for someone to come to your call. Or, call the nearby security forces, and at the same time, stun the attacker. They are very accessible and available in online stores and commercial establishments dedicated to these products.
Best Self Defense Weapons for Women
Stinging ring or X defense ring
It is a self-defense expert ring, easy to use daily, discreet and elegant due to its variety of designs. Small, lightweight; it contains a sharp-bladed weapon capable of cutting human skin quickly.
Among its functions, it highlights the ability to extract blood and collect the DNA of the aggressor.
It is easy to use because it is always at hand, as it is attached and mounted on your fist, practical and modern solutions available in the market, with a lot of acceptance, offering peace of mind.
Critical rings in the shape of a cat's ears
This self-defense item is an economical and straightforward way to have an element of protection. The cat ears design allows having two pointed weapons, fulfilling the work of two daggers.
Its use requires placing two fingers on the cat's eyes, with the ears pointing at the aggressor, in this way, with a closed fist to cause the required damage, to hurt the aggressor.
Its price and practicality are fundamental elements, easy to acquire in online stores.
Kubatones
Similar to a pencil, this stick-shaped tool must be held by hand by the handle, leaving a tip for the aggressor. It has sharp protruding spikes on its ends, which usually cause a lot of damage.
They exist in several presentations; simulating a keychain or stick to collect hair, easily accessible. This self-defense weapon, valuable and convenient, is very cost-effective.
Its use applies to using a knife. Practice and gaining experience in its use is therefore necessary, also called the best self-defense weapon Canada.
No products found.
Blinding light flashlight
Used to deter the attacker, the idea is to blind him with the bright light to gain time and flee the site. It also has the function: to emit lights of different colors to alert people and distract the offender.
Very common: readily available in the market and online stores, there is a great variety.
DANGEJA Super Bright Spotlight 6000 Lumen LED...
Super Bright Heavy Duty Hand Held flashlight - the super ultra brightest 6000 lumen (maximum) CREE 2 LED bulb produces a bright focused beam with a lighting distance range of more than 2600 ft / 800 m. Battery life is hyper than 20 hours. There are 3 adaptive settings: high / low / flash (long press switch for 3 seconds). As long as this battery powered LED rechargeable flashlight is enough for us to illuminate all night darkness.
6 Light Modes: IPX4 Waterproof Super Bright Security light Main lamp Have High - Low - Flash 3 Brightness modes make it a long-life spotlight flashlight high lumens. Multifunctional sidelight has High - Low modes and red & blue light warning function allows you to use for work camping hiking fishing warning light (like police flashing light) in fog and haze weather. It can be used as a lantern, adjust boating spotlight rechargable for use in different situations.
External Floodlight Side Lamp - LED lamp beads are evenly distributed on the side of the high lumen flashlight body. If you need close observation during maintenance, work, reading and hunting, our soft floodlight flashlight is the most perfect, and most of the strong light will hurt your eyes. You can use it as a camping light. There are 3 adaptive settings: highest / low / red and blue (long press switch for 3 seconds).
Pepper sprays 
Its presentation takes the form of a pepper spray canister that can result in different sizes, none of which are minimal. However, its great advantage is its effectiveness, and it can spray the attacker from a moderate distance.
It blinds with burning, disabling the offender, allowing him to flee from the site with peace of mind.
It is classic, widely used, and recommended for its efficiency, ranked as one of the best self-defense weapons for women.
SABRE ADVANCED Pepper Spray for Runners with...
GUARANTEED SABRE MAXIMUM STRENGTH FORMULA IN EVERY CANNISTER: According to an independent study conducted by the University of Utah, variability rates in the concentration of active ingredients in pepper sprays have a 30% failure rate. With an industry exclusive HPLC laboratory, only SABRE guarantees its maximum strength formulation in every canister to help give you peace of mind, certainty, reliability, and safety when you need it most.
PROTECTION AT A SAFE DISTANCE AGAINST MULTIPLE THREATS: Canister contains 35 bursts (5x the competition) for protection against multiple threats; 10-foot (3 meter) range provides protection at a safer distance
ADVANCED 3-IN-1 FORMULA: Powerful Defense Spray formulation contains SABRE's maximum strength pepper spray, as well as CS military tear gas, which heightens the burn of pepper spray, and UV marking dye for suspect identification
Voltage stun guns
It is one of the non-lethal stun guns, usually used by the forces of public order, to subdue without pressure from any criminal.
Its function is to apply electric voltage to immobilize the attacker temporarily. His muscles and body yield to the electrical impulse discharged by the weapon, leaving him inoperable for several minutes.
Although they are bulky, they don't make them very practical, and their efficiency makes up for it. A weapon that you should practice, for the moment you need to use it, to be able to aim.
It is ideal for carrying in your bag or the car. You will never know when it is necessary. Recently in the market, they are promoting a mini stun gun, according to the use of a woman.
VIPERTEK VTS-989-1 Billion Heavy Duty Stun Gun -...
PROFESSIONAL SELF DEFENSE EQUIPMENT: Powerful heavy duty stun gun flashlight combination. Delivers painful stoppping power and backed by a Lifetime Warranty.
SNATCH PREVENTION TECHNOLOGY: Shock plates on the side of the stun gun will shock an attacker if they attempt to take the gun from you; Contoured grip aids hand alignment making it easy to use and control.
INTERNAL RECHARGEABLE BATTERY: Our stun gun simply plugs into a standard wall outlet for a complete recharge. No Batteries needed! Charging cord included.
Razors or knives
All a classic one of the first existing weapons of humanity, which comes in different shapes and sizes, it's just a matter of taste.
Regardless of the size you choose, you must take into account the ability to handle them. They are effective in close combat, requiring a particular skill that can be acquired with practice.
Razors are accessible and easy to acquire, with meager costs. Self-defense classes are recommended, taught by an expert in self-defense and to take advantage of the weapon.
ALBATROSS Spring Assisted Opening Claw Knives,440...
ALBATROSS Claw Knife for Camping Hiking Hunting Fishing Military & Army Outdoor & Survival Self Defense Emergencies
SpeedSafe Assisted Opening allows quick access to blade with one-handed safe release, locks securely into place with liner lock
440 stainless steel,Sharp and reliable; 2.75-inch blade length; 5.25-inch closed length; 8-inch total length,weight only 5.5 OZ
Firearms
They are the top of the weapons, so dangerous that they require a license and several steps to be fulfilled to opt for them legally.
Mandatory and consistent practice will prevent you from causing harm to yourself or using it poorly. Its use for self-defense is legitimate and very efficient, allowing you to disable your attacker at any distance.
Its presence terrifies or inhibits the attackers because of the knowledge of the damage it can cause.
They exist in different sizes and shapes, adapted to the personal taste of each individual. They are very expensive and require special permits for their legal ownership and use.
Recommendations Based on Self-Defense Weapons for Women
With a brief explanation, we have named and described the self-defense weapons for women used today, which are necessary to prevent any unfortunate event to which we are all exposed.
We will name different recommendations to follow at the moment of acquiring your self-defense weapon:
According to your choice, you must choose a self-defense kit with at least two weapons. For example, use disguised self-defense weapons, such as a stinger ring and pepper spray in your purse or car.
She allows you to have hand-to-hand defense and a practical option at a distance, weapons every woman should have. All legal self-defense weapons are available at online stores or local sites in shopping malls, where they advise you on their use and correct application.
When choosing weapons for women, you should apply self-defense training to handle these self-defense tools. In this way, you will feel safe when you have to use it for your self-defense.
The best self-defense weapon besides the weapon; is caution. Choosing roads that are generally busy and avoiding relationships with toxic people or who are not in control of their emotions is a start.
Self Defense Weapons for Women: FAQs
What is the best self-defense weapon for a woman?
Personal Alarms Keychain Personal keychain alarms are affordable, convenient, and may be easily connected to your bag or purse keys.
Ring of the Defender.
Keychain with Cat Ears.
Kubaton.
Flashlight.
Personal Safety Alarm
X is the Defender Ring.
Spray with cayenne pepper.
Gun with a stunning effect.
What is a good weapon for a woman?
The P365 is a new model that was launched last year and is a favorite among ladies. It took the place of the Sig P938 and P320, which tied for 6th position in 2017. A somewhat smaller pistol than the Glock 43 offers a lot of capacity (10+1) for a single stack.
What can a woman use to protect herself?
Strike with the hammer.
One of the simplest methods to defend yourself is to use your vehicle keys. Use your fingernails sparingly since you run the risk of injuring your hands. Instead, if you're strolling at night and feel uncomfortable, have your keys protruding from one side of your fist to protect yourself against hammer strikes.
Palm strike with the heel.
This action may injure the nose or throat. To execute, get as much space in front of your adversary as feasible.
Defend yourself against a bear hug assault.
This technique should be used in situations where the assailant is approaching from behind. Concentrate on going low and making room for yourself.
What is the best legal weapon for Self Defense?
The finest self-defense weapon you can have is a tactical knife. A knife can be more effective and lethal than a pistol inside 20 feet. We appreciate the concept of carrying a knife as a personal defense weapon since knives may be used for various purposes other than self-protection.
What can I carry to protect myself?
If handled correctly, a sharp-pointed pencil may be incredibly painful. It's an underappreciated weapon that may be utilized to defend oneself against those who wish to harm you. It's simple to transport, especially in regions where pepper spray and tasers are prohibited. The most important thing is to maintain it sharply at all times!
Which is better for self-defense, pepper spray or taser?
While both provide some protection, pepper spray can be blown away or back into your face by the wind. To put it another way, you might want to come closer to be more effective. A Taser is only as effective as your aim. Therefore it doesn't matter how near you are if you can make contact with the torso.
Is a revolver a good gun for a woman?
Because a revolver is such a basic mechanism, there isn't much that can go wrong during the firing process. As a result, a revolver is a good and dependable self-defense weapon.
What is a good revolver for a woman to carry?
There's nothing wrong with carrying a revolver for self-defense, and the Smith & Wesson M&P Bodyguard is an excellent choice for ladies. Smith & Wesson's Bodyguard revolver is the newest in a long series of high-quality revolvers.
What is a good 22 pistol for a woman?
The Ruger SR22 is a 22 LR pistol that would be a good choice for self-defense. The Walther P22 is primarily based on this gun, although it is also recognized for being more dependable. So, the SR22 has a 10+1 capacity and is tiny enough to carry in a pocket, yet is big enough to fight.
How do you defend yourself from an attacker?
Make their nose hurt. Strike your opponent in the nose with the palm of your hand in an upward forward motion.
Use a wristlock to restrain them.
Make them look you in the eyes.
Headbutt from behind.
Headbutt from the front.
What are the 5 D's of self-defense?
The Five D's, lines of defense, and internal and external danger identification are the three concepts used to protect against forced and unwanted intruder entry. The five D's of security aim to achieve at least one of the following: Deter, Detect, Delay, Deny, and defend all words that come to mind when preventing, detecting, delaying, and denying. We can avoid defending if we can appropriately apply the first four D's and ward off any hazardous or unwelcome invaders. For inevitable catastrophes, offensive and deliberate protection in your home, business, or school is essential.
Bottom Line
At this point, we have offered all the relevant information focused on self-defense weapons for women. We provide those currently used because they are practical and accessible, which will provide security to American women and the world.
We invite them to acquire these products for women, which are focused on providing security in any situation of their daily lives, without the need for a self-defense instructor.
You can use anything small or large to defend yourself, your workers, or your pupils if you find yourself in a position where you need to protect yourself, your employees, or your students. Fire extinguishers are one of the finest suggestions from security pros and an everyday defensive weapon since they may be used to strike, block, ambush, and startle the intruder in addition to spraying. Pens, pencils, coffee cups, computers, athletic equipment, picture frames, and many other everyday things can be utilized to defend against an unwelcome visitor.