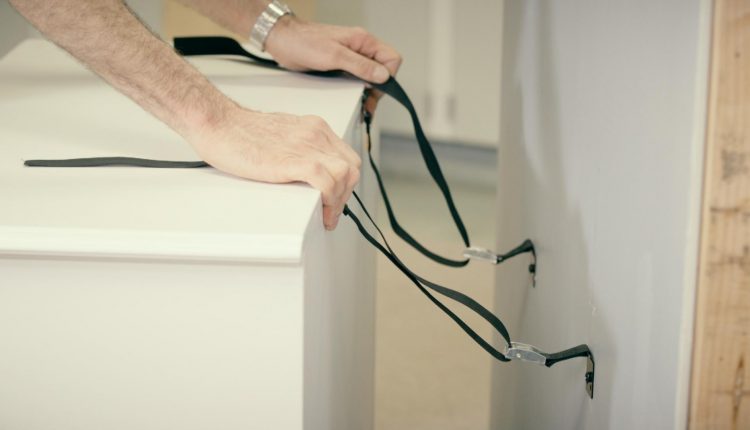 How to Anchor Furniture without Drilling | An Expert Guide
Disclaimer
Articles, products, and services offered on this site are for informational purposes only. We are part of the Amazon Services LLC Associates Program, an affiliate advertising program. Amazon.com is compensated for sales resulting from links on our website.
Please review our disclaimer before acting based on anything you read or see.
People have homes to live in for a lifetime, and therefore they must be safe. Not only aesthetics, space, and durability of the structure are essential. Feeling more confident and providing security to our family members is also an important issue. There are families where there are children, and they are naturally restless and playful. They also have pets that move around the house, playing and climbing on the furniture. In this guide, I will discuss how to anchor furniture without drilling.
Then, as we already know, there are often small inconveniences when furniture suddenly moves or falls due to the contact of children or pets. But, on the other hand, nature plays a predominant role in the fall of furniture in the home. It is for these reasons that everyday people around the world seek to fix their furniture.
While securing furniture in a home is desperately needed, keeping the walls in good condition is also. Fortunately, anchoring procedures are diverse and significant accidents have been avoided.
The best option we have to avoid accidents in homes related to furniture overturning is to anchor. So we think about how to anchor furniture without drilling because we do not want to damage the walls. However, it may also happen that a rental agreement prevents us from doing so. The truth is that the walls must also be taken care of. But most anchors need to be drilled to be installed. So when we want to avoid damaging the walls, we wonder how to anchor furniture to the walls without drilling?
To fix furniture, regardless of the weight of the furniture, you need to handle some simple techniques. In this article, we will explain how to anchor without drilling and give greater security to yours.
How to Anchor Furniture without Drilling
There are different ways to anchor DIY furniture:
Quakehold universal flat screen safety straps
Strong glue
QDOS furniture anti-tip kit
Nowadays, there are special anti-tip kits that do not require drilling into the wall. With these systems, you will learn how to anchor furniture to a concrete wall and fix furniture on the floor.
Let's take a look at what each of them is about.
Universal safety straps
Nowadays, it is widespread for homes to have several flat-screen televisions. For this reason, we must try to protect them because any damage may not be easy to repair and would involve a great expense. In addition, an accident involving the overturning of a TV can include children, animals, or other expensive objects.
This kit contains two solid nylon straps with buckles to secure the TV where you want it. This kit is designed to secure TVs weighing up to 150 pounds and 70 inches in size. The peel and press adhesive mounts can be attached to a wall or pieces of furniture. This prevents accidents such as the TV falling off.
Glue
This procedure is effortless and safe. It would help if you start by thoroughly cleaning the wall surface and what you will mount—for example, a solid wood drawer or any other piece of wood. You should also make sure that the piece of furniture to be mounted is level. Then take the necessary measurements and indicate them on the wall with a graphite pencil.
Add urethane glue to the top of the hook that will be placed on the wall. Allow the glue to dry thoroughly for approximately 24 hours.
Install a ligation system that attaches the required furniture close to the wall to the mounted parts. This can be done using steel cable, Velcro straps, or plastic ties.
However, in case of events such as natural disasters, this procedure may not protect your furniture. For example, it may require drilling into the back of the furniture or perhaps gluing hardware or if the furniture is jostled or top-heavy.
The ideal is to test the stability of the brackets and the joint system with glue. On the other hand, the bracket or hook fixed to the wall may need putty around the edges to consolidate it.
Screwless Furniture Tilt Kit
This QDOS furniture anti-tip kit reduces possible accidents where children or pets can be injured. People can fix a bracket to the wall using adhesive to attach the furniture using straps protecting the accessories. Screws are also provided in case you want to fix the bracket better. These screws will leave holes in the same way as portrait hooks do.
As required for moving or cleaning, the straps are easy to loosen and tighten. This kit is unique because it comes with two patented hooks. These hooks allow the bracket to be attached to the wall stud without the need to drill holes or use screws. A small disc is placed on top of the furniture using an adhesive.
Best Furniture Anchors
The best furniture anchors are easy to install and have metal screws.
Furniture anchors in general
These are the ones that allow anchoring large furniture such as bookcases or any other furniture that does not exceed 400 pounds in weight. After the table is fastened to the uprights, it will not be manipulated. However, these anchors include kits with steel pins. These are quick releases so that adults can quickly move a piece of furniture when desired. In addition, they are easy to install.
Extra Heavy Duty Furniture Anchors
These types of anchors, like the previous ones, are bolted with steel cable supports. Their weight limit is 1000 pounds. Some events lead us to think about the safety of our extra heavy furniture. These events can be earthquakes, and since this is heavy furniture, it isn't easy to fix them. It is even customary to place furniture in the center of reception rooms that are not set. But with this type of anchorage, we will be calm because it assures furniture with cable.
Anchorages to protect televisions
They are anchorages designed for flat-screen televisions and consist of two straps of nylon fabrics. These adhesive straps for furniture have triple stitching and are fastened with metal screws on the brackets. However, the brackets that go on the wall are made of hard plastic. The ones that attach to the TV are made of metal.
How to Anchor Furniture without Drilling: FAQs
Do you have to secure furniture to the wall?
The fact is that you can't predict whether or not a piece of furniture (or television) will topple over just by looking at it.
Because these objects have the potential to tip over, we feel that all customers should anchor wardrobes, dressers, bookshelves, or any other large piece, even televisions that aren't fastened to a wall.
Do you need to attach Ikea furniture to the wall?
It's safe! Though the instruction manuals accompanying chests of drawers urge consumers to anchor their furniture to the wall using the provided bracket, not everyone follows this advice, resulting in catastrophic results. Instead, the furniture must be firmly secured to the wall. Use the included tip-over Furniture restraints and the appropriate hardware for your wall type.
When should you anchor furniture?
But don't be put off by the procedure. The process of securing furniture is relatively simple. You're inserting one bracket into the dresser, TV, or appliance in question and another into the wall—right into the stud. The two are connected by a tiny cable, which helps keep the object from tipping over. Then, according to Consumer Reports, look for a kit with nylon webbing or braided steel wire, and fix it in the wall with a wood screw that's at least two inches long. It'll take a little more effort, but it'll be well worth it.
Can you Anchor furniture without a stud?
The good news is that finding studs to attach the furniture isn't necessary. Instead, a variety of wall anchors can be used to secure the brackets to the wall. An extendable metal wall anchor would be our first choice. It's the simplest and most straightforward to use.
What are the best furniture anchors?
To attach those top-heavy items, you'll need to drill into the wall and your furniture, but I've combed the Internet for options that reviewers say aren't too difficult to assemble. The most acceptable furniture anchors are straightforward to install and employ metal screws for a solid grip. Furniture anchors are still the most vigorous defense against tipped-over furniture accidents.
Bottom Line
With the systems described above, you will be able to prevent furniture tripping accidents in the home. This way, no curious child will get hurt playing on the furniture.
You only have to look for the materials required for the selected system. In addition, you should think well about what will be the anchor furniture you have in the home. This way, you will be able to place even tall furniture yourself where it is out of reach of pets and children.
Do not allow furniture restrictions to arise when it comes to fixing them. Each type of furniture can be secured in some way.
Also, you have to remember that there are people who should know everything about anchoring furniture in a rental. This is because some leases stipulate that tenants should not drill holes in the walls.
Thanks to the information provided in this article, you can now decide on the system that will securely anchor your furniture.
We hope you find the installation systems provided useful. Good luck.