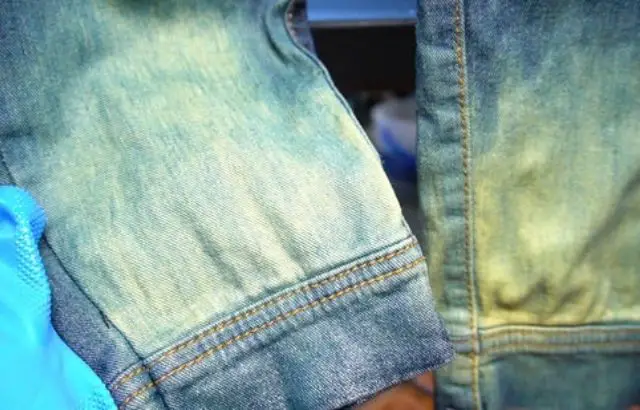 How to Bleach Black Jeans | DIY Guide By Expert With Updated Tips
Disclaimer
Articles, products, and services offered on this site are for informational purposes only. We are part of the Amazon Services LLC Associates Program, an affiliate advertising program. Amazon.com is compensated for sales resulting from links on our website.
Please review our disclaimer before acting based on anything you read or see.
Having those old-fashion jeans could make you think about giving a little change to them! So, let's discuss how to bleach black jeans!
We often have a variety of suits, dresses, pants, and blouses in our wardrobe, but it turns out that as fashions change, we need to change the garments' look. We may have Scrunched Bleach Design, but it turns out that it costs an arm and a leg when we go to buy according to fashion. 
In addition to all this, we know that jeans are the number one garment for casual wear and even for everyday work.
Then, in those moments, we think and analyze everything we have. That there are favorite garments that we never want to stop wearing and therefore can be renewed, starting with jeans. We want to give them a personal touch that is fashionable, as with an Orange Tiger Striped Bleach, for example.  
This is how we reflect on designing our garments with our touches and preferences. Garments that will not be found repeatedly in clothing stores but will be of our exclusivity. If the garment's transformation depends on bleaching, you will find different ways to do it in this article. This applies to every model even the Men's Vintage Denim Hand-Dyed Bleach Distressed Arizona Black Jeans Size ones.        
Nevertheless, there are several methods of bleaching jeans, if that is the item that has to be altered. You may get half-bleached jeans, bleach spatter jeans, fully-bleached jeans, and more with these methods. However, you may start to ponder how to bleach black jeans if you chance to own them.
How to Bleach Black Jeans by Yourself
We provide many approaches, and with the right precautions, you can have bleached black jeans and lightening jeans. Let's examine these do-it-yourself bleach tie methods.
Each method has its benefits; among which you will choose the one that best suits what you want. But before starting the recommendations, what you cannot forget is that the jeans must be well ironed. 
Follow these instructions. So, you will be able to whiten your black jeans at home:
Use Hydrogen peroxide
One of the ways is to use hydrogen peroxide. This method allows you to do it by applying two methods:
Introducing the jeans directly into the washing machine by mixing the product (preferably in tablets by grinding its content) with the powder detergent you always use through the machine cycle.
Another option is to do it manually. Putting in 12 liters of water an amount of 5 tablespoons of hydrogen peroxide and soaking for about 40 minutes. Stirring every 5 minutes the jeans.  
Use Soda
To obtain this preparation, mix 100 grams of the detergent you use with about 120 grams of baking soda plus hot water with approximately 70 degrees. 
You will notice that these compounds will disintegrate, and the water will start to cool down. When it reaches a temperature of 40 degrees, submerge the jeans on the back and wait 90 minutes giving time for the preparation to take effect and discolor the jeans. 
Do not forget to rinse the garment with plenty of warm water. Then let them dry in the natural air. If it has not bleached enough, repeat the procedure. Some people use household bleaches Wooden; maybe you can try that!
Common cleaning agents
This procedure involves combining 150 thousand of the product (made for disinfecting sinks, toilets, ceramics) in 5 liters of water. 
Then soak the jeans in the mixture. 
From that moment on, you should stir every 5 minutes. Be aware that when the garment acquires the desired discoloration, you will remove it from the soaking. There is no estimated time. Rinse with enough water and repeatedly.
Organic bleaching
If you want to bleach your jeans without applying chemical procedures for fabric care reasons, we recommend using citric acid. In this case, use ten tablespoons of lemon juice in a bucket of warm water and soak the jeans for 5 hours to obtain the desired result. 
Now rinse and dry. You can try this process also with jeans with bleach without problems. 
Bleach
This approach is widely used and may be used in one of two ways:
Including bleach 10 liters of water and 100 cc of bleach should be dissolved before soaking the jeans for 30 minutes. It rinses after being washed with detergent. Drying will take place out of the sun.
Breakdown:
Fill a large pot with 5 liters of water and add 100 ml of bleach.
Bring to a boil, place the jeans in it for about 15 minutes and remove them from the pot.
Squeeze them and rinse several times until the chlorine is removed.
Let them dry away from sunlight.
Bleaching with hypochlorite bleach
To use bleach, find a laundry room and mix bleach with water. The amount of bleach and water will depend on how much bleach you need for your jeans. For example, as denim bleaching techniques, combine 100 ml of bleach with 8 liters of water. Use latex gloves because bleach is abrasive and can damage your skin if you are not careful.
Then the jeans that you should wash first soak in lukewarm water. This is so that when you soak them or wash them with latex, it absorbs them immediately. 
Wait the necessary time according to the type of fabric and the discoloration you want. This is due to the jeans' characteristics because the process will last and therefore is different in each pair of jeans. This also happens with Bleach Wash Denim ones.
In the case of total bleaching black jeans, you will need to wait approximately 8 hours. If you are only half bleaching, you will need less than an hour. 
For these reasons, we recommend you check the process every hour, remembering that the tone you observe at the moment will be twice as high when drying. 
When the bleaching process is finished, proceed to rinse them and if you use a washing machine, place the jeans on their own because they can damage other garments. Finally, air dries or tumble dry, and you're done.
How to Bleach Black Jeans in Washing Machine
Pour four liters of warm water plus a quarter of a cup of bleach into a plastic bucket. Insert the jeans and wait five minutes. Turn on the washing machine previously planned to wash in warm or hot.
Unless it says otherwise in the garment's washing recommendations, in that case, you will do it with cold water. Take the jeans out of the drum and put them in the washing machine. 
Add the usual amount of soap plus three-quarters of a cup of bleach and let the washer run for its normal time. Air dry or tumble dry.
However, if you prefer to get bleach splashed jeans, you will have to apply another process here. You can try bleach tie-dye too.
Bleach jeans with a spray bottle
You will use a spray bottle that you have on hand that is, of course, clean and fill it. Use one-part bleach—also three parts water. 
Find a plastic bag, open it with scissors in half, and spread it on the floor, so the bleach will not damage it. Then, you are going to place the jeans on that plastic. Protect your eyes with special glasses for this type of activity. 
If you will splash only one side of the jeans, place any plastic object on the pants' inside as filler. You can also use newspaper to prevent the spray from affecting the other side of the pants. Apply the leggings gently with the spray.
This method works because you can create your designs with different hollow-shaped objects. To do this, you should spray the center, and you will get, for example, hearts, moons, lips, among others. Wait for the bleach that takes 10 minutes to act. 
Rinse them with plenty of water and without adding any soap. 
How to Bleach Black Jeans: FAQ
What happens if you put bleach on black jeans?
It doesn't matter if the jeans are black or another color since bleach is usually applied for bleaching jeans. However, what you should do is take the necessary precautions. 
When washes in bleach, as it is highly harmful to the skin and other surfaces, you should also protect your eyes if you are going to use aerosol. Avoid brush in bleach in this process.
How long does it take to bleach black jeans?
It takes approximately 8 hours overnight to bleach them. Please put it in the tray with bleach, and that's it.
Can you bleach black jeans?
Yes you can but totally with different methods according to their texture and condition. You can bleach them using hydrogen peroxide, soda, common cleaning supplies, bleach, and citric acid, which is an organic way. 
Also, you can also use bleach that will allow you to draw even different styles and designs. You have great diversity here. Start using bleach to do this.
Start bleaching your jeans now!
In short, according to the jeans' condition, you will have to select the method to make the discoloration of the jeans. In fine or poor quality fabrics, it is advisable to apply an organic procedure. 
This will be based on citric acid or soft soda to apply and even better apply hydrogen peroxide. Keep in mind that these strategies are commonly used for bleaching jeans. You won't regret reading these lines, BTW.
You can now start renewing your wardrobe to enjoy various garments in your style without any repetition. Follow our recommendations and dare to design your dream jeans, taking the precautions of each method. BTW, be careful of the toxic bleach fumes.
Enjoy the perfect jeans, and start a brand-new style! Put that hand-dyed Bleach Splattered Black Denim Jeans Size 36×32 on!
Read More: How To Wash White Shirts With Colored Designs