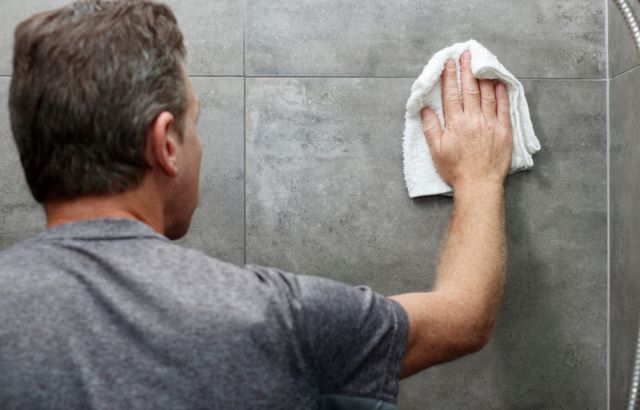 How to Clean Porous Stone Bathroom Tiles – 8 Simple Steps [+Image]
Disclaimer
Articles, products, and services offered on this site are for informational purposes only. We are part of the Amazon Services LLC Associates Program, an affiliate advertising program. Amazon.com is compensated for sales resulting from links on our website.
Please review our disclaimer before acting based on anything you read or see.
Bathrooms must be clean, especially if the material is made of porous stones. This material is durable but needs minimal care to be maintained over time. However, pay attention to the details of the materials and procedures to follow. Otherwise, you will damage the durability of your porous stones and bacteria all over your bathroom. So, lets learn how to clean porous stone bathroom tiles.
Therefore, from home affluence, we suggest the processes or steps followed for effectively cleaning and maintaining your porous stone tiles.
What is Porous Stone?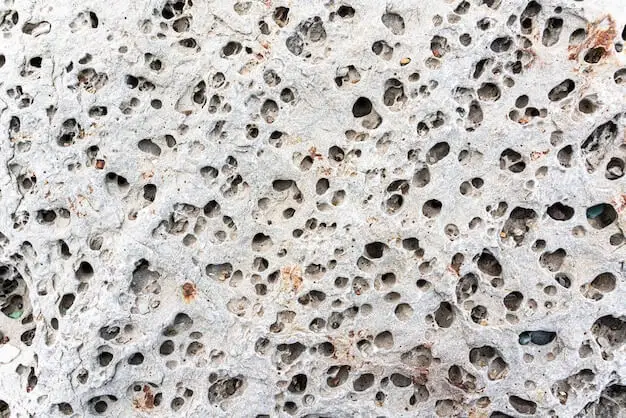 Stone surfaces are beautiful and durable; moreover, you can integrate this material in different places, from flooring to furniture. On the other hand, because of its porous properties, it tends to be challenging to clean.
Porous stones represent a super strong material. This makes it the most popular in the vastness of housing sites indoors and outdoors. In addition, it ages well and withstands extreme temperature conditions, not to mention that it has an enormous resistance to oscillations between cold and heat. In this way, porous natural stone:
Creates particular environments, rustic, with rural and traditional tastes.
It is a solid material.
It is a good heat insulator.
Performs perfectly for exterior and garden furniture.
You can find stones usually on stairs, landings, paving, cladding, and garden furniture.
As a primary disadvantage, natural stone is a porous material. This property causes it to absorb substances of different kinds. Therefore, the dirt will become more visible, and it is necessary to understand how to clean porous stone.
Once we understand how to clean porous stone or other delicate and complex materials, we must keep some things in mind.
How to Clean Porous Stone Bathroom Tiles (Simple 8 Steps with Image)
One of the considerations to take into account is the porosity of this type of stone. The reason is that they absorb any material very quickly and have long durability. For these reasons, from affluence, we recommend this series of steps to clean your bathroom without the risk of bacteria proliferation effectively:
Prepare a bucket of bleached water
Scrub the floor with a brush
Clean the walls and ceiling with a sponge
Dry the tiles thoroughly
Clean the grout with a microfiber cloth
Use a soft brush to scrub the tiles
Apply baking soda paste on porous stone tiles
Apply white vinegar on porous stone tiles
Prepare a bucket of bleach water.
The first thing you should do is take a bucket of bleach water to start the process of cleaning your porous stones in the bathroom. Adding at least a cap or two to an entire bucket of approximately 12 liters is essential.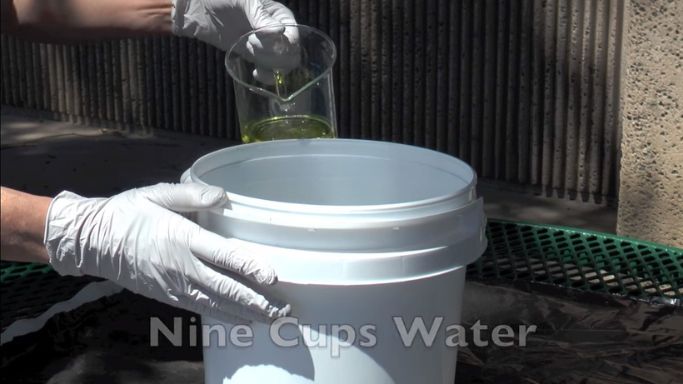 That is to say. You will add a lid every 6 liters. Experts recommend using at least one cap for every 6 liters so as not to create serious damage to the bonding surfaces of the stones if large quantities are applied. This is primarily because further research has determined that using substances other than water can cause a deep impact in the medium and long term on porous stones due to their high absorption character of the materials. 
Scrub the floor with a brush
Preparing your porous stone surface to begin cleaning is the first step. Remove all dust and debris from your porous stones in the bathroom.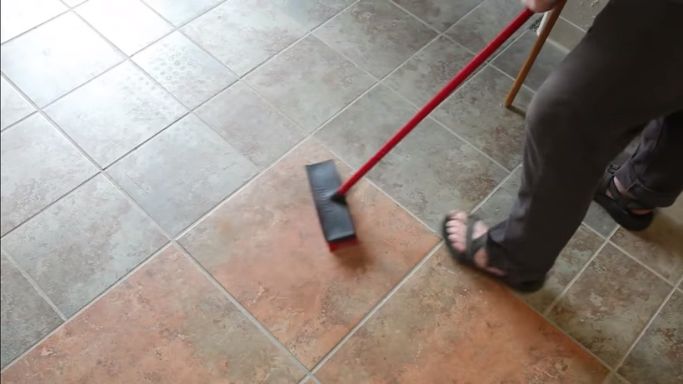 Remember to use the brush sweeping in one direction to avoid spreading the debris all over the place. If hot water is not enough to remove the dirt, use a neutral soap that respects the stone. A soap of this kind that you probably have on hand is dishwashing.
Clean the walls and ceiling with a sponge
The best way to clean the walls and ceiling of your bathroom is with a minimally moistened sponge. Due to the high absorption power of porous stones, the sponge is one of the most effective materials for cleaning this type of surface.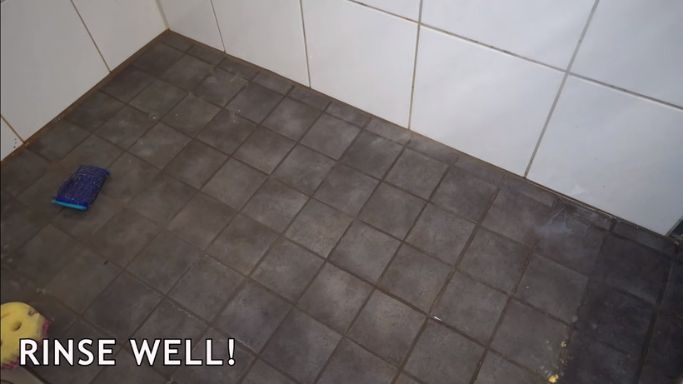 In the references, you will find some studies done in Athens, specifically in Necropolis. There they concluded that the sponge is the most important material to help the conservation of this worldwide attraction. Maybe your bathroom is not the place of the gods, but it is essential to keep it spotless and support the preservation of your porous stones.
Dry the tiles thoroughly
Once you have sponged your porous stones, it is time to dry the surface immediately. Stones absorb a lot of energy, preserving joint integrity by avoiding excessive vibration absorption in the material.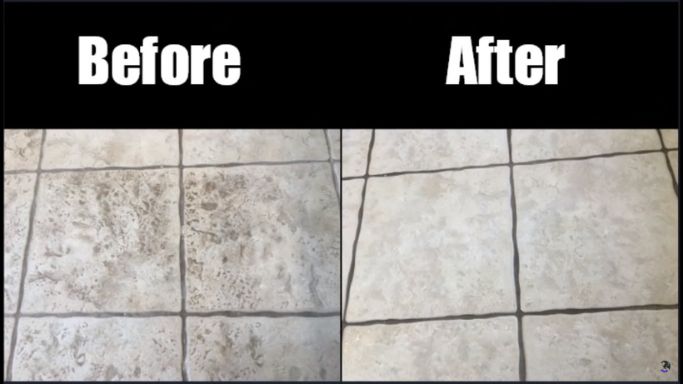 It is recommended to use bleach but in small quantities. It is, therefore, vital that you consider what home affluence tells you regarding bleach.
Clean the grout with a microfiber cloth
One of the final steps to complete the job is to use a microfiber cloth. Grout absorbs dust quickly, and the microfiber gives the stones a slippery surface so that the dust doesn't adhere as soon to the bathroom tiles.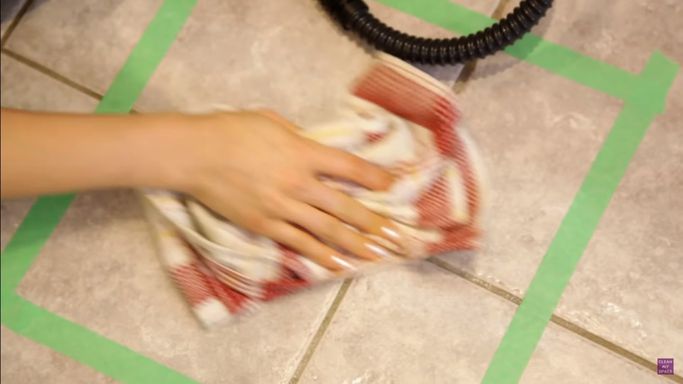 Use a soft brush to scrub the tiles.
Engineered stone, like natural stone, should be cleaned regularly to prevent grime buildup. However, if you see stains, it is best to clean them as soon as possible since we are discussing a very porous material.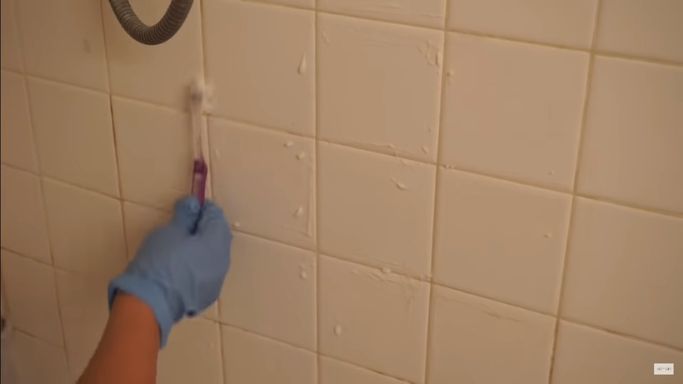 The right thing to do is to use neutral soap and nylon bristle brushes to clean the artificial porous stone. If the stains are intense, you can use a steam generator or a pressure washer. You can also clean synthetic porous rocks with unique cleaning products.
Apply baking soda paste on porous stone tiles
Baking soda is superior for blackened whitening stones. Of course, this originates from its aptitude to absorb grime and disinfect simultaneously.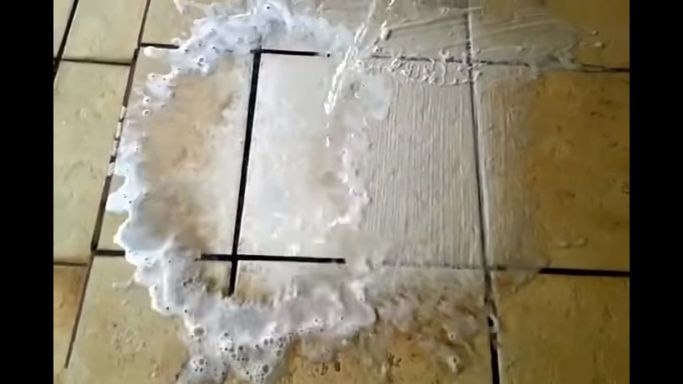 It would help if you mixed it with liquid soap to exploit its benefits fully. You can use a viscous paste on the hard surfaces with a plastic knife or simply with your hand (using latex gloves).
Apply white vinegar on porous stone tiles
Vinegar belongs to the most recommended configurations when cleaning porous floors. It is efficient in its characteristics to suppress dirt on your floors. You have to make a cleaning satisfaction with not very hot water and 50 ml of vinegar.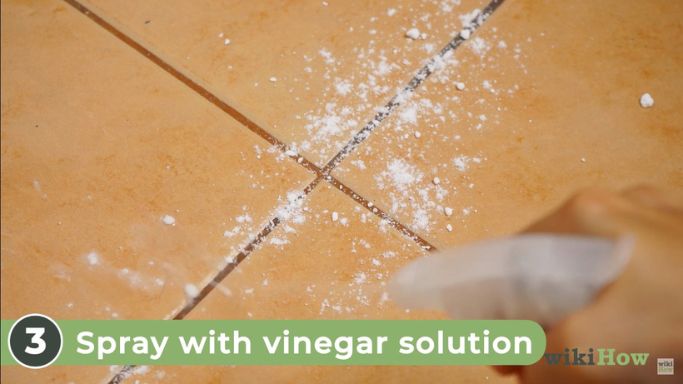 After having developed the homemade product, you have to remove the dust from the tiles with the assistance of a vacuum cleaner and then mop using the mixture we prepared previously. Later, you have to scrub the whole area very thoroughly. You can guide yourself with a professional cleaning brush.
Read More: How To Get Rid Of Ants In The Kitchen With Baking Soda
Expert Opinion
After outlining everything in the article, one of the observations we can make would be the observations with the artificial porous stones. You can use materials such as dishwashing soap, but you should use them sparingly.
Another detail has to do with natural porous stones. Many people recommend using materials such as resin or bleach. However, if you exceed the amounts, you could even damage the joints of the porous stone tiles in your bathroom.
For these reasons, it is essential to consider the quantities described earlier in the article and the recommendations that home affluence is given in terms of cleaning tips on cleaning porous stone bathroom tiles.
Sources
Cleaning Inc, R. A. (2019, August 26). 5 tips for cleaning stone showers. Retrieved November 3, 2022, from https://rashandson.com/5-tips-for-cleaning-stone-showers/
Doctor, R. (2019, October 21). How to care for Stone Shower Tiles: Rock doctor. Retrieved November 3, 2022.
Jane, A. (2020, October 04). Amazing grout cleaner for kitchen, bathroom floors & shower! (Best cleaning hack) | Andrea Jean. Retrieved November 3, 2022, from https://www.youtube.com/watch?v=D7sTymORypQ
Ksinopoulou, Evangelia & Aggelakopoulou, Eleni & Eleftheriou, Vasiliki. (2022). Investigate a suitable porous stone for the restoration work on the Acropolis circuit wall. Construction and Building Materials. 335. 127522. 10.1016/j.conbuildmat.2022.127522.
Lettieri, Mariateresa & Masieri, Maurizio & Aquaro, Marika & Dilorenzo, Debora & Frigione, Mariaenrica. (2021). Eco-Friendly Protective Coating to Extend the Life of Art-Works and Structures Made in Porous Stone Materials. Coatings. 11. 1. 10.3390/coatings11111270.
Webber, A. (2021, June 16). How to clean shower tile correctly (safe for natural stone, marble, and regular tile). Retrieved November 3, 2022, from https://chemistrycachet.com/how-to-clean-shower-tile/