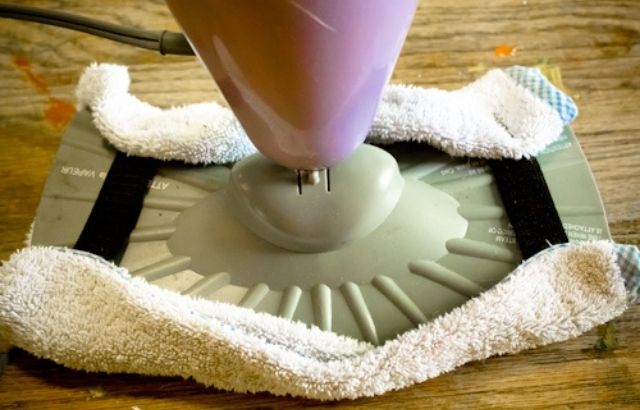 How to Clean Shark Steam Mop Pads | Follow These Simple 6 Steps
Disclaimer
Articles, products, and services offered on this site are for informational purposes only. We are part of the Amazon Services LLC Associates Program, an affiliate advertising program. Amazon.com is compensated for sales resulting from links on our website.
Please review our disclaimer before acting based on anything you read or see.
Shark is a revolutionary new sheet with steam, ideal for families with children and pets, businesses, and why they are not pregnant. Best of all, you don't need to use detergents or any chemicals, just water. Now, how to clean shark steam mop pads? Here is how you can clean it.
The use of a shark steam mop can be of great help in your home. However, you must also do its respective maintenance for a good performance.
A steam mop should be cleaned regularly, like everything else in the home. It is recommended that you do this after each use. This will keep your floors spotless and extend the life of your steam mop.
Cleaning your steam mop will not take all day. Just follow a few simple steps.
How to Clean Shark Steam Mop Pads
Unplug Your Steam Mop
To give our shark steam mop a good cleaning, you only need to follow six simple steps: you can use them as a cleaning guide.
The first thing to do before cleaning your Shark steam mop is to unplug it from the outlet. Many people doubt the power of steam.
However, the last thing we want is an accident. This is especially necessary if you have a model that automatically releases the steam jet when it is plugged in.
Don't forget that steam is water that is heated to 300 degrees Fahrenheit so that it can burn your skin.
If you have been mopping with your steam mop, you may also want to give it time to cool down. About 15 minutes should be enough. Then you can start cleaning.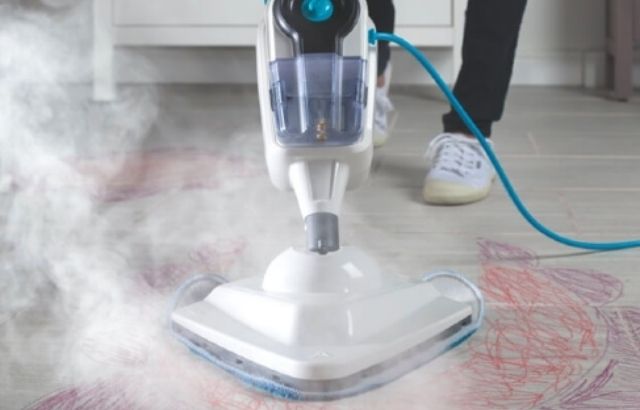 Emptying the water from the tank
If you haven't used up all the water in the tank, it may be tempting to leave it there.
This is not a good idea. Water left to sit can damage your machine. It could cause corrosion and shorten its life.
Also, there is a risk of mold inside the water tank.
Mold can grow in warm, moist areas, creating spores that can spread.
There may even be a bad odor after a while.
It is best to empty the water tank whenever you use the steam mop, even if you have only a little left in it.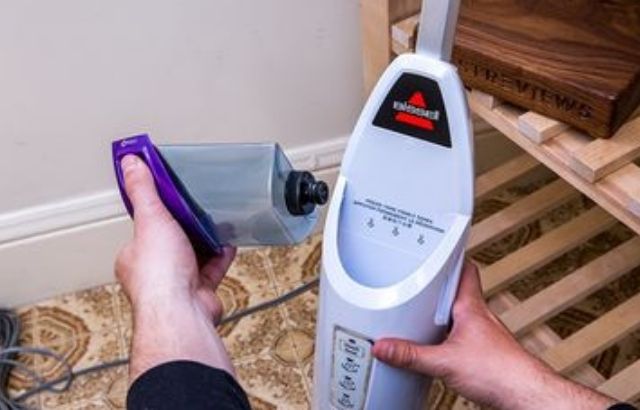 Cleaning the water tank
Some steam mops allow you to separate the water tank, making this step a lot easier. Take a cloth and wipe around the inside of the tank. The mop can collect dirt and grime from there.
There may be some scale on your steam mop, depending on the water used inside the tank. This may look like a white haze on the plastic. An excellent way to remove scale is to use vinegar.
Thanks to its natural antimicrobial properties, vinegar can help clean the water tank and avoid cleaning products.
Do not forget to dilute it with plenty of water, as it includes acid. You should use two water solutions for each vinegar solution, although some you might cut even more.
 Using a cloth, make sure the water tank is completely dry before placing it in the machine. You don't need to fill it with water, do it the next time you use your steam mop.
This way, you can ensure that your floor is safe for small children. Using cleaning solutions in the water tank can also damage your steam mop.
Cleaning Nozzles
You may need to clean the nozzles of your steam mop periodically.
This is particularly true if you have used heavy water in your water tank. 
This water contains minerals and limestone that, over time, can block nozzles.
One way to avoid mineral residues is to use distilled or demineralized water in the tank. 
From your steam mop, steam should flow freely. You can make your machine last longer.
If your steam mop stops working, it may be because the nozzles are clogged. But you may not have to run out and buy another one. All you have to do is unhook the base of the mop head and access the nozzles.
It will be necessary to use a screwdriver to remove the base plate. This is common with Bissell steam mops, as the nozzle is located on the base itself.
If there is buildup, you may be able to see it around the nozzle. A cotton swab may be enough to unblock it and resume cleaning.
To clean it, you may need a thin pin if the residue is inside the nozzle.
Shark steam mops usually come with a nozzle cleaner. Use this to unlock the nozzle by pushing it back and forth.
You can use a paper clip if you don't have a tool with your steam mop.
Then, replace the mop head, and you're all clean and ready to use again.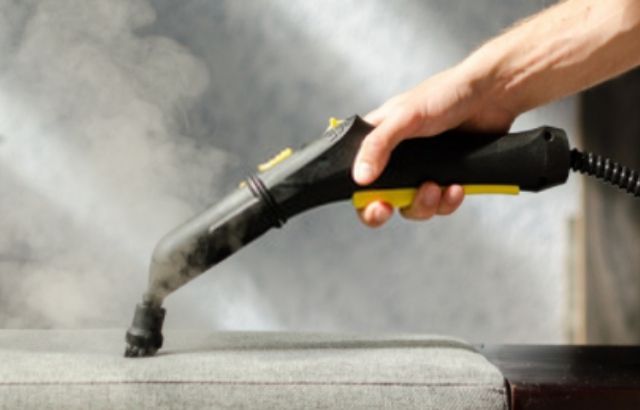 Changing or washing the mops
It is recommended that you wash your mop after each use. This can prevent the buildup of contaminants and bacteria growth.
Of course, if you use disposable pads, throw them away and place another on the mop head.
If your mop pads are made of microfiber or cotton, they are usually reusable. You wish you can machine wash it. If you don't have one, you can hand wash it. 
To wash your hands, use baking soda or a mild liquid detergent or a mild liquid detergent, no more than a teaspoon. It should be mixed with hot water. The mop must remain at rest in the water for about 26 minutes. After this, you can rinse with fresh water.
Try to avoid using bleach or fabric softeners. This can damage materials such as microfiber.
Microorganisms she destroyed with hot water at approximately 160 degrees Celsius Fahrenheit for 26 minutes. Therefore, choose a washing machine setting that is ideal for this.
You may be able to dry mops on a low setting on the dryer. But if you are unsure, it may be best to air dry them.
This helps prevent moisture from remaining in the material and mold growth during storage. It can also prevent unwanted odors from developing.
Leave the mop pad flat to dry, and then it can be placed back on the mop head.
For the most part, manufacturers indicate cleaning requirements before selling their products, so it is best to check before your mission.
It is essential to have the replacement pad for the shark steam mop. The replacements allow you to improve the performance of your machine.
Cleaning steam mop
The last step is to wipe the outside of the steam mop with a cloth. This includes any place where you can detect moisture to prevent mold and mildew growth. It is ideal for checking the base where the mop pad has been left.
You can only use a dry cloth. Please give it a once over, and it's ready to store in your laundry room.
3 Best Shark Steam Mop Pads
Magicmops Replacement Steam Mop Pads Compatible Shark
The Magic mops steam mop pads are made of high-quality microfiber and polyester material, which is durable enough to use for a long time. It can be used on all kinds of flooring, such as hardwood floors, tile floors, laminate floors, linoleum floors and stone floors. The pad is double-sided with two different textures on each side. One side has fine fibres that scrub away dirt and grime while the other side has larger fibres that lift it up from the floor for easier cleaning.
No products found.
Steam Mop Pads Compatible with Shark Lift Away & Genius
Steam Mop Pads is the perfect companion to your hard floors from wood, vinyl, and laminate, tile, marble and stone. It is reusable. The Micro Fiber Steam Pad Replacement by Steam Mop Pads Compatible with Shark Lift Away & Genius is an easy way to get those stubborn messes off the floor without the use of chemicals that can damage your flooring.
The Shark Lift-Away Pro Steam Pocket Mop is the ideal steam cleaner for all of your hard floor surfaces. The Shark Lift-Away Pro Steam Pocket Mop is a complete solution that cleans and sanitizes in one easy step.
Turbo Microfiber 6-Pack Steam Mop Pads for Shark...
Quality Clean: Stop dirt and dust in their tracks. Our steam mop replacement pads feature a premium, plush microfiber material to trap and pick up debris.
Heating: The steamer mop pad has a honeycomb mesh lining to evenly distribute heat throughout the mop for a deeper clean and full steam ahead.
Reusable: These refills can be cleaned and used multiple times after a quick run through the washing machine. Hasta la vista, disposable steam mop pads.
4 Pack Replacement Steam Mop Pads with Scrub Strips for Shark Steam Pocket Mop
The Shark Steam Pocket Mop is a steam mop that makes cleaning your floors easier than ever. This steam mop uses the power of steam to clean and sanitize all sealed hard floor surfaces, including wood, tile, marble, laminate and more. It's lightweight and easy to use so you'll be able to clean your entire home without having to lug around heavy equipment. The Shark Steam Pocket Mop features an extra-large water tank which allows you to spend more time cleaning and less time refilling.
With just one touch, the Shark Steam Pocket Mop heats up in seconds and releases a burst of steam to clean and sanitize your floor. The Shark Steam Pocket Mop features an adjustable handle so you can customize it to the perfect height for any job. It also comes with two microfiber pads that are washable and reusable.
4 Pack Replacement Steam Mop Pads with Scrub...
🌱Adaptable Models -- Pocket Mop Pad with hook and loop strip closure is easy to set in, compatible with Shark Steam Pocket Mop: S3500 series, S3501,S3550,S3601,S3601D,S3801,S3801CO,S3901,SE450,S2901,S2902,S3450,S3452,S3455K,S3501SPN,S3501WM,S3601C,S3601CO,S3601K,S3601Q,S3601W,S3601WC,S3901A,S3901C,S3901D,S3901FS,S3901K,S3901Q,S3901W,S3901WC,S3901WM,SE400.
🌱4 Pack Design -- 4 pcs Touch-Free Microfiber Pad for everyday usage. With strong water absorption, soft s3501 mop pads is effective
🌱More Effective - The premium s3501 steam mop pads can capture dirty mark, water stain, paper scrap, hair on all sealed hard floors such as wooden floor ,ceramic tile, marble floor, laminate floor and carpet, leaving no dirt behind
What is Steam Mop Brands Currently on the Market?
Bissell steam mops
Bissell steam mops are one of the best on the market. They have a wide variety of mops. One of their best-selling models is the Power Fresh Slim Steam.
This model easily converts from an upright steam mop device to a more robust surface cleaner with a portable handheld steam cleaner. The integrated trigger for the Steam on-demand function allows you to dispense the amount of steam needed, especially if you have wooden floors. It also has strong water absorption.
Check out the top quality Shark Vertex Vacuum
How to Clean Shark Steam Mop Pads: FAQs
How do you clean shark genius steam mop pads?
Best way to clean and use shark steam mop. Use pads while cleaning is to soak the pads in warm water, baking soda and a small laundry detergent will deep clean them. Rinse the shark mop pads well after they are absorbed.
Can you put a cleaning solution in a shark steam mop?
It would help if you did not put any cleaning solution in your steam mop pads shark. Machine manufacturers say that for good clean steam mopping, it is ideal to use only demineralized water. Putting chemicals in your steam mop can cause corrosion and void your warranty. That means steam mopping is just as good as using regular floor cleaning solutions.
Can I put vinegar in my steam mop?
Yes. By adding white vinegar to your water solution, cleaning your floors will be very easy. Just be careful what you are cleaning because not all bases should be cleaned with vinegar.
Conclusion
If you want your floor to be spotless, you may want to start with a clean, new clean steam mop. It will save you time if you wash your steam mop after each use.
Before starting to disassemble the water tank, it is ideal for checking if your machine is unplugged. Emptying and scrubbing it shouldn't take long if you get in the habit of doing it all the time.
You may only need to clean the nozzles periodically or feel the steam is not emitting enough. Don't forget to throw the mop pad in the trash washing machine while cleaning the exterior.
Steam cleaning can be beneficial for today's homes, as it can eradicate even the smallest amount of dirt from your floor.
If you use good fabric softeners, you will have an exceptional home. Softeners on steam are here to stay.
Read More: How To Remove Oil Stains From Granite Countertops