Install Crown Molding: No Nail Gun Needed!
Disclaimer
Articles, products, and services offered on this site are for informational purposes only. We are part of the Amazon Services LLC Associates Program, an affiliate advertising program. Amazon.com is compensated for sales resulting from links on our website.
Please review our disclaimer before acting based on anything you read or see.
Are you bored of your plain old walls? And it's time for an upgrade. Then you are at the right place. Crown molding is on everyone's Pinterest DIY list. But everyone is scared to do it without professional help. But this guide will give you detailed directions on how to change the outlook of your walls, especially if you don't have a nail gun. Let's see how to install crown molding without a nail gun.
Crown molding will not only refine the interior but also add a hint of aesthetics. These tips will allow you to maximize the visual charisma of your space. 
How to Install Crown Molding without a Nail Gun
Step#01 Safety First:
You will be using many tools and materials that can harm you or stain your clothes. Self-protection is, therefore, necessary. The preventive measures include wearing protective equipment, including: 
This will ensure that the process goes without a glitch and you can complete it in record time without danger.  
Step#02 Precise Estimation Techniques: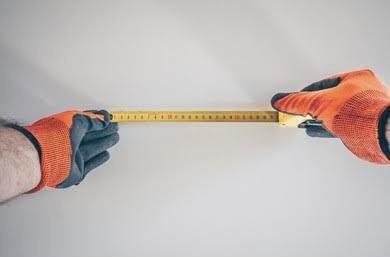 Use measuring tape to note down the dimensions (length, width, height) of the wall that you plan to crown mold. You can do multiple takes, but an accurate measurement is almost crucial as it can render the whole process useless if done incorrectly. Take note of all the cuts, holes, and curves along the wall and the roof. 
Step#03 Choosing the Suitable Fasteners:
Depending on the size of the area you want to work with, pick suitable nails. They should complement the thickness of the crown molding. This ensures a solid and stable adhesion is secured without a nail gun. If the nails are too small to hold the design together, it will fall apart sooner. 
Step#04 Careful Cutting with a Miter Saw:
Take a miter saw to cut the molding ends, especially those corner joints carefully. The cutting process should be such that it adds up to an ideal fit without inconsistency between the pieces. Consequently, the result will be a sleek-looking crown mold instead of something put together by an amateur. 
Step#05 Using Adhesive:
You can choose either wood adhesive or construction adhesive, depending on the material of the underlying layer. Now spread a thick layer onto the inside of the cut chunks of molding. Make sure to apply more on the crevices, joints, and bends, as those are the most difficult to assemble. 
Step#06 Situating of the Molding:
Now place the glued molding onto the wall on the pre-marked areas and press hard. Keep in place for a few moments or until you can feel the adhesive doing its thing. In case the placement is not right, you have a few minutes to move the pieces of molding around. But it is better to hold the chunks in a solid stance so they fit cozily. 
 Step#07 Nailing:
Now, use a mallet or a hammer to slowly drive the nails in the glued mold in and through the wall. The nails should be long enough to pierce through the molding and get installed 3-4 inches in the wall for an ideal and snug association. Do this step slowly, as it can break the molding or damage the wall underneath. 
Step#08 Carrying out Nail Countersinking:
The placement of these nails should be slightly below the outer surface such that they are not visible to the naked eye. This will further strengthen the molding and give a sleek outlook. Nails hanging out of walls can be very off-putting. 
Step#09 Filling nail holes: 
The holes need to be filled; otherwise, the aesthetics will be spoiled. So, use wood filler or clay to press into any visible nail holes. Then, smooth the top using a leveler or a clay blade for a smooth finish. This will give way to a flawless appearance, something only professionals can achieve.
Step#10 Final Touches:
Now, all that is left to do is smooth out rough edges. Paint or stain the crown, molding the color of the background to put together the whole look. Dust off any debris that the trimming or nailing might have accumulated. These last touches will increase the visual appeal. 
My Opinion
Before starting the project, try practicing cutting and trimming on spare pieces of wood or molding. This will improve the muscle memory of your hand and make the actual process much easier. Be patient and take your time.
At any time, if you feel like things are not working out the way you want them to, start again. It will take a couple of tries before you get there. Make sure you have ample practice with the saw. It is very dangerous if it comes in contact with skin. It is better to have first aid supplies on hand in case of any accidents.