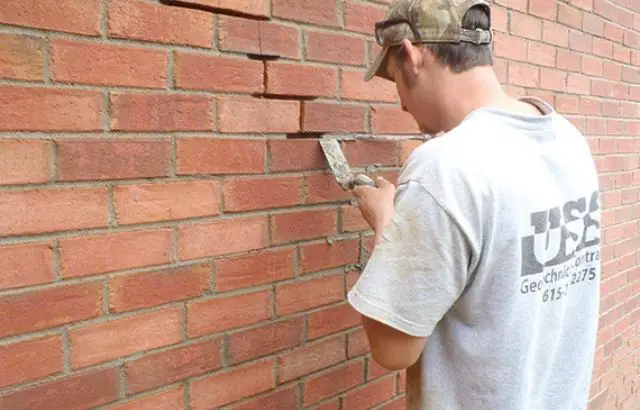 How to Install a Lintel in an Existing Brick Wall | Learn In Simple Steps
Disclaimer
Articles, products, and services offered on this site are for informational purposes only. We are part of the Amazon Services LLC Associates Program, an affiliate advertising program. Amazon.com is compensated for sales resulting from links on our website.
Please review our disclaimer before acting based on anything you read or see.
Installing a lintel in an existing brick is an exciting project. Now at this age, nobody likes a fully closed-house as it cause many health problems. Making a window in an existing wall is not as easy as you think. For making a window 1st of all, you need a lintel to put on just up to the window. But how to install a lintel in an existing brick wall? In this article, I will demonstrate the whole procedure that will surely help you in construction.
Before proceeding to my content, you must become familiar with lintel. You can say as a backbone for windows and doors. In modern houses, it's necessary to put lintel in windows and doors. In a simple way, it's a load-bearing material which holds the heavy loads above the windows and doors. A lintel is mostly made of Timber, Stone, brick, steel lintel, Reinforced concrete lintel, and reinforced brick lintel. These are the main types of lintels mostly use. You must ask your local structure guardian or friend who before have experience of installing a lintel.
Position of Window: Determined the exact place where you want to install a window in an existing wall.
Load-bearing: You must examine the wall is Load-bearing or not. Mostly load-bearing walls are made of Bricks of the block. Simultaneously, non-load-bearing walls are made from wood frames, which is not suitable for making a window. But If your plasterboard or wood frames are strong enough to bear the supporting weight on windows.
Permit: You must have a permit from local building inspectors.
Tools You Need to install a lintel in an existing brick wall
I will guide you in choosing the best tools you will need to make a lintel window.
Safety Glasses
BISON LIFE Safety Glasses, One Size, Clear...
BISON LIFE Everyday Safety Glasses, Clear Lens Clear Temple, Pack of 12 pairs.
BUILT FOR COMFORT & SAFETY: Incredibly light, all-around ballistic impact protection with a snug, comfortable, and secure fit that helps minimize slippage. Easily wear for long durations of time to protect eyes against flying debris and airborne contaminants, wet or dry. Deep, universal-fit temples provides full brow and side protection equal to that of eye wear with large side shields.
ANTI-SCRATCH: Full coverage and Scratch Resistant coating for the best protection for your eyes and for the maintenance of the glasses. Built for all around visibility and a high level of direct and peripheral eye protection from flying particles or debris. Exceeds ANSI Z87.1 standards.
Caulk Gun
SolidWork Professional Hand Caulking Gun with High...
HIGHEST THRUST RATIO- The powerful 24:1 leverage of the SolidWork cartridge gun enables comfortable and fatigue-free operation even during long periods of use or in cold environments.
STRONGEST AND MOST STABLE CONSTRUCTION - The high quality riveted steel and aluminum alloy construction of the SolidWork caulk gun guarantees perfect handling and long durability, even under extreme conditions.
BROAD FIELD OF APPLICATION - The caulk gun is suitable for cartridges with a size of up to 1/10 of a gallon. So it can be used for working with all common sealant and adhesive cartridges.
Tape Measure
Sale
Komelon SL2825 Self Lock 25-Foot Power Tape
AUTOMATIC LOCK - Self locking mechanism allows blade to lock automatically and retract at the push of a button.
NYLON COATED BLADE - Provides maximum blade protection.
IMPACT RESISTENT CASE - ABS plastic with rubber over mold protects the case from accidental drops.
Thread
6-Pack of 6000 Yards (Each) White & Black Serger...
SUPERIOR QUALITY CONE THREADS FOR A VARIETY OF SEWING PROJECTS - Are you looking for cone threads perfect for all your sewing needs? Get this pack of RockDaMic all-purpose sewing threads designed for sewing, hemming, seaming, and many more threadwork
FORGET ABOUT CHEAP AND UNRELIABLE THREADS - These threads are made of 100% filament polyester for ultimate strength. They can be used effectively on different materials like cotton, canvas, drapery, upholstery, quilt, flannel, and much more!
SAVE MONEY WITH A VALUE PACK - Do you want to get high-quality threads and save money at the same time? Get this value pack of 6 cones of thread. One pack consists of 3 black and 3 white threads and each cone has 6000 yards, ultimately giving your money's worth
Hammer
ESTWING Bricklayer's/Mason's Hammer - 16 oz...
FORGED IN ONE PIECE – The most durable, longest lasting striking tools available
PATENTED NYLON END CAP – Ultra durable handle end for setting bricks and more
BUILT FOR THE PRO – stone masons, brick layers, geologists, quarry workers, carpenters, contractors, tradesman & serious DIYers
Power drill
BOSCH 11255VSR Bulldog Xtreme 8 Amp 1 Inch Corded...
3 MODES: multi-function selector offers 3 modes of operation; Rotation-only, rotary hammer, and hammer only mode; Variable speed trigger with reverse offers accurate bit starting or easy fastener removing
EASE OF USE: vibration control for comfort in all day applications
ERGONOMIC: D-handle design provides comfort and optimal control, especially for overhead or downward drilling applications
Screw Driver
No products found.
Smaller pry bar
Sale
Putty Knife
Sale
Warner 3" ProGrip Full Flex Putty Knife, 90133
Full Flex blade that works great with lightweight spackles and compounds
Full Flex blades have been hollow-ground thinner for maximum flexibility
Comfortable soft grip ergonomic handle for extended usage periods
Utility Knife
Box Cutters Utility Knives 2Pack, Carpet Razor...
▶【Multipurpose Box Cutter】Different from traditional utility knife, it cuts faster and lasts longer, ideal for cutting a wide variety of everyday household, warehouses and construction projects, including box, cardboard, drywall, roofing, rubber, carpet, leather, pvc sheet, aluminum sheet, soft metal, etc.
▶【Sturdy & Sharp】Many users complain that utility knife blades slip out easily when they use it on thick or hard material. This heavy duty utility knife has a very stable blade retaining plate and with high hardness SK5 steel blade ensure the sharpness of the blade. It's not easy to break and has a longer service life than other materials blade.
▶【Safe to Use & Lock】Carpet knives are built with aluminum handle for ergonomics that provides a secure grip and is comfortable to hold for a long time without feeling pain. The blade change mechanism have been update a metal button that can be replaced quickly and effortlessly. The lock-back design makes sure that blade will not tremble when in use.
Masonry Cutter
Evolution DISCCUT1 12" Disc Cutter, Orange
Robust & versatile the Evolution electric disc cutter easily cuts concrete even tough reinforced concrete, stone, brick, paving and other materials.
Safe & economical, the 15Amp (1800W) hi-torque, electric motor means no harmful fumes. Alternative to high maintenance, petrol-powered disc cutters!
The ergonomic soft-grip, mid-position, front and rear support handles are positioned -to aid accurate cutting in both horizontal and vertical modes.
Trowel
Sale
Wilcox All-Pro 202S 14" All-Pro Trowel
UNBREAKABLE METAL: No fear of bending or breaking due to high quality, ultralight, rugged heavy-duty 16 GA. stainless steel
PUT GARDENING BACK INTO YOUR HANDS: Works well for deep bulb planting & breaking up stubborn clods in the garden. Cuts through hard soil
NO-SLIP GRIP: Handle is coated in heavy duty plastic for a comfortable and tight grip when digging or transporting materials
How to Install a Lintel in an Existing Brick Wall
Size
Width depends on wall thickness= 9"
Depth of lintel= 4"or 1/9 of the span length
Hence size of the lintel is 4′0″ x0′9″x 0′4″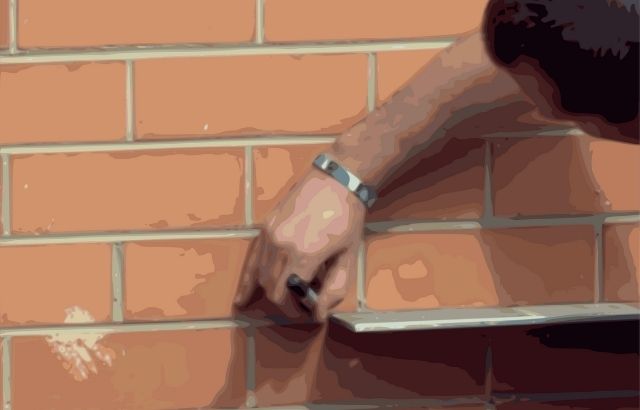 Schedule
Make a proper schedule to make a window. If you only replace an old window with a new, it will probably take 6-8 hours. But if you are cutting a brick wall, you will need two days or a minimum full one day. If you have experienced it before, it will be easy for you to complete your word as soon as possible.
Cost
The cost to install a window in an existing wall depends on the window's size and which floor it lays.
If you have to install a window lintel on the ground floor, it will take less cost because no extra effort is used on the ground floor.
But if you are making a window on 2nd, or 3rd floor, it will cost in putting stairs or making a path above to make a window.
The following table will explain to you about the overall prices.
| | | |
| --- | --- | --- |
| Size of window | Floor # | Cost |
| Small | 1st | $600, $250 for window installation, $250 for permit |
| large | 1st  or 2nd | It will cost $1000 – $5000. $600 will be the labor fee. |
Construction Procedure
Wall cutting and lintel installation:
You determined the exact position to install a window.
Measure the length, width, and center of the wall to make the window, and mark it.
With driller holes from inside the house, it will be easy to cut the brick wall according to the bricklayers. In this way, it will take less effort. Make two holes, one on the upper side and one is the downside to mention its exact location.
Now take a measuring tape to measure the exact size.
Now start drilling bricks binding material to take out bricks. With masonry, cutter takes two straight lines on both measuring width points.
Start taking out bricks from where you have to put lintel for the window.
Use brick hammer and pointer to take out bricks. Now measure the length with measuring tape till you have to take out the brick s.
As you take out all bricks, now make holes all around the window frame. Just like in this shape:
Now use a brick hammer and pointer to break the wall inside. Break all inner blocks with a hammer.
Now mix Cement and sand with red dye. And put on both broken edges to make it equal with the pry bar. Now put lintel (any lintel you want in your wall), measure its size, put a plastic sheet or metal wrap to wrap the lentil, or take ordinary big plastic. Now put heavy and strong blocks in front of the lintel to cover it and make it load-bearing. According to measured size, bind thread on both edges and fix it with a hammer.
Now put the binding agent and fix all bricks. Do the same procedure on the inner side.
Put supporting rod in the middle of the space to hold on to the bearing. The lintel is installed.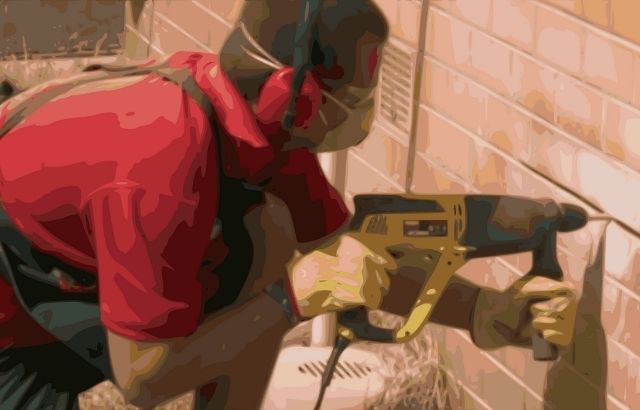 Window installation
After installing a lintel, put the window frame and bind it with screws and a binding agent to fix it in the wall.
If you take a proper measurement, there will be no need to fill the gaps as the window frame will fit perfectly.
In case you take a measurement, but the frame size is small, and there is no way to change it, fill gaps around the frame with mortar.
Plastic infill available in the market to join the wall and frame together.
Including some weep vents, The top bed joint is re pointed with a tuck pointer/ finger pointer to make sure it is full.
Outside the wall, silicone is used for a neat finish.
Now let it dry and let them bind.
Put doors.
Your window is installed.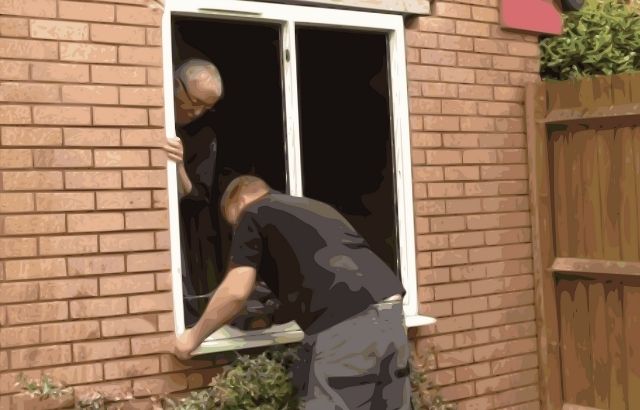 Frequently Asked Questions
How do you install a window in a brick wall?
A simple way to answer this question is to make wholes around the window frame to ensure its size. The point with caulk, make straight lines on both long sides. Drill it to make a point. With the driller's help, take out the old binding material, take out bricks by hitting a brick hammer on the wall pointer. Repeat the same procedure to take out all bricks. Do the same procedure inside the room. Now make equal edges with blocks, put binding material to stick the blocks. Now put lentil—joint blocks with the binding material. Put the window frame and fix it with screws. If there are empty spaces around the frame, then joint with plastic filler. Or combine it with mortar.
How do you replace a lintel?
It's easy to take out old lintel and replace it with new. But it can be risky if you don't take the proper measure.
To replace a lintel, take out the mortar between bricks with a driller. Take out bricks with hammer and pointer. Take out old lintel. Put a new one, wrap it with any plastic sheet, and put bricks with a binding agent to make a proper wall again. Leave it for 24 hours to dry. Take out the props that were supporting the wall with no lintel.
How do you fit a lintel above a window?
To make a lintel window fit; you have to take the extra bricks. Take the proper measurement and put a fixed size lintel and close it with bricks from the exterior as well as the interior.
Do you need a lintel above a window?
As I mentioned above, it's a backbone for the window. Window without a lintel can't support heavyweight, this is a danger for full wall or maybe broke within a year. The lintel is a support for a wall that holds on a load-bearing wall. When there was a rare concept of a metal lintel in ancient times, people prefer wood lintel. But it's not as strong as it must be.
To make it strong, you must put good quality lintel. No matter how expensive it is but don't take any risk with your life.
How high is a lintel above a window?
Maximum height on the lintel above a window must be 150mm. It will hold a window on each side of the window. It's a bad idea to put bricks on the frame of the window instead of the lintel.
Article Summary
To conclude this topic, you must understand the importance of a lintel. Without a lintel, how long you will survive, one year, two years, or a maximum of 10 years. But after what? The whole wall will fell along with the window frame. What if you spend a lot of money on interior wall designing? All will be waste. So put a "good" quality lintel to make a lifespan. Now I know you are completely able to make a window in your home and have learned how to install a lintel in an existing brick wall.
Remember: Always choose quality products. It will help you throughout life.
Read More: How to Install a Wall Hang Vanity?