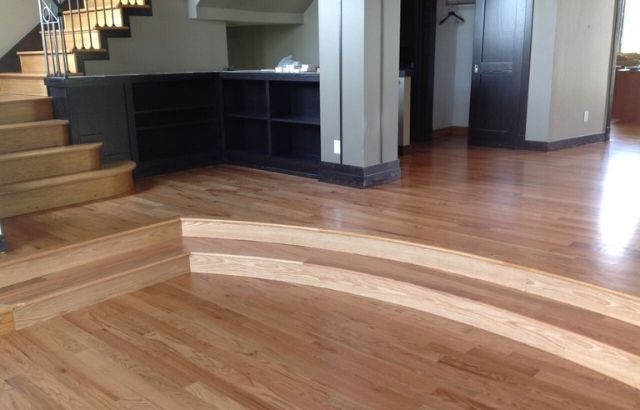 How to Install Laminate Flooring on Curved Stairs | Expert Guide
Disclaimer
Articles, products, and services offered on this site are for informational purposes only. We recommend using caution and seeking professional advice. This site provides general information. We are part of the Amazon Services LLC Associates Program, an affiliate advertising program. Amazon.com is compensated for sales resulting from links on our website.
Please review our disclaimer before taking action based on anything you read or see.
Do you want to learn how to install laminate flooring on curved stairs?
Flooring is one of the basic features of a house, and even today, using wood is the best option for flooring as it adds to the beauty of the home and looks natural. People used original lumber for this purpose, but now, we use laminate thanks to technology evolution. Laminate flooring material is made by pressing four different layers into a single layer, which looks the same as wood but at a much lower price.
In this article, you find tips and tools for how to install laminate flooring on curved stairs and laminate flooring pros and cons.
Let's first see how to install laminate flooring on stairs. It is easy but a little different from regular surface laminate flooring because stairs get more wear-and-tear.
Laminate Material
Ask your supplier for hard-wearing, textured, matte finish laminate for stairs because laminate flooring can be slippery, which can be dangerous; if you have kids at home. And ask for matching laminate curved stair nose stripping, but you can also order nose stripping from amazon.
When you are ordering laminate material, purchase 10%-15% extra due to potential cutting errors.
How to Install Laminate Flooring on Curved Stairs: Required Tools
It would help if you had a measuring tape for taking the measurements. 
Pencil for taking measurements and drawing lines for cutting
You need Hammer and Crowbar.
Glue to join different parts
You also need gloves for safety.
How to Install Laminate Flooring on Curved Stairs
Temperature
Temperature and humidity can also affect laminate flooring. Hardwood can contract or expand, and to prevent this, unpack boards and keep them open for at least 48 hours before installation and cutting.
Lean More: How To Install Wood Trim Without Nail Gun
Remove Mat
Remove carpets from stairs before laying down laminate flooring. A mat or rug is usually attached with adhesive glue or staples. You can remove nails by using a hammer back or by using a cat paw. You can buy cat paws from here.
Always use gloves while removing nails because nails are sharp.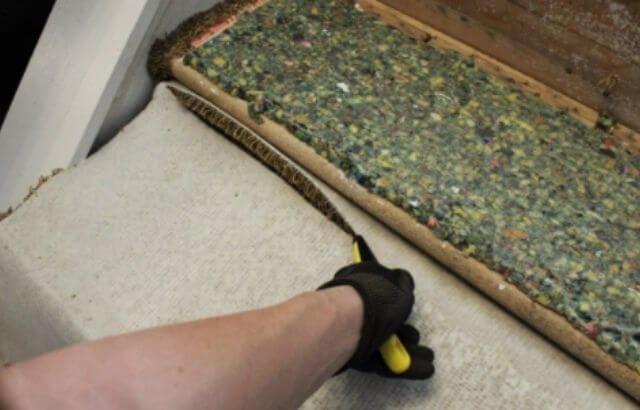 Read More: How To Remove Candle Wax From Hardwood Floor
Cut Overhang
If your stairs have any pre-overhangs remove them before installation. Cut the overhang using the jigsaw and then use a chisel to make the surface flush with rising.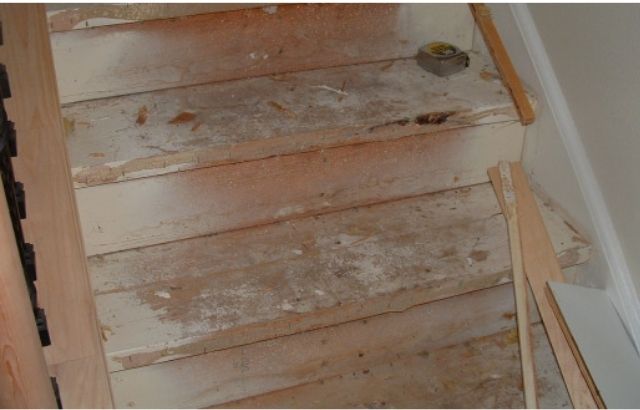 Cutting Boards
Let suppose you need to cover curved stair with laminate flooring for that first you need to cut risers and tread pieces to length and slightly trim the edges to fit perfectly.
Mostly, a single plank may not wide enough to cover the whole step of stairs. For that, you may need to cut another plank and then join it together but make sure planks fit well from left to right. Mostly served stairs usually face one or two walls, and to make curved stair treads cover with laminate flooring, cut laminate flooring around a curve in slightly in L shape with curve edge.
To learn in detail about cutting boards for curve stairs, you can read here.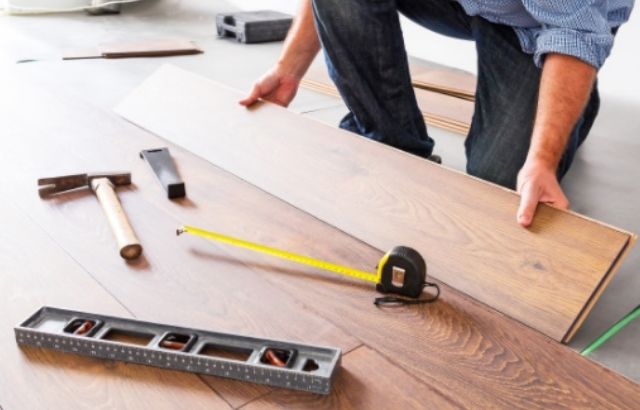 Setup Risers
The part between two threads of stairs is the riser. Apply glue behind the riser and place between the thread below and the thread above. Now hold the riser tightly for some time. 
Now use nails at the edges to secure the grip.
Stair Noising
When you adjust the riser and thread, the next step is to set up the stair nosing. Apply some construction glue on the edge of the sub-floor or on noising itself and hold firmly for 2 to 3 minutes. 
As we discuss curved stair laminating so, you should use laminate curved stair nosing, and you can easily buy flexible stair nosing for curved stairs from amazon, and it very easy to apply.
Installing laminate on stairs without nosing is also possible, but then you required a thread minimum of 11".
As you read how easy it is to laminate flooring and some bonus tips for you to help you do this task more effectively:
Read More: How To Remove Porcelain Floor Tiles Without Breaking Them
For making laminate stairs less smooth or slippery, use non-slippery stair treads carpet. You can buy non-slippery mats from amazon by clicking here.
Don't expose laminate flooring to moisture, liquids, and don't use wet mobs as it can cause irreparable damage.
Don't use underlayments for stairs laminate flooring?
Read the cleaning instruction come up with laminate flooring.
Trim pets' nails to prevent scratches on the floor and stretch marks on the floor never look good.
Always start to apply lamination from the start of the stairs, so you don't need to stand on the freshly fixed thread.
Comparison between Laminate & Hardwood
| | |
| --- | --- |
| Laminate | Hardwood |
| Kitchens | Living Rooms |
| Bathrooms | Colonial Style Homes |
| Cost-Effective | Expensive |
| DIYers | Radiant System |
| Older Homes | Longevity |
| Pets Owners | Resale value |
| Stylish | Repair & Maintenance |
Pros and Cons
Hardwood floors are made by cutting trees, a real threat to the environment; on the other side, laminate is made by composite wood layers under immense pressure.
The laminate floor material is the cost-effective solution of hardwood, and it cost only 2$ to 5$ normally, while hardwood costs $4 to 12$ per square foot.
Laminate is a lot durable and easy to clean, but sometimes it looks artificial. At the same time, hardwood seems very attractive and beautiful but can be damaged if exposed to sunlight for a longer time and can get scratches quickly.
Laminate flooring is challenging to repair if you replace one of the damaged pieces; it may not match correctly in color and shine sometimes with other flooring fragments, while hardwood can be easily fixed.
With proper maintenance, the hardwood life span can be up to 100 years, while the laminate flooring life span is 25 years.
Laminate flooring has a minimal chance of color change, and Hardwood flooring needs a lot of care to keep in good shape.
For hardwood flooring, you need a professional to set up, but Laminate flooring is easy, and you can do this by yourself if you have the right tools, which I also mentioned above.
People nowadays using more and more laminate flooring as it is cheap and more durable. The global laminate flooring industry soon reached the value of $4.6 Billion; this shows the people increasing interest and liking toward laminate flooring.
Learn More: How To Remove Candle Wax From Hardwood Floor
Final Touches
In the end, once all laminate is done, it's time for some final touches. Prepare the putty as per instruction and mix the solution well and fill all screw holes with this and once it's dry, remove all the covering.
Now clean the stairs and remove any putty drops quickly before it gets dry and take a step back and look at the great work you have done its time to appreciate yourself.
How to Install Laminate Flooring on Curved Stairs: FAQs
Can I put laminate flooring on the stairs?
Yes, you can put laminate flooring on the stairs by yourself. It is straightforward what you only need to know how to cut the boards and put them together along with all essential tools like measuring tape, pencil, hammer, crowbar, glue, and gloves.
How do I make curved stair treads?
Firstly unpack the laminate boards and leave them in an open space for some time. Clean the subfloor and remove every stain and adhesive material from the surface.
Then cut the boards in L shape according to the size you need because curved stairs are usually attached to one or two walls. Apply some glue behind the board and then put it on the subfloor to fit from left to right and hold tightly for 2-3 minutes.
How do you fit laminate flooring on stairs?
Measure the size and numbers of thread and risers, then order 15% more material to prevent the shortage, resulting in human error during cutting or measuring. Clean the subfloor surface carefully and then cut the boards carefully are measuring the size of the tread and riser. The standard width of a stairs tread is 11 inches while a width of a single laminate plank is 7 inches, so cover all the width; you need two planks and then cut and join them together with glue to cover all the width of tread correctly. It's not recommended to use underlayment if you want perfect laminate flooring for your stairs. After that, apply construction adhesive glue behind boards before using nails for the perfect fit. 
Always start from the top so that you don't need to stand on the recently applied tread. Once you put the glue behind the board and fix that on the thread subfloor, hold it for two to three minutes, and then use nails or screws.
Conclusion
Summarize succinctly; you read how easy it is to install laminate flooring and learn about all the necessary tools to do this. Laminate flooring is an excellent alternative to hardwood as it is cheap more durable than hardwood flooring. Even you can put laminate by yourself, and we also saw laminate flooring pros and cons. If you want cheap, sustainable, easy to clean, and stylish flooring, then putting lamination is the best option. As well as laminate flooring is much environmental friendly than hardwood flooring.