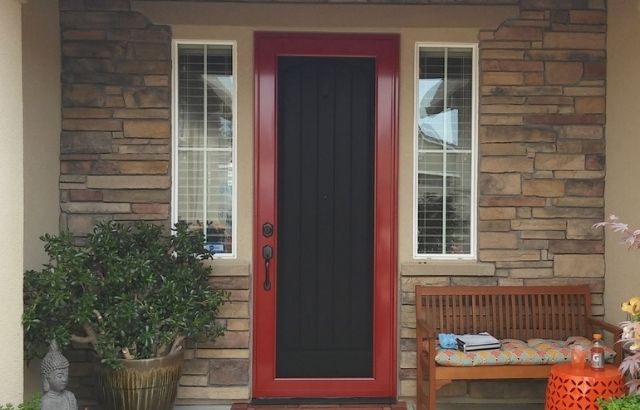 How to Paint a Security Screen Door | Master the Art of Painting 6 Steps
Disclaimer
Articles, products, and services offered on this site are for informational purposes only. We recommend using caution and seeking professional advice. This site provides general information. We are part of the Amazon Services LLC Associates Program, an affiliate advertising program. Amazon.com is compensated for sales resulting from links on our website.
Please review our disclaimer before taking action based on anything you read or see.
Security Screen doors are an essential part of a home. They keep out insects and allow air to pass through. They are also the first thing a person sees when walking to your house. Thus, it's best to keep your screen door looking its best by giving it a new coat of paint as needed. The steps on how to paint a security screen door may seem complicated, but you can do it as quickly if you use the measures highlighted below.
How to Paint a Security Screen Door: The Tools Needed
Painting a security screen door is very simple and requires few materials and tools. You need:
Paint Spray 
This would be necessary to apply paint on the door, and a great product in this regard is the Tilswall Paint Sprayer. This product is very suitable for people who want to paint their screen door. Latex, varnish, primer, water-based paint, solvent-based paint, and stains can pass through the Tilswall sprayer without any problems.
Tilswall Paint Sprayer, 550w Spray Gun Home...
550 watt & 1300ml: both for home interior use and exterior use. with 550 watt power, 1300ml capacity, Tilswall paint sprayer improve atomization effect to reduce overspray and highly customize to fit to your painting work, match covering speed and project size, performing a top-notch quality of work. Extra 3pcs foam seals, 1pcs measuring cup, 1pcs needle Included.
Max 1200ml/min: never compromise in features and quality. A variable air pressure control from 0 to 1200ml/min allows you to change the force the sprayer uses to release paint, finish the earliest possible time with a substantial horsepower. Suitable for edges, corners and broad interior surfaces of various work and diy projects
3 spray patterns & 3 size nozzles:horizontal, vertical, circular, all covered! With additional 3-size nozzles(φ1.0mm、φ1.8mm、φ2.6mm) ) for higher accurancy to any painting projects.1.8mm and 2.6mm nozzle for thin paints like sealers and varnish. 3.0mm nozzle for spraying latex paint, chalk type and milk type paint.
Painting Brush 
This would also be required to apply paint on the door, and a great product in this regard is the Pro Grade Paint Brushes. This product can guarantee 100% satisfaction. It is also made of professional quality at a reasonable price.
12PK 4 inch Flat BrushPremium Wall / Trim House...
This 12-pack of 4" flat brushes is great for all different professional and home painting projects.
A thick synthetic filament blend holds more paint for saving time and fewer streaks in the finish.
Durable solid wood handles are designed for comfort and control, allowing for exceptional results.
Sandpaper 
This would also be required to smoothen the door, and a great product in this regard is the 1/4 Sheet Sandpaper.
The product is made of high-quality silicon carbide and waterproof paper, ideal for wet and dry sanding. The electroplated surface also ensures uniform distribution of the grit.
Sale
1/4 Sheet Sandpaper Assorted 80/120/180/240/320...
【Material Upgrade】Made of premium silicon carbide and waterproof paper. Ideal for wet and dry sanding. 
【High Quality】Electro coated ensures the grit distributed uniformly. It delivers a fast, exceptionally long lasting cut with a consistent scratch pattern which increases your productivity and reduced material consumption.
【Widely Used】The product is suitable for grinding rough objects,such as Wood working, Metal working, Fiberglass, Primers, Plastics, Auto Body and painting, almost all the coarse grinding work can be finished with them.
Mask 
This would be required to protect your face, and a great product in this regard is the KISCHERS Reusable Mask. The mask comprises high-quality silicone, non-toxic, soft, comfortable, durable, safe, and healthy material. Once worn, it will virtually eliminate any signs of organic paint vapor.
KISCHERS Reusable Half Facepiece and Anti-Fog...
SUPERIOR QUALITY : Made of premium silica gel, the half facepieceis non-toxic, soft, comfortable, durable, safe and healthy. It will effectively eliminate any hint of organic chemical vapor or fumes once wearing
DOUBLE PROTECTION: KISCHERS's professional half facepiece use a dual filtration system to effectively block 97% of organic vapors/gases, fumes, pollen, dust and other particles in the air. It is the ideal protection device for you at work
WIDE APPLICATION : The half facepiece can block multiple hazardous substances ,work areas with chemicals, glass, metal, paint, agriculture, formaldehyde and other irritating vapors/gas. Protective against dust particles in mechanical work such as welding, sawing, grinding, graffiti etc
Gloves
This would be required to protect your hands, and a great product in this regard is the Pacific PPE Household Glove. This is made of high-quality materials. It is also latex-free, DEHP-free, lead, and cadmium-free, can be reused, and protect your hands during work too.
PACIFIC PPE Reusable Dishwashing Cleaning Gloves...
𝐏𝐫𝐞𝐦𝐢𝐮𝐦 𝐌𝐚𝐭𝐞𝐫𝐢𝐚𝐥: PVC dish wash gloves are latex free, DEHP free, lead and cadmium free, assurance can be reused and let your hands be protected at work.
𝐀𝐝𝐯𝐚𝐧𝐜𝐞𝐝 𝐅𝐥𝐨𝐜𝐤𝐢𝐧𝐠 𝐓𝐞𝐜𝐡𝐧𝐨𝐥𝐨𝐠𝐲: Adopts advanced flocking technology that weaves cotton and PVC seamlessly, making you superior comfort and soft. And also features excellent protection from hot water.
𝐍𝐨𝐧-𝐬𝐥𝐢𝐩 𝐃𝐞𝐬𝐢𝐠𝐧: Kitchen gloves design of granules in the palm and fingers increases friction to ensure a better grip and control. Rubber gloves fit hands well, pull-on closure sleeves are easy to take on and off.
Paint 
This would be required to paint the security screen door, and a great product in this regard is the Modern Masters Paint. This paint can provide first-class decorative effects on various surfaces. Ideal for small accent pieces to large building specifications. Durable and long-lasting, it can be used in commercial applications, but it is also simple enough for do-it-yourself projects (such as painting security screen doors).
Sale
Paint Roller 
This would be required to paint the security screen door, and a great product in this regard is the Bates Paint Roller. Satisfaction guaranteed this paint roller is of high quality, designed for long-term durability and easy cleaning. It also has an excellent ability to complete work with a perfect appearance quickly.
Sale
Bates Paint Roller - Paint Brush, Paint Tray,...
COMPREHENSIVE SET: Package includes 11 piece: Tray, Roller Frame (9"), 2 Roller Covers (9"x1/2"), Roller Frame (4"), 2 Roller Covers (4"x1/2"), 2" Angel Paint Brush, High Density Foam Brush
PROFESSIONAL QUALITY: This paint tray set is high quality intended to be long lasting and easy to clean. Exceptional ability to get the job done quickly with a superior finish.
THICK FILAMENTS AND NAP: The synthetic filaments in the paint brush are designed to hold more paint to save you time and give you the finish you are looking for. The Naps for the paint rollers are 1/2 inch thick, perfect for painting the house. Filaments and Naps are durable and long-lasting.
Masking Tape
This would be required to paint the security screen door, and a great product in this regard is the AmazonBasics Masking Tape. The masking tape is very suitable for home or office use, with excellent versatility and convenience. This tape is mainly used to cover the screen door and help create a clean paint line between two areas.
How to Paint a Security Screen Door
The best paints for security screen doors are high-gloss and semi-gloss paints. The choice of any of these is excellent.
Cleaning the security screen door
The next step in painting a security screen door is to clean it. Wipe the mild soap and water solution with a soft cloth or sponge. This cleaning removes dirt that may have accumulated, and even a new door may have dirt particles. You can also use a solution of ammonia and water.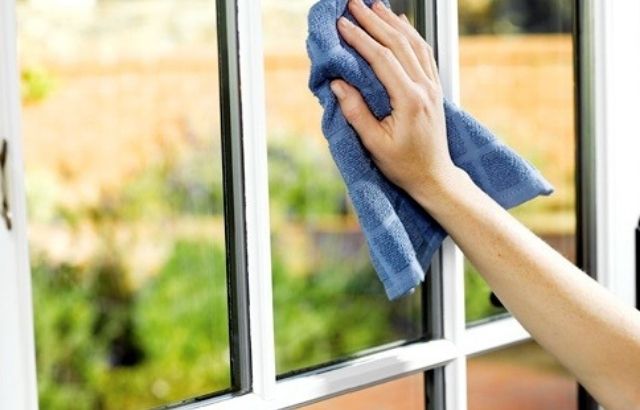 Surface preparation
In the case of an installed security screen door, insulate the handle and hinges with masking tape so that paint does not fall on these accessories. Also, cover the entire screen with heavy tape. Masking tape works better than painter's tape because the surface is not as vulnerable as drywall, and you need something that will adhere to the screen. Place the tape around all edges of the screen, on both sides. If you do not have a steady hand when painting, cover the entire screen in masking tape.
Sanding
Put on your gloves and mask, start sanding the door, and then stop with the coarse sandpaper. Use fine sandpaper to give the surface a smooth texture. Always sand the door in the same direction.
When you finish sanding the door, wipe with a cloth moistened with water and mild soap and let it dry completely. After this process, if you notice a crack, however small, apply oil paste to correct this. Otherwise, the paint will be uneven.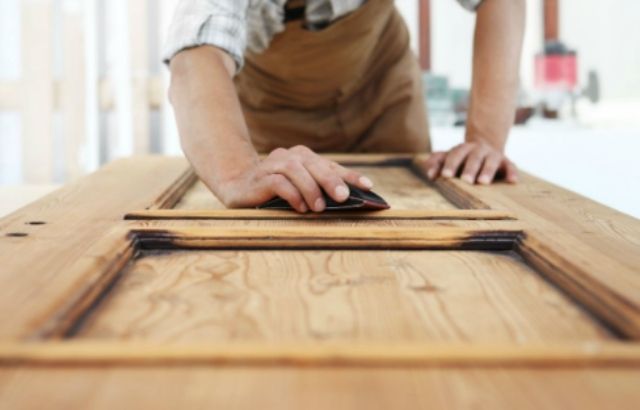 Apply the primer
Apply a primer to the frame using a bristle brush. Use a primer specifically designed for exterior doors. Allow the primer to dry completely. Drying times vary depending on the type of primer used. Read the directions on the package or wait 36 hours, if in doubt. The primer is a product that helps to make the paint color more uniform. The importance of the primer is so great that the number of coats of paint often decreases. After applying the primer on your security screen door, let it dry and sand with fine sandpaper without using force to remove the product residues.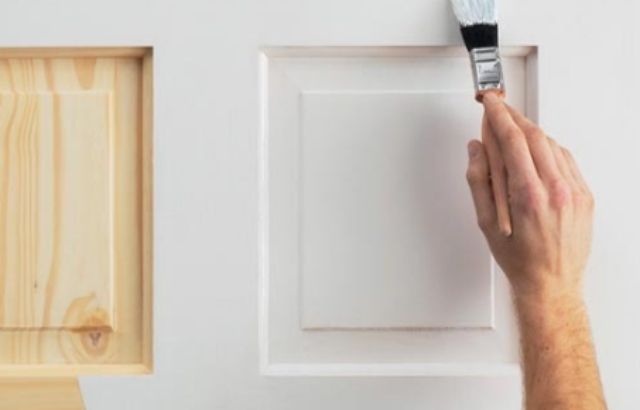 Apply the paint
If you plan on adding more than one layer, add them evenly, and they too should be thin. If the paint you have chosen to paint your security screen door is water-based, dissolve it according to the package directions. Please place it in the prepared tray. Use the roller to apply the paint evenly over the entire surface.
Leave the brush close to the hinges, sides of the door, and for the general finish. Wait for 3 to 6 hours, or the time described on the paint's pack. If you need another coat, apply the paint again and wait for the necessary time to dry. A crucial tip for the painting to be perfect is to use it in the same direction.
Final touch
Apply varnish to leave the paint as new for longer. Remove the masking tape only when it is scorched.
Care after painting
If you don't use all the paint, make sure the can is closed correctly. Clean the roller and brush with water if the paint used is water-based. Solvent-based paints require you to clean accessories with a suitable solvent. Please wait for the brush to be slightly damp before wrapping it with newspaper not to make it bend.
How to Choose the Color of the Door?
You have already learned how to paint a security screen door, but how do you choose the color? For internal screen doors, choose light colors to create a feeling of spaciousness. In the case of small buildings and make them brighter, regardless of size. We also indicate that the door's color should be at least the same shade as the wall. You can also match the color of the security screen door with the floor's color if it has a suitable texture.
How to Paint a Security Screen Door: Tips and Warnings
Some security screen doors have screens that pick up stains quickly. If this is the case, obliterate the screen, paint the door, paint any trim on the screen and replace it. Don't forget to paint all the edges of the door and an even finished look.
How to Paint a Security Screen Door: FAQ
Can I paint a security door?
Yes. As earlier highlighted, you can paint a security door without any hassles.
What kind of paint do you use on a screen door?
The best paints for security screen doors are high-gloss and semi-gloss paints. The choice of any of these is excellent.
What is the best paint to use on metal doors?
The best paint to use on metal doors is Acrylic satin paint because it quickly resists scratches and scuff marks.
Sale
Rust-Oleum 7592838 Professional High Performance...
Ideal for use on ferrous, non-ferrous metal, wood, concrete, masonry and other such surfaces to provide rust protection and a tough attractive finish that withstands weathering
High quality, durable oil-based formula maintains consistent, corrosion-resistant color despite the elements
Covers up to 14 sq ft, dries to touch in 15 minutes and recoats within an hour for quick project completion
Can I paint my aluminum screen door?
Yes. You can paint your aluminum screen door. It's also best to use exterior-grade spray-paint to get the best results.
How do you paint an aluminum screen door?
You can paint an aluminum screen door by making use of the following steps:
Cleaning the surface
Sand the surface
Apply primer
Apply the paint
Conclusion
In conclusion, security screen doors come with great merits, and if you desire to learn how to paint a security screen door, the steps highlighted above would be indispensable.
Read More: How to Block Neighbor's Security Camera