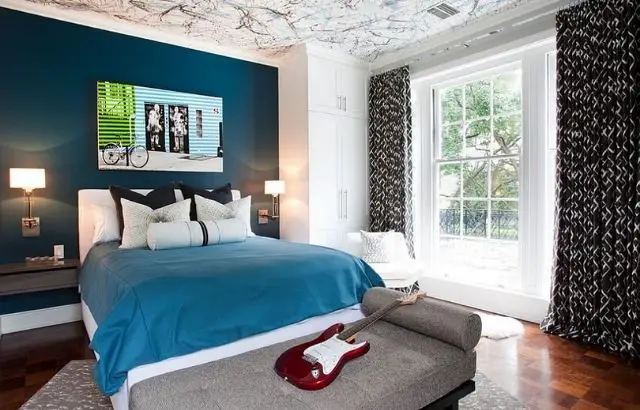 Difference Between Ceiling Paint and Wall Paint | A Comparison Guide
A home is a place where everyone wants to sit with happiness and peace of mind too. If you use the best quality paint on the walls and ceilings, it will enhance your home's overall look, and you will feel happy to see the overall attractive look of your house. The most cost-effective and easiest way to upgrade your home is to paint a fresh coat on the walls. Moreover, the ceilings look brighter and appear higher with white paint than they are. It also makes rooms more airy, open, and inviting overall. Therefore, if you want to know the difference between Ceiling Paint and wall Paint, this article will give you the correct information.
Read More: How To Match Ceiling Paint
What is Ceiling Paint?
There has been much argument over the requirement of capitalizing on ceiling paint rather than less expensive wall paint when painting the ceiling. In composition, both colors are similar, and ceiling paints feature additives that make painting much easier at the vertical angle. Ceiling paint on walls is good because it has a softer binder and extender pigment, which means that the paint won't hold vigorous scrubbing and cleaning in the same manner that wall paint does. Therefore, ceiling paints are a good option, as these paints can cover all the edges and hide all imperfections. Also, these products are denser to allow for better quality.
Learn More: How To Paint Over Knotty Pine Wall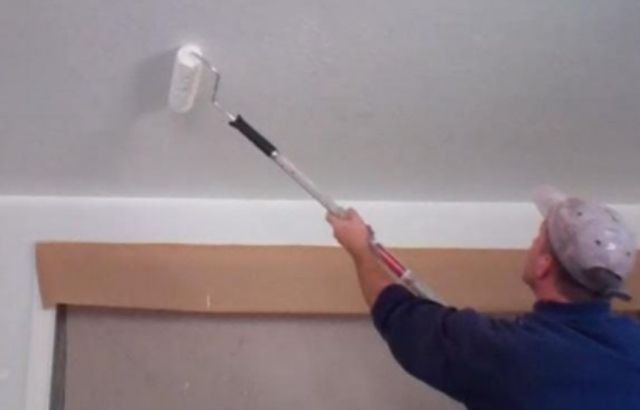 Using Ceiling Paint on Walls
Ceiling paint is flat paint with a sheen finish because it has a nice blending on your low ceilings. Typically not diverting attention to the roofs, as a higher shiny finish, than sheen finish is the best option. 
Ceiling paint consists of flat paint sheen.
Wall paint consists of eggshell paint finish.
You can use wall Paint in egg paint, pearl, or satin paint as well. The flat sheen paints are suitable to get more clean surfaces than matte finishes.
Learn More: How To Paint A Room With Two Colours
Difference Between Ceiling and Wall paint
Finish
Ceiling paint shows the flat impact so that light doesn't reflect on it, which aids in hiding any irregularities and spots that the surface may have. Use of the flat finish on the walls is essential, as any shine, displays on ceilings far more than on walls, can hook the light the wrong way.
Viscosity
Besides, the ceiling paint has countless hiding abilities, and it is thicker as well. Ceiling paint consists of more significant solids in it, which means that you can paint easily in a vertical direction with less splatter and drips. 
Better coverage
The ceiling paint finish is smooth and gives uniform coverage on the walls of your house. The use of ceiling paints provides body to the walls and ceilings, and you can get the opaque coverage in a single coat because of high viscosity. In this way, you can cover the imperfections on your ceilings with less effort. So it is better to use the higher viscosity paint to give an impressive look to your walls. If you use the paint sprayer, you should opt for the correct consistency Paint for this instrument. 
Colors
The good news for you in using ceiling paints is that you can apply these paints very easily. Some brands offer their paints in lighter colors like pale blue, pale yellow and pale pink, and when it dries, it turns into white color. This technique is good because you can easily paint the missed areas and can apply the second coat. The ceiling paints have minimal colors, and if you want any unique color, you can mix different colors to get the required color.
Moreover, the paints are available for walls are very flexible, as they come in several colors and finishes. Professional painters can use this paint in different ways to create attractive designs and patterns. 
Types of Ceiling Paint
One reason for considering alternative paint for ceilings is that ceiling paints are available in limited colors. Whites and shades of white are typically standard for roofs. If you want to get colored tops, you can indeed mix the custom colors. Before using the darker colors on ceilings, imagine the effect it will give to your room. Like white paint color on the tops, the light colors significantly impact the rooms and high lights.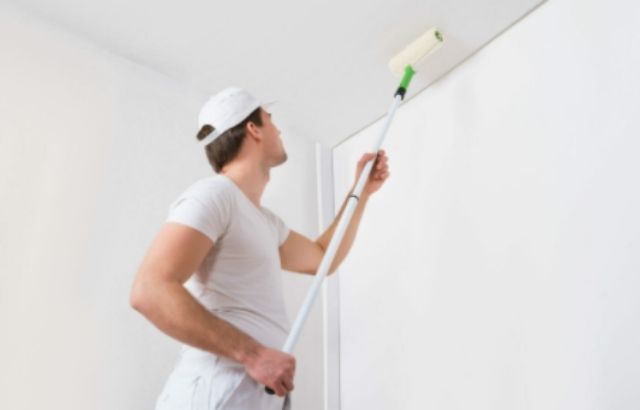 Durability
Various textured surfaces like stucco, plasters, and drywalls can get strong adhesion through paint on ceilings. It is good in durability aspect than any other paint type and does not peel or crack. 
Price range
To paint the ceiling in a standard ten by 12-foot room, you can expect to pay between 150$ to $ 300. The cheap paints consist of a 50% composition of solvents in them; that's why these paints are highly runny in viscosity. For that reason, you should choose the quality paint that consists of 45% solvent.
Painting your Ceiling and Walls with Similar Color
If you plan to paint your walls and ceilings with the same color, it is necessary to know light and darker colors, types of paint for ceilings, and the size of rooms you are painting. Trying a different technique doesn't use medium paint tones because it will not work. Painting with the same color technique will be ideal for the following types of rooms.
Small rooms
If you want to make your small room more spacious, use the lighter color on walls and ceilings. The perfect example of using the same paint on ceilings and walls in your bathrooms will make your room feel bigger and modern.
Large rooms
You can use either dark or light color paints to make the rooms unique and catches more attraction to your furniture and decor.
Angled Ceilings
Using the same wall color paint will make the entire look more attractive and more prominent for these ceilings.
Painting your ceiling with a lighter color than the Walls:
Lighter colors are best for painting ceilings and also make your walls of the room more attractive. If you want to make your ceilings lighter than walls, the standard technique to make the wall paint whiter can mix 80% of white color to 20% color. 
Moreover, it is the best idea to use ceiling Paint as a wall coat to give it a better texture. The best paints for ceiling are, White latex-based paint Primer in One 96-104 KU 11.7 pounds 52% Valspar provides a shelter with paint that can change color from light purple to white and Valspar Ultra Interior Flat Ceiling White Latex-Base Paint, Stain blocking paint, and primer 95- 105 KU 11.3 pounds.
What is Wall paint?
There is a wide variety of wall paints, and you will get the right one. You can opt for water-based or oil-based, but water-based paint is easy to handle.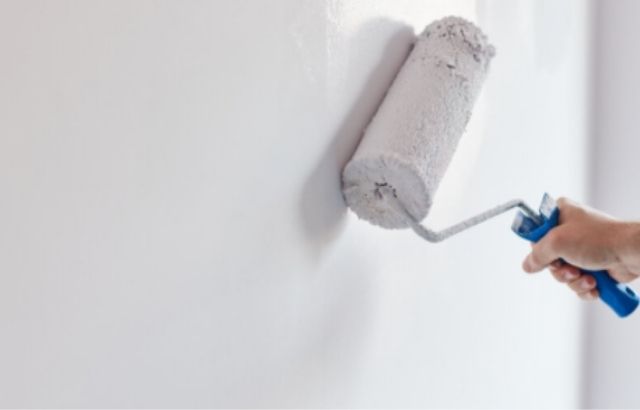 Water-based vs. Oil-based
You have to clean the walls first if you use water-based paints. You can use an uneven surface with the sandpaper; thus, creating the texture will help adhere to the surface, especially if the previous paint was oil-based. Moreover, most homes have some wall texture to give the appearance of office settings.
Properties of wall paints
There is a wide variety of wall paints, depending on the type of room you want to paint. For instance, the paint used in the bathroom should be water-resistant and mold resistant as well. For your children, the paints should be invulnerable in all means, such as it can hold the hard scrubbing, so that you can easily clean the walls of your rooms. The same point you should keep in mind for the kitchen. 
Difference Between Ceiling Paint and Wall Paint: FAQs
Can you use wall paint on the ceiling?
Ceiling paint is not regular interior paint. Although the paint for ceilings and the walls are the same in composition, regular wall paint is a thin and low viscosity, which means it will likely drip when you try to paint a ceiling. Only apply textured paint on a non-textured top.
What paint do you use on ceilings?
After the flat, eggshell finish is the next most popular ceiling paint finish. Eggshell paints offer a low sheen while still absorbing most light and hiding ceiling imperfections.
Moreover, satin paints are more reflective than eggshell paints but have a low sheen overall.
What white paint is best for ceilings?
If you want a flat, white ceiling, ordinary dull sheen white interior latex paint that does not have a label as ceiling paint is best for the top. But using ceiling paint will make the process go smoother; resulting in a better-looking ceiling and produce fewer drips and splatter.
Conclusion
Wrapping this article helps you plan if you can use the same ceiling Paint on walls as your personal decision. If doing so, you can easily save your precious time and your pocketbook too by hiring a team of professional painters. I hope the article, difference between ceiling and wall paint, will help give your ideas of using different finishes and paints with various paint color schemes.