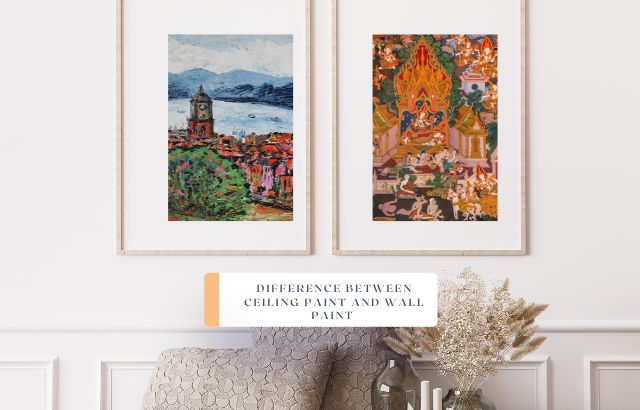 Difference Between Ceiling Paint and Wall Paint | Detail Guide
Disclaimer
Articles, products, and services offered on this site are for informational purposes only. We are part of the Amazon Services LLC Associates Program, an affiliate advertising program. Amazon.com is compensated for sales resulting from links on our website.
Please review our disclaimer before acting based on anything you read or see.
A home is a place where everyone wants to sit with happiness and peace of mind too. If you use the best quality paint on the walls and ceilings, it will enhance your home's overall look, and you will feel happy to see the overall attractive look of your house. The most cost-effective and easiest way to upgrade your home is to paint a fresh coat on the walls. Moreover, the ceilings look brighter and appear higher with white paint than they are. It also makes rooms more airy, open, and inviting overall. Therefore, if you want to know the difference between Ceiling Paint and wall Paint, this article will give you the correct information.
Read More: How To Match Ceiling Paint
Difference between Ceiling Paint and Wall Paint: Which one Should you Use
| | |
| --- | --- |
| Ceiling Paint | Wall Paint |
| Notably, ceiling paint has a greater viscosity (thickness) than wall paint. Most ceiling paints are latex-based and intended to dry with a uniform, smooth sheen. | It would help if you painted the ceilings of most homes with flat white paint. It has a matte finish and conceals flaws like any good ceiling paint. |
| Typically, ceiling paint is available in two finishes: flat and low gloss. | Flat white wall paint is available, but for various reasons, it is not marketed as ceiling paint. This is largely due to the matte finish of ceiling paint, which reduces light reflection. |
| In contrast to wall paint, ceiling paint is designed to resist smoke and cooking vapor soiling and staining. | Because it can make the ceiling too shiny, it is not always a good idea to apply wall paint to the ceiling. |
| Due to its higher viscosity and faster drying time, ceiling paint typically only requires a single application. | It is acceptable to use flat white on the ceiling. It would help if you understood that it was not intended for that function. |
| Also, mold is not an issue with ceiling paint. | A ceiling with excessive sheen will scatter light. |
Expert Advice on Which One to Use between Ceiling Paint and Wall Paint
Ceiling paint has a thicker consistency (more viscosity) than wall paint, so if you want to paint your ceilings with wall paint, you should be prepared for many drips. Using ceiling paint on a wall can significantly improve the overall efficiency of the painting process, as the thicker paint reduces the time spent cleaning up drips.
Since ceiling paint performs especially for ceilings, your color options are severely limited. Yes, it is permissible to use ceiling paint on interior walls. However, the outcome is improved by using ceiling paint as a primer.
What is a Ceiling Paint?
This paint is ideal for permanently repairing leaks and other water damage caused by humidity because it is formulated with special materials that prevent the passage of water on the surfaces to which it is applied (roofs and walls).
In addition, they have enticing characteristics that make them one of the most sought-after products among construction professionals, waterproofing specialists, and anyone who wants to maintain their roofs.
Paints designed for ceilings perform well on walls as well.
Their primary benefit is effectively sealing water-permeable cracks and pores, preventing annoying leaks and ceiling and wall stains.
These paints are easy to clean (hence their weather resistance; they are particularly effective at waterproofing roofs) and inhibit dust growth. You need not worry about mildew, mold, or other fungi or bacteria damaging your surfaces.
Purpose of Ceiling Paint
Viscosity (thickness) is greater for ceiling paint than for wall paint. Latex-based ceiling paints are readily available and have a smooth, even finish, making them ideal for DIY projects. The majority of ceiling paints come in flat (even semi-gloss) finishes.
In contrast to wall paint, ceiling paint is designed to resist soiling and staining from cooking vapors and cigarette smoke. Mildew resistance is also present in ceiling paint.
Due to its higher viscosity and quicker drying time, ceiling paint typically only requires a single application.
Where to Use Ceiling Paint?
Additionally, ceiling paint can be utilized as a primer for interior walls, doors, and trim. If you want all the walls to have the same color and finish, you should do this.
Due to its low sheen, flat appearance, and thick consistency, ceiling paint is seldom used for wall decoration. This material is common in stairwells, closets, playrooms, and finished basements, where a polished appearance is less important.
There are times when painting a wall with ceiling paint is a good idea. However, before you dip your roller, you should know the limitations of applying ceiling paint to other surfaces.
It is permissible to use ceiling paint on walls, but only on interior walls. It would help if you did not paint exterior walls with ceiling paint because the finish will not last.
Keep in mind, however, that painting the walls with ceiling paint will result in a dull, dry appearance. This is because ceiling paints are typically neutral, flat, and dry. The paint on the ceiling can also serve as a primer for the walls. Modern interior design occasionally employs this technique to add visual interest and texture to kitchens, dining rooms, and offices, among other domestic spaces.
Type of Ceiling Paint
Within the category of ceiling paint, there are numerous options. These should be used for the room's function and the ceiling's material.
Flat Acrylic Ceiling Paint
A popular ceiling paint performs well in low-humidity areas such as bedrooms. You can also use it in living rooms. Because flat paint reflects little light, most ceilings look best when painted flat.
Satin Sheen Ceiling Paint 
This paint can easily become stained, cracked, or chipped in humid environments. Therefore, this ceiling paint is recommended for use in laundry rooms, bathrooms, and other humid environments.
Semi-Gloss Acrylic Ceiling Paint
Because it is less likely to crack, semi-gloss ceiling paint is the best choice you have for ceilings above showers and other humid areas.
Pros & Cons of Using Ceiling Paint
| | |
| --- | --- |
| Pros | Cons |
| The higher viscosity of ceiling paint compared to wall paint makes it less likely to drip and more effective at concealing ceiling stains. | If you keep the same color scheme, repainting the ceiling might seem like a lot of effort for little payoff. |
| Ceiling painting is a simple and inexpensive DIY project. | Preparing to paint a ceiling necessitates considerable effort. |
| Typically, ceilings are painted white, but this is not an absolute rule. | You can reapply any leftover ceiling paint to other ceilings. |
| Combining light walls and a dark ceiling can create a striking visual effect. | The presence of vaulted ceilings makes DIY projects more hazardous. |
| You can reapply any leftover ceiling paint to other ceilings. | In contrast, a fresh coat of ceiling paint can enliven the room, conceal scuffs, and even add intrigue if you choose a daring color. |
What is Wall Paint?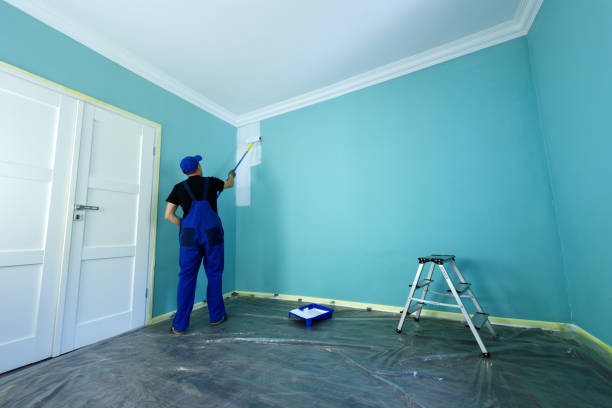 The paint runs like water. It dries to an attractive, smooth finish. The application process is simplified by a series of steps that transform the liquid into a thick consistency.
The paint contains four components: pigment, solvent, additives, and resin. Resin functions as a binder, holding pigments together. Utilizing resin ensures that the paint will remain intact. Paint additives are also essential because they enhance the paint's performance. With the aid of additives, the painting will be easy.
It also contains additives that make it resistant to scratches and mold. Solvents not only transport resin and pigments but also bind them. Pigments are responsible for the paint's hue and sheen. Extenders and primes are the two primary varieties. Primary pigments will be red, yellow, green oxide, and white. Barytes, mica, talc, and calcium carbonate are included in the extenders.
Purpose of Wall Paint
Exterior and interior paint serve the same function. Paint prevents the growth of mold and mildew by sealing off moisture. Another benefit is preventing allergens, dust, and dirt from adhering to your walls.
By acting as a barrier against the elements, the paint adds aesthetic value and protects and extends the life of both natural and synthetic materials.
Applying a new coat of paint to your walls will make them more moisture-resistant. Walls with moisture damage frequently develop mold and mildew and sustain further damage. A fresh coat of paint can help seal in moisture, which can strain the structural integrity of your home.
Where to Use Wall Paint?
You can apply paint with a roller, spray painter, or paintbrush. Spraying may be a quick solution, but achieving a smooth and even finish requires practice and is best left to the experts. Be sure to mask off and protect adjacent surfaces before spraying.
You should not apply paint in temperatures below 10 degrees Celsius (the paint might not dry in time) or above 25 degrees Celsius (the paint might not dry in time) (the paint may dry too quickly or dry on the brush or roller).
When the sun is directly overhead, painting is not recommended. Cloudy days are optimal for painting roofs.
Bring your painting indoors if there is a chance of rain.
Never use oil-based paints afternoon, as they may not dry in time for dew to form overnight.
Start early in the morning if you paint your windows and doors with oil-based paint so they have ample time to dry before you close them.
Unless specified otherwise on the label, you should not dilute the paint.
To determine how long to wait between coats, consult the paint can's instructions.
Type of Wall Paint
Matte Finish
Walls with a matte or flat finish have a subdued appearance and a slight sheen. These paints contain the greatest amount of pigment for maximum coverage and do not reflect light. Simply put, you will save money using fewer coats of paint to complete the project.
Textured Finnish
Textured paints give walls a distinct, rustic appearance that complements various interior design styles. Numerous homeowners already apply textured paints to their ceilings and accent walls, so textured walls will be a popular design choice in 2021.
Satin finish
Walls with a satin finish are reflective but not as reflective as walls with a glossy finish. The appearance and texture of a satin finish are comparable to those of a pearl. It is particularly effective in low-light environments such as bathrooms, hallways, and kitchens.
Eggshell Finish
Unlike walls painted with flat paint, walls with an eggshell finish have a subtle sheen similar to an actual egg. A finish with an eggshell appearance is preferable because it is more durable, requires less maintenance, and can conceal surface imperfections such as dents, holes, cracks, and scratches.
Semi-Gloss
Even though they are not as reflective or shiny as high-gloss paints, semi-gloss paints have a smooth sheen that makes cleanup simple. When combined with a different finish, accents with a semi-gloss sheen look fantastic.
High Gloss Finnish
High-gloss paint has the highest sheen and shine of any paint finish for walls. It is durable, extremely reflective, and extremely shiny. The reflective quality of a high-gloss finish makes it popular among interior designers for use in dark corners or on accent walls.
Super-matte
Super-matte Sipper matte paints have no sheen and absorb light more effectively than matte paints, making them even more subdued. Despite being extremely matte and subdued, ultra-matte paints have a rich texture. However, they are difficult to clean and attract dust and dirt.
Pros & Cons of using Wall Paint
Fill holes or dents in the wall with spackle and wait 24 hours before painting over them. Priming the surface before painting it with a darker color will make the process easier. Painting, as opposed to hanging wallpaper, requires much less time for preparation.
Depending on the sheen/finish, paint is an excellent choice for areas that require low cost and ease of application. Painting trim, exterior doors, and other exterior surfaces with semi- or high-gloss paint is a good idea because it will last for a long time. The sheen of interior walls typically ranges from flat to satin, with eggshells being the most common.
| | |
| --- | --- |
| Pros | Cons |
| Painting is usually straightforward and inexpensive. | For example, painting has a limited range of sheens, from matte to glossy. |
| Most homeowners can paint their own homes if they purchase the necessary materials. | Because paint fades and chips over time, you will need to reapply and touch the surface more often. |
| If you tire of particular paint color, paint over it or cover it with wallpaper. | If you are not careful when painting a room, you risk staining the floor, ceiling, furniture, and even appliances. |
|   |   |
Expert Advice
Heavy oil-based paint dries more slowly than you might expect and is typically applied by a professional; therefore, you cannot likely apply it yourself. Additionally, oil-based paints tend to run when heated to be more difficult to apply and less resistant to heat. Additionally, paint can emit toxic volatile organic compounds (VOCs). Although paint can last 5 to 10 years, it will likely need to be reapplied more frequently.