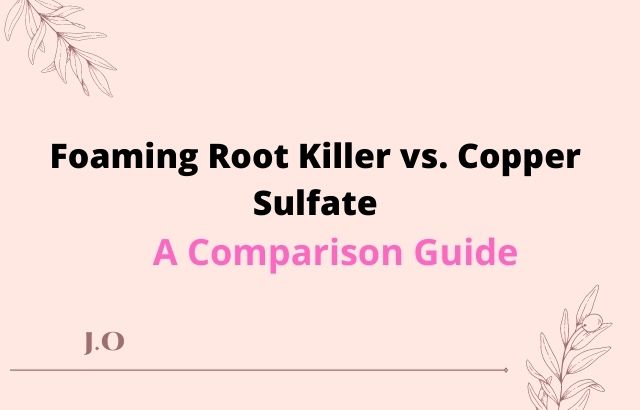 Foaming Root Killer vs. Copper Sulfate | Comparison Guide & Root Killers
Disclaimer
Articles, products, and services offered on this site are for informational purposes only. We are part of the Amazon Services LLC Associates Program, an affiliate advertising program. Amazon.com is compensated for sales resulting from links on our website.
Please review our disclaimer before acting based on anything you read or see.
Root access issues can be extremely baffling and costly to determine. Fortunately, root problems can be managed with copper sulfate or Foaming Root Killer (FRK). You need to pick the one that suits your particular circumstance. These two root killer products kill obtrusive roots yet don't "consume" or "erode" the underlying foundations of the framework. When the root has been destroyed, organisms will begin to deteriorate in this microbes-rich climate. I will discuss the foaming root killer vs. copper sulfate.
If you have a septic tank and a drainage channel or a floor drain opening and have root problems, you should try the Foaming Root Killer (FRK), regardless of whether they are already blocked or not.
Foamy Root Killer vs. Copper Sulfate
| | |
| --- | --- |
| Foaming Root Killer | Copper Sulphate |
| It contains Diclobenil which kills the roots and prevents new | Copper sulfate is a chemical made from copper compounds in combination with sulfuric acid. |
| Foaming tree root killer is a more modern invention used nowadays. | It is a traditionalized Product used before the advent of foamy root killer |
| It self-foams in contact with water. If the foamy root killer can't get to the roots, it can't kill them. | It accumulates as a heavy metal precipitate once it is applied to water. |
| The foam sticks the root-killing herbicide to the top of the pipe and roots above the flow. | Copper Sulfate will kill roots if it gets on the roots, however since it sits at the bottom of the pipe the flow in the pipe will continue to move the copper out of the pipe |
| It should take foamy root killer from 2 days to 1 week to clear your line) Your system must have some flow in order for the foaming root killer to work properly. | After roots have accumulated copper sulfate takes usually 3-4 weeks before the roots will die and begin to decay, and water flow should increase. |
Copper Sulfate
If necessary, copper sulfate can be used to destroy irritating roots and restore the system's normal functioning. This product works without affecting the surrounding trees, ground cover, or natural bacteria in the septic tank or cesspool. However, if your system has no flow, it will need to be mechanically cleaned before the copper sulfate treatment is performed. The reason is, if copper sulfate can't reach the roots, it can't kill them. Copper sulfate should clean the root system for 2 days to 2 weeks. The time required depends on the severity of the underlying problem and the location of the problem. If you need to root the system, wait 3-4 weeks before applying copper sulfate.
Some of you may be using Foaming Root Killer. If you have a septic tank and the roots infiltrate the main drain line (the pipes through which the sewer pipe enters the septic tank) or the reservoir itself, you will need to use Killer Root Foam to kill these pipes invasive roots.
Foaming Root Killer (FRK)
This unique foamy sulfate-free root remover foams in contact with water for better results. This product also contains ingredients that help accelerate the breakdown of the roots it kills. This allows you to solve root problems quickly. (You need Foamy Root Killer, 2 days to 1 week to clean the line) Your system must have a specific thread for Foamy Root Killer to work properly. If the foamy root killer can't get to the roots, it can't kill them.
To prevent roots from pushing up and damaging paved structures, trim the edge of the structure 3 inches or more and pour the Roebic Foaming Root Killer onto a thin strip. Repeat this process every year to prevent surface root growth along sidewalks and side streets. Between the roots and the sewer pipes: With water or a mechanical drilling machine, several small holes can be drilled to prevent long-lasting roots from growing the tree into the sewer pipes in the ground next to the dangerous tree or outside seams of the tree sewage system.
Add Roebic Foaming Root Killer to the holes and cover with soil. Make sure the hole and the depth of the hole are between the floor drain and the sewer pipe.
With regular use, both copper sulfate and root foam will keep the system root-free and prevent the discomfort of root clogging, such as overlaps and surface cracks.
Instructions on Homemade Root Killer for Sewer Lines
Sewage can be a waste for you, but the roots that grow near the sewer pipe are nutritious and need one of the small holes in the pipe to reach this spot. Once they are big enough, toilets and waste tanks have been created that run slowly. Plumbing professionals should handle the most effective killing chemicals, but you can make your available root killing chemicals to combat them.
Clear root killers
The roots usually penetrate the top sewer pipes, so chemicals that bind to the water can pass through the entire pipes without contacting them. Professional plumbers fix this with a foaming mixture of chemicals, and you can buy a less toxic compound than most home and garden centers online use. It contains diclobenil, which is also safe for septic systems. If you don't want to inject this chemical into a septic tank or municipal waste disposal system, you can use one of the traditional alternatives – rock salt or copper sulfate.
Read More: How To Transplant An Oak Tree
Crystal Root Killer
The situation should improve both copper sulfate, which you can buy in crystalline form at the hardware store, and rock salt, which destroys the roots on contact, and if the pipe runs slowly, throw it in one of the lower toilets in the household. Copper sulfate is best when you pour around 1/2 cup of precious stones into the latrine and flush it a few times. The same amount of rock salt is also effective, especially if you take the time to break into smaller crystals with a hammer before rinsing. These chemicals are especially effective in clay pipes because they penetrate the clay and prevent new roots.
Homemade foam root killer
You can add a foaming effect to the saline solution by adding baking soda and vinegar. To make this organic carrot, mix a cup of table salt, baking soda, vinegar, and boiling water and immediately pour it into the toilet. 
After mixing, baking soda and vinegar begin to swell, and grinding allows the solution to fill the pipes so that salt can enter the clogged roots. The solution will kill the roots on contact, but the dead tree roots will disappear slowly, so you won't notice immediate results.
Prevention of root invasions
Once your roots block the gutter, you can kill them, but you cannot remove them quickly. To prevent further blockage, it is best to keep the roots aside. One method is to saturate the soil around the pipeline with a root remover such as copper sulfate. To do this:
Dig a small or deep hole or row of holes near a flat piece of pipe.
Insert a 1.5-inch tube into each well, pour copper sulfate crystals into the tubes, and pour boiling water over the tubes.
Cover the tubes and leave them in place so that the treatment can be repeated regularly.
Best Root Killers
Roebic FRK-1LB FRK Spiked Root Killer
It contains a special herbicide that works without harming the surrounding organisms and contains no harmful additives, including a foaming agent that foams contact with water. Roebic removes existing roots and interrupts their root growth, forming a layer that continues its herbicidal action.
It is not harmful to other living things outside the sewer pipe because it passes through the pipe and acts immediately upon contact with water. It is suitable for any type of plumbing and is very easy to use by the installer.
If you have root issues every two weeks, this is the tree root killer you need in your life. Because for regrowth very effective. Plus, the foamy-killing formulas do not contain copper. So it becomes ecologically sound and economical.
Pros
Compatible with all types of grease
Easy to use
It isn't hurtful to the encompassing living things
Safe for any type of plumbing
For persistent root problems
Cons
It is not intended for roots in a system outside of the septic tank.
Reductions in the effectiveness of pipes
Sale
Roebic FRK-1LB Foaming Root Killer, Clears Pipes...
KILLS ROOTS IN SANITARY SEWERS: Roebic FRK-1LB Foaming Root Killer kills roots in sanitary sewers and is recommended for severe recurring root problems
FOAMS ON CONTACT: Exclusive Roebic Root Killer formula, which does not contain copper, foams on contact with water to fill the entire pipeline with the root killing agent dichlobenil to inhibit new root growth
SAFE FOR ALL PLUMBING: Foaming Root Killer is safe for all types of plumbing and will not harm surrounding trees
Green Gobbler Foam Root Executioner
The product comes in a large 10 kg glass and is ideal for professionals who like to keep a root killer in a small suitcase. These products often destroy trees and try to destroy their roots. However, if you use it carefully and follow the instructions strictly, you can protect your trees by dissolving their root growth in the pipes.
Pros
Complaints procedure
Prevents regeneration
It is not harmful to the trees
Supplied in a large container
Cons
Irritating to the skin
It must be used with great care.
No products found.
Whole Plants Control RM43
It is not only a root killer but also a weed remedy. Hence, you can use it to clean pipes and clean the garden. The product can work on an area of ​​17,297 square meters. This will save you time and money. At the same time, it is recommended to use weed killers in areas where your plants do not live. You can use it on the side of the road, on farmyards, in open areas, and on unpaved roads. 
In addition, the product is suitable for almost all surfaces. It not only kills weeds in the tube but also keeps the tube clean for at least a year. So you don't have to disinfect or weed with this product for almost a year. You can prune weeds from 15 cm or more. The formula of this product also contains 43.68% of Glyphosate. It is an herbicide and a strong herbicide.
Pros
works as a weed killer
It can be used on many surfaces.
It comes with a combination of two surfactants and herbicides.
contains 43.68% glyphosate covers a space of ​​17,297 square meters.
Cons
If the roots are in the pipe, kill the trees
It's not very environmentally friendly
Root Killer Rooto Corp
It is also called FDC 99% copper sulfate pentahydrate crystals. This special killer can be used in pipes, sewers, bathrooms, and even other pipes without the risk of damaging your property. It is made of 99% copper sulfate pentahydrate, and that can be dangerous for human skin. If you often run into a clogged drain and don't have time to call a plumber and other plumbing jobs, very powerful, highly reactive with 99% copper sulfate pentahydrate works quickly can be poured septic system line; use this formula for a simple yet effective fix. 
The killer opens the pipe as soon as it enters the pipe, kills the roots, and clears the way. This Earthworks product offers 99.9% purity of copper sulfate in the shape of (fine) crystals.
Online storage of septic systems also yields the best results. This will make the killer more active and efficient in cleaning the pipes. Although it does not foam on its own, a high-quality foam product guarantees excellent root vitality. Even better, it's 99% pure and in the shape of crystals. However, since the root killer is very strong, it must be used very carefully. It contains 99% copper sulfate pentahydrate and can be harmful to human skin. Only 1% of the inert ingredients make its formula very reactive. 
Pros
It can be used in pipes, sewers, and other sanitary works
Very strong
High reactivity with 99% copper sulfate pentahydrate
It works quickly
It can be dumped into the pipes of the septic system.
Cons
A foaming product is required
It has no lasting effect
Foaming Root Killer vs. Copper Sulfate: FAQs 
Does the foaming root killer loosen the roots?
Root Killer destroys the roots of trees growing in pipes with great crimes. The shaft will not be damaged when used properly. Foam root killers can be used to prevent root penetration and revitalization in the piping system.
Ware, the best root killer, used in sewer lines?
The best root killer includes:
Sanco Industries (copper sulfate)
RootX (foaming)
Roebic K-77 (copper sulfate)
Roebic FRK-1LB (foam)
How long does it take for copper sulfate to kill the roots?
Don't wait for it to finish; a certain wire is needed to move the root destroyer to the root growing zone. Once the roots have accumulated enough root destroyers (usually after 3-4 weeks) the roots will die and begin to decompose, and the water flow should increase.
How long does it take for the foaming root remover to take effect?
This allows you to solve root problems quickly. (You will need a foaming root shredder to clean the line for two days to a week) Your system must have a special wire for the foamed root shredders to work properly.
How often should I use Roebic Sparkling Root Killer?
Root Killer Foam apply twice a year. It is recommended for use in the spring and late fall. Depending on the severity of the root problem, it must be turned mechanically, and then the foamy Root Killer can be used as a product for regular maintenance.
How can I use root x root foaming wine?
RootX is throwable directly into a septic tank and junction box to kill roots trapped in containers and sewers (not used in Florida septic systems).
What prevents the roots from sprouting in the drain lines?
Cut the roots of the pipe with a water jet or an electric drain plug. 
Destruction of the root structure by chemicals that temporarily interrupt growth. An alternative is Root-X, a weed killer that can: penetrate roots and kill them by contact.
Does Bleach Kill Tree Roots?
Bleach and salt may seem like good and inexpensive ways to remove tree roots from sewers, but they have several drawbacks: they are not effective. Home root killers can bypass or crystallize the target and aggravate the block.
Conclusion
We understand the importance of using safer, more powerful, and more efficient products. The smartest and safest way to care for the roots in the pipe is to pour foaming root killer without copper sulfate down the toilet. This product destroys and dissolves tree roots without killing your tree, damaging your pipes, and costing you a fortune. Also, if you feel like you've tried everything, but your plumbing is still not working 100%, the answers to your problem might be right outside your window.