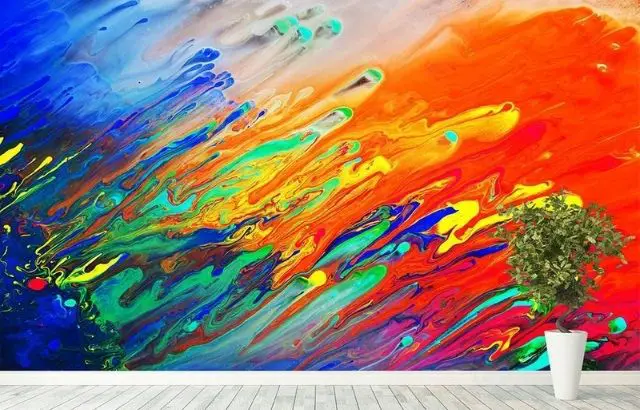 Can you Use Acrylic Paint on Wall | Paint Acrylic Patterns on the Wall
Disclaimer
Articles, products, and services offered on this site are for informational purposes only. We are part of the Amazon Services LLC Associates Program, an affiliate advertising program. Amazon.com is compensated for sales resulting from links on our website.
Please review our disclaimer before acting based on anything you read or see.
Painting on the wall surface is a great way to make your space more vibrant and unique. This can be as simple as drawing patterns by hand or using templates. Acrylic paint is a versatile and vibrant way to create paintings in any style. But before creating beautiful paintings, learn how to use acrylic paint. In this article, you will learn two things; one is can you use acrylic paint on the wall, and second how to paint acrylic patterns on the wall.
Can you Use Acrylic Paint on Wall??
100% acrylic paint is a derivative of water-based primer and is made entirely of acrylic resins. It provides a colorful protective wall covering and quickly forms a waterproof wall surface. It combines the ease of cleaning with water-based latex paint with the superior resistance of oil paint. 95% of a common mural area need not be painted in super-brilliant colors, so I have usually used these "house paints" for that. Acrylic paint is an excellent choice for many, if not all, household painting jobs.
A layer of acrylic paint adheres to various surfaces (if properly prepared), such as wood, plastic, metals, and masonry. Acrylic paint is extremely flexible and can expand and contract without delamination. Keeping the surface intact and retaining moisture on the outside will prevent flaking.
Acrylic paint has excellent colour retention and is more resistant to sunlight and weather conditions than oil-based paint. Plus, it retains its shine longer than oil-based paint and is easier to touch up.
Acrylic paint dries faster than oil paint in just 2 hours and allows a second coat after 4-6 hours. In addition, it has fewer odours than oil-based paint, making it easier to use indoors, and it can be applied in temperatures as low as 35 F.
However, acrylic paint has several drawbacks compared to other paints:
Pick one color to start with; I like picking a light color here because if your brushes aren't 100% clean when you switch colors, there is less contamination going from light to dark.
Acrylic paint does not run like oil paint and shows brush strokes. To reduce this effect, paint additives such as conditioners and enamel are needed.
Acrylic paint does not cure as strongly as oil paint after curing and will cause damage in high traffic areas.
Learn More: How To Paint A Room With Two Colours
Tips and Techniques for Painting Mural on a Brick Wall
It would help if you cleaned the brick wall first. This is an important step if you want your wallpaper to look its best and last a long time. To do this, moisten the wall with water. Next, fill the bucket with a cleaning solution (a regular cleaning agent will work, or you can use TSP). Next, scour the dividers with a solid brush. 
Super Heavy Gesso can be used to create a more textured surface Brush, or spray apply – for spray application, thin gesso with a mixture of 50% Matte Medium and 50% distilled water. After you have finished washing, rinse the wall with clean water and let the stones dry for the next step. Allow drying fully. Choose a Liquitex Gesso from the range – thin it with up to 50% Matte Medium if needed.
After the bricks dry, apply primer to the brick wall with masonry or brick primer. You can also scale and transfer the design using a grid system Drawings should be "fixed" with a spray coating of 50% Liquitex Matte Medium and distilled water. You can order it from your local makeover store (such as Home Depot or Lowes). Tell them that you will paint a mural on a brick wall and that you will need a suitable primer for this. 
Learn More: Difference Between Ceiling Paint And Wall Paint
The primer is important because it prepares the wall for the paint to be applied, making it easier for the paint to adhere to the brick wall. After the primer has dried, the wall is ready to draw its outline using chalk or pastels. If you need to dispose of a reference sketch or photo carefully, you can use the screening or art projector. 
Moreover;
When painting on stones, it can be not easy to get close-up details, so try to keep your design as simple as possible, with wide, even areas of color. Use facial brushes to paintthe mural, not the brushes you normally use to paint art. The texture of the stones wears down very quickly, so don't waste your good brushes painting a brick wall. 
The old architectural joke that most projects are six months late and 50% over budget has a grain of truth. Chip brushes are very cheap, so you can take many of them and throw them away if they get badly worn. If the exterior is a brick wall, remember that weather conditions can quickly withstand the exterior wall. Use very light-resistant acrylic paint (you can check the ink label). 
In general, avoid using cadmium colors (such as cadmium red, cadmium yellow, etc.) as they fade quickly when painted outside. After the panel is completed, you need to paste it to protect it from the elements.
The use of two coats is recommended: the first coat should be an insulating coat such as Golden Soft Gel Gloss or Liquitex Matte Medium. I've painted 20 coats of a lighter color over black and didn't even have 100% coverage. This insulates the layers of varnish, so if the varnish has to be removed to clean the mural, the paint will not accidentally come off during the removal process. 
Read More: How To Remove Sash Windows For Painting
Instructions on the Interior Designer's Guide to Painting a Mural
The way to an effective wall painting is arranging. Before you begin, make sure you have a clear view. Also, if you're free to do so, you can preview the images to create an idea.
Required material
Pencil
Different size inks
Use water to clean the brushes.
Pallet or temporary pallet (box, etc.)
Kitchen towel
Film printing
Acrylic paint
Instructions
Use acrylic paints as they dry quickly and are waterproof. Once you make an error before the paint dries, you can wipe it with a moist fabric and dispose of the misstep.
If you are nervous, write your ideas on sheets of paper of the desired size that you can use as a 1: 1 guide. When you're done planning, paint the wall the paint you want to use, the paint marker of your choice. You can also work with whatever wall paint you have.
Allow the paint to dry and altogether clean the divider to get a spotless surface. When you need some water to do this, ensure the dividers are dry before you start. Remember to remove the furnishings and cover whatever may deplete paint.
Now use a light pen to mark the hard area you want to draw so that the drawing is not too big or too small. After creating the sketches, paste them in the desired location on the wall to like the look. 
In case you're replicating an image, hold it before you and begin drawing; stay away from the drawing to make sure the dimensions is correct and that you fill in the allotted space in the correct proportions.
Whenever you are finished painting, the time has come to set up your image. Colors shouldn't be placed too close together as they inevitably mix. Instead, try to use a good color scheme.
It's time to paint. When your picture follows the outline, use a soft brush to paint it your favorite color. Paint from left to right to solidify the paint on the wall and avoid contamination.
Choosing the Best Paints
If you have a house and the interior wall is slightly damaged, now is the time to ask yourself, what kind of paint is best for the wall?
Think about your color and tone preferences. There are many different colors to suit any environment or decor. Once you've decided which paint will work best for your interior wall, make sure it doesn't affect the room's overall look. There are several types of paint to choose from, so determine which one will work best for your rooms.
Now that you know what type of paint is best for interior walls, the next thing to consider is the furniture in the room. Furniture, both wicker, and wood should be protected from direct sunlight. This will cause the paint to fade and stain. This is because the furniture absorbs the ultraviolet rays and causes them to be reflected into the environment, causing the paint to fade over time. 
Read More: How To Make Grey Paint Less Blue
Here's another perceived roadblock I hear regularly, and it makes me sad because it's 500% not true! Furniture and paintings should be cleaned regularly not only to avoid this problem but also to prevent discoloration. Make sure to clean up debris, wash furniture and walls, and remove pet and tick hair. Failure to clean these items can cause various paint problems as well as furniture and carpets.
One think you should;
Keep in mind that you will need clean soap and water if you want to clean the room. A lot of people don't think about it, but it helps avoid the risk of fading. Also, remember that choosing to use the wrong type of interior wall paint can worsen the problem. Let's talk about a few tips when considering what type of paint is best for an interior wall.
Learn How To Paint Oak Trim White/
Make sure to remove all dirt from the walls before applying the paint. The same goes for furniture and floors. Even when it is new, there may be dirt, and this can cause paint problems. 
If you want to avoid discoloration and keep the paint in perfect condition, read the instructions before starting. Always follow the instructions. My inbox still stays full unless I pen a response somewhere along the lines of "to be 100% honest, I would rather eat rusty nails than publish this for you."
Frequently Asked Questions
What happens when you paint the walls with acrylic paint?
It provides a colorful protective wall covering and quickly forms a waterproof surface. In addition, it combines the ease of cleaning with water-based latex paint with the superior resistance of oil paint.
How do you use acrylic paint on the wall? :
Make sure the acrylic paint is dry before applying the sealing varnish.
Apply the principal layer of stain with a wide brush. 
Allow the coat to dry.
Apply the second coat in the opposite direction of the first.
Wait for the second coat to dry.
Can you paint with acrylic on the plaster wall?
Acrylic paint is great for almost any surface. They are gleaming, murky, of good quality, even impervious to water and light. Even if you are a beginner, choose brands and colors wisely, as that is very important.
What paint should you use to paint walls?
Acrylic paint is versatile and ideal for fine brushes, glass, paint, water-based primers, and more. This smooth, light-colored ink has excellent pigment quality and colorfastness. Acrylic paint can be applied to almost any stable surface, such as paper or watercolor canvas.
Would you be able to clean your acrylic paint?
Acrylic paint can be easily washed with soap and water while wet, but it becomes extremely difficult to remove once dry.
Can you wash acrylic paint with water?
Acrylic paint is a pigment mixed with an acrylic polymer emulsion. This is just an elegant way of saying it is water-based paint and as it is water-based paint, it can be easily washed if not handled and handled properly.
Is acrylic paint waterproof?
While it can be somewhat waterproof, it does not provide a waterproof finish. To make it waterproof, apply your sealant to the acrylic paint. It is also possible that the surface you are painting will be prepared before painting for the best results.
What is the contrast between latex and acrylic paint?
The main difference between the two paints is that the acrylic paint is chemical-based, and the latex paint is water-based. Because acrylic paint is chemical-based, chemicals make it more flexible than latex paint. As a result, acrylic paint shrinks and expands better than latex paint.
What can you use acrylic paint for?
Acrylic paint is ideal for creating patterns on various surfaces, including canvas, wood, metal, fabric, and ceramic, making it a versatile addition to your craft kit.
Conclusion
It usually sticks to a smooth surface when it comes to acrylic paint when not wet or dry. Therefore, it does not damage the wall surface and is completely safe for indoor and outdoor use.