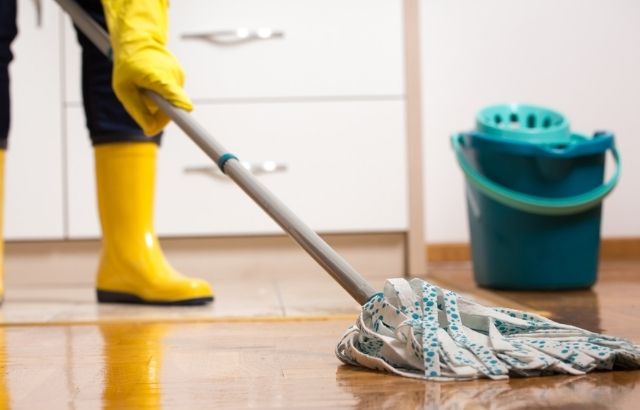 How to Clean Textured Ceramic Tile Floors | An Expert Cleaning Guide
Disclaimer
Articles, products, and services offered on this site are for informational purposes only. We are part of the Amazon Services LLC Associates Program, an affiliate advertising program. Amazon.com is compensated for sales resulting from links on our website.
Please review our disclaimer before acting based on anything you read or see.
Ceramic tile is one of the most long-lasting floor coverings for bathrooms, kitchens, and other areas where dampness occurs from time to time. Durable, aesthetic, resistant to various influences and substances, the tiles will last for many years and will always look new and matte with proper care. In this article, we will tell you how to clean textured ceramic tile floors, how to wash any tile, rough, Porcelain stoneware from ingrained dirt, for example, after renovation or after a long absence of regular maintenance, so that there are no ugly stains, plaque, scratches on it.
Basic Rules for the Care of Tiles
Ceramic tiles have been known since ancient Rome. Thanks to its advantages, which cannot be overestimated, the tile still adorns our home. To be convinced, it is enough to familiarize yourself with an overview of fashionable collections and the best manufacturers of ceramic tiles. To make this unique coating lasts as long as possible without losing its appearance, adhere to the following rules:
Learn More: How Thick Are Floor Tiles
Instructions
Sweep or vacuum the floor daily to remove dirt, food debris, and other debris that may accumulate on the floor. Garbage that remains in a damp room for a long time can turn into dirt.
If there are no stains on the coating, it is enough to wash it with a damp cloth periodically.
After damp cleaning with plain water or detergent, be sure to wipe the floor dry. Thus, you will not only prevent the rapid accumulation of dust, dirt on the tile itself, but also the seam between the tile and the floor. Accordingly, you will be puzzled by cleaning the tiles on the floor from the stubborn dirt less often.
Wipe up any spills promptly. All spills from juice, tea, coffee, or other liquid are not only absorbed very quickly into the seams between tiles but are also very sticky, as a result of which dust and dirt are quickly attracted to them.
If a pet has defecated on a tile or you dropped raw meat on the coating, then spray the stained area with a disinfectant and wipe everything off right away. If you have tiles in different rooms in your house, you need to look after each of them thoroughly. This will help to extend the lifetime of the coating and its beauty.
Before you start cleaning the tiles, you need to determine the type of pollution since the choice of tools and tools depends on this. If the tiled floor can be wiped off in a few seconds, everything is much more complicated with the joints. The seams accumulate all dirt, respectively – they become an ideal breeding ground for fungus and mold.
Read More: How To Remove Porcelain Floor Tiles Without Breaking Them
How to Clean the Tiles on the Floor from the Stubborn Dirt?
Most often, the joints suffer from the following contamination:
Remains of funds, materials after repair. Pieces of food. Dust, dirt, brought from the street. Dirty water.
Remains of detergents.
Means, like tools, to clean the tiles on the floor from stubborn dirt and the seams between the modules can be different. It all depends on the degree of neglect and the type of pollution. Sometimes you can get by with folk remedies and improvised materials, and in some cases, only household chemicals and a stiff brush will solve the problem.
Clean Ceramic Tiles from Grease and Dirt
If the snow-white tile on the floor no longer pleases with its fresh appearance, then use the following tools:
Vinegar.
Lemon acid.
Ammonia.
Dishwashing liquid.
Soda.
Bleach or "Whiteness."
Washing powder.
Kerosene.
Use the above tools as follows.
Vinegar
Dissolve 0.5 cups of vinegar in 4 liters of water. Flush the floor with the solution. Rinse the coating with clean, warm water, wipe dry.
Important! Do not use vinegar or other harsh chemicals to clean marble flooring.
Aunt Fannie's Floor Cleaner Vinegar Wash...
Aunt Fannie's Floor Cleaner Vinegar Wash & Multi-Surface Floor Cleaner: Contains 32 ounces of fresh smelling lemon natural vinegar floor cleaner without the use of harsh chemicals
Ultra Concentrated: Mix 1/2 cup of solution into 2 gallons of water; use with mop buckets, floor cleaning machines or spray bottles. Vinegar dissipates, leaving the scent of our essential oil blends
EWG A-Rated: Aunt Fannie's Floor Cleaner earns the top safety rating from the Environmental Working Group; People & pet-friendly
Lemon acid
Gently dip a kitchen sponge in citric acid and treat problem areas to remove stubborn dirt from the tiles on the floor. At that point, flush the region with clean water, wipe dry. Important! Citric acid is also effective in removing grout stains. However, if the joints between the tiles are not protected, then give up the acid – use a gentler product.
Lemi Shine Antibacterial Disinfecting Spray &...
MULTI PURPOSE CLEANER SPRAY: Unleash your inner clean freak and get all your household cleaning done in a snap with Lemi Shine Disinfectant Spray. Its versatile function combines your kitchen cleaner and floor cleaner into one, leaving all non-porous surfaces looking spotless and smelling fresh!
KILLS 99.9% OF BACTERIA & VIRUSES: Bacteria and viruses? Not in this home! Let our multipurpose cleaner handle the stuff you can't see. Our sanitizer spray kills 99.9% of bacteria and viruses, including Flu virus, from all high-touch areas of your home like doorknobs, countertops, and changing tables.
GREASE, GRIME, & GUNK? GOODBYE: Designed to tackle life's messes, our cleaning spray is far from ordinary house cleaning supplies! With just a spray and swipe, you can watch grime, stains, odors, and grease disappear from every non-porous surface in your home. Mess? Where?
Chlorine
For snow-white tiles, use regular bleach or Whiteness. If the bleach is powder, then dilute it in water according to the instructions. Put the solution into a spray bottle, spray over the surface. Brush the problem area after 5 minutes. Rinse the floor with plain water, wipe dry.
Important! When treating the surface with bleach, adhere to safety measures:
Work only with rubber gloves.
Do not close the door in the room.
Turn on the hood or open the window to avoid the strong smell of the product.
Bona Multi-Surface Cleaning Machine Formulation,...
Specially formulated for use with most upright hard-floor cleaning machines such as: Bissell Crosswave, Hoover Powerdash, Tineco iFloor, Jashen M12, ionVac HydraClean
Concentrated formula - just follow manufacturer's instructions for filling, operating, and cleaning your hard-floor cleaning machine
Quickly cleans dirt & grime leaving a citrusy Lemon Mint scent behind
Washing powder
Use a detergent paste to remove liquid spills:
Pour 1: 1 washing powder into warm water.
Use a dust cloth to scrub the product onto the stain.
After 5-10 minutes, wipe the area with a soft sponge and wash the floor with clean, warm water to remove any remaining detergent.
Repeat the process if needed, then wipe the floor to dry.
Ammonia
The tile will get rid of a mold with ammonia. It will also help to clean the tiles on the floor from the stubborn dirt:
Prepare a solution: ammonia and water in 1:1 each.
At that point, flush the region with clean water and wipe it to dry.
Take a soft brush and scrub the tile with the mortar.
After handling and removing mold, rinse the surface with clean water.
Austin's 00051 Clear Ammonia Multipurpose Cleaner...
Multipurpose cleaner for laundry and general household chores like cleaning kitchens, sinks, garbage disposals and trash cans
Use full strength, wait a few minute and rinse with clear water
Can be used on cement floors
Kerosene
Rust stains and building materials will be removed by kerosene. Put on rubber gloves and soak a rag in kerosene. Wipe dirty areas with a rag and rinse the surface with warm water. Repeat the process if necessary.
Sale
Learn More: How To Remove Stains From Linoleum
How to Clean Textured Ceramic Tile Floors: Helpful Hints
Try to remove any glue (grout) from rough, embossed, or dark ceramic tiles as soon as possible. Use a vinegar solution for this purpose: for each liter of water – 50 ml of vinegar. Thoroughly wipe the dirty areas with the solution, paying particular attention to the joints between the tiles. After processing, rinse the surface several times with warm water and wipe dry with a soft cloth.
If there is no special tile brush, then remove the dry grout with a piece of light wool or felt. After removing the grout, clean the floor with a vinegar solution.
Glossy tiles after grouting cannot be cleaned with abrasive powders and metal brushes, as they will lose their shine. Use only soft-bristled brushes and liquid products that will not damage the tile surface.
Do not use household chemicals designed for cleaning gas stoves and plumbing fixtures to tidy up the tiles. Before using this or that "chemistry," be sure to read the instructions for use.
To prevent damage to the joints between tiles, during cleaning and surface treatment, coat them, for example, with epoxy paint. And remember that unprotected seams can be damaged by solutions containing acids.
Use microfiber or terry (bamboo) towels to dry the tiles.
Learn More: How To Clean Grout Between Marble Tiles
How to Clean Textured Ceramic Tile Floors: FAQs 
How do you clean textured ceramic tile floors?
The principal giveaway for these tiles is that they mark effectively and are difficult to clean. Finished tiles give grasp as you stroll on them, yet subsequently, the surface will quickly amass earth and become noticeably messy if not routinely cleaned.
Are textured floor tiles hard to clean?
The fundamental giveaway for these tiles is that they mark effectively and are difficult to clean. Finished tiles give grasp as you stroll on them, yet thus the surface will quickly amass soil and become noticeably grimy if not routinely cleaned.
How do you clean textured porcelain tiles?
Immerse the tile with a vinegar-and-water arrangement, permitting it to drench for five to ten minutes. Scour the floor with a delicate fiber brush, again working in two bearings. Wash the floor with boiling water to eliminate the cleaning arrangement. Cleaning Solution for Textured Tiles 112.5g | 45% baking soda 2.5g |
How do you clean rough ceramic?
Put 1 cup vinegar into a shower bottle. You can weaken it with boiling water, yet undiluted vinegar will work most viably. This is perhaps the ideal approach to clean harsh tile floors. 
What's the best tile cleaner?
The best tile cleaner is a trewax natural floor cleaner. And They said it would remove deep-down dirt and grime from hard surfaces and kill 99% of germs and bacteria, for example, e-Coli, staph, and salmonella.
Conclusion
Now, when you are dealing with your tile cleaning project, it is fundamental that you don't use a scouring cushion or harsh cleaner on the tiled floor. This is because their utilization can start to expose what's underneath and harm the tile. The microfiber mop removes up to 99% of bacteria without a cleaning solution (you need water!) and can be machine-washed.