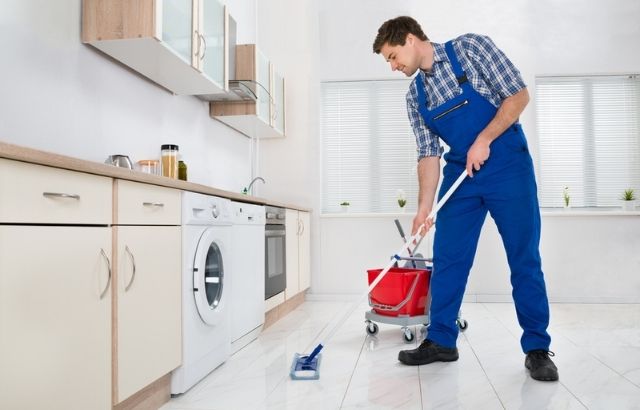 How to Clean Sticky Tile Floors | A Step By Step Guide
Disclaimer
Articles, products, and services offered on this site are for informational purposes only. We are part of the Amazon Services LLC Associates Program, an affiliate advertising program. Amazon.com is compensated for sales resulting from links on our website.
Please review our disclaimer before acting based on anything you read or see.
As people say, "The 1st impression is the last impression" same is the case you face regarding your lovely homes' cleanliness. People judge you and your lifestyles by seeing how you clean your homes. A clean tile floor can give a good impression to most people. On the other hand, the dirty and grimy floor leaves a wrong impression on your business circle and homes. To avoid this issue, you should hire experts and professionals of grout and tile cleaners. There are many services that a well-reputed tile and grout cleaning company offers you at very reasonable rates, but you can do this task by yourself also with some effort. This article will give you some useful and practical tips about how to clean sticky tile floors.
You might be surprised to think over how you can clean the sticky floor after a party; you might be thinking it can be challenging for you to do so. And it seems that there is no solution to this problem. You scrub away all the dirt and grout at the start but the floor is sticky after mopping. When you have spent many hours cleaning the tiles of the floor, you might be disappointed to hear the sound of anyone's shoes, which they make due to dirt. 
Well! I have good news to easily clean sticky vinyl floors with some effort and use some products. 
Learn More: How Thick Are Floor Tiles
Reasons Why Floors Become Sticky after Mopping
There are two main reasons that a floor seems sticky. It is either due to something spilled on the floor that had left some residue on the floor. Like if you were drinking any soft drink and it spilled on the floor and left the remains, and you tried to clean it over and over by mopping, but it ultimately did not solve the issue. You can opt for the best floor cleaner that doesn't leave a residue. If you continuously try to remove the residue, but it is not going away, it needs multiple tile cleaning steps.
The second reason is that when you only want to clean the floors and give them shine, something has not spilled on them and clean the sticky tile floor. Mopping and cleaning can solve sticky floor disasters, but it should be done correctly with the correct tools and liquid cleaners.
Learn More: How To Clean Cherry Wood Floors
How to Clean Sticky Tile Floors
You might not believe that your cleaning efforts do not show better results only because you have sticky Floors in your homes. This issue depends on the types of floors as well.
It usually happens that you are doing your best to clean the sticky floor but have no successful results; this is due to the three main reasons that play an essential role in cleaning tasks. For example, the wrong cleaning solution, quantity, quality of cleaning solution, and the dirty water. The easiest way to clean the sticky floors is to use vinegar and bleach mixed with a gallon of water. Before you can vacuum wet tile floors, you need to know how the floor was made. If it is a dry tile floor, pressurized water will have no effect other than making it slicker.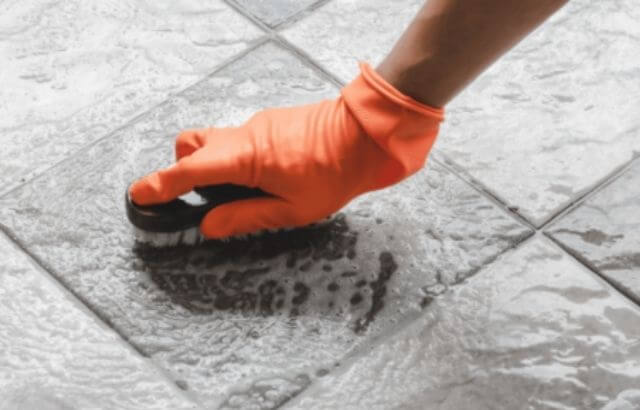 Quantity of Cleaning Solution
The main reason for the floors being sticky is that you might have used the wrong proportions of cleaning solution in the process. 
When the soapy residue dries and is left behind, it may show stains and dirt.
Even if you want to use mild cleaning solutions, you can choose white vinegar for this purpose, but you should dilute it to reduce its intensity.
It is common to think about the chemicals that give the best result if used in more quantities. But the case is not so; the floor cleaning chemical gives 100% results if used according to the directions.
Too much use of these chemicals can lead to a sticky floor disaster.
One way of diluting the cleaning chemical is to mix it with the water in the mop bucket.
Most of the floor liquid cleaners are super concentrated, and it isn't easy to measure the exact amounts.
But if you have a dilution station, this would be easy for you. All you have to do is push the button, and the machine will automatically mix water and chemical. So make your task easy and save your money as well.
Read More: How To Clean Brazilian Cherry Floors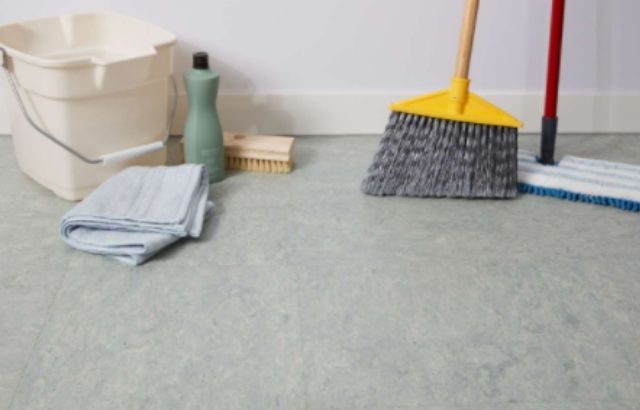 Wrong Cleaning Chemical
In most cases, the sticky floors can be used to use the wrong cleaning chemicals mentioned in the above heading.
Removing salt residue from the sticky floors is another critical issue. If it remains on the tile, it makes your floor sticky.
In both cases, you should use different kinds of cleaning solutions. But fortunately, the stickiness is due to the same element that is PH in both cases.
You will need an acidic cleaning chemical if dealing with the alkaline soil to remove the stains. 
But most of the floor cleaners are available in neutral or alkaline form like the salt; in this case, if you use the alkaline solution against alkaline, it will lead to floor sticky. So it would help if you opted for any neutralizer to solve the problem.
The facts and figures show that the cleaners belonging to the i- Mop family gives the best cleaning results, up to 70 %, and does the work faster than the conventional wet mopping. Use of Dirty Water to Clean Floors
Finally, if you have decided to mop the floor reasonably, you should have a fresh, clean bucket of water, but if you squeeze out the dirt and grout from your mop in this water, it doesn't remain clean anymore. The more you squeeze the mop, again and again, the water becomes dirtier, and ultimately the floor will not clean correctly, and it will become more sticky. 
You can go for many options to completely clean the dirty water stains from floor surfaces. 
Mops with microfiber can catch the much dirt from surfaces like linoleum floors.
Many mop bucket alternatives have the clean and dirty water distinctly.
You can also use the automatic scrubber to clean the floors.
These are the mechanical machines used to scrub the floors by applying the cleaning solutions, as they vacuum the dirty water from the surfaces.
Learn More: How To Clean Unfinished Wood Floors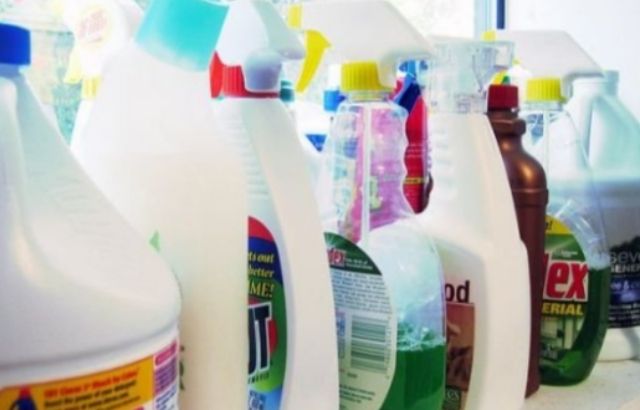 Steam Mops to Clean Sticky Surfaces
Steam mops are an excellent option for cleaning sticky surfaces.
Thanks to steam mops, it is an effective way to clean the tile floors' sticky materials.
It is a known fact that steam is the best cleanser in the form of vapors. 
It is best for all the flooring types.
The soils and residue can be easily broken down with the heat that comes from steam. But there is one problem using the steam mops: it can damage the unsealed floors very quickly. Thus, most flooring manufacturers recommend using steam mops because the heat will break the fillings and the glues that combine the floorings.
Now the portable steam mops are great because they come with microfiber mop heads, making life more comfortable.
These easy cleaning tools not only clean floors fast and quickly and but also sanitize the surfaces.
I sincerely recommend you use these steam mops to clean your sticky floors.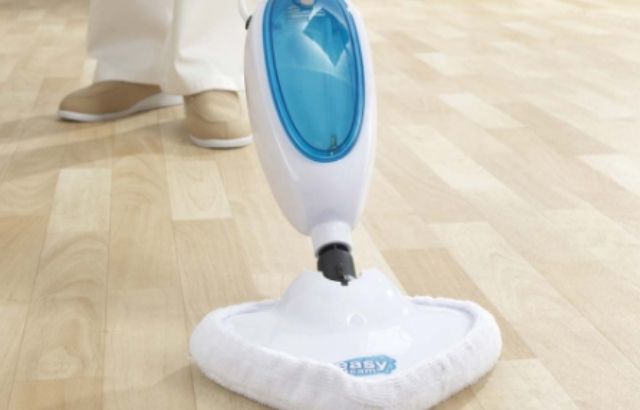 How to Clean Sticky Tile Floors: FAQs
Why is my floor sticky after I mop?
Sticky floor happens when I leave too much cleaning solution, soapy water, use the wrong floor cleaner, and finally not rinsing with clean water after mopping. It would help if you cleaned the dirt from the tile and wooden floors and then rinse them with clean water and mop to avoid sticky floors.
How do you clean grimy floor tiles?
I can clean up the grimy floor tiles by cleaning the loose debris first. Then vacuum the tile floors periodically to avoid dullness. Ceramic tiles are more unaffected by dirt than any other material, but the glazed and glossy surfaces are prone to dullness over time. For this, you should opt for the appropriate floor mop, some quality detergent, and clean water. It would help if you ideally used a chamois-type mop or a rag instead of an ordinary sponge mop. 
How do you make sticky floor un-sticky?
To make my sticky floor non-sticky, I will mix a gallon of warm water with a white vinegar cup in the bucket. Now I will dip the mop in the bucket, squeeze it, and mop my floor thoroughly. Then I will rinse the mop with clean water to make it ready for the next use. When I will end, wipe it with a soft towel.
Conclusion
At the end of how to clean a sticky tile floor, I would say that if you are struggling to clean the floor, don't be too concerned. It is easy to do it if you have a little knowledge and tools. You should only keep in mind the tips given and don't go back to old habits. When you have detected the main cause, only you have to re-educate yourself in every manner. As a result of a small effort and time, you will have a spotless floor within your financial budget, and then there is nothing like the sense of satisfaction you will have.