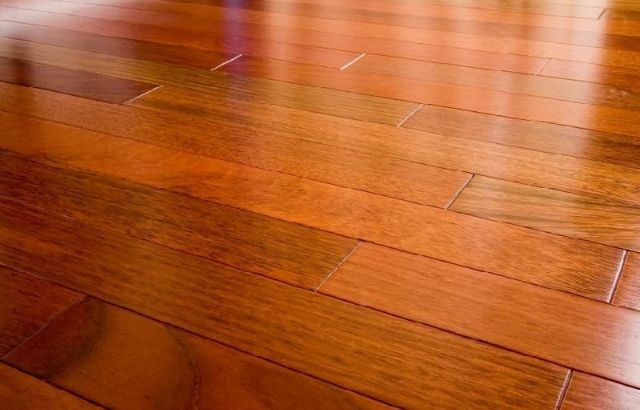 How to Clean Brazilian Cherry Floors | A Guide You Need Now
Disclaimer
Articles, products, and services offered on this site are for informational purposes only. We are part of the Amazon Services LLC Associates Program, an affiliate advertising program. Amazon.com is compensated for sales resulting from links on our website.
Please review our disclaimer before acting based on anything you read or see.
Brazilian cherry hardwood floor is the most attractive and exotic type of wood flooring. However, if you don't clean and maintain it regularly, it starts fading. People prefer Brazilian cherry hardwood because it lasts longer and only causes ordinary wear and tear. It becomes the most common type of flooring from 2000 to 2005. When you select cherry hardwood, you must choose a lighter shade as it gets darker with time. Due to the protective coating on the hardwood floor, it's easy to clean Brazilian cherry floors, but the only thing you have to know is how to clean Brazilian cherry floors?
For cleaning, there are many cleaning products available in the market that you can use, but here I will explain to you homemade and other cleaning products you can buy from a home grocery store.
How to Clean Brazilian Cherry Floors
Water and dishwashing liquid:
Cleaning with water and dishwashing liquid is the most common type of cleaning.
You only have to put a few drops of washing liquid into a warm water bucket for this method.
Mix the liquid into the water.
Put mop inside and squeeze it slightly. Make sure it's damp-dried.
Now mop the floor thoroughly and after cleaning, take a clean cloth and clean the floor with clean water.
At this point, dry the floor with a dry towel.
Make sure the floor is completely dry. Never leave any excess water on top of the floor; otherwise, it will cause damage the hardwood.
Learn More: How To Clean Unfinished Wood Floors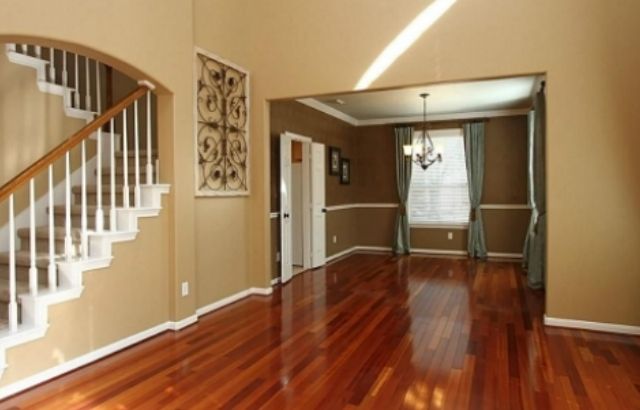 Thoroughly Dusting:
To maintain a cherry wood floor, you will need to dust it daily as wood accumulates dust; thus, it loses its shine and becomes dull.
Learn More: How To Remove Orange From Wood Floors
You many options for cleaning a cherry wood floor that is:
Broom & Dustpan
Broom and Dustpan, Tiumso Broom and Dustpan Set...
[You Deserve A Best Broom Set]: Premium quality built to last for Tiumso Broom and Dustpan. Made from high quality, durable materials. B2S upgraded version has been improved through new molds. The bristles of the broom is increased from three rows to four rows. The spiral joint is deeper, easy to twist and assemble tightly, Say goodbye to loose handles.
[Long Handle and No Bending]: If you still have to bend down as much to clean your house. Don't worry! The optional extension pole makes the broom length from 37 to 51 inches, People can choose the appropriate broom length according to their height. The dustpan long handle allow you to Stand upright for comfortable sweeping. NO MORE BENDING!
[Better Clean Solution with Humanized Design]: Tiumso dust pan broom set for home has a one-piece of soft rubber lip, and it creates a strong seal between the surface and dust pan. Therefore, dust is never swept underneath, for maximum dirt collection.The sweep set features teeth to comb out dirt and flat rubber lip ensures dirt make it's way into the dustpan. So you can get rid of dirty and Pet Hair on the broom without use your hands.
Dust mop
Sale
O-Cedar ProMist MAX Microfiber Spray Mop, Red
Super-absorbent microfiber effectively cleans with just water
DUAL-SIDED MOP HEAD - The large, dual-sided microfiber mop head flips allowing you to clean floors fast without having to change the mop pad.
REFILLABLE BOTTLE - Just fill bottle with water and add 2 small teaspoons of your favorite cleaning solution and you are ready to shine your floors.
Lightweight vacuum
BISSELL 2252 CleanView Swivel Upright Bagless...
EVERY PURCHASE SAVES PETS. BISSELL proudly supports BISSELL Pet Foundation and its mission to help save homeless pets.
SWIVEL STEERING FOR MAXIMUM MANEUVERABILITY. Makes cleaning around furniture and other obstacles easy. Filter replacement every 6 months
TRIPLE ACTION BRUSH ROLL. Loosens, lifts and removes embedded pet hair.
It's up to you which cleaning tool you prefer to use, but I recommend a vacuum as you can use it to clean dust and dirt from the floor.
Also, don't leave the dust for more days. It's preferable to clean after every 2-4 days; otherwise, dust wills takeout floor finish.
If you use a beater bar, I recommend not using it because it will create scratches on the Brazilian cherry hardwood floor.
The other best method is to use a soft broom or soft dust mop.
Learn More: How Many Coats Of Water-Based Polyurethane On Hardwood Floors
Commercial cleaners:
Commercial cleaners are also helpful in maintaining a hardwood floor for a long time and will keep your floor elegant and exclusive.
VIREX CBD540557 All Purpose Disinfectant Cleaner -...
For use on hard, inanimate, nonporous surfaces such as floors, walls, porcelain, and plastic surfaces in hospitals, nursing homes, schools, colleges and hotels
Provides broad spectrum kill of microorganisms including hbv, hiv-1, vre, mrsa, grsa, mrse, visa, prsp, herpes simplex types 1&2, influenza type A2, rotavirus and many more. EPA Registered 1839-83-70627
One-step quaternary disinfectants cleaner and deodorant to clean and disinfect hard surfaces in hospitals, nursing homes and other facilities. Fresh Lemon Scent.
It's up to you either which product you will prefer.
Some products are available in a spray bottle that you have to spray the floor with a bottle directly and then clean the floor with a microfiber cloth.
The other option is to buy a bucket of cleaner. Same method as you follow for a water and dishwashing liquid you have to do here.
1st of all, you need to put few drops of cleaner in clean water, then put mop inside and squeeze to make it damp dry.
Now mop the floor, and after moping, mop again with clean water. After mopping, take a dry towel and dry out all excessive water.
Remember one thing, don't leave cleaner or water on top; otherwise, it will damage the wood.
Water and vinegar solution:
To make your commercial cleaner, water and vinegar solution is the best way to make out.
Take half a cup of vinegar into 3-liter water. Mix it well.
This natural cleaner will work the same as a commercial cleaner and remove the entire residue from the floor.
Now mop the floor with a damp mop and dry it with a towel.
Learn More: How To Remove Glued Down Wood Flooring
Pros and Cons of Brazilian Cherry Flooring
Like any other type of wood floor, the cherry wood floor also has some pros and cons, as mentioned below: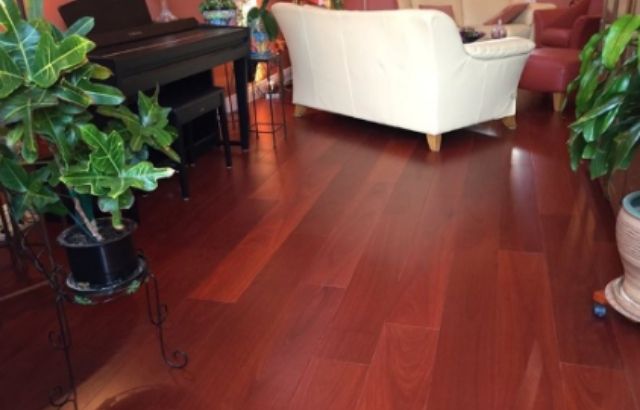 Advantages
The floor carries a pool of benefits such as its look, versatility, and strength, making it a perfect choice for modern homes.
Warm Aesthetics:
Brazilian cherry provides various color palettes ranging from deep color with red undertones to the cool shade.
The variation in colors resembles with special concentration on the wood grains.
To create a warm and stunning look, you can pair the wood with any other hardwood type to make a unique combination.
Durability:
As compared to all types of hardwood, the Brazilian cherry floor is the most durable form.
According to the Janka hardness test, this wood proved its durability, resistance to scratches, dents, and other imperfections such as color or damaged wood.
If you have many visitors in your home and afraid of damage, then don't worry. Even if you put it into the dining room, you still never regret having it.
Because it's a highly dense wood, so it also prevents fire-resistant and bug resistance.
Oil in the wood will kill all worms and mites.
Value: 
After putting the cherry floor, the value of the house automatically increases.
It's costly to put might take several dollars.
If you take proper care of the wood floor, it will last for 30 years, maybe longer if you follow all parameters. 
Versatility:
If you are going to install it in a warm place, then it's the best choice as Brazilian cherry hardwood is incredibly resistant to heat.
Refinished:
After a few refinishing but with cherry wood Brazilian, most of the hardwood damage, you can do dozen refinishing with sanding and buffing.
Sanding and buffing will make the hardwood to be looked like new.
Disadvantags
Like any other type of flooring, the cherry wood floor also has some drawbacks. But these drawbacks are minimal as compared to the benefits of such flooring.
High cost:
One thing that makes the people move to the other type of flooring is its high cost. 
If you use an alternate, if we look at its researched rate, other least expensive alternates are less durable than Brazilian cherry hardwood floors.
Dirt and dust more prominent:
One other drawback is when it gets dirt and dust; becomes the dust becomes more prominent on the floors. Then it needs a quick cleaning. You feel it more when you have sudden guests.
Daily cleaning will prevent scratches and any other type of damage.
Water damage:
Wood's nature is to absorb water, and also, it's not suitable for wet or warm locations.
It's also not suitable to install in the kitchen because you will face water splash and leakage of water in the kitchen; in this case, the floor's lifespan will reduce.
Turns to dark shade:
Sunlight on a particular part of the floor. If you got windows in your room, then some intense ultraviolet light causes the floor to darken. It's not like only one time of UV light causes it to get darker, but also, when the constant light falls on the floor for many days, it causes it to get darker.
Rugs or carpet: Rugs of carpet on a specific part for a more extended period can also cause it to gets darker.
Learn More: How To Remove Candle Wax From Hardwood Floor 
How to Clean Brazilian Cherry Floors: FAQ Section
Are Brazilian cherry floors outdated?
Brazilian cherry floors were trendy from 2000 to 2010, but now it becomes outdated due to the red undertone. Some passionate people who know the importance and durability of cherry wood floors will still prefer installing. If you are bored with its look, you can use it with other hardwood floors to make a unique and more attractive combination.
What colors go with Brazilian cherry floors?
If you are looking for the best combination color that goes well with the Brazilian cherry floor, neutral shades are the best choice. You can choose grays, golden yellow, green, and browns work well with the dark shades and create a warm look for the dark cherry woods. You can also choose warm neutrals such as light honey or butter shade of deep golden yellow. You can use cool shades for a dramatic look, and for non-dramatic shades, choose warm neutral shades.
Does Brazilian cherry hardwood darken?
Yes, over time, the Brazilian cherry hardwood gets darken due to many causes such as:
Sunlight on a particular part of the floor. If you got windows in your room, then some intense ultraviolet light causes the floor to darken. It's not like only one time of UV light causes it to get darker, but also, when the constant light falls on the floor for many days, it causes it to get darker.
Rugs or carpet: Rugs of carpet on a certain part for a more extended period can also cause it to gets darker.
Conclusion
To conclude this topic, cleaning a Brazilian floor is not difficult but needs proper attention and good quality cleaning and drying products. As I mentioned above different methods through which it can go for an extended period. I hope I can explain to you how to clean Brazilian cherry floors.
Read More: How To Clean Cherry Wood Floors