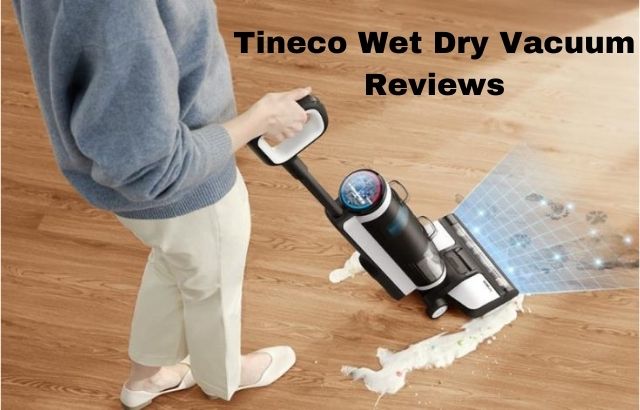 Best Tineco Wet Dry Vacuum Reviews | Get Your Preferable One Now!
Disclaimer
Articles, products, and services offered on this site are for informational purposes only. We are part of the Amazon Services LLC Associates Program, an affiliate advertising program. Amazon.com is compensated for sales resulting from links on our website.
Please review our disclaimer before acting based on anything you read or see.
The cleanliness of our home is something that we could never compromise. After all, it can put your loved one's health at risk. That is why it is essential to invest in the best Tineco wet dry vacuum available in the market. 
A vacuum surely makes cleaning more convenient, but with so many models available out there, you will surely find yourself in a dilemma in choosing which one to buy. So, here, we will be reviewing 6 products that stand out in the competition. We have listed down the advantages and disadvantages of each one to let you get the most out of your money. 
Why Trust Home Affluence Reviews
We spend thousands of hours researching, analyzing, and testing products to recommend the best picks for most consumers. Our review process is made in good faith to benefit your purchase. We only make money if you purchase a product through our links, and all opinions about the products are our own. Read more.
Our Top Choice
One of the products that do a great job in this area is the Tineco Floor One S3 Cordless Hardwood Floors Cleaner. Not only is it lightweight and cordless, but it also features a self-cleaning option, which makes it possible for you to get your area cleaned without getting your hands dirty. 
Tineco Floor ONE S3 Cordless Hardwood Floors...
Featuring iLoop smart sensor technology, FLOOR ONE S3 detects wet/dry messes on sealed hard floors and intelligently adjusts suction power and water flow for completely clean results. Floors dry quickly and streak-free.
Self-propelled and time-saving, FLOOR ONE S3 vacuums and washes your sealed hard floors in one smart step for an optimal clean in less time.
Cordless, lightweight, and easy to use, FLOOR ONE S3 extends runtime up to 35 min with intelligently optimized suction and battery power.
Tineco Wet Dry Vacuum Comparison Table
Photo
Best Pick
HIghly Recommended
Title
Tineco iFLOOR Cordless Wet Dry Vacuum Cleaner and...
Tineco iFLOOR3 Cordless Wet Dry Vacuum Cleaner,...
Tineco Floor ONE S3 Cordless Hardwood Floors...
Tineco iFloor Complete Cordless Wet Dry Vacuum...
Tineco iFloor 3 Complete Cordless Wet Dry Vacuum...
Tineco iFloor Powerful Cordless Wet Dry Vacuum...
Surface Advice
Clean all kinds of hard surface
Bare Floors, Hard Floors, Sealed Wood Floors
Power Source
Lithium Ion Battery Powered
Lithium Ion Battery Powered
Lithium Ion Battery Powered
Clean Water tank capacity
Dirty Water tank capacity
Best Pick
Photo
Title
Tineco iFLOOR Cordless Wet Dry Vacuum Cleaner and...
Surface Advice
Clean all kinds of hard surface
Clean Water tank capacity
Dirty Water tank capacity
HIghly Recommended
Photo
Title
Tineco iFLOOR3 Cordless Wet Dry Vacuum Cleaner,...
Clean Water tank capacity
Dirty Water tank capacity
Photo
Title
Tineco Floor ONE S3 Cordless Hardwood Floors...
Surface Advice
Bare Floors, Hard Floors, Sealed Wood Floors
Clean Water tank capacity
Dirty Water tank capacity
Photo
Title
Tineco iFloor Complete Cordless Wet Dry Vacuum...
Power Source
Lithium Ion Battery Powered
Clean Water tank capacity
Dirty Water tank capacity
Photo
Title
Tineco iFloor 3 Complete Cordless Wet Dry Vacuum...
Power Source
Lithium Ion Battery Powered
Clean Water tank capacity
Dirty Water tank capacity
Photo
Title
Tineco iFloor Powerful Cordless Wet Dry Vacuum...
Power Source
Lithium Ion Battery Powered
Clean Water tank capacity
Dirty Water tank capacity
What to Look for in the Best Tineco Wet Dry Vacuum Cleaner
There are plenty of Tineco Wet Dry Vacuum Cleaners in the market. Although having plenty of options is a good thing, making the decision-making process a bit more challenging. But, by knowing the features that the Best Tineco Wet Dry Vacuum cleaner should possess are, you can pick the right one easily.
With this in mind, here are the features that you should look for in the Best Tineco Wet Dry Vacuum cleaner:
Strong Suction Power
The performance of every vacuum cleaner depends on its suction power. In most instances, the suction power is given in Air Watts, which has a relation with the principal motor (Amps or Watts). For clients with thick carpets or hairy pets, it is recommended to buy cleaners with a strong motor and vice versa.
In a nutshell, any device with suction power above 100 Air Watts integrated with an appropriate additional cleaning device is good, the higher the suction power, the better, especially if you vacuum big things. 
Excellent Air Filtration System
Anyone buying a particular vacuum cleaner should ensure the filters are properly intact. The filtration system plays a huge role in ensuring the dirt and other debris in the dust container are sucked properly. 
The devices with a flawed system will let out dust through the exhaust port, which can easily trap more dust particles. Therefore, buy a device that comes with HEPA filters for effective functioning. 
Automatic Restart Buttons
Vacuum cleaners can function properly because they come with automatic restart buttons. Restarting the device after it has turned off after a low-charge battery is very easy if the auto-restart buttons are functioning properly. As a result, the user can retrieve crucial information and get it stored in the memory.
Automatic Shut off Buttons
Every vacuum cleaner needs to have shut-off and restart buttons. This is among the features which make the device function well and deliver an outstanding outcome. The shut-off buttons play a huge role in ensuring the device shuts off the power supply once the motor has reached the endpoint. 
The buttons also need to be automatic to help prevent the overheating of the cleaner once it has reached the endpoint. Having this feature is not only a safety measure, but it is also very convenient. 
Large Tank
Constantly needing to empty the tank can be a huge pain. This is why for convenient vacuuming; your Tineco Wet Dry Vacuum should have a large tank, especially when you are working with a large space. 
Key Considerations before Buying Tineco Wet Dry Vacuum Cleaner
Here are the main factors that you should consider when buying a Tineco Wet Dry Vacuum Cleaner:
Weight
Weight is another crucial factor to look for when acquiring either stick or cordless vacuum designs. This is simply because the most recent ones sit on top of firm wheels which ease mobility. 
On the other hand, you need to avoid buying heavier machines for one-handed vacuum cleaners as they will eventually strain your back and arms.
Price
One budget matters a lot when buying a particular vacuum cleaner model. The cost spent when buying the device mainly depends on the individual's willingness to pay. For someone with a flexible budget, price does not come in, unlike someone with a tight budget. 
This will require you to look out for a model that comes with special offers. For regular vacuum cleaners, you can switch to affordable ones.
Brand
Any client needs to stay well-informed on different vacuum cleaners brands available in the market. Besides, it would help if you were wary of attractive products on paper, but the whole performance and its lifespan are questionable. If you want to buy vacuum cleaners that are reliable and durable, stick with brands that are famous and well-known within your region.
Handling and Maintenance
It would help if you bought a vacuum cleaner which is easy to use and maintain. Nevertheless, if you find a new device, it is advisable to go through the manual to get familiar with it and know how to use it.
The new vacuum cleaner should have user-friendly control buttons to help them change suction strength or the floor type settings.
Type of Vacuum Cleaner
The common types of vacuum cleaners available in the market include stick vacuums, cordless vacuums, robotic vacuums, canister vacuums, and upright vacuums. Every type has its advantages and disadvantages, with different models and designs to suit clients' needs and expectations. 
Overall Features of Tineco Wet Dry Vacuum
These are the common features that you will find on Tineco Wet Dry Vacuums:
Automatic Shut Off and Restart Buttons
Shut off buttons help when turning off the power supply to the motor if the hose has reached the endpoint. It is the best way to curb overheating the device and save money on power expenses. 
On the other hand, restart buttons help to automatically restart the machine the user has turned off if the battery has a low charge. This is the best way to get the most important data saved properly in the device's memory.
Suction Power
Vacuum cleaners with strong suction power are the best for cleaning hardwood floors and hairy carpets. On the other hand, low-suctioned strength units do not face issues when picking dirt from hard surfaces but have no power to suck out the dust from hard floors and other fabric surfaces. The most recommended suction strength for the device is 100 Air Watts combined with an extra cleaning tool.
Air Filtration System
Vacuum cleaners normally suck dirt and other debris, remaining in the dust container credit to its filters. Dust can easily be let out via the exhaust port if the device has a poor filtration system. On the other hand, a good filtration system helps easily trap dirt particles and allergens. The HEPA filters make it easy to filter out over 99% dirt and other airborne dust particles. 
Dirt Bin 
Popular full-size vacuum cleaners come with at least one-liter dirt bin capacity. This gives the users a chance to vacuum large regions without interference. On the other hand, the cleaning system can easily empty the dirt bin after every use.
Such vacuums are also easy to clean, even in emergencies. Cleaners with a large-sized tank size are the best for shedding pet hair, while the small-sized ones fit residential cleaning.
6 Best Tineco Wet Dry Vacuum Reviews
Product Features
2-tank system
Cordless
3-in-one brush
Powerful suction
Brush roller
Rotating scrubber
Self-cleaning mode
Storage tray 
Sanitizing solution
Low-noise operation
Spot mode
Compact docking station
What is it best for?
It is best for different kinds of surfaces like marble, hardwood, stone, and vinyl. 
Summary and Review
As this product has a 2-tank system, you are assured that clean water is used to clean your floors. It also makes your everyday cleaning chores much easier, and even cleaning it isn't a hassle. 
With just a single touch of a button, the vacuum would use detergent and clean water to clean its rollers. The parts are also detachable, so you can wash them individually if you like. With its storage tray, you can keep everything in place.  It cleans and keeps your floor and even your carpets dry with ease. You won't also have a hard time setting it up for use for the first time. It will only take you a few minutes, and it is easy to operate as well. You won't have any trouble cleaning the corners of your house because it is easy to maneuver. Most of all, it is lightweight.
Pros:
Multi-surface friendly: This cleaner best fits cleaning indoor sealed hard floors such as tiles, vinyl, stone surfaces, hardwood, among others. The best tool that you need is to clean hard surfaces with ease.
Powerful One-Step Cleaning: This tool can vacuum and wash your floor simultaneously without sweeping or vacuuming before you mop and dry the floor. 
Cordless and convenience: It comes with cordless aspects for mobility and convenience purposes. 
Flexibility: It also has a rotating scrubber brush, making it easy to reach very tight areas.
Two-tank system: The two-tank stem makes separating clean and dirty water for excellent cleaning outcomes. Mopping needs to be done with clean water to help remove resistant spills, scrubbing, dusting, and performing other cleaning tasks.
Self-Cleaning aspect: With a button touch and activation of the self-cleaning mode, this vacuum cleaner will clean its roller with clean water and detergent.
Cons:
Final Words
This product is the best Tineco wet dry vacuum choice for you as a pet owner because it does a great job cleaning pet hair. Also, you don't have to worry about disturbing your neighbors or waking up your sleeping child while using it because its noise level is only 82 DB.
Product Features:
Cordless
Lightweight body
Quiet operation
Vacuum and wash
2-tank technology
Digital display
Self-cleaning
150W motor (brushless)
Smart mop
Powerful suction power
Brush roller
Swivel steering
What is it best for?
It is best to be used on hard floors that are sealed like linoleum, laminate, tile, and marble. 
Summary and Review
Having a lightweight body, you wouldn't have difficulty moving it up and down your stairs. You can also manoeuvre it easily. In addition, its two-tank technology makes sure that clean water is used in cleaning your hard floors. Like the first Amazon product we have reviewed, this one also has a self-cleaning feature, which flushes out all the particles collected after every use. 
It doesn't leave streaks. Hence, you don't need to go over the areas all over again just to make sure that it is cleaned thoroughly. Moreover, its display shows you everything that you need to know, like the battery level, power status, and working status in real-time.  It also tells you if there are any obstructions. Also, having a cordless body, you can move it around freely in your house. This one also has HEPA filters, making it worthy of its price.
Pros:
Time-saving: The user can save more time by vacuuming and washing floors in a single step where the floor dries instantly.
Powerful Suction Features: iFloor 3 comes with unique suction aspects, which help clean the floor quietly without interfering with the family and pets. The brushless motor with the device has a powerful 150W making it easy to clean the mess. 
Best for Cleaning Messy and Sticky Pills: The device has unique features that help pick up any sticky spills and pet hair on sealed Hardwood floors such as tiles, laminate, vinyl, and marble.
Lightweight and Cordless: The device goes up to the 25th minute of a non-stop cleaning power.
Self-Cleaning System Keeps Your Hands Clean: Other wet vacuums make the process of cleaning dirty rollers quite a hassle, unlike the iFloor3. One button click is what the user requires to have the self-cleaning mode activated. 
Cons:
Final Words
Cleaning dirty rollers after using vacuums is such a hassle, right? But that's not the case with this one. With just a single touch, it cleans its rollers by itself, allowing you to have more time to do other important things. Also, as the battery lasts longer, you can clean more areas in your house. 
Product Features:
Smart control system
LED display
Cordless
Infrared sensor
Noise reduction
Voice assistant 
Self-propelled
Built-in app 
Battery optimization
iLoop sensor monitor
Auto mode
5-in-1 Self-cleaning system
What is it best for?
It is best used for sealed hard floors like hardwood, tile, and laminate.
Summary and Review
Just like the Tineco iFloor3, the One S3 can run for 25 minutes. What makes it different is its smart sensor that detects both wet and dry messes then adjusts the suction power to attain the best cleaning result. 
Although it was stated before that it can run for 25 minutes, the runtime can be extended to 35 minutes as the suction is optimized. This has also been made possible with its larger battery capacity. In addition, this means that it can clean a larger area compared to the first two products that Tineco that we reviewed. 
It also offers powerful performance; you can be assured that it won't create extra noise so that you can use it even with your pets or children around. If you buy it from Amazon, you would also get 2 brush rollers and 2 HEPA filters apart from the cleaning tool and charging base. 
Pros
Improved LED Display: This vacuum can view what you need at a glance, even checking the battery level, cleaning reminders, and reports. This innovative technology makes it easy to clean tough areas and transform the entire process.
Cordless and Portable: Floor One S3 is light-weighted and comes with a cordless design which makes it easy to move. You can move around the house, go up and downstairs and take less time to clean.
One-Touch and Hands-Free Self-Cleaning: This device scrubs the rollers and flushes the water lines one-touch leaving your hands sparkling. These exceptional features make the device always remain clean, unlike the old-fashioned vacuums and mops.
Dual tank technology: The device comes with a double tank technology that helps separate clean water from debris and unclean water.
Replaceable Batteries: If the battery develops issues and fails to operate, you can easily have a replacement from the manufacturer.
Cons:
Final Words
You can view everything while using this product, from its battery level to reports. It will also provide you with cleaning reminders so that it will be ready for your next use. More than that, you can even monitor its performance on your phone through the Tineco app, making it one of the best Tineco wet-dry vacuums that are worthy of your money.
Product Features:
Vacuum and wash
One-touch cleaning
0.55L Capacity
Tineco cleaning solution
Multi-surface clean
Cordless
Brush rollers
3-in-one cleaning
Deodorizing solution
Spot mode
Charging adaptor
Storage tray
What is it best for?
It is best for indoor wood floors, hard floors, and bare floors.
Summary and Review
This product can remove even paint that has dried up on the floor without much effort. It can also vacuum sands and dog tracks well. However, it can pick up more than you expected. If your back has been aching from mopping the floor for a long time, then you might as well consider investing in this one. With this, you only need to push a button to get the job done. However, as it doesn't clean corners well, you might still need to use your regular mop at times. 
Tineco iFloor Complete can be used for dry vacuuming. Hence you can use it even without water. But, it is advisable to use water to attain the best possible cleaning result. Now, if you have a dog or a cat at home, it would be ideal for you to have it since it can suck up your pet's hair without any problem.
Pros
It cleans up Tough Messes and Spills: This device is recommended when cleaning up spills on tough surfaces. It clears up this mess within a short period leaving your floor to dry up quickly.
Cordless Convenience: You can easily move it up and downstairs, in corners as well as hidden places.
Self-Cleaning Features: The device has a one-touch self-cleaning system that easily cleans the brush roller and tubes, and no mess will result.
Simple Maintenance and Storage: The storage tray for the iFloor complete vacuum and its accessories perfectly serves the purpose.
Multi-Surface Cleaning Features: This device comes with multi-surface cleaning features for safety purposes. It is safe to operate on sealed hardwood floors, tile, vinyl, and marble.
For Wet or Dry Messes: iFloor complete vacuum cleaner helps pick dry and wet messes and spills on hardwood floors, leaving a streak-free shining aspect.
Cons:
Final Words
From pet hair to sticky dirt, this product will not fail your expectations for cleaning. It makes hands-free cleaning possible. What makes it one of the best Tineco wet dry vacuums is that it is a complete package, just like its name. It includes all the accessories you would need to have a complete cleaning experience.
Product Features:
Quiet operation
2 roller brushes
Cordless
Charging base
2 cleaning solution 
Onboard display
Powerful scrubbing
2 HEPA filter
25 minutes battery life
2-tank technology
Lightweight
LED display
What is it best for?
It is best for laminate, vinyl, tile, and linoleum.
Summary and Review
The iFloor3 Complete makes it possible for you to clean even the tight spaces in your home. Also, in its digital display, you would be provided with helpful information such as the device's power status and battery level.
It will also inform you of blockages in case there are any. Aside from that, it will also tell you when it is too dirty and needs some cleaning.  You do have to keep in mind that if you want to prevent streaks on your floor, you need to go in the same direction as the grains on your floor. It will suck up all the dirt on your floor.
Aside from that, this device does an amazing job of cleaning liquid spills. It is also so light that you won't have a hard time dragging it around your house. You just need to give it a little push, and it will almost manoeuvre itself.
Pros
LED Display Monitors Performance: This device has a digital LED monitor to show useful data about machine functions such as; power status, blockage indicators, and battery level.
Fast Dry Technology: The powerful brush roller that this vacuum comes with makes it easy to clean up messes faster compared to other traditional mops. Your floor will be left to dry immediately and will be streak-free.
Multi-Surface Cleaning Features: iFloor 3 is the best for cleaning hard floors and other rough surfaces. The device's exceptional features have helped to get the surfaces cleaned faster.
Powerful Scrubbing Suction: Clearing the messes on the floors is quite easy with buying iFloor3 complete vacuum. The device is unique and comes with a strong 150 wattage brushless motor to help one clean the sticky pill.
Advanced Storage and Easy Charging: The charging system for this vacuum is more convenient and organized. The docking station for this device helps for storage and charging purposes. 
Cons:
Final Words
Having this product in your home means you don't need to deal with the dirty mop with your hands. Unlike other models from other brands, there is no need for you to buy many cleaning products just to use. It is also very easy to clean. The only thing you need to do is to place it in its base, and that's it. 
Product Features:
Sanitizing solution
Strong suction power
Cordless
Functional motor
Charger adapter
Ultra-quiet operation
Multi-surface cleaning
Lightweight
Maneuverable
Dual tank
Storage tray
Self-cleaning brush
What is it best for?
It is suitable for cleaning linoleum, marble, sealed wood floor, and so much more. 
Summary and Review
What's good about this product is that you can easily lift it and carry it if you need to clean one area in your house. Like the first 5 products reviewed, this can do both vacuuming and washing. Also, just by pushing the button for 3 seconds, the device would start cleaning the brush rolls by itself. 
If you have a toddler who always spends time on the floor, you need to keep it clean. However, it is not easy to do so, especially since you have other chores to do at home. Having this product will be a great time-saver on your part.  Also, anyone who has pets at home would surely agree that cleaning animal hair isn't an easy task, and this product makes this task easy and more convenient. So, you no longer need to mop your floor manually.
Pros:
Portable and lightweight: The user can easily move up and downstairs with the device while cleaning the floor. This makes the cleaning process faster as one enjoys the job.
Multi-surface cleaning and Sanitizing: Tineco iFloor powerful comes with additional sanitizing. This means that the device can sanitize the floor after cleaning.
Affordable: Unlike other vacuum cleaners, this device is a bit cheaper, and any client from whatever location can easily acquire it. 
Additional Sanitizing and cleaning solution: The cleaning solution available helps to perfect the cleaning process, after which the floor will be sanitized to kill the present bacteria.
Self-cleaning Features: A one-click button and activating the self-cleaning modes will make the vacuum cleaner wash the roller and flush dust particles with clean water and detergents. 
Cleans hard surfaces: When cleaning rough floors, the device delivers the best results quickly.
Cons:
Final Words
With traditional mops, dirty water is used repeatedly, but only clean water is used with this vacuum cleaner, thanks to its dual tank. So, it will surely make your home feel much safer when cleanliness is your concern. You can also see that it works effectively because the water in the waste tank turns black. 
Best Tineco Wet Dry Vacuum: Buyer's Guide
One of the keys to having a clean home is buying the right products, and to help you with your search, we have listed down some of the things that you need to consider. 
Upright vs. Canister
When it comes to cost, upright ones are cheaper and do a better job in deep cleaning, especially carpets. They are also easy to store as it stands up on their own. 
On the other hand, Canister ones are quieter and are suitable for cleaning stairs and floors. However, they are bulkier and so, it needs more space for storage. 
Consider its Ease of Use
Will you be carrying the vacuum around? If your answer is yes, then definitely look for a lightweight one. However, you need to keep in mind that the lighter ones have lesser power most of the time. So, before buying one, consider its suction power.    
Maintenance
Being able to buy a vacuum is one thing, but what about its maintenance? You need to consider the cost and the time you need to invest in maintaining it. Typically, you need to empty the bag after every use and even replace its filters. You also need to clean its brush rolls. However, now you can buy vacuums with a self-cleaning feature which will save you from trouble. 
Noise level
Do you live in an apartment or a neighbourhood where houses are located beside each other? For sure, you wouldn't want to disturb your neighbours. So, choose a vacuum cleaner with a low noise level. Just make sure that the suction power isn't compromised. Typically, it's best to choose a vacuum that produces noise exceeding 80dB. 
HEPA Filter
If someone in your family has asthma or an allergy, then a vacuum with a HEPA filter is a must. The HEPA filter makes sure that the fine particles would remain trapped inside the vacuum cleaner. The higher the grading of the filter is, the better its filtration ability is. 
Quality
Generally, the more expensive the model is, the more durable it is because of its quality parts. However, this doesn't mean that there are no affordable yet quality vacuums in the market. You just need to do your research. Read customer reviews to know if the vacuum you have your eyes on can withstand wear over time. 
Also, consider the reputation of the manufacturer. It would also be best to opt for a company that offers great customer support and warranty coverage. 
Cordless or Corded
If you are looking for portability, then a cordless model is the best option for you. For example, if you would be cleaning a large area, it is surely such a hassle to keep stopping and removing plugs so you can clean one place and move to another. A cordless one is ideal for you to no longer worry about tangling, especially if it has been kept in storage for a long time. 
Battery Life
In most cases, vacuums can operate for 20 minutes, enough time for you to clean a small area. However, if you are cleaning a large area, you need to look for a vacuum that can operate longer. It would also be best if you could look for one with a removable battery so that in case it runs out of battery, you can simply swap it out to earn extra time for cleaning.
Hopefully, this guide gave you a clear idea of what you should look for in a vacuum cleaner. 
Frequently Asked Questions
Can the Tineco iFloor 3 just vacuum?
Yes. It works just like a regular vacuum but what makes it special is that it can wash floors simultaneously. 
How long does a Tineco vacuum last?
It depends on how well you maintain it. As long as it is used properly, you can use it for several years without much problem. 
Can I use Tineco iFloor on the carpet?
Tineco iFloor is intended to be used on hard floors, so it is not recommended to clean carpets.
Does Tineco iFloor clean itself?
Yes. That is a special feature of the iFloor vacuums. You don't need to clean it yourself. 
Can you use the Tineco Ifloor 3 on carpets?
Some people who have purchased this product have used it to clean their carpets, and it did a decent job. However, the manufacturer reminds their customers not to use them on rough surfaces. 
How do you know when your Tineco is charged?
The vacuums offered by Tineco have a display feature, and in there, you can see your device's battery status. 
What cleaner can I use in my Tineco?
The vacuum comes with its cleaner, and you should use only that.
Which vacuum cleaner is best to wet or dry?
The wet vacuum cleaner is for wet objects, while the dry vacuum cleaner is for dry objects, so a wet and dry vacuum cleaner is the best option.
Can you use other cleaners in Tineco?
Yes. Tineco offers different cleaning products you can use. 
Does the Tineco clean itself?
Yes. It has a self-cleaning feature. 
Can you put bleach in Tineco?
Using bleach is not advisable, for it can cause damage to the device. 
How do I take my Tineco to handle off?
Use a screwdriver and press the spring, then lift it from the device.
Can you use a wet/dry vac in the house?
Yes. You can use it in the house. Most of the wet/dry vacuums available in the market are intended for indoor use. 
How do you use a Euroclear wet and dry vacuum cleaner?
You use the Euroclear wet and dry vacuum cleaner the same way you use the other wet and dry vacuum cleaner in the market. However, after every use, you need to make sure to get rid of the mess it collected to ensure its long-time use.
Conclusion
Cleaning floors was considered a chore before. But, it can now be quite therapeutic, especially after you have seen the result offered by the best Tineco wet dry vacuum. This can be your perfect partner in keeping your house clean, so consider buying one. Spend less time cleaning and instead spend more time with your family.