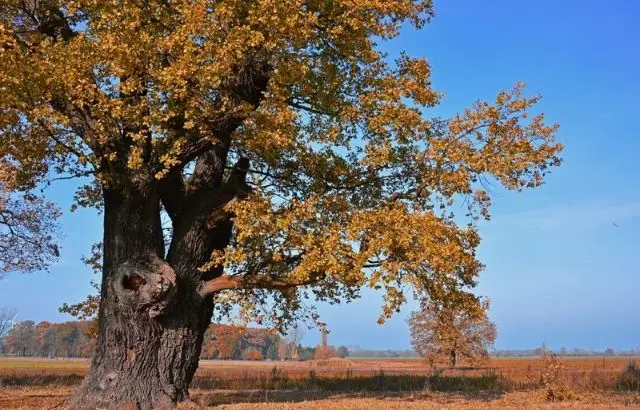 How to Transplant an Oak Tree | DIY Guide (Updated with Images)
Disclaimer
Articles, products, and services offered on this site are for informational purposes only. We are part of the Amazon Services LLC Associates Program, an affiliate advertising program. Amazon.com is compensated for sales resulting from links on our website.
Please review our disclaimer before acting based on anything you read or see.
Oaks are some of the most beautiful trees in the world. Their stately stature, graceful arching branches, and brilliant fall colors make oaks a favorite tree among homeowners and landscapers. When you want to add an oak tree to your landscape, it's important to know how to transplant an oak so it has the best chance of thriving after the process. If you're considering adding an oak tree to your landscape, now is a great time! Oaking season begins when new shoots appear on old oak trees in early spring. These tender new shoots are called "catkins" because they look like fuzzy little cat tails. In late fall, many oaks produce small acorns that will sprout into saplings in the spring. Keep reading to learn more about oaking seasons and how to transplant an oak tree!
Equipment you will need to Transplant an Oak Tree.
Oak trees are an excellent addition to any yard due to the shade they provide and the dramatic effect they create. Given that mature oak trees can reach over 100 feet, you should start with a 3-foot-tall sapling with shallow roots. 
To flourish, oak trees require full sunlight and well-drained soil. If it was planted in poor soil, too close to a building that casts shade, or too close to overhead power lines, you should replant a young oak to increase its chances of survival.
To achieve your objective, you will need the following resources:
Fungicide
Insecticide
Mulch
Shovel
To minimize root stress, it is best to transplant the oak when it is dormant in late autumn. Examine your oak in the spring to determine whether the transplant was successful. Your oak will not be actively growing this season, for the record.
How to Transplant an Oak Tree
Here are the steps to transplant an oak tree;
Choose a tree
Prepare the transplant site
Work the ground
Dig the tree
Move and wrap the tree
Plant the tree
Watering and fertilizing the tree
Support the tree
Prune and protect against gnawing animals
Read More: How Far Apart To Plant Citrus Trees
Let's dive into the detail of each step;
Step 1:  Choose a tree.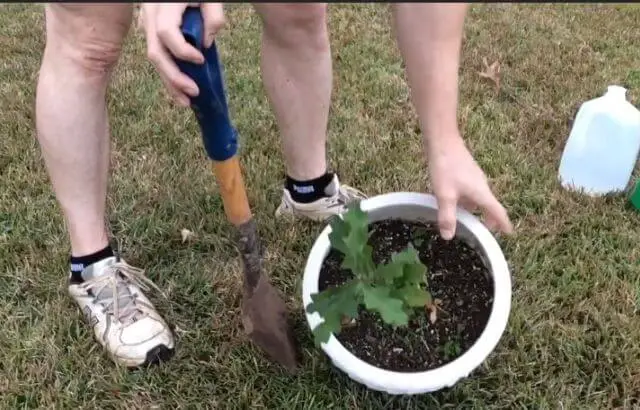 Check that the tree you select is healthy and shows no damage.
Step 2 – Prepare the transplant site.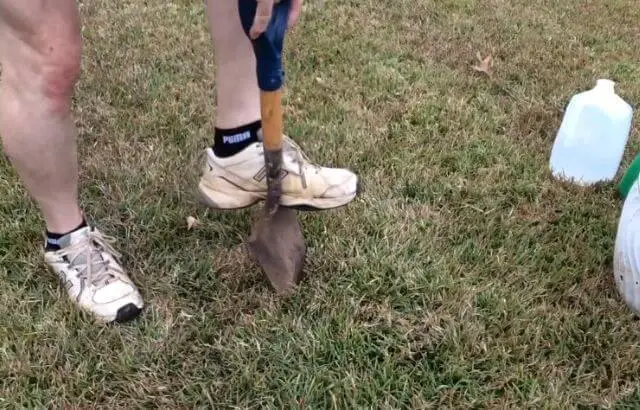 Time is of the essence when transplanting an oak tree.
Once you have removed the tree from the ground, you need to transplant it, so have the transplant site prepared before digging. A good location is always important.
Read More: How To Remove Spanish Moss From Tree
To do this, choose a size that fits the size of an adult oak tree. The size will depend on the type of oak, so do your homework on the specific type.
Always feet in diameter feet of the tree
Planting an oak tree near a street, sidewalk or foundation is bad. This can damage the roots and even the sidewalk or foundation.
The roots of oak trees are large and expand beyond their width.
Once ready to dig, ensure the hole is a few inches wider than the tree's root ball.
Step 3 – Work the ground.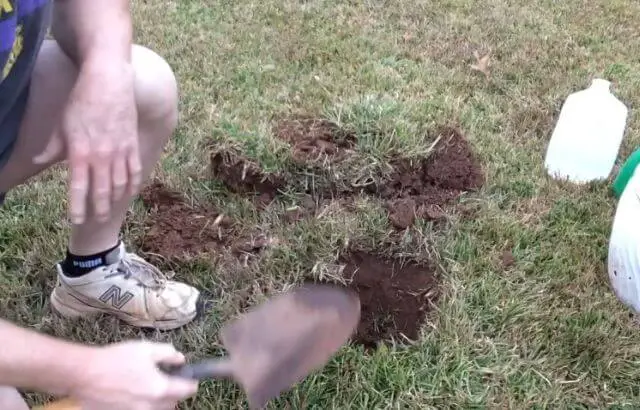 Break up the soil in the hole and add compost and garden sand to improve its quality and drainage.
Watch for fungus or pests in the soil that could damage your tree's newly transplanted roots.
Step 4 – Dig the tree.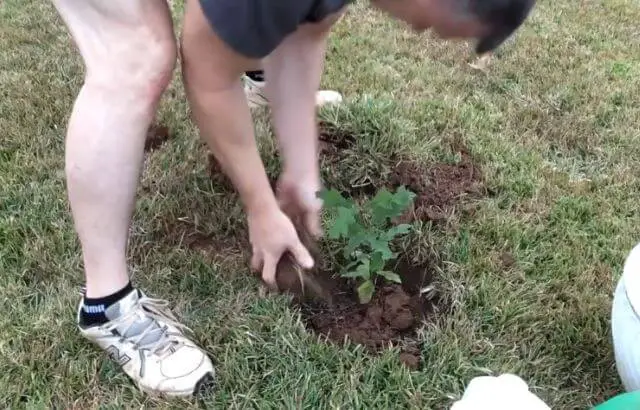 Dig a trench around the tree about sixty centimeters deep.
Widen the trench slowly in the direction of the tree until you see the presence of roots. If the tree is too young, the roots cannot reach too far.
It would help calculate the taproot's depth (the root ball's central root) based on the tree's height.
Taproots are almost as long as the tree. It is important not to break the main root when digging the tree.
If the taproot is damaged, your oak may not survive. Bring the trench to the necessary depth and begin digging toward the tree.
At this point, ideally, avoid digging into the root ball.
Continue digging until you notice that the tree begins to lean. Then gently move the tree in your home to determine if it can be easily removed. Do not tug or jerk.
However, if it doesn't look like the tree is loose enough to remove, you must continue digging carefully. When you put a shovel underneath, and it goes in smoothly, it is ready to stir. 
Step 5 – Move and wrap the tree.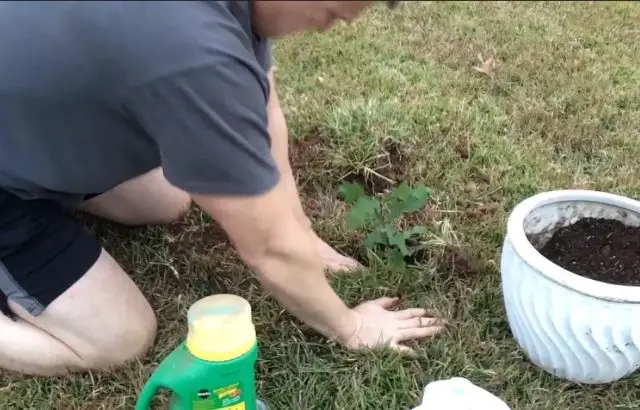 Pull the tree out of the trench a few inches. Try to collect as many root balls as possible and wrap the tree in light burlap into a ball.
Tie the burlap around the tree's trunk, remove it from its hole completely, and be careful with the leaves. 
It is advisable to have the yard ready to move the tree to its new location as soon as possible.
If you do not have burlap, you can use a tarp or plastic sheeting to wrap the tree's roots. However, be sure to remove this material before planting.
Step 6 – Plant the tree.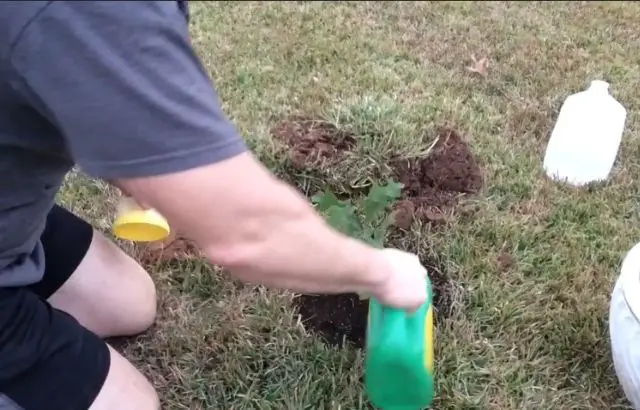 Place the tree in the hole you have prepared.
Ensure the root ball is slightly below ground level and the soil line is at the same point on the trunk as in the original location. It is necessary to check both inches deep.
Remember that soil settlement will occur over the next few weeks, so you may want to plant your tree lower than it seems necessary.
Build an earthen platform under the tree and backfill the rest of the hole with the soil you have worked.
Tamp it firmly but carefully around the root ball. The burlap can be left on the root ball.
The burlap will encourage root growth by moistening the root ball and slowly decomposing naturally.
Step 7: Watering and fertilize the tree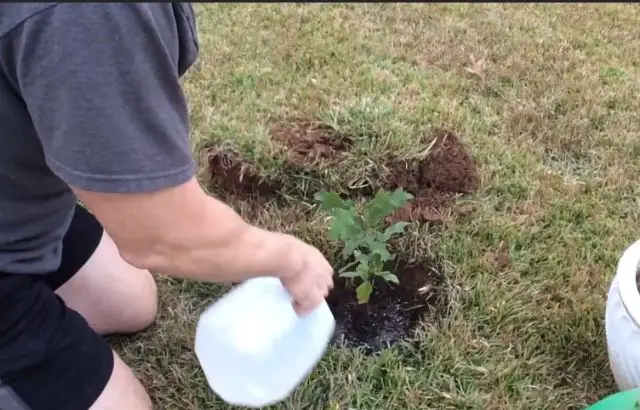 Immediately after planting, soak the soil in water. In the following months, water the tree carefully once to twice a week. A thorough soaking is much better than watering with a sprinkler.
Remove all fittings from the end of your hose. Remove all fittings from the end of the hose, connect it to a slow stream and leave the mouth open on the tree for 25 minutes or so.
Spread a layer of compost over the newly disturbed soil and apply it in the first few inches with a trowel or garden claw. 
Be sure not to dig deep enough to disturb the roots.
8 Step – Support the tree.
There will be no growth on the tree or root system until spring, so the tree must be supported in high winds.
Place two strong bamboo stakes on each side of the trunk, with the bottom six inches extending firmly into the ground.
Use landscape tape to secure the tree to the stakes. If you use twine or string instead of tape, the tree cannot move at all and is much more likely to develop a shallow root system.
Landscape tape is flexible and allows the tree to move a considerable amount.
Step 9: Prune and protect against gnawing animals.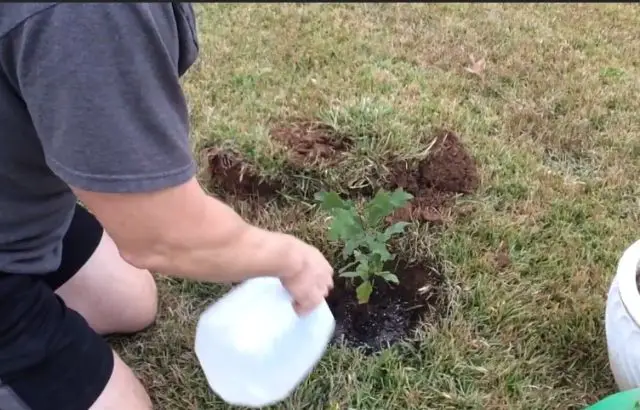 Next, use sharp pruning shears to prune one to three lower branches.
Transplanting is shocking to the tree system, and if you prune a few lower branches, the tree doesn't need to exert as much energy to survive.
Wrap the tree trunk to avoid pests and other types of animals that frequent the tree. There are several types of tree guards to consider.
You won't know if the transplant was successful or not until spring. Please keep checking the tree to ensure the fittings are still holding it properly and that nothing is causing any damage.
If your oak is older or larger than recommended, you should begin pruning the Taproots starting in the spring before transplanting live oak saplings. Transplanting a tree can be difficult sometimes.
Larger trees have large, complicated root systems that can be very difficult to move.
In the spring, take a sharp spade, dig around the outer roots, and carefully cut them off.
As spring and summer progress, continue to prune the roots, taking off only a few inches to gradually move the root system closer and closer to the trunk.
This will make them more manageable for winter transplanting.
The percent chance that your tree will survive is high as long as you follow each of our tips. 
Some things to keep in mind;
When the roots of a Valley oak and coast live oak intertwined to form a single tree, the oak's unique characteristics remained intact. At six feet in height, it is more than ten times as thick as it is tall.
During the year, the roots of trees draw water downward, then upward through their branches and canopy. Transplanting a lush tree with leaves and fruit will hinder its ability to absorb water. The tree would then suffer from transplant shock and struggle to become established.
During the relocation of an oak tree, massive boxes will be built to enclose its roots. Giant cranes perform to lift the boxed tree from the ground after it has rested for 120 days to allow the roots to recover from the required cutting.
Depending on the species, you should transplant trees only during the spring or fall.
Tips to Transplant an Oak Tree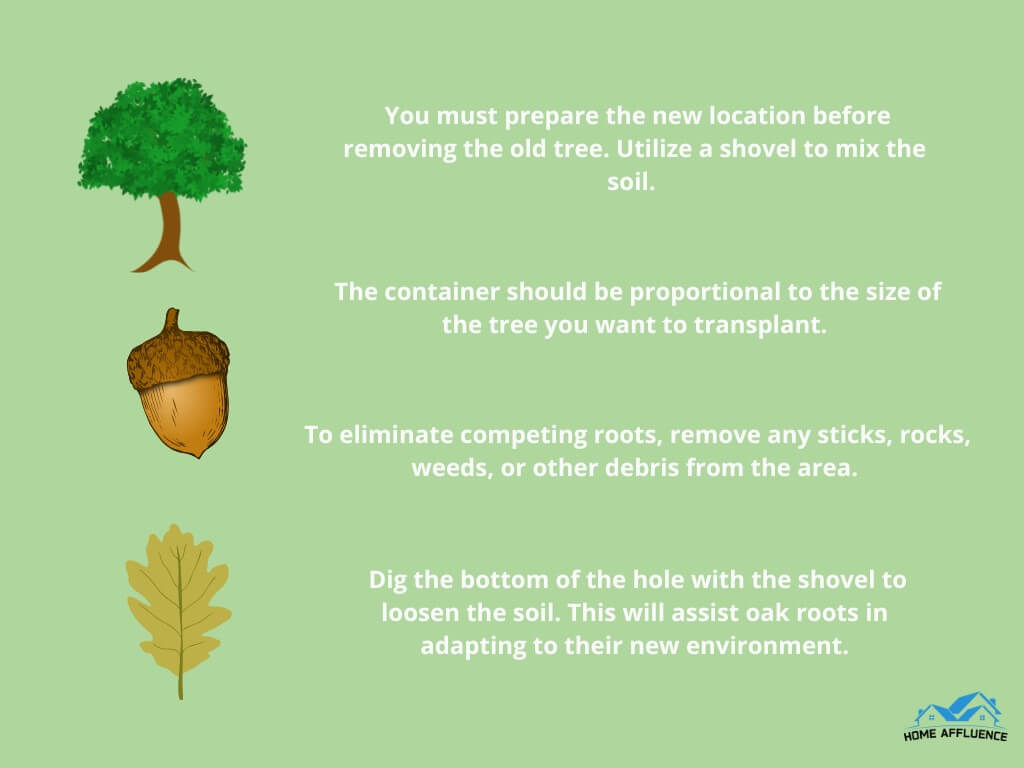 What is an Oak Tree? 
Numerous animal species depend on oak trees for food, shelter, and reproduction. In times of food scarcity, acorns from oak trees worked to feed livestock and humans.
As a self-sustaining ecosystem, oak trees are essential to the survival of a variety of animal species. Due to their high nutrient content, oak acorns worked to alleviate human and animal hunger during times of crisis.
Catkins are Male flowers that appear as yellow spikes alongside or after the leaves. Female flowers appear singly or in spikes of two or more flowers on the same tree; each flower has a husk of overlapping scales that enlarges to contain the fruit, or acorn, which matures after one to two growing seasons. 
Occasionally, white oak's smooth, bristle-free leaf margins can become glandular. Their acorns mature in a single growing season, contain edible seeds, and germinate within a few days of their fall. At the end of the second growing season, the bristly-tipped leaves, hairy-lined acorn shells, and bitter fruits of the red and black oak mature.
Types of Oaktree 
With over 500 known species, fascinating connections and anecdotes are as common as a squirrel's discarded acorn.
The ancestors of oaks and beeches in the Southern Hemisphere became extinct due to global warming. Numerous tree species, including conifers, belong to the genus Quercus.
Even though they are not members of the Quercus genus, numerous plants share the common name "oak." There are numerous oak species, including Oaks from Africa, Australia, and others ones as poison oak, tuple oak, and she-oak. These "false" plants are fascinating, but we will not discuss them here.
Before planting anything, it is prudent to research the local climate and soil.
Types of Oak Trees
Because the inner bark of the black oak (Quercus velutina) contains a yellow pigment, it is also known as the "yellow one."
Blackjack Oak: The Blackjack Oak is a species known by its common name (Quercus marilandica).
The Bur Oak, or Quercus macrocarpa, is the largest acorn-bearing oak tree.
The Cherry bark Oak (common name) is an oak species (Quercus pagoda). Its wood is precious.
This species of oak (Quercus montana) typically dominates the canopy of oak-heath forests.
Turkeys prefer the acorns of the American Chinkapin Oak (Quercus muehlenbergii).
The oak, also known as the English oak, is a common tree in the United States (Quercus robur). Oaks support many insect herbivore species of any plant in Britain.
After only one summer, the acorns of the Evergreen Oak (Quercus ilex) are fully developed.
The Southern Live Oak (Quercus virginiana) typically represents places such as Georgia. Mistletoe, a parasitic plant, thrives on the branches' support.
Overcup oaks (Quercus lyrata) are more resistant to flooding than almost all other trees in America.
Due to its resistance to urban environments, the Swamp Spanish Oak (Quercus palustris), also known as Pin Oak, is increasingly used as a decorative element in outdoor settings.
Stellata refers to the star-shaped hairs (trichomes) on the leaf underside.
The Northern Red Oak (Quercus rubra) is a plant that can survive in environments containing toxic black walnuts. This tree hosts the larvae of some moths, and its nectar attracts butterflies.
Scarlet oaks (Quercus coccinea) are difficult to uproot and relocate due to their extensive taproots.
The sessile oak, or Quercus petraea, is the national tree of Ireland.
Shingle Oak (Quercus imbricaria) requires minimal upkeep.
The Shumard Oak resembles the Spanish oak but prefers other soils (Spanish ones) (Quercus shumardii).
The water oak (Quercus nigra) has a significantly shorter lifespan than other species of oak trees.
White Oak from the United States (Quercus alba) Both businesses and individuals use white oak to create wine barrels and ukuleles.
Pros & Cons of an Oak Tree
Let's consider the advantages and disadvantages of oak trees, which are common in most regions:
| | |
| --- | --- |
| Pros | Cons |
| It is superior to other oak varieties due to the ease with which it can be transplanted. | Its acorns may disperse throughout your property. |
| Accepts poorly-drained soils. | The animal must spend the entire day outside. |
| The bark can be used as an astringent or to treat numerous medical conditions, such as fever, asthma, the common cold, and sore throat. | Its growth might appear chaotic due to its asymmetrical shape. |
| Year-round verdant vegetation | It is unlikely to be found in a nursery due to the difficulties associated with transplanting. |
| This tree is less susceptible to infestation by common pests. | Cankers and other pathogens have the potential to infect the tree. |
| It provides excellent sun protection. | Flowers are notoriously susceptible to late-season frost and numerous insect pests. |
| Adaptable to a range of soil types and environmental conditions. | Particularly vulnerable to the negative effects of air pollution |
| Acorns provide sustenance for wildlife, including squirrels, chipmunks, waterfowl, blue jays, and wild turkeys. | Slow-growing; requires at least six hours of direct sunlight per day. |
| It provides an abundance of shade for your yard. | Cankers and wood-boring insects are only two of the potential issues that could affect your tree. |
| Diverse soils facilitate the rapid growth of the oak forest. | It overgrows in height and width, rendering it unsuitable for confined spaces. |
| As they are in high demand by wildlife, these acorns will not last long in your yard. | It produces acorns, which you may not want in your yard. |
| If you're looking for a multifunctional tree, this one's leaves can be fed to livestock. | Too large to live in confinement |
| durable and adaptable alternative | Natural light and ample open space are necessities. |
| The fire has been contained. | If planted too close to your home, it may produce acorns of questionable size. |
Indoor Oak Tree vs. Outdoor Oak Tree
| | |
| --- | --- |
| Indoor | Outdoor |
| The trunk of the common oak is gray and smooth. | Oaks flourish in moist soil, but they should avoid standing water. |
| As the tree ages, its bark develops deep fissures. | During the dry conditions of summer, these plants suffer. |
| It has a central root capable of reaching a depth of 1.5 meters by the end of its second year. | This tree can withstand temperatures down to -15 degrees Celsius (about 4 degrees Fahrenheit). |
| After eight years, the roots spread. | Temperatures between 18 and 20 degrees Celsius accelerate the growth of these organisms the most (64 and 68 degrees Fahrenheit). |
| The leaves are what distinguish this species from others. These trees, which are large and deciduous (renewing themselves annually by shedding their dead leaves during the winter), lose their leaves and appear brand new in the spring. | It is necessary to water thoroughly, but not so much that the soil becomes saturated. |
| On the branches, these are strung in a staggered pattern. Their lobed edges are irregularly deep and rounded. | You can cultivate Oaks in either acidic or alkaline soil, making them suitable for various applications. Numerous oak species have adapted to urban environments, typically shallow, poorly-drained soil. |
| The hue is a brilliant and vibrant green. | Even if they appear to be dying, ancient oaks remain a landscape feature. Oaks are ideal for a sustainable environment, whether a meadow beneath them or land cleared by pigs since the acorns they produce to supplement the diets of both animals. |
Frequently Asked Questions
How big can an oak tree be transplanted?
5 to 8 feet tall
Oaks are trees that can be successfully transplanted when they reach a maximum height of 5 to 8 feet. During this time, the main root can be cut without causing serious damage to the tree.
When can you transplant an oak tree?
A tree can be transplanted during the dormant season in spring or autumn. In the fall, transplant before the first frost. In spring, plan to relocate before the tree begins to bud.
Can oak trees be grown from cuttings?
You can grow an oak tree from cuttings. Propagating plants from cuttings or cloning is one way to create more life in your home and garden.
Can you start an oak tree from a branch?
Using cuttings, plants can be propagated at home or in the garden (also known as cloning). Considering what others have said, a live oak cutting should have developed roots after six weeks if the soil is kept moist. The resistance of a cutting to a light pull indicates the presence of roots.
After removing the bag, relocate the small tree to a sunny indoor location with moist soil for an entire year. The plant can then be transplanted outside. Oaks (Quercus spp.) can also be propagated via cuttings, similar to houseplants.
Do oak trees have deep roots?
Despite the shallowness of oak tree roots, lateral growth compensates. Most of your oak tree's roots will never penetrate deeper than 18 inches, but they can cover an area three to seven times the branch's diameter. In contrast to most trees, Shepherd's tree (Boscia albitrunca) of the Kalahari Desert has deep roots. There is a depth exceeding 73 meters (over 70 meters). Engineers responsible for boring water wells accidentally discovered their depth.
Where should you not plant an oak tree?
We recommend planting an oak tree in a location that receives full sunlight, has good drainage and is humus-rich. Maintain at least 15 feet of separation between oak trees and your home. The structure's integrity can disappear rapidly when the roots or branches are too close. Allow the oak tree enough room to grow so that its long branches (and, by extension, its roots) do not collide with the house or undermine its foundation.
Can an oak tree be moved?
Experts warn that relocating an oak tree is a time-intensive endeavor. It is possible to relocate large trees, and some success has been achieved. The best times to transplant trees are in the spring and fall when they are dormant.
Before the first frost is the ideal time for fall transplanting, you should relocate before the tree begins to sprout leaves in the spring. However, proceed with caution because established oaks do not appreciate this process. The primary tap root of an oak tree grows rapidly and penetrates the soil.
How deep are the roots of an oak tree?
The fine root system, which develops from the more extensive lateral roots and spreads into the soil, forms a three-foot-deep, dense mass. The fine roots absorb moisture and nutrients from the soil. Most oak tree roots are 18 inches beneath the surface.
However, they can grow to cover an area four to seven times (the width of the tree's crown). Root hairs behind the tips of the smaller roots. So it can absorb and distribute water throughout the root system.
How tall is a 10-year-old oak tree?
Given that the average lifespan of a tree is 20 years, the height of a 10-year-old oak tree may vary between 10 and 20 feet based on various factors. It would reach approximately 15 or 180 inches in height in a decade. White oak trees take at least ten years to reach a height of ten feet. The northern red oak is a fast-growing species that can reach heights of 15 to 20 feet under ideal conditions.
Does a Live Oak have a tap root?
For several years, the taproot of the live oak has been the primary growth factor. This indicates that the lateral roots in the top three feet of soil will eventually outnumber the taproot in maintaining the tree's health. This demonstrates that oaks have taproots. Taproots develop first and travel underground in search of a reliable water source.
Which oak tree grows the fastest?
There are some oak trees in the vicinity. With yearly growth rates of up to 36 inches, Japanese Evergreen Oak, Nuttall Oak, Southern Live Oak, and Valley Oak are among the fastest-growing oak trees. A good oak tree can live between 100 and 600 years and grow to more than 100 feet in height, depending on the species.
How long do oak trees live?
Under ideal conditions, some oak tree species can live for more than 150 years, while others only reach their 50s or 60s.
Each oak species has a unique expected lifespan. The average lifespan of a species is between 100 and 300 years, but some can live significantly longer or shorter lives.
The water oak (Quercus nigra) is native to the southeastern United States and can live for 30 to 50 years, while the laurel oak (Quercus laurifolia) can live for 50 to 60 years.
Contrarily, southern live oaks (Quercus virginiana) can live for over 200 years. There exist highly ancient specimens. Middleton and Angel Oaks are two examples in South Carolina. People say Angel Oak lasts between 400 and 500 years old.
Expert Thoughts
Oak has a reputation for being a difficult tree to transplant. This may be true if you are looking for instant gratification and trying to plant an oak that is too large or a potted oak that is too old. Oaks develop massive root systems that grow rapidly when young; one reason oak trees are very good at protecting watersheds and topsoil.
Transplanting a small tree is not such an easy task, so you can call in a professional if you don't have the expertise. This is to avoid causing a disaster and wasting time and trees. Baby oak trees are usually the best option.
It is important that before transplanting, you know the root protection zone of your oak tree, and do not disturb it refers to an area under the tree that is 50% wider than the canopy. Any major change in the root protection zone of a mature oak can kill it.