How to Clean Blanco Sink | An Step By Step Expert Guide
Disclaimer
Articles, products, and services offered on this site are for informational purposes only. We are part of the Amazon Services LLC Associates Program, an affiliate advertising program. Amazon.com is compensated for sales resulting from links on our website.
Please review our disclaimer before acting based on anything you read or see.
Silgranit stone has been modified by Blanco, a German faucet and countertop manufacturer, to be suitable for premium kitchen sinks. Natural granite makes about 80% of the composite material Silgranit. It produces incomparable features for sanitary and indestructible kitchen sinks that complement visually a high-end kitchen atmosphere when combined with porcelain, acrylic matrices, and color paints. With Silgranit, Blanco provides a very durable, premium kitchen faucet that can be easily customized to the aesthetic style of contemporary kitchens. You can find instructions on how to wash a Blanco faucet in this manual.
The high-quality natural stone always has a very individual surface pattern and refines kitchen islands and counters with its natural shine. Silgranit, quartz, and granite composite sinks are made of 90 percent natural stone. In contrast to other natural stones, for example, soft marble, granite has level 6 on the Mohs hardness scale. It is therefore extremely resistant to the usual demands of everyday kitchen life. If you desire to learn how to clean the Blanco sink, this has been perfectly elaborated below.
The Advantages of Blanco sink
High durability
Blanco has selected the best properties from all materials: the hardness and resistance of granite, the heat resistance of ceramics, and acrylic surfaces' warm feel. This makes it the ideal material for durable and individually malleable kitchen sinks.
The special composite material is also 80 % made from the hardest granite component, making the sinks highly heat resistant and scratch-proof. Except for the appearance, SILGRANIT has almost all the advantages that make its basic material granite popular in the kitchen. The material is formed from the granite's hardest component and is therefore extremely robust and scratch, cut, and break-resistant.
The hardness of the SILGRANITS comes with a gentle smoothness of the surface. Which makes the kitchen sink pleasant to the touch and easy to care for? Thanks to the particularly fine-pored, closed surface of the Blanco sink, dirt and stains can hardly adhere. This also reduces dirt and lime scale deposits. In all, because Silgranit consists of 80 percent natural granite, it is as hard as a rock.
Patented protective formula for added hygiene
The Blanco sink feels good for the user and can also be used safely when handling food for kitchen work. Blanco has equipped its sinks with the patented "Hygiene + Plus" protective formula, which gives antibacterial properties.
The recipe is a kind of protective shield against dirt, water spots, and bacteria, which, on the one hand, makes cleaning more comfortable and, on the other hand, prevents the formation of new bacteria. According to the manufacturer Blanco, tests have shown that this built-in hygiene protection feature reduces bacteria's growth by up to 98%. This is also a piece of interesting information, especially for allergy sufferers.
Easy Cleaning 
Like the natural model granite, the Blanco sink can be easily cleaned using household items such as warm water and a scouring pad. This also works with dark marks and lines on the top of the sink. These marks and lines are usually created by the abrasion of metallic objects (pots etc.) that rub against the hard surface of the Silgranit. They can also be easily removed with hot water.
Blanco recommends using its special care Blanco cleaning products such as the BLANCO ACTIV or a commercially available heavy-duty detergent for more stubborn soiling. Unsightly lime deposits can be removed by putting detergent on the Silgranit sink overnight and then wiped with a sponge. Furthermore, it is crucial to remove lime scale stains from the sink from time to time, as these can absorb liquids such as tea, coffee, or red wine that are more easily colored after drying out. In all, removing Scratches on a White Sink Composed of 80 percent granite, Silgranit sinks resist heat, scratches, and chips, making them a durable addition to any kitchen.
How to Clean Blanco Sink: The Tools Needed.
To clean a Blanco sink, you will need the following tools:
Heavy-duty detergent
Washing-up sponge 
Washing-up liquid
Microfiber cloth
Bleach
Dish soap
Magic eraser
Soft cloth
How to Clean Blanco Sink: The Steps
All you want is a washing up brush, some cleaning up liquid, and water to wash your Blanco faucet on a regular basis to remove stains and everyday wear and tear. Put the sponges under flowing water and gently damp it. On the sponge's soft side, add a little bit of cleanser. Use the sponge's soft side to gently scrub your Silgranit Blanco sink in gentle, circular motions.
Grids for Blanco sinks may also be cleaned with this. After that, carefully rinse with fresh water. To avoid limescale spots, dry your sink with a microfiber towel in the last step. You may also immerse a mixture of one part bleach to one part water in their drains for up to an hour, per Blanco's guidelines for the Silgranit basins.
How to Remove Metal Debris
Blanco sinks are tough. This can lead to metal abrasion when using metallic objects such as pots – dark streaks that are particularly noticeable on light surfaces. Removal is straightforward. Put common household oil on the soft side of a wet sponge. Then you can easily remove the streaks from the sink with circular movements. The mixture of oil and water gently loosens metal debris from the sink. Rinse with clean water and rub all damp surfaces dry with a microfiber cloth.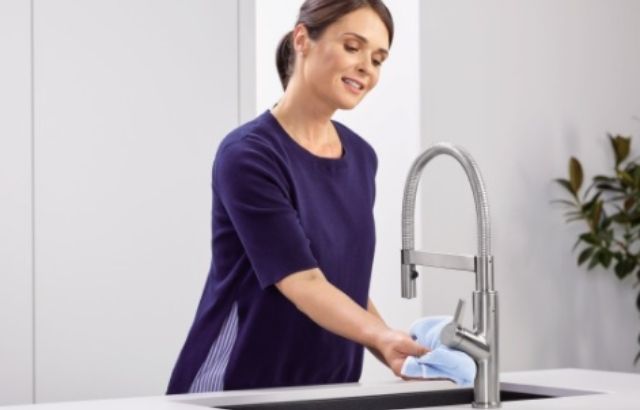 How to Remove Discoloration
If you do not clean your Blanco sink for a long time, limescale particles can build up on the surface. Typically, these deposits appear around the tap and on the draining surface, as dishes dry here and water droplets evaporate. While the deposited limescale can be seen more quickly on dark sinks, you initially do not see limescale on light sinks. Silgranit itself is colorfast – what is discolored is only the limescale deposits.
The use of BLANCO DailyClean + or acid-based cleaning agents such as vinegar cleaning agents or citric acid can help here. They loosen the limescale and dirt and give the sink its original color. Spray the sink with BLANCO DailyClean + or an acid-based cleaner and let it take effect. Then wipe using a damp cloth and dry with a microfiber cloth.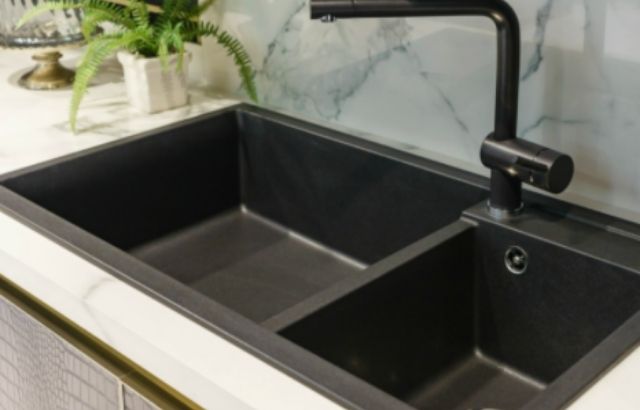 The Deep Cleansing
It is best to clean your Silgranit sink every day as described above to avoid the formation of limescale stains. This way, you also prevent discoloration that is more difficult to remove. If stains or discolorations cannot be removed with regular cleaning, it is time for deep cleaning. Before doing this, the sink should be cleaned with BLANCO DailyClean +. The recipe specially tailored to BLANCO taps and sinks cleans gently yet effectively. To do this:
Instructions
Spray the surface of your Silgranit sink thinly and let BLANCO DailyClean + take effect briefly.
Clean your granite sink with a sponge to remove the limescale residue that has now been softened.
Wipe the sink with a damp cloth and dry it with a microfiber cloth. This is also one of the best ways to clean the granite composite sink.
In the second step, use BLANCO DeepClean for Silgranit or blancoactiv powder. Specially tailored to Silgranit, BLANCO DeepClean Silgranit removes even stubborn dirt from your sink.
First, seal the drain on your sink. 
Next, take a sachet with powder, the beaker, and the brush from the packaging of BLANCO DeepClean Silgranit. 
Keep the remaining sachets for the next deep cleaning? 
Then fill the supplied cup with 100 ml of water, add a portion of powder and stir with the brush. Stir the mixture for 5 – 10 min. 
Let rest until a gel-like mass has formed. 
The gel is then evenly applied to the entire sink or basin with the enclosed brush and should act for about 8 hours (preferably overnight). 
The gel is then removed thoroughly with water and a dish brush, and the surface is rubbed dry with a microfiber cloth.
Important: What you should refrain from in stubborn dirt is the use of alkalis or drain cleaners. The agents mentioned are so aggressive that they can even attack hard, insensitive granite surfaces. You should also close your sink's drain and mix 50 percent water and 50 percent water in your sink to eliminate stubborn stains.
How to Clean Blanco Stainless Steel Sink
Besides the Silgranit, Balance also produces other types of sinks, such as the stainless steel sink. To maintain this type of sink and prevent limescale stains, you should always clean the surface immediately after use. Just use some detergent and the soft side of a pot sponge. Then rinse with clear water and clean with a microfiber cloth.
When cleaning the Blanco stainless steel sink, it's also best to use as mild detergents as possible, as the additional ingredients can be too harsh for most stainless steel surfaces. Descaling agents can also rub off small particles on the surface and lead to optical changes in the surface. Make sure to always work along the direction of the brush and avoid circular movements. Furthermore, you can use the following home remedies to clean and maintain your Blanco stainless steel sink properly:
Vinegar
If there are limescale deposits on your Blanco stainless steel sink, you can use regular vinegar or treat it with suitable vinegar cleaner. Alternatively, you can also dilute pure vinegar essence with water (mixing ratio 1:10).
Cleaning stone
This consists of a polishing paste and a special sponge, which ensure shiny surfaces and a beading effect on water. In the end, this makes it difficult for limescale to settle on your Blanco stainless steel sink.
Citric acid
Mix citric acid with water and apply it with a rag. You can let the mixture work for about ten minutes for stubborn stains and then rinse the sink as usual.
To ensure that your Blanco stainless steel sink stays beautiful for as long as possible, you should avoid using harsh cleaners, abrasives, and bleach. Do not use scratchy brushes or steel wool as well.
Using the SteamMachine
If you desire to clean your Blanco stainless steel sink without hassles, you can use The SteamMachine.
The SteamMachine employs compressed, high-temperature vapor, as per HomeRight, to remove stains, cut oil and grime, and release and disintegrate filth. It also sanitizes your area by destroying 99 percent of germs.
How to Clean Blanco Sink: FAQ Section
Can I use Soft Scrub on my Blanco sink?
You can use Soft Scrub on your Blanco sink, be it has to be done with a non-abrasive cleaner.
Do Blanco sinks stain?
As earlier highlighted, Blanco sinks do not stain due to their particularly fine-pored and closed surfaces.
Can you use Bar Keepers Friend on Blanco sinks?
Blanco sinks usually have little granite pieces, and those little pieces always get shiny when they come in contact with Bar Keepers Friend.
Conclusion
In conclusion, the Silgranit stands as an excellent sink from Blanco. Kitchens for Living, situated on The Road, CC-BY, via Flickr, describe the Silgranit II as a sink made from 80 percent granite and cast in a single pouring. Furthermore, for those who desire to learn how to clean a Blanco sink, this has been elaborated, among other sink care tips.
Read More: How to Clean a Kohler Porcelain Sink