How to Hang Plants on Porch | 9 Steps You Must Apply Now
Disclaimer
Articles, products, and services offered on this site are for informational purposes only. We are part of the Amazon Services LLC Associates Program, an affiliate advertising program. Amazon.com is compensated for sales resulting from links on our website.
Please review our disclaimer before acting based on anything you read or see.
Hanging plants on a porch is a great way to add a hint of beauty and greenery to the outdoors. But don't know how to hang plants on porch?
Whether you want to spruce up an old patio or create a new, inviting outdoor space, various ways to hang plants successfully will bring life to your outdoor living area.
From selecting the correct type of plants to properly installing the hanging planter, this blog post will cover all the necessary steps to help you achieve the perfect outdoor oasis.
Not only will you be able to create a beautiful space that you can use to entertain family and friends, but you'll also be able to enjoy the peace and serenity of nature right on your very own porch. 
With the right amount of planning and effort, you'll be able to create a welcoming space that will provide you with many years of enjoyment.
How to Hang Plants on Porch
Check for structural integrity
Find the studs
Mark your spots
Drill a pilot hole
Install hooks and hangers
Hang your plants
Hook up the irrigation system if necessary
Add more hanging baskets
Trim and maintain your baskets
Let's learn in detail;
Step 1: Check for structural integrity.
The first step to safely hanging plants on your porch is to check for structural integrity. Make sure your patio is securely attached to your home and that it can handle the weight of the plants.
If you're putting up plants with a trellis, you may need to anchor it to the porch to prevent it from falling when it's windy.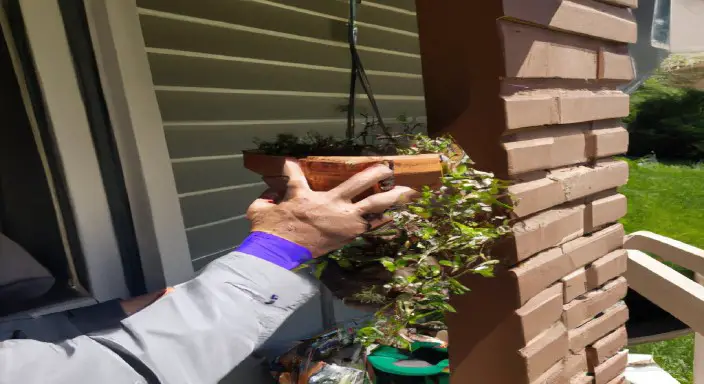 Also, ensure the plants don't block any exits or windows. Once you've confirmed it's safe to hang plants on your porch, you're ready to move on to the next step.
Step 2: Find the studs.
The second step in the hanging process is to locate the studs in the wall. These are the spots where the wall studs do find, and they're the best spots to hang the plant holders.
You can use a stud finder or a metal detector to locate the studs. If you don't have either of these, you can also tap gently on the wall to find the areas that sound hollow. Once you've located the studs, you can use a pencil to mark the spots so you'll know where to drill the holes for the screws.
Step 3: Mark your spots
Before drilling holes or hanging your plants, it's essential to make sure that you're placing them in the right areas. 
Start by measuring your porch and marking the locations of each plant. Double-check the measurements and mark the spots with painter's tape. It does ensure that your plants are correctly aligned when you hang them.
Step 4: Drill a pilot hole
The fourth step in this process is to drill a pilot hole. It does an essential step, as it helps ensure the screw will be secure and your plant will stay in place. To do this, ensure you have the correct drill bit size for your screw. 
Then, using a power drill, drill a hole slightly larger than the screw into the wall or ceiling where you plan to hang the plant. Once the pilot hole does finish, proceed to Step 5.
Step 5: Install hooks and hangers
You'll need to decide on the type of hooks and hangers you'll need for your project. Consider the type of plants you're hanging, the amount of weight they'll need to support, and the type of material your porch does make of. 
Once you've chosen the appropriate hooks and hangers, you'll need to install them securely.
Make sure to follow the instructions for the specific hook and hanger you use. Once you have the hooks and hangers, you're ready to hang your plants.
Step 6: Hang your plants
Hanging plants are a great way to add a touch of nature and beauty to any space. You can hang them in any room to add texture and color, and you can also hang them outside to add a unique feature. When hanging plants, it is crucial to ensure that they are securely in place, either with a hook or a bracket. 
Additionally, it is vital to ensure that the space is well-lit and that the temperature and humidity levels are suitable for the type of plant. Properly taking the time to hang plants ensures that they will remain secure and healthy for years to come.
Step 7: Hook up the irrigation system if necessary
If necessary, should hook up the irrigation system in the final step. It should be done according to the manufacturer's instructions and by a professional. A professional can ensure that the system does install properly and that all components are working correctly. It can help prevent costly repairs in the future.
Additionally, having a professional handle the installation helps ensure that the irrigation system runs efficiently and helps conserve water. 
Step 8: Add more hanging baskets
Hanging baskets are an easy, attractive way to enhance the beauty of any outdoor space. They are also a great way to add a touch of verticality to any garden.
When selecting hanging baskets, it is essential to carefully consider the plants that best suit the garden's climate, size, and layout. It is also necessary to ensure the baskets are securely attached to a suitable support structure, such as a trellis or wall. Additionally, it is beneficial to consider the height of the hanging baskets and the plants they will contain to ensure the plants are not too long or too short for the space. 
By carefully selecting and placing the baskets, one can easily create a stunning outdoor display for years to come.
Step 9: Trim and maintain your baskets
Trimming and maintaining your baskets is crucial to ensuring their quality, longevity, and appearance. Regular inspection and maintenance can help identify potential issues before they become more serious.
To maintain your baskets, you should trim away any dead or overgrown foliage and remove any debris that may have accumulated.
After trimming:
Fertilize the soil to promote a healthy environment for your plants.
If you're planning on storing your baskets during winter, ensure you water them and provide proper insulation.
Remember to check the baskets regularly to ensure they remain in good condition.
With proper care, your baskets will remain beautiful and healthy for years to come.
Expert Opinion
In conclusion, hanging plants on your porch can be a great way to spruce up the look of your home and add a touch of nature to your outdoor space.
With some planning and suitable materials, you can easily create a beautiful and functional display of plants that will make your porch stand out. So, whether you want to hang a few potted plants or create a hanging garden, there's an option for you.
Adding plants to your porch is easy and can help liven up any space. You can hang plants in any area with simple tools and creativity, from a small balcony to a large porch.
Whether you prefer a traditional macramé pot holder, a wall-mounted planter, or a hanging basket, you can find a way to bring the beauty of plants to your porch in no time.
References
Peterson. (2013). Get the Hang of Hanging Flower Baskets. Houzz. Houzz Magazine.
Front Porch Ideas. (2019, February 14). Hanging Flower Baskets from Vinyl Porch Ceiling. Retrieved December 22, 2022
Brougham. (2022, May 17). 15 Creative Ways to Hang a Plant Outdoors. Retrieved December 22, 2022