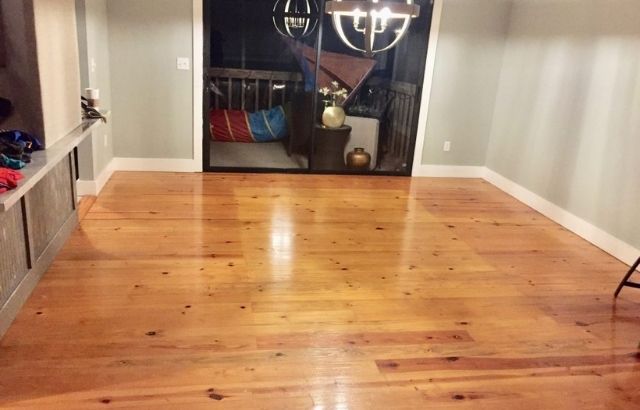 How to Refinish Pine Floors | 10 Step Guide To Follow
Disclaimer
Articles, products, and services offered on this site are for informational purposes only. We recommend using caution and seeking professional advice. This site provides general information. We are part of the Amazon Services LLC Associates Program, an affiliate advertising program. Amazon.com is compensated for sales resulting from links on our website.
Please review our disclaimer before taking action based on anything you read or see.
You may like the 100-year patina that your old pine boards have achieved through generations of use. It may be stained and dirty, uneven and bent, sometimes more or less black. But for you, it is perfect: a living piece of history that marks decades or even centuries of human use. And that's okay. However, it is sometimes required to study how to refinish pine floors, so if it has lasted so long in only one part, it may well stay much longer without falling apart.
To reduce scratches and scuffs on a pine floor, polyurethane from water or oil is an option for pine floor restoration.
Learn More: How Many Coats Of Water-Based Polyurethane On Hardwood Floors
Types of Pine Flooring
Common types of pine flooring found in Westchester homes are Douglas fir and Southern Yellow Pine.
Other types include heart pine and eastern white pine. It is widespread to find pine in homes built before 1920 and on the steps or upper floors of older homes.
Practically, pine flooring is not hardwood; it is softwood. The hardness varies on the type of pine used.
On the Janka hardness scale, southern yellow pine is 870, Douglas fir is 660, and eastern white pine is 380, versus red oak, which is 1290. As a result, pine tends to dent and scratch much more quickly.
Among the pine species and cuts, heart pine is possibly the hardest, with a Janka scale rating of 1225, which approximates the hardness of oak.
Pine was once common in the 1800s and early 1900s because it was less expensive to obtain (since it was abundant) and because the utilities used at that time worked better on softer woods. As more advances were made, oak flooring became much simpler to cut and became more popular because it lasted much longer.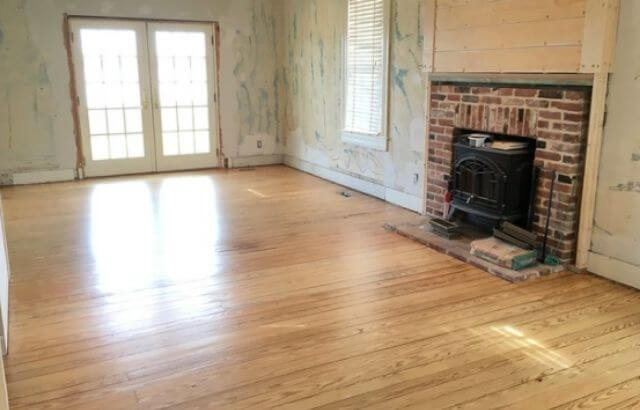 Can Pine Flooring be Replaced?
Most pine flooring (and pine steps) can be sanded and replaced. This thinks that pine is stable enough and bulky enough/permanent enough.
Occasionally, we have seen floors refinished so often, and it's time to replace them, but this is the exception to the rule (perhaps this occurs in 5% of feet).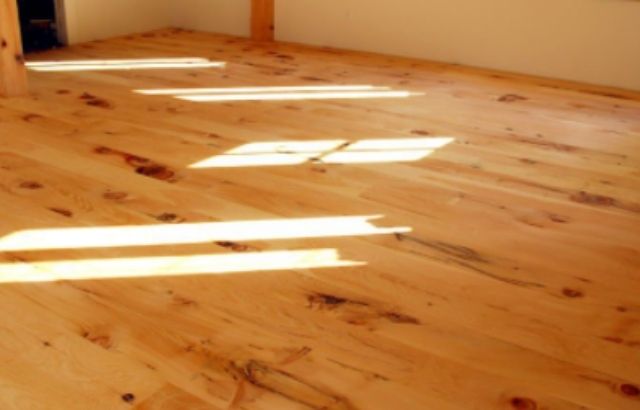 Can you Repaint Pine Floors?
It requires a professional sander that knows how to maneuver the machines with controlled movements to avoid vibration marks (or grooves) in the wood.
This is finally not something you should try if you have never restored wood floors before.
Leave it to the professionals, or you may pay a high price, and you may have to replace the entire floor.
Several pine floors have front nails, and these nails need to be countersunk before the work begins. If you are using a stain, it is substantial to use a conditioner before adding the color.
This opens up the pores so that the stain is absorbed correctly (and in the same way that well-conditioned hair absorbs dyes better).
Pine floors absorb stains differently than oak (or other species, for that matter) floors. Most stain samples are generated on red oak (as is truly common in the U.S.), so it is substantial to evaluate the stain on your pine floor before choosing it.
Since pine floors are softwood and can dent and scratch easily, it is substantial to use an optimal polyurethane finish. Oil-based polyurethane tends to work better/stay longer. It is ideal to use three polyester layers in pine, which has more custody and is not required to repaint with as much continuity.
Read More: How To Remove Orange From Wood Floors
How to Refinish Pine Floors
Step 1
Empty the room—close windows and doors to prevent sawdust from spreading throughout the house. Sawdust not only makes a mess but can damage your electronics, oven, and other appliances.
Alternatively, cover the doorways with a sheet of plastic taped to the opening. Loosen and remove the floor vent plates, if present, and cover the opening with more plastic taped.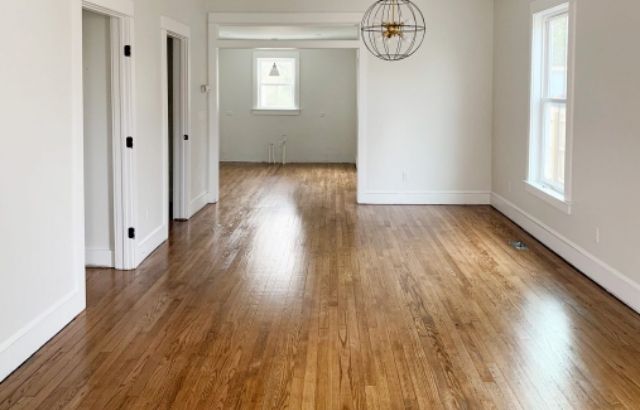 Step 2
Inspect the baseboard molding just above the floor.
Remove the damaged and worn molding to replace it or give it a new finish, as desired.
Release from the wall with the tip of a claw-like hammer.
Pull up the wall, taping over electrical outlets where you can get the sawdust through.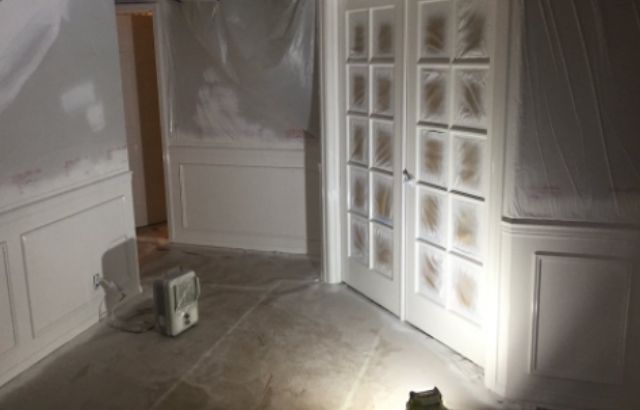 Step 3
Look above the ground for surfaces that may need to be completed. Check the floor for high or low spots to see if the floor is old or faulty.
Place an extended ruler, such as a 2-by-4 board, on the floor. Place a level on top. Slide the board slowly across the floor, first in one direction and then again in a perpendicular direction.
Mark high points with an "X" and cracks, crevices, or low points with an "O." The floor should change less than 1/8 inch in any direction.
If nails are protruding anywhere, dip them under the area.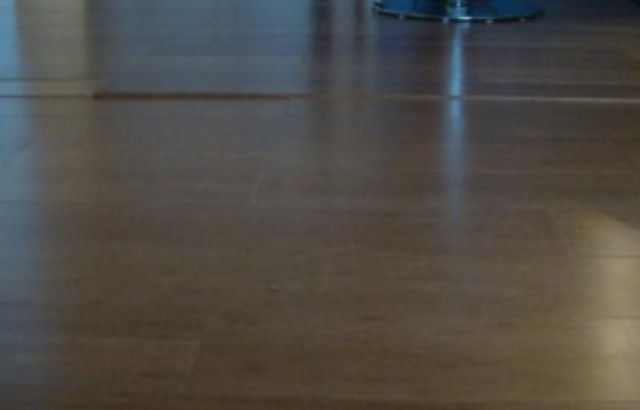 Step 4
Check the existing finish to see what someone used it for before. Avoid this step if you already know what was done with that finish previously. Polyurethane is a material that will not work with other finishes. Drip a few drops of isopropyl alcohol on a corner; if it softens or bubbles in the area, the finish is shellac. Replace lacquer with thinner, and if the finish reacts, it is lacquer.
Paint thinner harms polyurethane from oil, while tile or xylene dissolves urethane from water.
Wood that feels rough and dull may have a penetrating seal, such as Tung oil or boiled linseed oil, in place.
Some finishes are also covered with wax, which will look cloudy if a touch of ammonia is applied. If a non-polyurethane finish was used, you must remove the floor down to the bare wood while sanding.
Learn More: How To Remove Rejuvenate From Wood Floors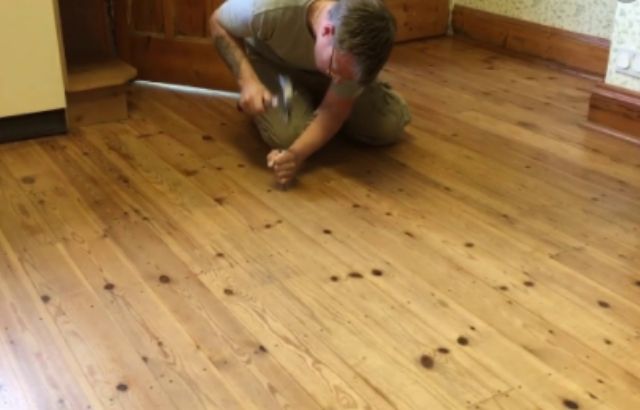 Step 5
Now, sweep, vacuum, and wet-mop the floor to remove dirt and debris. Dirty feet will wear down the sandpaper faster and damage the floor as more sand enters the sanding.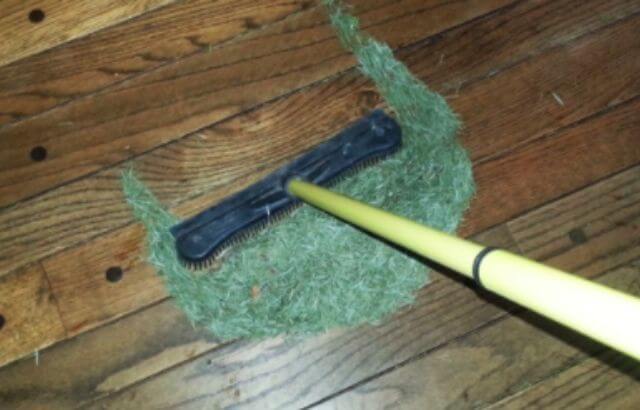 Step 6
Sand the floor with the set of your choice: drum and belt sanders are aggressive, cutting finishes and leveling uneven floors quickly.
Vibratory square sanders are the simplest to use and the least easy to ruin. You can rent one from most major home improvement stores and, just like shock absorbers; you'll need to buy pads and paper.
This is truly your best option if you haven't sanded floors before, but hopefully, it's just a boudoir floor; seriously, it must be reduced for this option to work.
The polishers and the square sanders will be very close to the walls, but you will also need a small orbital hand sander to carry out near the edges. For new floors, keep in mind your baseboards will likely cover a good 1/2 to 3/4 inches away from the wall. 
To use a polisher or a square sander, the process is the same.
Put the grit sandpaper with the first 40 grit sandpaper, doing a 60 grit job and at the end 100 grit.
Pass the sander on the floor, instead of sitting in one place, with the pauses' distinction in the high areas.
Remove only the proportion of essential material from the finish alone until it penetrates the wood.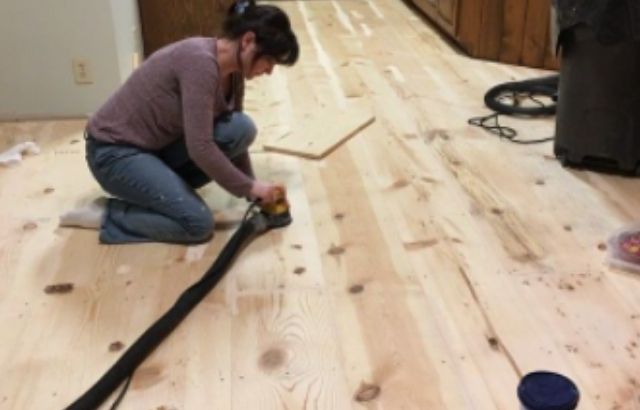 Step 7
The floor should be vacuumed or swept to remove as much sanding dust as possible (refinishing pine floors without sanding process). You can do this with a wet mop or cloth to thoroughly remove all the sand. Clean the walls also.
Step 8
Apply a stain as you wish. If the wood is fully exposed, first apply a sealer before using the color.
Pine absorbs the stains quickly, and the sealer disables the pores, which guarantees a color suit. Buy a product designed to be used with polyurethane and apply it according to the developer's standards.
Scrub or paint the stain after the sealer is dry. Follow the direction of the wood grain and work on small surfaces with sealer and stain.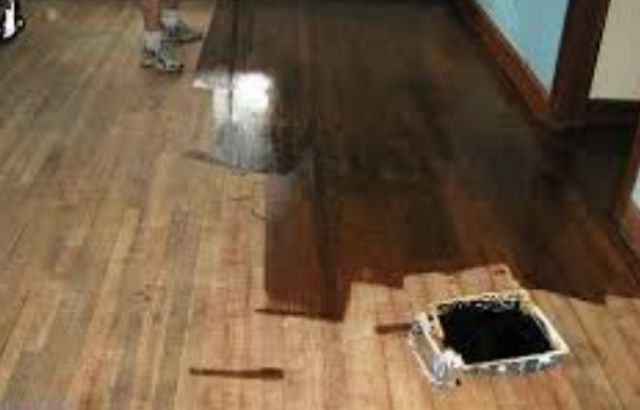 Step 9
Brush a semi-gloss polyurethane suit cover near the edges of the room. Use just enough to contemplate the floor area fully.
You can use a lamb's wool applicator to spread the polyurethane throughout the room's center and rework the grain.
Plan the application to work backward toward the exit to avoid walking over the wet area.
Step 10
Sand the floor with 120 grit sandpaper when it is scorched, and the area is challenging, in most cases 24 hours or more.
Clean dust from sanding with a damp mop and reuse the polyurethane. Two layers of polyurethane filed together are usually best. Replace baseboards and furniture to be filled. You can look about restoring pumpkin pine floors btw.
Keys to Natural-Looking Pine Floors
A matte finish and a water-based formula
After discussing my floor request with my floor manager about my concerns, we came up with a 3-step plan for finishing my floor. I would use an eco-friendly, non-toxic, low-VOC, water-based product from Bona's professional line.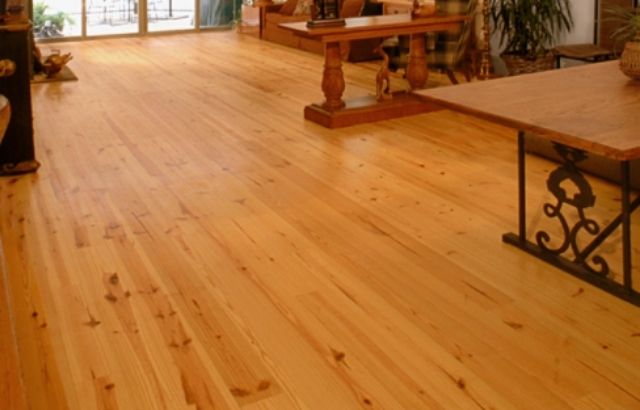 How to Recompose a Pine Floor
Steps;
Sand the obsolete finish or remove stains. When your floor is sanded, vacuum, vacuum, vacuum. You only have one chance to make sure you've removed all the dust around you. Clean the floor with a damp cloth just after vacuuming.
Learn More: How To Remove Stains From Linoleum
Suggestion:
If you want your floors to feel like old, worn-out floors, don't sand them with relatively fine final sandpaper. This will make the bed feel unnatural and glass-like. Finish with about 100 grit.
Many people suggest a damp cloth for this kind of work, but my sister, a painter, mentioned that, according to her, the two wet clothes have the potential to ruin a finish by making a fisheye.
She uses a damp cloth to catch the dust, so I did the same thing. It worked well.
Apply one cover of Bona Natural seal
With a brush, cut the edges of the room. Don't do the whole room. Just do about four ′ at once. You don't want the border to dry out before you have a chance to roll up that part of the floor, or else you will see the edge. You always have to color "wet on wet."
With a 10 mm roller and a paint roller, roll the sealant over the floor, taking care to hold everything smooth as you would if you were applying paint over a wall. Repeat the trim and roll around the room until everything is ready. Let it dry for about 3 hours (if you can leave it overnight, it's better). Remember that sanding between the sealer and finish coats is not necessary. 
But to achieve the slowest finish, sand the floor very subtly with 180-240 grit sandpaper after it has dried. Just go over the floor. Vacuum, then wipe with a damp cloth.
Apply one cover of Bona Novia (Satin)
Place a Bona Novia Satin cover the same way you did with the sealant, edging, and rolling (with a NEW roller). Allow drying for 3 hours.
Sand very lightly with 180-240 grit sandpaper. Vacuum, then wipe with a damp cloth.
Apply two coats of Bona Traffic HD.
Apply one coat of Bona Traffic HD as you did the others, edging and rolling (with a new 10 mm roller), making sure not to leave any build-up or scratches.
Allow drying for 3 hours.
Sand again, if that's what you're doing, vacuum and wipe with a damp cloth. Repeat for a second cover.
Bona Traffic HD needs to be combined with a hardener in the product before use. Once mixed, you have a limited time to work with it (4 hours).
This is enough time to carry out two coats. If you can't finish both layers in 4 hours, stir only the proportion of product you require. You will have to carry out your calculations with this.
Ignore what you have read and think of it as coloring a wall. You want to blur the edges, and you don't wish to noticeable lines or stains. If you see a shame, gently roll it over again.
Learn More: How To Dry Water Under Wood Floors
How to Refinish Pine Floors: FAQ
Is it worth refining pine floors?
Most of the pine floors and pine steps can be sanded and reassembled. Refinishing pine floors is more challenging than sanding oak floors because the wood is slower. This is ultimately a job best left to the experts.
How much does it cost to refinish old pine floors?
Refinishing pine floors costs $1,691 on average, with a typical range between $1,074 and $2,410. You can expect to pay between $3 and $8 per square foot. For large, complicated jobs, you can spend up to $4,000. The more area you have, the less the square footage will be worth. So, let's discuss the best way to finish pine floors.
To completely upgrade a hardwood floor, add sanding of the top cover to leave bare wood and then use numerous new finish coats such as polyurethane. Expect to make payments to the flooring experts of $1.50 to $4 per square foot, or $340 to $900 for a 15-by-15-foot room.
What is the best finish for pine floors?
To reduce scratches and scuffs on a pine floor, polyurethane from water or oil is an alternative. Steve Maxwell, a technical editor of Canadian Home Workshop magazine, suggests a product with a satin finish to hide the defects (the prominent gloss accentuates the flaws)
Conclusion
To repaint the pine floors, it is required to continue a succession of steps that facilitate you to carry out this work successfully. Take into account each of the above.
Read More: How To Remove Glued Down Wood Flooring