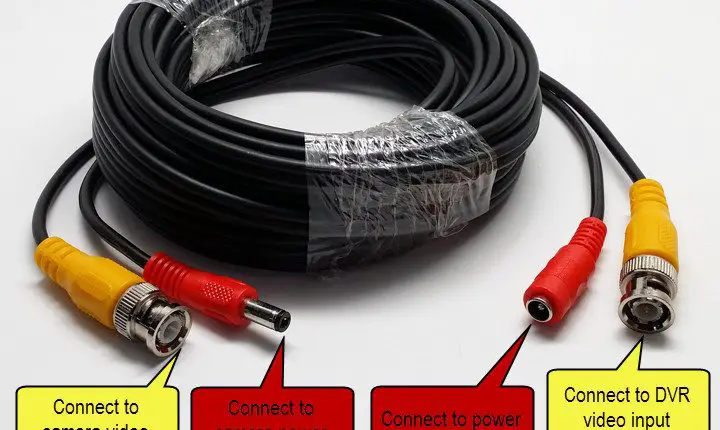 Security Camera Wiring Color Code | Most Important Part of CCTV
Disclaimer
Articles, products, and services offered on this site are for informational purposes only. We are part of the Amazon Services LLC Associates Program, an affiliate advertising program. Amazon.com is compensated for sales resulting from links on our website.
Please review our disclaimer before acting based on anything you read or see.
Installation of security cameras as a DIY project is complex if you don't have the proper knowledge. In addition, the effectiveness of the wiring technique determines the surveillance quality, and searching for the appropriate approach online is super complicated also. There are five types of cables used in security cameras, and you can't find explicit instructions for these on the internet. If you want to know about the connections and procedures, we are here to guide you. We don't confuse yellow, red, and black wires because we will cover all about security camera wiring color code in this article in detail.
Siamese Cable Connector and Tools
You might be confused by the number of tools required for setting the hard-wired surveillance systems of security cameras. The same tools which you need are as follows:
Tools for Stripping your Bulk Cables
Whether it is Siamese or Ethernet cable, you will need a tool to strip back the cable jacket to expose the inner conductors. Again, different strippers should be used for both of them.
Ethernet Cable Stripper
It would be best if you used a modular crimping tool for the termination of the Ethernet cable. If you are setting an IP security camera system, you should use a cat5e Ethernet cable to send power and data to your IP security camera.
Learn More: How To Block Neighbor's Security Camera
If you want to have something smaller in your toolbox, you can opt for this handy stripper. It is available in the market for 10$ and has a diameter of .18 inches to .25 inches with no adjustment required.
You have to switch from one cable to another dimension, and it is designed for Ethernet cables.
Mini Wire Stripper 3 Pcs Network Wire Stripper...
Easy and safe to use,punch down wires on modular connectors.Great for CAT-5,CAT-5e,and CAT-6 data cable.Can be used for stripping, telephone lines, network lines, monitoring lines, etc.
High quality blade: Mini cable punch down stripper wire jacket cutter made of High quality SK manganese steel 110 blade, stripping easy and accurate, and it does not hurt wire core, thick lines, thin lines can be easily stripped skin.
HOW TO USE: 1) Put the cable in to the notch and adjust it to the suitable size that you want. 2) Start to rotate the mini wire stripper with a circle around the cable. 3) Loosen the stripping knife and pull out the cable sheath, cable is well stripped simply and perfectly
Siamese Cable Stripper
If you are dealing with the analog CCTV system, it is better to use Siamese cables. This stripper is not like the Ethernet cable, as it has two levels a wider diameter is used to strip back the outer cable jack and a narrow diameter to strip the inner insulator.
It has a textured braid comb which is used to pull out the outer copper braid. The Ethernet cables need different types of cable strippers; the one especially is designed for the diameter of the coax cable.
Preset Coax Stripper
A preset coax stripper is used for setting the specific size, as these tools are faster and easy to use. This stripper is less flexible and is used for only one cable size. It is simple, trustable, adjustable, and be bought for $10. This instrument will be a great addition to your toolbox if you deal with the RG-59 coax cable.
Adjustable Coax cable
It is not quick to use as a preset stripper and works well if you work with different coaxial cables. Unfortunately, the lines available for this stripper are too big to use.
Gaobige Coaxial Compression Tool Coax Cable...
Strong and Durable Crimping Tool can Adjust F-Screwhead and Compress F Connectors: It can crimp rg6, rg59, rg11 and compress 75-5-7 kinds of Metric and Imperial F-Head. Non-skid handle, more soft and comfortable.
Very Simple to Operate and Adjust with Thumb Screw: Adjustable stripping blade for different insulation thickness, prevents damage of shielding and conductors.
Steel Refining Durable Blade can Cut and Strip Rapidly: Equipped with coaxial cable stripper, round cable stripper, cutter and flat cable stripper. Cassette is reversible, one side is available for rg 59/6 and another side for rg 7/11.
Multi Stripper
If you are working with Ethernet cables and Siamese cables, it is better to use a multi-stripper for cable stripping. This tool is best for telephone /audio cable, coaxial cable, Ethernet cable. The Ethernet stripper tool is adjustable so that you can use it for different sizes of wires. On the other hand, the coaxial cable strippers are readjusted, but they can still handle RG 59, RG6/RG 6 Quad, and RG 7/11 cable sizes.
Sale
Tools for Adding Connectors to Bulk Cables
When you have stripped the cables, it's time to add connectors; you need specific tools. You have to use RJ45 connectors for the Ethernet cables, and for Siamese wires, you will use BNC connectors.
Both types of connectors are the same in look, but there are some differences based on the function they perform.
Crimp tools
The crimp tools are used to connect both RJ 45 and BNC connectors. They both work in the same way by crimping and crushing the sides of connectors in the cables. 
Sale
Wirefy Crimping Tool For Heat Shrink Connectors -...
PROFESSIONAL CRIMPING TOOL - this hand crimper has efficient ratcheting mechanism and professional grade crimping die for proper rock-solid crimps every time. This crimping tool works best with heat shrink connectors
PRECISE RATCHETING MECHANISM – wire connectors are crimped by squeezing the handle through a complete ratcheting cycle until the handle releases automatically. The ratcheting function allows to secure a wire connector while you can insert the wires into the crimp
ADJUSTABLE CRIMPING FORCE - The tool has a star wheel that allows to adjust crimping height to ensure the right amount of crimping force depending on your crimping project. A designated quick release lever allows to open the crimper jaws in any position
RJ45 crimp tools
This tool is also called modular crimp tool and is used to connect eight conductors, passing through the conductor into the cable jacket. 
RJ45 Crimp Tool Pass Through Cat5 Cat5e Cat6...
RJ45 Crimp Tool Kit All In One⏩ This CAT6 Crimping Tool Kit includes 1 CAT6 Pass Through Crimp tool, 20PCS RJ45 CAT6 Connectors Pass Thru, 20PCS Connector Covers, 1 Wire Stripper, 1 Network Cable Tester (9V Battery Not Included).
Multi Functional Networking RJ45 Crimping Tool⏩ It is a 3-in-1 Crimping/Cutting/Stripping tool, which works for RJ11 (6P4C)/RJ12 (6P6C)/RJ45 (8P8C) connectors.
Sturdy & Durable⏩ Fast, reliable ethernet crimp tool with steel body construction for durability with ergonomic comfort grips. Network Tool Repair Kit ensures reliability and long lasting performance, which helps to find out the problems and keep the network running smoothly.
BNC crimp tools
BNC tools connect the ends of the Siamese cables and do not need the best installation for any specific system.
TLS.eagle BNC RG58 Plug Crimp Connector and...
➤【Package Included 】10PCS BNC RG58 connectors,1×Coaxial Cable Stripper,1×Coax Crimper Tool
➤【BNC Crimping Tool】High quality professional crimping pliers tool, Heavy duty ratchet crimp tool,quality handle for better control. Brand new heavy duty ratchet crimping tool for coax connectors with cable size RG-58, 59, 141, 142, LMR195, LMR240, 8/x.
➤【Coaxial Wire Stripper】Work with RG58/59/62/6/3v2v/4c/5c. Built-in spring is helpful for saving effort when using; Double blades design can strip various specification coax wire, features durability, lightweight and small size.
Network Cable Color Chart
The meaning of the color of the cable used in Ethernet cable is different for its other uses. It depends on where and why for the intended environment. For instance, the government uses different colors for Ethernet cables regarding functions they perform, e.g., yellow for top-secret, red for medium, and blue for unclassified data.
| | |
| --- | --- |
| Grey Ethernet | Grey Ethernet cables represent the standard Ethernet connection and are used for residential and commercial purposes. |
| Green Ethernet | Green cables are best to use to classify crossover connections and connect different devices and computers. |
| Yellow Ethernet | Yellow Ethernet cables can be used to power over the internet and deliver a 30 W current when used in Ethernet twisted cable. |
| Blue Ethernet | Blue Ethernet function for the terminal server connections. A terminal server works for the links of multipurpose systems without modems and other network interfaces. |
Ethernet Cable VS Siamese Cables
The main difference between Ethernet cable and Siamese cable is that Ethernet cable sends power and video data inside the same cable through twisted pairs. In contrast, the Siamese cable transmits power and video data through two separate insulated cables connected.
The Ethernet cable is faster in terms of performance, while Siamese cables are best in longevity.
Both cables are reliable and work well in different systems.
Ethernet cables are less expensive than Siamese cables.
The Ethernet cables are best for saving time and hassle; conversely, Siamese cables are suitable for better video signals and using two different lines for different systems.
The Ultimate Guide to Different Cable Colors and their Purposes
The security cameras use cables to transfer data to a central hub; it uses extra wires of different colors to serve this purpose. These wires have other functions to perform, and based upon their positions, and you have to connect them correctly. The security camera wiring color code are also important to understand.
Color codes
There are five colored wires in security cameras, and one is yellow two reds and two blacks. In some rare cases, you can find the white color too.
Yellow wire
The yellow wire in the security camera is related to video data transferring and is known for positive wire. However, the yellow wire inside the black is 99.9% coaxial.
Red wire
These are two wires and are electrical wires, and are made for DC 12 volt positive current, and are called positive cables.
Black wire
The black wires are the negative wires used to transmit video, and the other is for the power supply.
Wiring RJ 45 and Ethernet cables
If you plan to connect the Ethernet cable to an RJ 45 connector, the modular crimp tool is used. 
You have to line up the eight conductors by passing through the connector and the cable jacket. 
Now insert the cable and connector to the crimp tool.
Benefits of Siamese Cables
Siamese cables can be used in both video and power cables.
Video can run in RG 59 cables, and power runs in 18 gauge pair.
It is made of solid copper core and 75-ohm impedance.
It has 95% copper braided shielding.
You can cut the cables to exact lengths.
It can work on twist-on, crimp-on, and compression BNC connectors.
Benefits of Ethernet cables
The speed offered by an Ethernet connection is much more as compared to the wireless connection.
Unlike Wi-Fi, where it is excellent risks of attacks, an Ethernet connection has higher levels of security.
The connections with Ethernet cables have more excellent reliability.
It has a good efficiency level.
Security Camera Wiring Color Code: FAQs 
How do you splice wires for a security camera?
To splice the wires, remove the outer insulation to free inches of the wire at the end of each cable. It is an excellent practice to slide a piece of heat shrink tubing at the end of one wire before you start, so when you are finished, you can shrink it to protect and immobilize the splice.
What kind of cable is used for security cameras?
When it comes to hooking up your security camera, you must transmit video through some cable. You can use RG59 cable, RCA plug and play cable, and CAT5 cable in the CCTV industry. These are the three types of CCTV cables. 
What are the color code wires?
The protective ground is green or green with a yellow stripe. The neutral is white; the hot single phase wires are black and red in the case of a second act. Three-phase lines are red, black, and blue.
Conclusion
Once anyone gets hold of the three color codes, it will be easy to connect them correctly. However, you should be careful while wiring the camera, and if you get confused for any reason, get help from the expert because minor mistakes can damage your system. Therefore, it is necessary to have the right tools and experienced person to do the job. Hope you have learned about the security camera wiring color code.