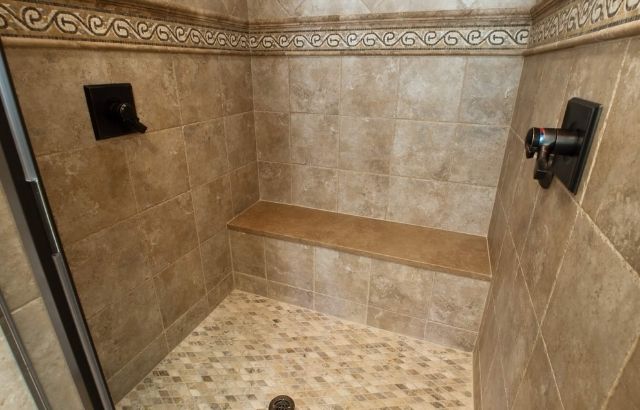 How to Clean Travertine Shower Mold | A Step By Step Guide By Expert
Disclaimer
Articles, products, and services offered on this site are for informational purposes only. We recommend using caution and seeking professional advice. This site provides general information. We are part of the Amazon Services LLC Associates Program, an affiliate advertising program. Amazon.com is compensated for sales resulting from links on our website.
Please review our disclaimer before taking action based on anything you read or see.
This article's primary objective is to educate us on how to clean travertine shower mold, remove mold from travertine pavers, clean travertine, clean travertine sink, and other important topics discussed in the articles.
How to Clean Travertine Shower Mold
Travertine is a natural stone, frequently used for countertops, floors, and shower tiles. Because it is a limestone type, travertine is very porous and susceptible to staining in daily use. Travertine should always be sealed when used in the home, but even so, it can still attract mold into its crevices when installed in humid climates or humid areas like bathrooms. If you find mold on a travertine surface, it must be cleaned carefully, and the conditions that allow mold to develop must be addressed.
Instructions
Steer clear of applying commercial mold stain removers, citrus oils, glass cleaner, or vinegar to clean mold or travertine mold. All of these products stain and damage travertine tile, very acidic vinegar.
Purchase a natural stone cleaner formulated to remove mold stains from your home center. Apply as directed on the bottle, paying particular attention to the grout lines where the mold picks up.
Travertine surfaces rinse well after application with lukewarm water. Dry with a clean, soft towel.
Address humid, dark, warm conditions in your home that cause mold and mildew to grow. Ventilate wet areas by opening windows, installing an exhaust fan, or using a dehumidifier. Open curtains or use strong lamps to illuminate dark nooks and crannies.
Relieve condensation problems, especially in bathrooms, by opening shower curtains and tub enclosures to allow moisture to evaporate.
Clean travertine surfaces regularly with a soft sponge and warm water and dries the surface with a soft, clean cloth. Mold and mildew cannot grow in well-lit, ventilated, dry, and clean environments.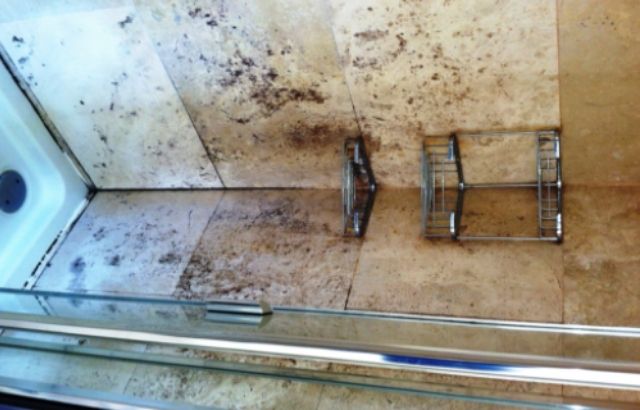 How Clean to Travertine
Run a floor dryer and clean the shower after each use. After using the shower, the shower walls are covered with water, soap, and dirt particles. When they stay on the walls, soap scum forms, and mold and mildew develop. To prevent these items from building up:
Run a floor dryer along the shower walls and door after each use.
Run a spotless, dry towel over the dividers and corners to absorb any excess water. 
Leave the shower entryway slightly open to permit the zone to dry. 
Maintaining this day by day schedule will make cleaning your travertine shower simpler.
To remove soap scum, swap your bar soap for liquid soap.  
Steps
Thoroughly clean and assess the integrity of the travertine twice a year. Constant exposure to water can damage travertine tile, ruin the grout, and stimulate the production of soap scum, mold, and mildew. To keep a shower clean and structurally sound, perform a deep cleaning and evaluation every six months.
Treat walls with a soap film cleaner to remove soap scum build-up. Permit the thing to sit for several minutes preceding cleaning it with a microfiber material.
Treat mold and mildew in the shower with a mild mold cleaner. In the wake of permitting the item to sit for a couple of moments, eliminate the build-up with a clean microfiber material.
Examine the grout for cracks and holes. If you find that any part of the grout is missing, repair it immediately, as cracks and holes in the grout can cause further water damage. Allow the repaired grout to cure for 7-10 days.
Check whether there is any staining on the tiles. If you notice a dark tile that was once light, it is a sign of water absorption. Apply a sealer to the shower. 
How to Remove Mold from Travertine Pavers
Travertine pavers add color, texture, and classic appeal to your outdoor living room. Natural stone pavers last for years when properly cared for and are easy to maintain. Shape spores develop on natural surfaces presented to sodden or muggy conditions. Except if you clean the shape stains, they will spread to close by bodies. You can get rid of mold on your travertine pavers, but you must do so with cleaning products and safe techniques for natural stone. Things you will need:
Bucket 1/2 cup ammonia
Talc
Process:
Show more instructions Math 1 Hose makes wetting and rinsing outdoor surfaces more convenient. Wet mold stains on your travertine pavers with water from the hose. This prevents mold spores from getting into the air during the cleaning process.
Fill a pail with 1 gallon of boiling water. Gloves Add 1/2 cup of ammonia.
Fabric, rubber, or leather protects the skin from irritation. Put on work gloves to shield your hands from direct contact with form and the alkali arrangement's drying impacts.
Dip a non-metallic brush in the diluted ammonia. Scrub travertine cobblestones to kill mold spores and remove associated stains. Rinse your scrub brush when necessary. Continue to scrub the pavers to remove all mold stains.
Flush the travertine pavers with the hose to wash off from spores and cleaning arrangement.
Treat any leftover form stains with a poultice. Wet the travertine marble pavers with the alkali arrangement. Sprinkle baby powder over the shadings to cover them. Permit the powder to retain the alkali arrangement, and stay on the pavers until totally dry.
Eliminate the dried poultice from the travertine pavers by brushing it into a dustpan with the steel brush. Flush the pavers with the hose and permit the surface to air dry.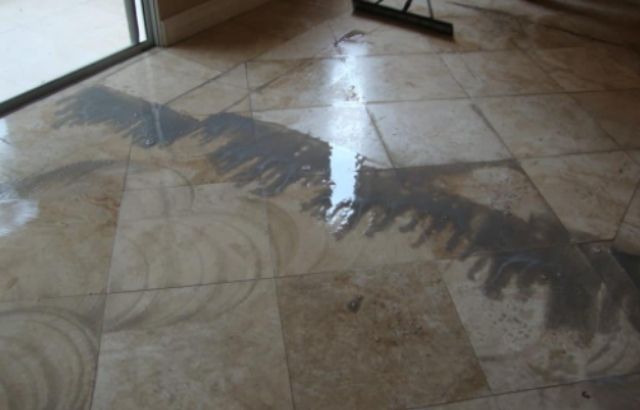 How to Clean a Travertine Floor
You need to properly clean your travertine floor to protect your investment, as well as the floor itself. Travertine is a stone that is natural sediment from the limestone family of rocks. It is also known by other names such as Mexican onyx, oriental alabaster, onyx marble and Egyptian alabaster. A travertine floor offers a variety of styles, simple installation, and durability. The following will properly show you how to clean a travertine floor.
Step 1 – Sealing the Travertine Floor
Travertine floors, like all other stone floors, must be sealed. This work must be done after they have been installed and is rarely done by the installation company. After installing the flooring, you should do an aggressive sweep of the floor with a soft broom. You don't need to use a lot of force or pressure on the travertine floor. Clean with a little warm water and wipe with a dry towel. Pour the stone sealer on the travertine floor, rub it against the stone with some rags and then wipe it off. Let the sealer dry before you wash the floor.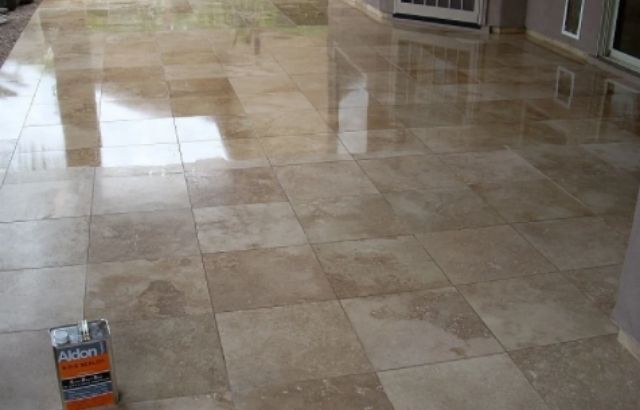 Step 2 – Starting cleaning 
When the floor is fixed, you would now be able to clean it. Before applying any cleaner to the floor, you should initially eliminate any residue or earth present. Utilize a brush with delicate fibers to eliminate soil. If you utilize a dustpan, use one with a smooth elastic edge. A vacuum cleaner can likewise be used as long as it has a sliding connection.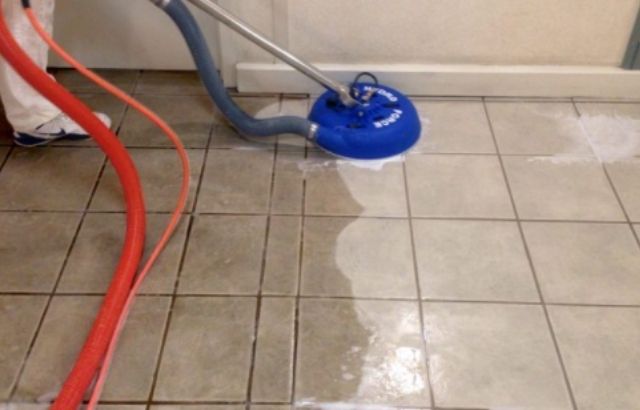 Step 3: scour the travertine floor. 
You can't scour travertine floors excessively hard, or you will harm them. If you need to clean a district of ​​the floor physically:
Do so with a terrycloth towel instead of a scrub brush or scrub pad.
Blend the dish cleanser with warm water until it is foamy.
Plunge the mop into the arrangement and wring it out well; at that point, wipe the travertine floor with smooth, even strokes. 
Utilize a dry mop to eliminate water from the floor. On the off chance that water gathers, clear it off with a towel or chamois. 
Stage 4 – Polishing 
It is a fragile technique to eliminate surface scratches and clean the travertine floor. Rub the scratch with a diamond polishing pad. Start with a 120 grit pad and feel the scratch.
In case you can even now notice or feel it, change to the accompanying higher grain of gem cleaning pads. Proceed as such until the scratch is eliminated. Forget about soil as you would some other way. Presently, blend 1/4 cup of dishwasher cleanser with water until foamy. Clean the territory with a wipe and utilize a terry material for clearing off the water. Wash the region with perfect, warm water, and afterward wipe with another spotless towel.
How to Finish a Travertine Tile Floor
Forestalling harm to your travertine tile floor is the way to looking after it. Lamentably, while it is a material that can keep going quite a while, travertine is vulnerable to scratches and etching and common stains, which are difficult to fix. Here's a short guide to renovating travertine floors.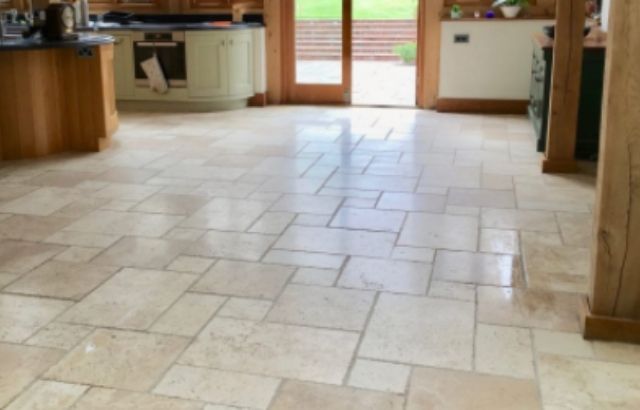 Step-1: Eliminate snags from the floor.
Eliminate any furnishings or different items that are on your travertine floor. Then use a vacuum cleaner to remove dirt, dust, and any other small particles that may interfere with the finish or cause scratches.
Step-2: Preparing the area
Please take out your masking tape and use it to cover the edges surrounding the travertine tile floor. It will help protect the surrounding areas. Whenever you've done this, set down plastic sheeting to additionally secure the encompassing region, as it's anything but difficult to spill or sprinkle something past the limits of your tile floor. 
Step-3: Cleaning the floor
Since the floor can be worked securely without scratching it or harming the encompassing region, you can clean it. Utilize regular dish cleanser or a proper cleaning item intended for use on stone. Ensure it doesn't contain any corrosive as it will draw your travertine floor. 
Step-4: Remove stains. 
If you are applying a sealer to your travertine floor, you should figure out how to make an effort not to close stains; you should find a way to try not to close colors, regardless of whether they are new stains are spread by your cleaning endeavors. If there are visible stains on your floor, close them up with towels, leaving a little extra space. Next, pour 1/4 inch of water into the area surrounded by towels. Allow it to soak for 10 minutes, then pat the water dry.
Next, use the hard floor attachment on your steam cleaner to remove the stain. You can supplement this with a scrub brush and stone floor cleaner.
Step-5: Remove the old seal.
To get a phenomenal new seal, you should guarantee that harmed pieces from the outdated one don't meddle. Regardless of whether your floor has been incompletely stripped, this can be an issue. While diverse sealant spacers will have different guidelines relying upon the brand you get, you ought to hope to blend yours with water and utilize your scrubber to go everywhere on the floor. Wrap up by going over the edges, corners, and some other segments you've lost with a similar mix on a brush.
Finish removing everything you just lifted off the floor by cleaning the travertine tile floor another time. Follow up by rinsing the debris with distilled water. Finally, vacuum your floor one more time.
Step-6: Seal the floor.
Different sealant brands will require extra steps, so you should always prioritize the instructions that come with your brand. However, you need to apply your sealer and then wait for it to dry. If necessary, apply additional coats.
How to Clean a Travertine Sink
A travertine sink can be an exceptionally jazzy visual expansion to any restroom. Nonetheless, travertine is somewhat more testing to keep up than different materials. The accompanying directions should keep your travertine sink in an ideal condition.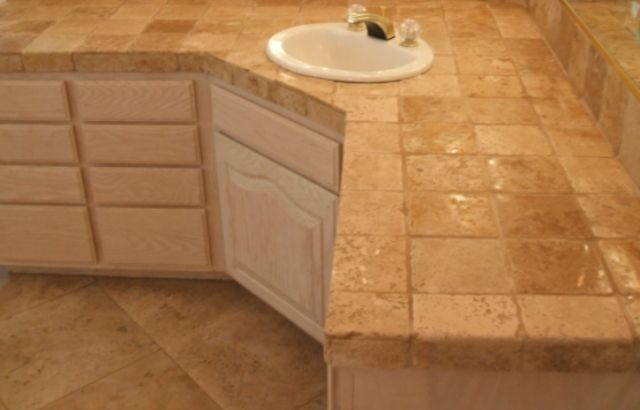 Step-1: routine maintenance
You can keep your travertine sink free of small accumulated dirt and grime by gradually wiping it with a soft, slightly damp cloth. However, if you are trying to re-clean a filthy sink, this can be a waste of time. However, once your sink is clean again, you can save yourself a lot of work by doing it regularly.
Step-2: cleaning the sink
Use a cleaner specifically designed for travertine. Acidic cleaners will damage your travertine and should not be used as a result. Use your cleaner of choice with a soft sponge or brush. Make sure not to scrub too much, as it can still scratch the travertine. Once you're done, rinse off the cleaner.
Step-3: Avoiding damage
If you spill something harmful to the material in your sink, you can minimize or even prevent the damage from occurring by cleaning it up immediately. By doing this, you can avoid problems like acid etching.
Last Words
We trust you have taken in a great deal concerning this topic on how to clean travertine shower mold, cleaning travertine, the recommended tools used in cleaning travertine mold, how to finish a travertine tile floor, cleaning travertine sink, and other relevant subtopics discussed in the content of the articles.
Read More: How to Install a Shower Base on Concrete Floor