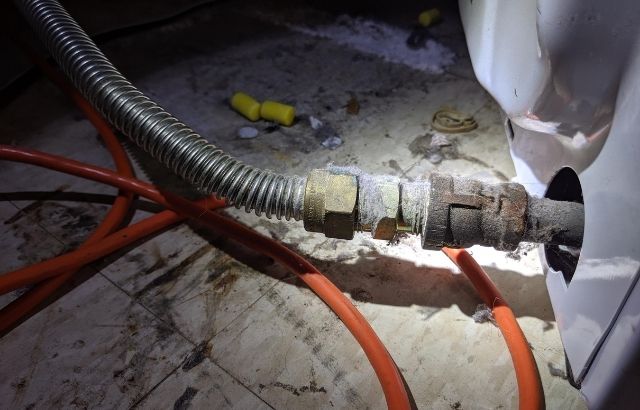 How to Disconnect a Gas Dryer from the Gas Line | A Detail Guide
Disclaimer
Articles, products, and services offered on this site are for informational purposes only. We recommend using caution and seeking professional advice. This site provides general information. We are part of the Amazon Services LLC Associates Program, an affiliate advertising program. Amazon.com is compensated for sales resulting from links on our website.
Please review our disclaimer before taking action based on anything you read or see.
Removing a piped gas dryer at first glance can be complicated. However, it is a relatively easy task if you have the necessary tools and proper guidance. This way, you will save money and time by getting the satisfaction of doing it yourself. Here is a step-by-step guide on how to disconnect a gas dryer from the gas line.
How to Disconnect a Gas Dryer from the Gas Line: Tools needed
For disconnecting a gas dryer from the gas connection, it is necessary to have the necessary tools and materials. In this way, you will have what you need to avoid gas leakage problems, making the process safe and reliable. In the following lines, you will have the defined list of the necessary elements, which are:
Mobile Dolly
It is an essential tool to move the dryer when removing the dryer. It is not necessary to have an industrial or large capacity dolly; conventional dollies are enough. By default, universal support can support large amounts of weight.
Due to their roll-out capacity, they cover the normal width of the dryers. These can be found in hardware stores and are very useful for other activities. In this way, they make it quick and easy to move the dryer to be removed.
Sale
Stalwart 82-43752 Dolly Mobile Rolling Cart with...
ADJUSTABLE CARRYING SIZE- Not all items that you need to move are going to be the same size. Being able to adjust down to 21" x 21", you can effortlessly roll a wide variety of items through your house on this portable push dolly.
DURABLE BUILD- Built with sturdy PVC pieces and stainless-steel poles, this dolly has a weight limit of a hefty 220 pounds, making moving large furniture or appliances like washing machines and dressers fast and effortless.
ROLLABLE CART- Sitting on top of 4 rubber swivel wheels, this dolly roller can be moved across any smooth flooring with little effort. When you want the cart to stay still, two wheels lock with a flip of a switch to ensure the dolly won't move unexpectedly.
Ropes
Never be missing to secure the dryer with the Dolly and move it properly. They can be rigid or elastic ropes depending on the arrangement.
Ideally, they should be in good condition for a safe tie-down. Adding hooks to join them instead of using knots is also a valid option.
TOUGH-GRID 550lb Paracord / Parachute Cord - 100%...
Packaged According to Length: 50, 100, and 150 Footers Come Coiled in Bags; 200 Footers on Tubes
500 and 1000 Footers are Wound on a Spool; 1000 Footers May Come in up to 2 Non Spliced Sections
Diameter Measures 1/8 Inch (Plus or Minus 1/32 Inch); 100 Percent Nylon; 7 Inner Triple Strands
Adhesive tape
Adhesive tape is very important in the process of sealing, arranging the parts to disconnect a dryer. It is used to seal the end of the dryer gas tube and gas connections. It can also be used to collect the connection cable so as not to drag it when moving.
They should be made of insulating material to avoid complications and gas leakage. In this way, we disconnect the dryer gas line.
EZlifego Double Sided Tape Heavy Duty (Pack of...
【3 Sizes Selection & Multifunctional Tape】- 3 Rolls in package, 9.85 Feet per roll, Unique Width:1cm + 2cm + 3cm.Three widths of tape to meet the needs of a variety of places. Made from the latest Acrylic-Gel material, our transparent adhesive tapes are very strong,durable,removable,traceless,and no residue.
【TRACELESS & REUSABLE & WASHABLE】- The removable double-sided tape is easy to remove and will not damage walls or surfaces and it leaves no residue.Wash it in water and dry it to regain its stickiness when the washable adhesive tape becomes dirty. Please Note : it is not recommended to use it on unstable walls,avoid causing the surface of the wall to fall off.
【 Versatile Use 】- Use it to fix or paste items such as picture wall,car phone holder,wall sticker, hook, sticky pads, phone cases and paste items etc.The sticky transparent tape can also be used in office,home, bathroom and so on. Bring great convenience to your life!
Ventilation system
It must be made of metallic, rigid, and flexible material, resistant to lint accumulation. This will prevent us from having a bad time if removing the current one and due to wear and tear it gets damaged. In this way, the replacement would be within reach.
It is necessary to understand that through this mechanism, all the lint is expelled. In the case of not replacing, cleaning maintenance should be performed to get rid of roughness inside.
Compressed air, water, and soap can be used for cleaning. Although it is advisable to replace it with a new system, of course, it all depends on your pocket.
Gas line plug
It is a great utility to assure and to maintain out of existing risks of gas leakage. It must be made of a rigid material such as copper or resistant aluminum.
This way, when tightening the joints, you avoid cracks and ruptures. It is recommended to use new plugs. Of course, if you notice that they do not have great wear, they can be reused without leaving aside a strict revision, discarding some crack in them.
Litorange 2 PCS Brass Flare Tube Fitting Coupling...
★ 【Material】: Heavy Duty Brass,strong and durable. Flared tube connection on one end and NPT connection on the other.
★ 【Firm And Durable】: Litorange Brass for corrosion resistance, high temperature ductility and low magnetic permeability.
★ 【Temperature Range】: From -53°C to 121°C (-65 to 250 Degree F).
Yellow Teflon tape
It is not necessary at the time of removal. But it is necessary when reinstalling or replacing. It provides adhesion between the joints that gives security and minimizes the risk of gas leaks.
Sale
Harvey 017065 Gas Line PTFE Thread Seal Tape
Yellow gas line thread seal tape with PTFE
Extra heavy, full density PTFE tape especially for gas lines
Recommended leakproof sealant for lines carrying natural gas, propane, butane; and water, oil, and chemical installations
How to Disconnect a Gas Dryer from the Gas Line
Disconnect the dryer's gas line; this is the first step to follow, making sure that the gas valve is properly closed. This avoids the risk of gas leakage.
To remove the flexible gas line that the dryer has (this is the outgoing gas supply pipe). It is necessary to do this to ensure that it is not damaged during removal. Use yellow Teflon tape on the threads.
This is how we put the gas line plugs in place. The Teflon tape union on the threads and the gas line plug will provide security and minimize the risk of gas leakage.
To remove the gas line from the dryer, seal the inlet and outlet holes with duct tape. This will prevent unneeded materials from accidentally entering the dryer. Cover the gas line plugs with it to compliment the sealing.
Remove the venting system from the dryer and the wall. If the venting system is made of a non-metallic, non-flammable material, discard it. It should be replaced with a rigid venting system. Otherwise, store it inside the dryer to keep the entire system in one place. The tumbler drum is the ideal place to place the system while it is being disassembled and moved.
Remember to
Mount the dryer on the mobile Dolly; depending on the dryer's size, two people are recommended. Remember that the Dolly has wheels; be sure to keep it in a fixed position. For this, the Dolly has legs that are fixed to the floor. In this way, you avoid the Dolly from slipping or moving when moving the dryer, avoiding mishaps.
Secure the dryer with bungee cords and tape, combine them in the form of braided strands. In this way, the dryer can be moved easily and safely.
Make sure that the gas pipe is tightly sealed. Such gas connections always have safety valves that can fail. This gas piping is the biggest risk, as a small leak can even affect nearby appliances. It is recommended to replace these gas valves with new ones. Of course, it all depends on the time of use that they have and the desire to economize the activity.
What to do if you smell gas?
Do not light matches, cigarettes, or electrical appliances.
Do not turn on any electrical switch and disconnect everything from the sockets.
Evacuate the room immediately and its occupants.
Check the operation of safety valves.
Verify that the main gas connections are closed.
Finally, call your gas supplier and the fire department.
Benefits of Gas Dryers
Gas dryers operate and rotate the drum with electricity from lights and are heated with gas. They are generating low electricity consumption.
It uses air heat and tumbling to dry clothes, originated by gas using a fuel burner.
They expel lint and other objects to the outside through the ventilation system.
How to Disconnect a Gas Dryer from the Gas Line: FAQs
Can I connect a gas dryer myself?
Connecting a gas dryer on paper can be complicated, but with a little enthusiasm, it can be done. The first thing to do is to have the necessary tools and materials.
These are the dryer with all its parts, ventilation system. Also, wrenches to tighten threads and yellow Teflon tape.
How to remove a flexible gas line?
The dryer's flexible gas line carrier is a fundamental part of the gas dryer, ensuring communication with the ventilation system and the gas line. Thus, removing it for replacement or maintenance requires several specific steps.
The first step is to shut off the main gas line, securing the safety valve to prevent leakage. It is recommended to seal the nozzle with a plug or tape.
If the gas line is shared with the water heater, it is recommended to turn it off while operating. As a second step, disconnect the venting system from the wall.
This way, it would only be connected to the flexible line. This way, you can roll it up and move it easily to gain access to the flexible gas line.
Finally, it is disconnected from the ventilation system and the dryer outlet. This activity must be carried out in the indicated order to avoid accidents and leaks. In this practical and safe way, you can remove the flexible gas line.
Can you reuse the gas line of a dryer?
In this day and age, reusing things to cut costs is always an option. When talking about a dryer gas line, it is best to use newlines, as the old ones may have tears and cause leaks.
New gas lines made of the right material guarantee a safe and efficient installation. But if there is no other option but to use used lines, it is necessary to maintain and repower them. In this way, verify their correct operation by testing them with compressed air.
Clean with additives eliminating lint and residues in it. The idea is to leave it as clean as possible. Replace the safety valves; these should be new in order not to run risks.
Apply sealants to the surface of the lines to avoid filtrations and leaks. This way, you can reuse the gas lines.
Final Words
The detailed information on disconnecting a gas dryer from the gas line gives us an effective tool to perform the activity. In simple steps, we can list everything needed, from materials and tools.
In this way, having the information of what is required to begin the steps is fundamental. So, we start the process in an orderly and effective way, following the steps we have given.
In this way, you ensure that you meet the gas line's requirements necessary to disconnect a gas dryer.
The first thing to do is check the gas lines, choose a nearby location, and place the dryer. The shorter the gas path from the gas line to the dryer, the better.
This way, the efficiency will be higher. Then connect the flexible line to the venting system. Put Teflon on the threads to better grip the connections and avoid leaks. Once this is done, proceed to join with the gas line.
If this gas line is shared with the water heater, you should use a T with a valve to make the flow independent. By following these steps, you can connect a gas dryer by yourself.