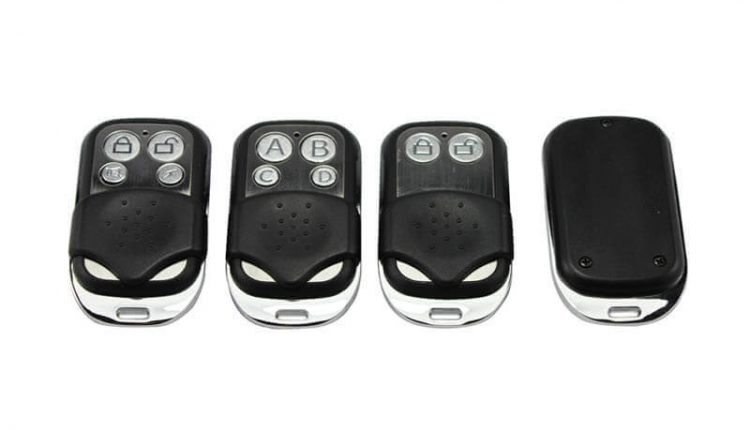 How to Program a Garage Door Remote from another Remote | Image Based
Disclaimer
Articles, products, and services offered on this site are for informational purposes only. We are part of the Amazon Services LLC Associates Program, an affiliate advertising program. Amazon.com is compensated for sales resulting from links on our website.
Please review our disclaimer before acting based on anything you read or see.
You may want to know whether and how you can use another remote to program a garage door remote. Yes, it is the immediate response. Typically, there is a catch when programming a replacement garage door opener remote using the original remote. In most cases, this feature is absent from garage door opener remotes. No one can open your door with a previously-used remote signal that has been stolen. Any person that can enter your garage could easily clone the remote's signal, posing a significant security risk.
Remote controls may disappear during car break-ins. Sadly, this is widespread criminal activity. Anyone with a functional garage door device can enter the garage during your absence. So, let's check out how to do this well:
How to Program a Garage Door Remote from another Remote?
The procedure for programming a garage door remote from another remote is illustrated in images for your convenience.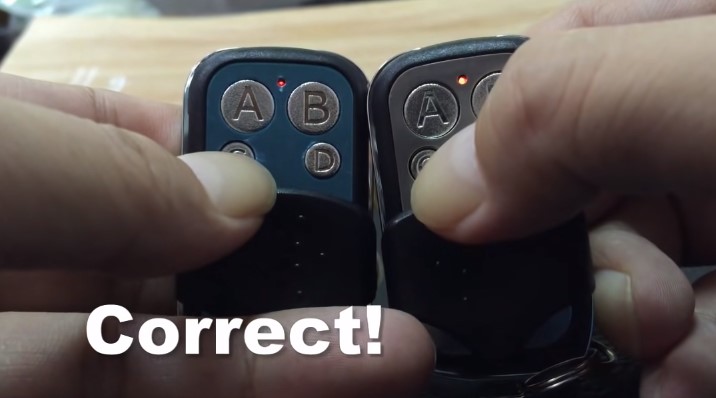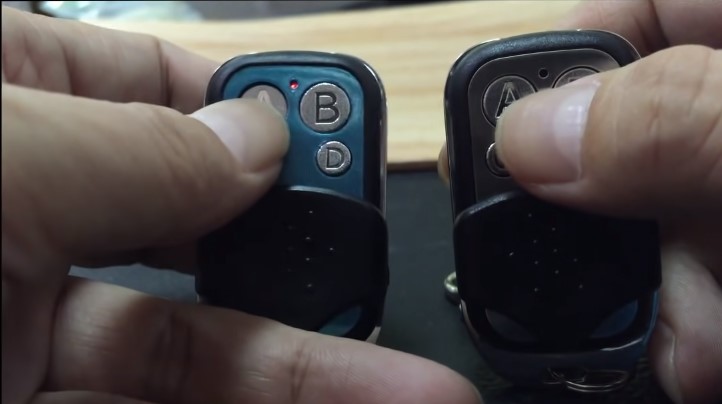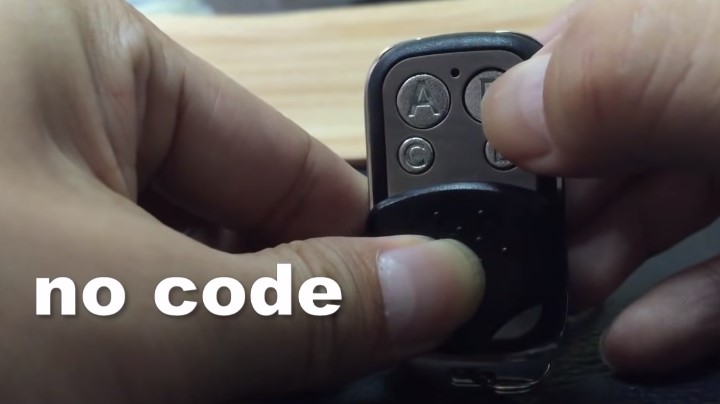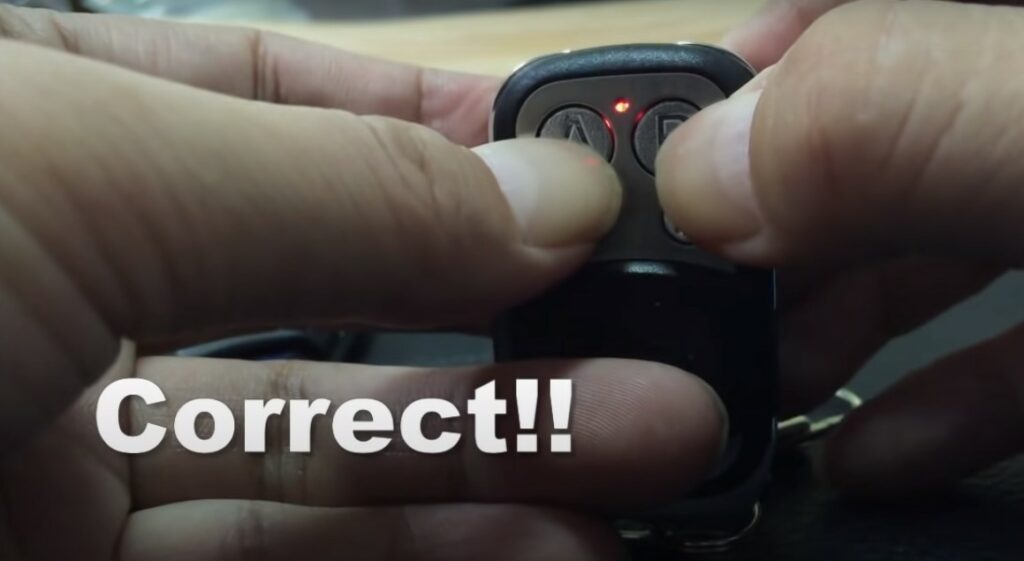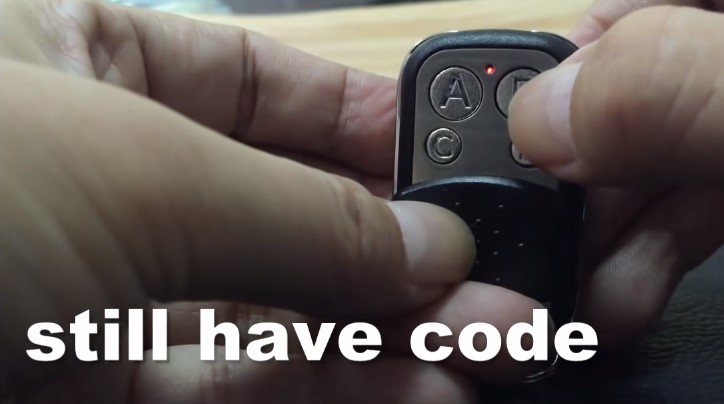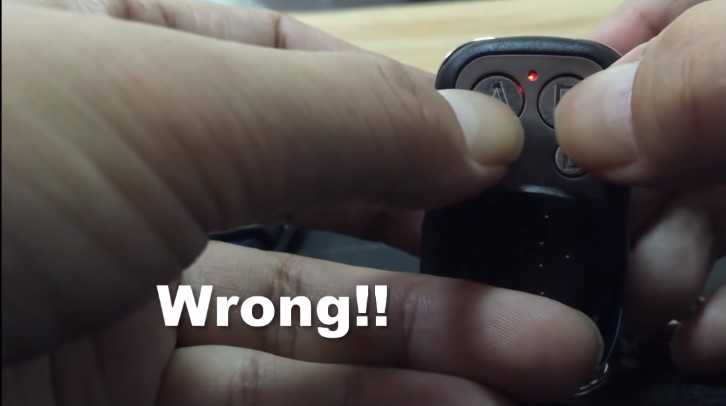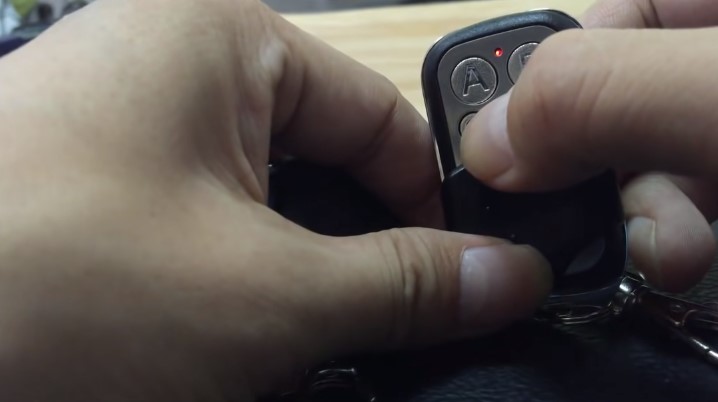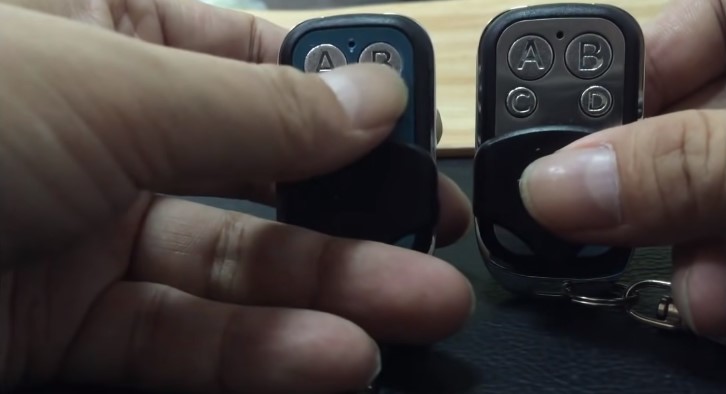 If something goes wrong, try with another garage door opener.
On a universal remote, press and hold the number one button (In this case, the letter A, B, C, or D) four times before pressing and releasing the number two button.
Remove the cables immediately. The LED light should begin flashing every two seconds.
Maintaining a 1-centimeter distance between your old remote and your new universal remote, press the button on your old remote, then hold it while maintaining a 3-centimeter distance between your old remote and your new universal remote. Wait until the LED light blinks on your universal remote.
Press and release a button when the LED begins to flash rapidly and close. You can now transfer the codes from your old remote to your new remote.
If both the frequency and brand of your garage door opener are compatible, there should be no problems. If you encounter difficulties while attempting to implement the steps outlined in this guide, please refer to the user manual that came with the universal remote.
Types of Programming for Modern Garage Door Remote Controls
The majority of garage door remotes are currently programmable in one of two ways:
Methodology of synchronized direct programming
This is the easiest and most prevalent method most homeowners utilize with garage opener systems.
The garage door opener receiver unit contains buttons labeled LEARN, SMART, and PROGRAM.
Please continue reading to learn how to accomplish this with a replacement remote.
To start, rapidly press the "LEARN" button until the indicator light turns on. For thirty seconds, it will light the light bulbs.
It may be necessary to press a different button or a momentary switch before attempting to program a specific button to open your garage door.
After removing the battery cover, the switch will be visible. Please keep it in until the remote's indicator light turns on.
Thirdly, synchronize the garage door with the new remote while the blinking lights on the door control are still illuminated.
To open the garage door with the new remote, press and hold the button (sometimes called a HomeLink button).
Garage door openers typically require two full presses and releases to open the door.
Step 4: On some remote controls, you can lock the code by pressing the program button, which is typically located below the button for programming the garage door opener.
Step 5. Verify the functionality of your new remote control.
Cloned Programming.
This is only possible with remote controls capable of duplicating the original's frequency.
The required actions are as follows:
Position the secondary remote close to the primary remote.
Second, assign each button on the original remote to its counterpart on the copy.
You send a signal using the original garage-door opener transmitters.
Step 3: Press and hold this button until the LED light on the clone remote begins flashing rapidly.
This indicates that the new remote has replicated the settings of the original.
Utilize the duplicate remote to operate the garage door and perform any necessary troubleshooting.
How can you fix your Garage Door Remote?
If you have read and followed the remote's instructions and it is still not functioning, rule out the following potential causes.
The remote control needs a new battery.
The battery may have lost its charge. Some remote controls require programming even after you replace the battery.
You may have pressed the LEARN button for an excessive amount of time.
The opener's memory is reset when the LEARN button is held down for an extended time.
You may have held down this button for an excessive amount of time during programming.
To reprogram the remote, adhere to the previously outlined steps.
Remember to lock the door by pressing the lock button on the remote control.
The indicator on the door opener control panel will flash to alert you.
Hold down the LOCK key to unlock.
Repeat the steps to reactivate the locking function.
It's necessary to reprogram the remote.
Wear and tear on the garage door opener and its remote control can cause signal interference.
After erasing old codes or programs, you must reprogram the devices to restore communication.
To reset the garage door opener, press and hold the LEARN button until the indicator light is extinguished.
Programming your wireless keypad and remote control is the next step.
Either the receiver antenna is broken, or the remote control is too far from the door opener's transmitter.
Within 20 feet of the garage door opener, the signal from the remote will be strong enough to open the door.
The antenna must function correctly, be in good condition, and be devoid of debris.
The door control wiring is faulty.
Check for wiring flaws behind the garage door opener.
Unplug the opener system, detach the wires from the opener motor unit, reconnect everything, and reprogram the remote controls.
Your new remote will not work with the door opener system or the original remote you used to program the system.
If, after performing these checks, the remote continues to malfunction, it is time to contact a professional.
What type of remote can be programmed from another remote
You will need a remote that can transmit and implement a new code to clone the signal from one garage door remote to another.
Before purchasing a universal remote, confirm the opener's compatibility, as not all remotes are compatible with all models. After acquiring a product, it is necessary to read the included documentation. Are multiple devices simultaneously requiring programming? Before beginning, ensure that you have all of the necessary materials.
Numerous manufacturers of door openers are compatible with universal remote controls. However, you should check ahead in case your preferred brand is unavailable. A variety of buttons may activate various doors and electronic gates. Their energy comes from batteries.
You should replace the batteries at least once every two years, regardless of whether they are 9-volt batteries or tiny lithium batteries found in watches. However, they are more accessible than exact replacements and can be helpful when guests arrive.
Things to Consider to Program a Garage Door Remote from another Remote
The safest option is to locate a replacement garage door remote made by the same manufacturer as the original garage door opener. 
Because garage door openers are not standardized, the garage door remote's radio frequency must be compatible with the motor.
However, not all garage door remotes are compatible, even if they operate simultaneously.
A universal remote is an alternative if you need a replacement garage door remote but are unsure whether your radio frequency is supported. 
Typically, the required information is imprinted on the garage door opener's remote. In the instance of "433 MHz," for instance.
Check if the replacement remote is compatible with single-code or rolling-code garage door openers. 
Consult the manual or contact a local garage door company if you are uncertain about the code system used by your door opener.
Pros & Cons of using a Garage Door Remote from another Remote
| | |
| --- | --- |
| Pros | Cons |
| One of the primary advantages of remote-controlled garage doors is their simplicity of operation. They can open and close the garage door, including inside their homes. | Remote garage door openers present some security risks. If your system suffers damage, hackers may access your private data. |
| Utilize a mobile application to unlock and lock the door remotely. Timed opening and closing can be programmed as needed. | Costs of setup are prohibitively high. |
| Utilizing a remote-controlled garage door opener can reduce your monthly utility expenses. This is because there is no motor. Solar panels on the garage roof provide the required energy in its place. | Installation costs are a significant disadvantage of remote-controlled garage doors. Typically, such systems are pretty expensive. |
| Your monthly electricity bill will decrease significantly. Since there are no substantial maintenance expenses, you may come out ahead. | The cost of the controller, sensors, cables, and motors is thousands of dollars. |
| Safety is another advantage of installing a remote-controlled garage door. It will never collapse due to the absence of batteries. It will cease functioning without your intervention. | Installation is complex. |
| The low cost of remote-controlled garage doors is one of their many advantages. They are not required to be powered by motors, contributing to their low cost. | Setting up a garage door opener for remote operation is not always straightforward. Some homeowners may have trouble figuring out how to install the device properly. |
| Sunlight-powered photovoltaic cells are their only source of energy. As a result, they save money and require less maintenance. | If you lack experience, you may cause damage to your garage door during installation. |
Frequently Asked Questions
Want help installing your door opener?
If your garage door opener needs help, it's always important to contact an expert in the area.
Do you have a reputable garage door service provider?
The best way to find a reliable garage door repair company is to ask friends, family, co-workers, and neighbors. Chances are you know someone who has done work in the past. Positive recommendations or warnings can help you find a reputable company.
Can a garage door opener be programmed from another opener?
In most cases, you can use an existing garage door opener to program another opener, but there is one problem. The standard garage door remote does not have this capability.
Can I program a Liftmaster remote with another remote?
Yes, you can, and the process is very simple. Just place the original key fob next to the duplicate key fob. Continue to press and press the relevant button on the original keyfob you need to register. Then, press the corresponding button on the same keyfob. Continue to push and hold the two buttons until the LED of the duplicate controller flashes rapidly.
How many remotes can I connect to my garage door opener?
You can use up to 8 remotes and a keyless entry system with the garage door remote.
The garage door release doesn't work. Why?
It may be out of range.
The motor antenna may block the signal or don't work well. Make sure it is connected to the motor.
If you open the door with a DIP switch, replace the batteries in the remote control.
Check whether all else fails. Try programming the remote control.
Which remote control will work for my garage door opener?
Best design: Universal Garage Door and Dhome 4-button and one battery universal remote.
Best for Gini owners: Gini 3-button remote with Intellicode security code.
Versatility: Chamberlain Clicker Black universal remote control.
What are the learning buttons on the garage door opener?
The garage door remote has two main functions: connect a new accessory to the remote or completely erase the memory, including all previous accessory or remote connections.
Can someone else open my garage door remotely?
Yes, someone can hack the universal garage door opener. An older type of garage door closer uses a "fixed code," so it's easy. More sophisticated products that use codes are more difficult to crack but still possible. Smart garage door openers can also be hacked through WiFi if they have weak security features.
Can the Chamberlain garage door opener be programmed with other garage door openers?
The remote control can control three different products (garage door opener, door controller, or light controller).
Can a garage door opener be reprogrammed?
It is easy to programming a garage door opener. You can find instructions for the remote control on the manufacturer's website.
Can someone steal the garage door code?
Each time you use the remote, the rotation code changes the code of the garage door remote. While this can make guessing difficult, someone can also hack these systems. Hackers can use radio jamming signals to prevent the system from changing to the next code.
What happens if I lose my garage door opener?
If you have lost your garage door remote, now is the time to remove the lost remote from the remote's memory and reset the code. By removing the memory and resetting the code, the lost garage door opener will no longer work. It's like having to change the locks on your house if you lose your keys.
How many remotes can I Program for my Garage Door Opener?
Your garage door opener can operate up to 8 remotes and a keyless entry system.
Bottom Line
Our home safety is very important, and when we talk about garages, entrances and exits are one of the first things we pay attention to.
Today, Genie is one of the most famous brands for its excellent remote controls. There are many occasions when our control is lost in one way or another. It is important that in these cases, you follow the instructions that we leave you in this article to change your code. We hope this article has clarified to you "How To Program A Garage Door Remote From Another Remote"