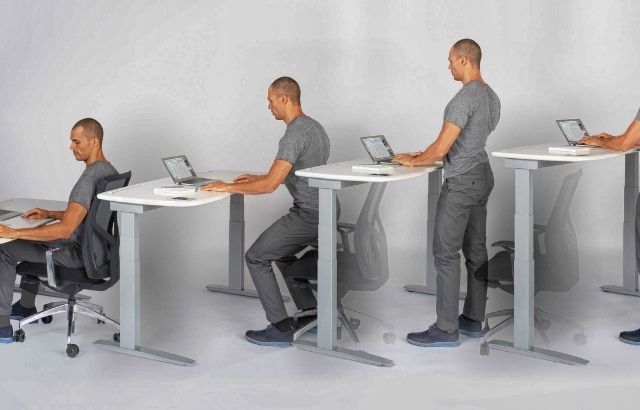 How to Raise a Desk | 5 Ways You Can Do It Easily With Our Expert
Disclaimer
Articles, products, and services offered on this site are for informational purposes only. We recommend using caution and seeking professional advice. This site provides general information. We are part of the Amazon Services LLC Associates Program, an affiliate advertising program. Amazon.com is compensated for sales resulting from links on our website.
Please review our disclaimer before taking action based on anything you read or see.
Well! Studying is the best hobby as books are your best friends, and you can enjoy yourself for hours together. However, you need to be relaxed and have peace of mind while you are at your study desk. For that matter, your correct posture and your desk's ideal height is yet another essential factor to make your reading experience worthwhile. As in my case, I used to study for 8 hours straight with my old desk, but I have to raise a desk height by at least 4 inches now for the new one, as it tires me in only 3 hours or so. Well, I wonder how to raise a desk because book-reading is my life-line, and I cannot enjoy it thoroughly without a perfect height desk. 
I was dreadfully looking for the answer, and I came across a handy resource. I want to share with you all to help people who need a piece of advice. So, keep in touch to know how you can raise the height of your reading desk without anyone's help. 
Products at Amazon.com:
Genuine Wood Paint finish for any surface (interior/ exterior).
Furniture Bun Feet.
Adjustable desk Legs.
Adjustable Desk, Sit or Stand Height.
Adjustable Desk Frame –only.
Adjustable Office Chair.
How to Raise a Desk: 5 Easy and Economical Ways 
The first and easy way to make your desk taller is to use heavy-duty furniture risers for a desk. According to your desk color, they are offered in several sizes and different types of materials such as plastic and wood. In case you have a desk made of wood, you can increase its height by using bun feet. In case if your desk seems to be shaking after the addition of risers, you can add desk raising blocks and wooden extensions to make it stable. You can make a desk taller by following ways.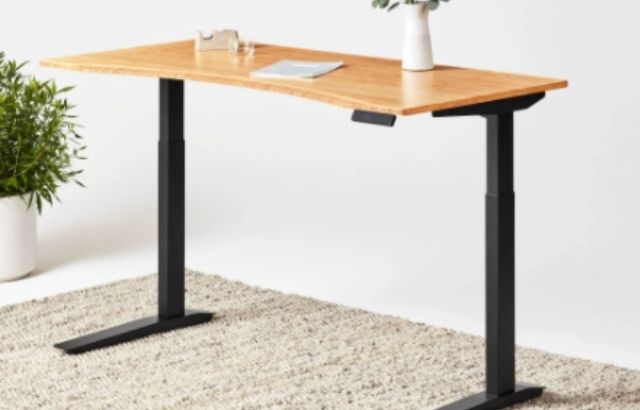 Risers:
Risers are the most widely used method to raise a desk height. They are available in different sizes, and you can buy them online. So if you want to increase your desk height by 4 inches, you can purchase a riser with a height of 4 inches. 
They are also available in 8 inches or in adjustable sets to meet your requirements.
You should check its height by sitting on a chair to test how much extra size you want to work with ease.
These risers are available in wood and plastic and contain four pieces.
They are of such a good quality that they don't create scratches on the floor.
The edges of these risers have a good finish so that the carpet or floor does not get damaged.
You can also add table risers to your desk permanent or temporary basis. Temporary means that you can easily do so if you want to remove them according to your need. For this, you should have four pieces of risers for your table of four legs.
Paint the risers of your desk, according to the color of the desk. It will give a well-designed look to your desk, and don't let anyone know that the extra risers are being added. 
Addition of bun feet:
For the wooden tables and desks, bun feet are a good option.
They are readily available in 3 to 4 inches height.
You can add the leg extensions from 4 inches to 10 inches in height to your desk. And later you can easily remove them if you want.
You can purchase these risers from any hardware store and online. 4 bun feet will be required for your four legs table or desk.
Make the holes of a 0.25-inch diameter under the table's legs, on the desk's bottom with the drill machine.
Then place one bun foot into the hole.
You can also paint the wooden bun feet like the risers to make a match with your desk. 
Wooden extensions:
If you see that your desk is shaking after the risers' addition, they are not being fixed properly. For this, you can opt for the wooden extensions to your desk to make it strong enough.
Take the small pieces of wood from the hardware shop according to the legs and desk color's width.
Make the hole at the bottom of each leg by placing the desk upside down.
Find the center of the legs before drilling the hole.
Now with the drill machine, make the holes of 0.25 inches depth.
Place the nut on each leg and put them in the hole.
Tap the nut in the hole with the help of a hammer.
Place the wooden pieces in the hole with the hanger bolts, tight them with the screwdriver, and set the wooden pieces correctly.
Replace the old legs:
It is another way to install the new legs by replacing the old ones to raise your desk's height permanently.
You can also opt for the motorized desk legs if you want to raise the desk height temporarily. 
Uninstall the old legs of your desk.
Remount the new legs to your desk, with the help of a screwdriver tighten up the screws.
Learn More: How To Install Replacement Windows With Vinyl Siding
Use of desk converter:
Adding new legs to the desk is not the only solution to raise the desk's height; you can also go for the desk converter. Yes, this is a useful way to achieve your goal without trying something out of this world. 
The desk converters are available at an adjustable height of 4.5 inches to 20 inches. You can easily alter it according to the need. 
The desk converters are like adjustable work stations for working with laptops and monitors.
You may choose from a wide range of variety from online and in-store outlets as they come in various designs, colors, and heights. All you need to do is have an idea of what you are looking for and get what you want. 
Bonus tips:
You can opt for the tips mentioned above and procedures to raise your desk's height, but if you want to go for any other alternative that is also available. 
For sitting or standing, you can buy a desk with adjustable height.
To find the right position and posture to feel comfortable, use the touch controller.
You can also add an only adjustable frame to the top of the desk to raise its height. 
What is the Ideal Desk Height?
You might be feeling discomfort by thinking that what should be the ideal height of the desk? 
It depends on your height and your daily routine tasks that you have to complete. Also, what is your existing health condition, and which tools are you handling? 
Your elbow should have the natural bend like it should be on 70 to 130 degrees if you are working on laptops or computers. Similarly, if you are writing with a pen, use a higher desk to reduce the stress. And raise the height of the monitor if working with a computer. You can quickly get this height by using desk extensions and thick books. 
To give your elbow a natural bend, place the keyboard in the lower height, but most of the typists use the more sweeping curve, approximately 130 degrees, to make the desk height shorter. 
The adjustable tables and chairs are also available in the market according to your height. The sitting and standing table setups are very common to reduce stress injuries when working for many hours. For long work hours, you can also opt for the under desk bikes.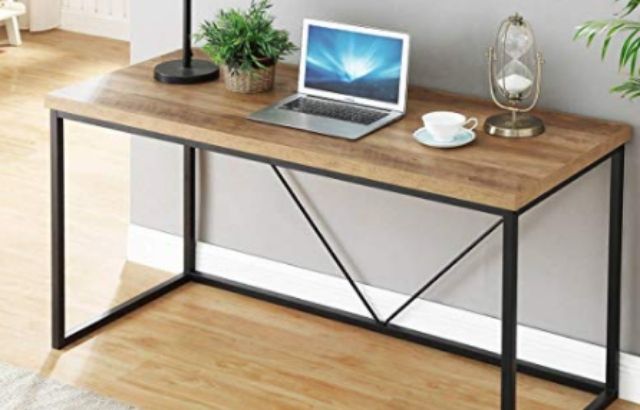 How to Raise a Desk: FAQ Section
What happens if your desk is too high?
If your desk is too high, you have to experience elbow, shoulder, or hand pain and discomfort. On the other hand, if it is very low, you should have to bend your body forward or extend your arms forward to use the computer.
What is the standard height for a desk?
The average office desk height is between 28 to 30 inches tall, which is best for individuals of 5'8 to 5'10 height.
How deep should my desk be?
My desk's depth should be between 508mm and 762mm, and a width of 610 mm at least. It will be better if you have extra space because the available desks are narrowed to work in your homes. But the desks with the 600mm depth are ideal for smaller areas.
Conclusion
To end this topic, raise a desk. The options mentioned above and suggestions might help you if you want to increase your desk height. Whether you work on the computer or study, you have many alternatives. 
You should give one of the options a try to experience to make you feel comfortable while working. And if you don't give attention to this issue and continuously work with the wrong height, you might have pain and stress in your legs, shoulders, and arms. So to reduce the risk of discomfort, you should be careful regarding your desk height. 
Read More: How Do Contact Sensors Work