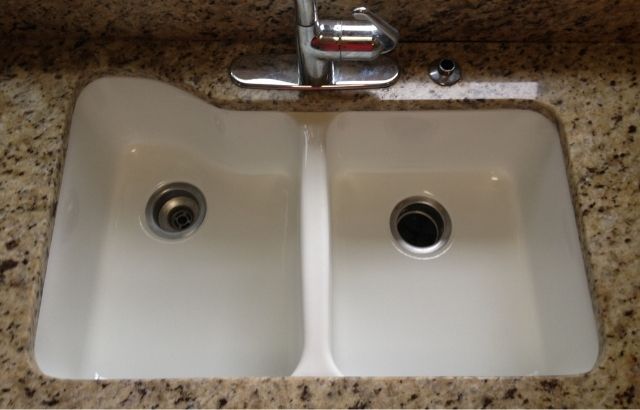 How to Reglaze a Kitchen Sink | A DIY Guide By Expert
Disclaimer
Articles, products, and services offered on this site are for informational purposes only. We are part of the Amazon Services LLC Associates Program, an affiliate advertising program. Amazon.com is compensated for sales resulting from links on our website.
Please review our disclaimer before acting based on anything you read or see.
Most homemakers have their temple in their home, where they perform one of their most important tasks, feeding their family. This, of course, is the kitchen, where those daily delicacies and desserts are made. The place must be neat and tidy, well-arranged, and activating a pleasant bonding agent to accomplish this work. One of the elements of the kitchen not so much taken into account is the sink. In this guide, I will tell you how to reglaze a kitchen sink.
As time goes by, it acquires wear and tear due to its daily use, losing its natural elegance to sink over time. Replacing it currently generates a high cost that is often difficult to acquire. Therefore, there are ways to restore it, recovering the elegance and style that characterizes them. One of the viable and economical options is to refurbish it, a current technique for its refurbish. Thus, we will guide you on how to refurbish a kitchen sink.
The first thing to do is to identify your sink and what type of material it has to start with the regulation. There are several types of sinks with different materials and finishes. Thus, we will name the ones currently used:
Types of Sinks According to their Material of Manufacture
Stainless steel; they are currently used and, by default, the cheapest market. Also, they offer resistance to shocks and high temperatures. They do not have various colors. Scratches caused by daily use are visible and lose their shine easily. Learn to prevent water spots on stainless steel sink. 
Resin-based, they are weaker than stainless steel in all aspects. Also, they have a great variety of colors and designs, ideal for kitchen decoration. Check this guide to clean the stainless steel gas cooktop.
Quartz; they have a great variety of colors and designs as well as resin. They are resistant to shocks, high temperatures, and scratches.
Ceramic sink, one of the most demanded sinks nowadays, due to its rustic and modern style. They are extremely resistant to all the actions they suffer. You have to give very strong blows to split or crack them. Their biggest disadvantage is the price. They are usually the most expensive in the market. The porcelain kitchen sink combines perfectly. These porcelain sinks are equal in cost and use.
Marble or granite; has great resistance and is used when the kitchen material is the same.
Synthetics; are patented materials used for any countertop and give the desired shape, an alternative that generates very high costs.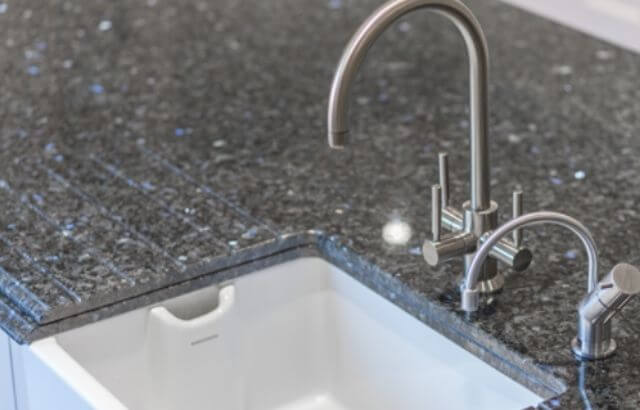 Supplies for Sink Glazing Work
It would help if you considered this before carrying out the sink regulation is protecting the other kitchen elements. Protect with plastic covers fixed with adhesive tape. They will act as a protective insulator of these parts that we should not stain with enamel.
To iron the adhesive tape with plastic is a practical and safe option. It is necessary to have soap for sinks and apply it for cleaning, making the same sink.
In turn, use a palm sander sanding the surface to eliminate all the aged enamel. In this way, to have at hand epoxy, enamel paint for kitchen sinks, and sealing acrylic paint. These materials work for bathtubs, bathroom sink, and vanity; they can be called a Tub & Sink Refinishing Kit.
How to Reglaze a Kitchen Sink
Performing the correct preparation work for reglazing a sink, relying on the kitchen sink reglazing kit, is the key to an effective job.
Strip the sink fixtures, faucets, connections, and hoses after providing the required protection to the other kitchen components.
Finish the sink by giving it a thorough washing and clearing out any food leftovers like chips, veggies, and coffee. Then, ideally, dry with paper towels.
Sand the whole area. Getting rid of sink stains and the imperfections in old enamel may be done using fine sandpaper or a palm sander. To ensure that the new enamel adheres well, the surface should be deeply sanded and left rustic. This sink reglazing procedure, also known as the cast iron sink procedure, requires repeated execution. The enamel will function properly if all contaminants are removed.
Before using the enamel, ensure to ventilate the kitchen by opening the doors and windows and letting the air outlets.
After this
Once the entire surface is completely clean, apply a coat of epoxy paint and let it dry for at least two hours. You can start making the application with a roller or brush, depending on the sink's range. If you feel unsatisfied with the texture, it is recommended to repaint. With this method, you can also be refinishing the fiberglass kitchen sink.
After allowing the paint to dry, proceed to apply several coats of acrylic sealer to achieve uniformity. You should apply the necessary amount to repeat the process. Allow to dry for at least one hour and verify its correct sealing. Don't forget to leave it overnight to guarantee a correct finish.
Remove all protective supplies and attach the accessories to the sink and start enjoying your new crystallized sink and using the cheapest Sink Glazing Job Supplies; yourself.
The sink regulation process works for any sink. You need to consider the color of the epoxy paint. This should match the type of material and accessories of the kitchen. Learn how to find matching kitchen cabinets.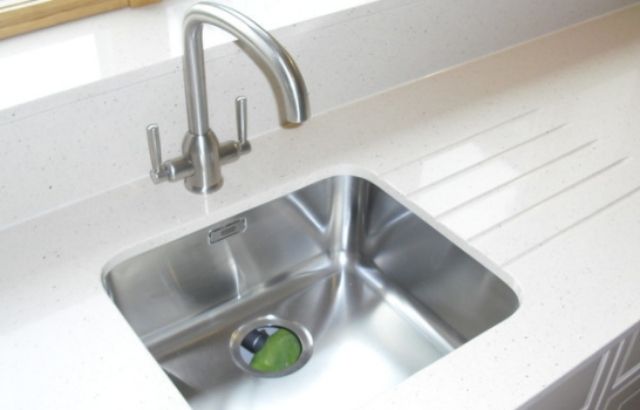 Some more useful tips
You must have the necessary supplies and tools, such as plastic protectors, adhesive tape, epoxy paint, and acrylic sealant.
Besides, it would help if you had fine sandpaper or palm sander, soap, and paper towels, with which you will give the required cleaning.
Then, use the mentioned enamel paints, repeating the finishes until you meet your expectations. It is important to keep in mind that the paint products can suffocate in closed places to ventilate the environment.
Opening doors and windows will prevent you from running these risks, making comfortable and safe work. In this way, you can restore a kitchen sink.
In conclusion, the cost of Reglaze for the kitchen sink is insignificant compared to the value of buying it new.
On the other hand, a well-restored sink using the recommended amount of supply and the methods mentioned above should be at least five years old.
This is cost-effective because of the money you get; a new sink should cost ten times what it costs to restore it.
Apart from this, it gives you the option to change its color every certain time you need it. And thus, renovate your kitchen at a low cost and in a short time. Giving room for your imagination by complying with the advice, do it yourself.
How to Reglaze a Kitchen Sink: FAQs
Is it possible to restore a kitchen sink?
Nowadays, replacing a kitchen sink is extremely expensive, and you run the risk of getting the same model that matches your kitchen. However, we have the option to restore a kitchen sink in simple steps, saving money and time. 
How much does it cost to reglaze a kitchen sink?
Nowadays, proper management is essential. It allows you to plan future events without affecting your pocket on how to decorate your home or places within it, such as the kitchen and its accessories.
The sink is an essential part of the place because of its daily domestic use. As time goes by, they lose their glazing and enamel, with scratches and bumps from daily use.
Replacing it is very expensive, due to its price and labor. What is economical and effective is a kitchen sink with reglazing, a very viable way.
Because this process costs 30 percent of what a new one is worth, plus it is a process that you can do yourself. The maximum time for this finish is two days.
How long does the sink last?
The big question when choosing between replacing a sink or regulating it is how long it will last. Due to its finishing characteristics and never being used, a new sink has a useful life of approximately ten years with regular use.
Reglaze your kitchen sinks now!
By reviewing all the information provided, with the methods and supplies to use. Taking into account the time and how to regulate a kitchen sink, using our hands. We concluded:
To regulate in sink regardless of its type of confection type, it is very accessible to each person's pocket.
Buying a new one for replacement is very expensive compared to the process of regulating.
You can acquire the supplies in any hardware store or specialized site. Only a few are needed to accomplish this feat.
Using the methods and techniques described, the process, no matter how slow, takes a maximum of two days.
These allow decorating to your imagination combining with the other accessories based on the colors. For its low cost of realization, you can combine the decoration periodically. You are giving an atmosphere of renewal.
The same processes work for sinks and bathtubs, having an expansion of resources to challenge your creativity. And thus have all your home places in perfect condition and decorated at very low cost.
Without further ado, we recommend taking into account all the aspects mentioned above. In this way, deciphering how to regulate a kitchen sink will become a child's work.
So, cheer up and ah discover how interesting and satisfying it is to do the decorations and maintenance to your accessories.