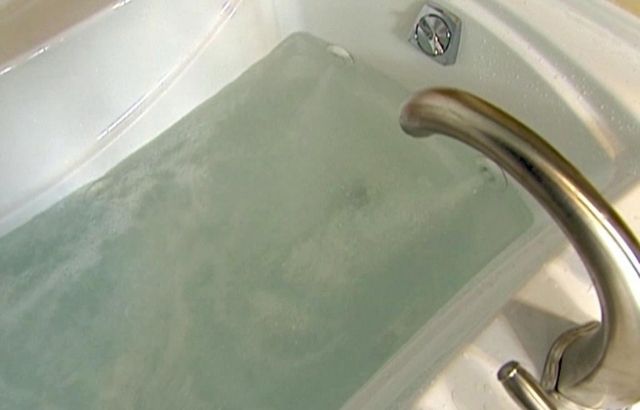 How to Replace a Roman Tub Faucet | A Step By Step Guide
Disclaimer
Articles, products, and services offered on this site are for informational purposes only. We are part of the Amazon Services LLC Associates Program, an affiliate advertising program. Amazon.com is compensated for sales resulting from links on our website.
Please review our disclaimer before acting based on anything you read or see.
Even if you are new to repairing and replacing faucets on your own, the steps for replacing the roman tub faucet can be tackled with some basic hand tools, including a hex wrench, screwdriver, channel locks, and putty knife. You may also need a plumber's putty. If possible, be sure to purchase only the "rim" of the faucet, not the "valve," because you will be using the existing valve. So, let's get to know how to replace a roman tub faucet.
How to Replace a Roman Tub Faucet
Faucets for Roman tubs tend to fail because of the high mineral content of well water. However, using a filter and frequent replacement of washers help ensure many years of service from these faucets.
Parts:
Shutoffs
Pop-up drain
Drain flange
Supply lines
Faucet body
Refill tube
Handle and spout
Trim pieces
O-rings
Screws
Tools:
Wrenches,
screwdrivers,
adjustable wrench,
basin wrench, pliers (channel lock),
hacksaw (for making cuts on supply lines),
level
Steps:
Turn off the water at the shutoff valves.
Drain the water from the tank by pulling up on the drain plug.
Disconnect supply lines by loosening compression nuts with a wrench.
Remove the washer and poppet valve with an adjustable wrench or channel lock pliers, being careful to prevent damaging surfaces with which they come into contact as you remove them.
Remove screw holding handle in place. Pull apart the handle and spout with an adjustable wrench.
Disconnect refill tube from overflow cover, then disconnect it from the faucet's body–sometimes difficult because of corrosion build-up.
Loosen bonnet nut underneath faucet with a basin wrench, then remove stem assembly through the top center hole in faucet body (use a towel wrapped around the stem to cushion).
Remove O-rings from the faucet body.
Insert new O-rings into the faucet body, then insert stem assembly through the top of the faucet and screw on the bonnet nut underneath to secure.
Reassemble the handle and spout on top of the faucet.
Loosely attach the washer/poppet valve with an adjustable wrench, then reattach supply lines (note: if you cut the feed line shorter than the fill tube, run a bead of silicone caulk around the feed line before attaching).
Reattach refill tube to overflow cover and attach it to the body of faucet with collar clamp.
Tighten compression nuts on supply lines with a basin wrench or adjustable wrench (a little at a time in a crisscross pattern).
Attach shutoff valves to supply lines and tighten with an adjustable wrench.
Attach drain flange to body of faucet using screws.
Position new pop-up drains assembly and attach to a lip on top of tub rim, then tighten screws.
Fill the tank with water, check for leaks by briefly turning valves on and off, then turn them off again, so you don't waste any more water than necessary.
How to Remove the Old Roman Tub Faucet
With the help of a hexagonal wrench, remove the screw located at the rear of its base.
The next step is to pull up the spout and unscrew the remaining element from the base.
You may need to use a spatula under the spout to loosen the putty first.
Faucet handles can be removed similarly with a screw on the handle's back or top under a decorative cap.
Use a flat-blade screwdriver to remove this cap.
Or, the base can be unscrewed when turned counterclockwise by hand or with channel locks.
Finally, scrape off any remaining putty on the tub surface.
Check the handles.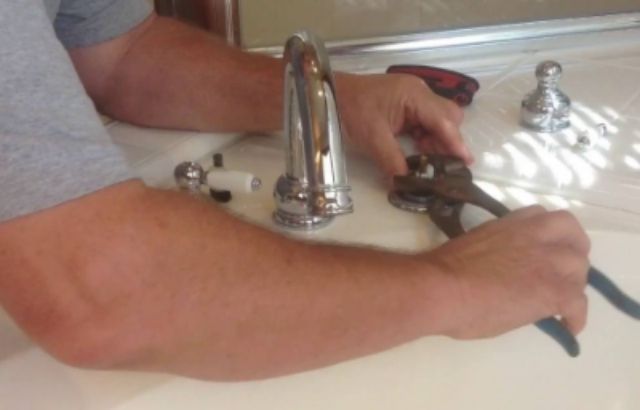 Roman Tub Faucet Replacement
Before replacement, you can service the pipe by using the tub spout trim.
The faucets usually come with a rubber ring to create a watertight seal at the base.
Place these seals on top of the exposed cartridges and spout so that they lie flat on the surface of the bathtub.
Consult the installation instructions to see if the manufacturer recommends using the plumber's putty in conjunction with the rubber seal.
Next, place the faucet handles over the top of the cartridges and secure them by turning the base clockwise or tightening the screw provided.
Place the spout over the center tube and push it firmly down.
Tighten the screw at the back with a hex wrench.
Finally, turn the water supply back on and look for any leaks that may indicate the faucet needs further adjustment.
When you verify that there are no water leaks, the project is complete.
It is best to replace the roman tub faucet in many cases, as the previous tub may have irreparable damage. The most important thing is to know how to perform a correct installation of the Roman tub faucet.
What is a Roman Tub Faucet?
The choices can be dizzying when it comes to selecting plumbing fixtures.
It would be best to consider the types of faucets, the different finishes, and how to install them. However, the Roman tub faucet is the most solid classic option.
In a Roman tub faucet, the handles and faucet are attached to the tub deck. These faucets cannot be mounted on the rim of a standard bathtub or an adjacent wall. Instead, it would be best to place them on a bathtub cover or the bathtub's wide rim.
People use Roman tub faucets for Jacuzzi or built-in tubs. These faucets require three or more holes for installation, especially if combined with a hand-held shower attachment. Roman faucets have a characteristic arched spout but can have a variety of handle configurations and aesthetic finishes.
Read More: How High To Install A Pot Filler Faucet
Why Choose a Roman Tub Faucet?
A Roman tub faucet could be the finishing touch your remodelled bathroom needs for an elegant and stately look.
Some studies indicate that bathroom renovation is the second most stressful project for a homeowner, behind only the kitchen.
Everything from the toilet and cabinetry to the lighting, tub, tile, and fixtures is being put together like a puzzle.
And the last part of the puzzle that could bring a touch of style to your project is the Roman tub faucet.
An elegant look
Roman tub faucets add luxury to the bathroom and tub area. They are styled after the grand old Roman baths.
The sleek lines and fixture design refer to a bygone era and have been updated to add a touch of elegance and luxury to your bathroom.
High quality and quality
The Roman tub faucet is an item that should not be mixed with a standard wall fixture.
Because of the faucet's unique location on the tub deck, they require a bit more work than a regular faucet.
To compensate for that, they are made with quality craftsmanship and quality. It is not uncommon for this type of faucet to last up to 29 years.
Ideal for freestanding bathtubs
Modern bathrooms are getting larger and larger. More and more homeowners are choosing freestanding bathtubs that are set back from the wall and shower stall. A Roman tub faucet is essential when it comes to creating a bathroom configuration like this one.
Investing in value
Homeowners generally don't think of fixtures as a means to increase resale value.
You need to have everything of the highest quality. At this point, even the range of handles can add value to your bathroom.
This type of faucet brings a sense of luxury and quality to the home. When shopping for bathroom accessories, consider a Roman tub faucet.
What are Cartridges, and when should I replace them?
These cartridge valves allow the management of the water flow and temperature level.
Several types of valves make faucets work, and cartridges are one of the most common. Built-in diverter valves can be a great help. A diverter in your bathtub can be a good choice. Cartridge valves provide more detailed regulation than other valves. If necessary, these valves can be replaced relatively easily. Trim can be a great help if you don't want to change it.
Cartridge Identification and Installation Help is needed in many cases, especially if you are not an expert on the subject.
But when is it time to change it?
If you are replacing the trim, as detailed above, there is no need to do a roman tub faucet cartridge replacement unless it is damaged.
However, if you are having difficulty regulating the temperature or water flow, this is when we know to replace your cartridge. For this, you will need a Moen Cartridge Removal Tool.
If you notice a white, cloudy material when you open the faucet, the culprit will deposit mineral substances. Soaking the cartridge in white vinegar will help it look new.
In any case, if cracks or other damage to the cartridge is evident.
Some cartridges are specific to each plumbing installation so that you will need to order them from a manufacturer or a speciality retailer.
Some of the most commonly used cartridges are cartridge 4000 – Unfinished replacement cartridge, Cartridge 1248 – Two-handle replacement cartridge, 1258 Two-Handle Duralast Cartridge. However, it is always necessary to have a Single-handle replacement cartridge on hand.
Keep in mind that cartridges are not usually the culprit for leaks. Leaks usually indicate a defective theoretical gasket or washers.
How to Replace a Roman Tub Faucet: FAQs
Are Roman tub faucets interchangeable?
The Roman tub faucet replacement is perhaps the easiest faucet replacement imaginable.
Why does the Roman bathroom faucet need to be replaced without an access panel?
The process is extremely easy. There is no complexity whatsoever. All you have to do is close the water valves on the main incoming water pipe.
Then remove the faucet handle cover and loosen the screw underneath with an Allen wrench.
Once this is done, remove the clip around the cartridge with a pair of needle-nose pliers. And finally, install a new cartridge into the faucet head. Remove the cartridge from the faucet until the faucet assembly is released.
What is the way to remove a Delta Roman bathtub fitting?
If you want to remove the delta roman tub faucet, you must start by turning off the home's central water valve to shut off water flow to the faucet.
After that, you will need to locate the small hex screws located at the base of both control handles on the faucet. Finally, you must use a wrench to turn the nuts just below the handles counterclockwise until they loosen the faucet assembly.
Conclusion
Creating a practical and attractive bathroom pleasing is every homeowner's dream. However, no one likes to have a loose roman tub faucet.
With a little knowledge and a good eye for design, anything is possible. Small changes, such as changing the fixtures, can make a big difference.
After you finish your work, all you have to do is take a break and enjoy your work in your beautifully renovated bathroom as you luxuriate in your Roman tub. Don't forget the bubble bath.