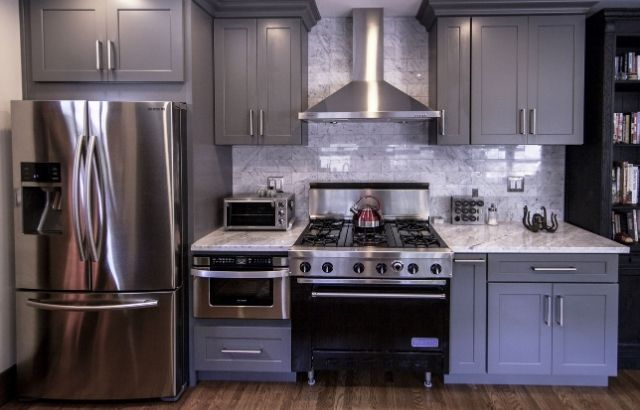 How to Restore Metal Kitchen Cabinets | A Definitive Guide By Expert
Disclaimer
Articles, products, and services offered on this site are for informational purposes only. We are part of the Amazon Services LLC Associates Program, an affiliate advertising program. Amazon.com is compensated for sales resulting from links on our website.
Please review our disclaimer before acting based on anything you read or see.
How to Restore Metal Kitchen Cabinets: The tools needed
Screwdriver
Metal paint 
Chemical products to remove rust
Mask
Gloves 
How to Restore Metal Kitchen Cabinets
Furniture Preparation
Rust treatment
Painting
Aluminum Materials
Steps;
Wash the furniture surface with a solution of dish detergent and water.
Soak a cloth in vinegar and pass it over the oxidation spots.
Scrub with a soft bristle brush, clean the vinegar and lift the oxidation with a damp cloth.
Please do not use abrasive materials such as sandpaper or steel wool to scrub the aluminum's surface, as this will scratch it.
Clean the sanded surface of the kitchen cabinet with mineral spirits ( white spirit ) and a clean cloth
Move the cabinet to a well-ventilated area out of direct sunlight.
Next, apply an epoxy primer with a spray to the cabinet's entire surface and let it dry according to the manufacturer's instructions.
Apply a coat of polyurethane exterior paint, preferably with a spray. It must always be borne in mind that both epoxy type of paint and polyurethane are highly volatile and that their fumes are toxic, so you must take the precautions as mentioned above.
An alternative to painting, especially indicated if the material is not in awful condition, is waxing. It is enough to apply car wax, and the cabinet regains the shine it had when it was new.
How to Restore Metal Kitchen Cabinets: FAQ
How do you refurbish metal kitchen cabinets?
Sand
Apply the sealer primer
Put an even coat of primer to all surfaces to ensure a well-adhered coat of paint. Sealer primers also reduce the need to sand and degrease old finishes before repainting.
The priming also has the benefit of serving as a solid foundation for water-based semi-gloss paint. Historically, high-gloss paint was the finish of choice for kitchen cupboards since it was easy to clean, stain- and moisture, but modern water-based acrylics are more user-friendly and offer a similarly lasting surface.
Paint
Start by painting the inside edges and door frame openings, then move on to the outer parts and finally paint the fronts. As a result, you will be able to work more swiftly in less important locations and detect and rapidly fix any droplets or spots in the more noticeable spots.
Next, paint the fronts of the doors and the drawers. If these parts have uneven surfaces, carefully cover the cracks and corners with paint, but do not allow it to accumulate at these points.
Always apply paint in thin layers, but covering all areas. Thin layers leave fewer visible brushstrokes and dry faster. 
Don't make a thick coat, and don't brush too hard – more brush strokes will create air bubbles in the paint, which will become blemishes on the metal when it dries.
Next, let the paint dry for at least four hours between coats. When everything is dry, move all surfaces slightly to prepare them for the second coat. Two coats of paint are usually needed, but you may want to add a third coat because kitchen cabinets are exposed to kitchen heat, and daily use and metal surfaces need all the protection they can get.
How do you clean old metal kitchen cabinets?
You can clean old metal kitchen cabinets by scrubbing them with a soft bristle brush, vinegar and a damp cloth.
How do you restore dull cabinets?
To restore dull cabinets, do make use of the following steps:
Clean the surfaces
Sand
Paint
Apply the sealer primer
 Conclusion
In conclusion, metal kitchen cabinets come with great merits for the kitchen, and if you desire to learn how to restore metal kitchen cabinets, the steps above would be indispensable. The steps on how to paint rusted metal cabinets have also been elaborated above.
Read More: How do I Get Rid of Ants on my Kitchen Counter