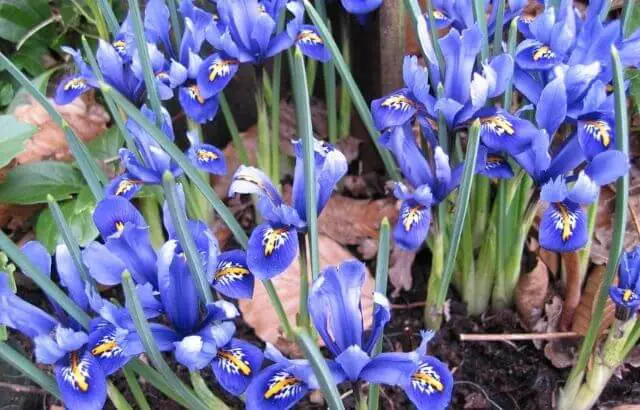 How to Store Iris Bulbs | 4 Simple Steps to Store Iris Bulbs With Images
Disclaimer
Articles, products, and services offered on this site are for informational purposes only. We recommend using caution and seeking professional advice. This site provides general information. We are part of the Amazon Services LLC Associates Program, an affiliate advertising program. Amazon.com is compensated for sales resulting from links on our website.
Please review our disclaimer before taking action based on anything you read or see.
Iris is a rainbow flower due to its quality of colorful plants, which available in numbers of colors such as Blue, violet, red, yellow, white, bronze, and pink. It's a spring flower which grows in late summer or bloom in spring. An iris flower grows in a dry climate from bulbs. As you know, iris grow from bulbs, but what if winter comes up you have to store iris bulbs then you know how to store iris bulbs? Here I will explain to you the full procedure for restoring iris bulbs.
Its stem also has different types, including solid, hollow, flattened, or in a circular cross-section. Its stem is a long and erect flowering that can be simple or branched. Why do you need to store iris bulbs? It may have many causes, i.e., climate, moving somewhere else, or for later planting. You can store these bulbs for 1 month if you do proper care. 
If you want to fence your garden with flowers, I recommend having iris flowers for deep purple and blue colored petals. These flowers will give a new life to your garden. For storing, you need some extra attention to avoid rot or dry out. Some iris bulbs are sensitive to frost and need to be store above freezing temperature to survive. Once the danger passed, you can plant these bulbs back in the garden.
You can follow the following traits:
In most regions, iris bulbs are planted in fall. 
Dutch iris bulbs are hardy in regions of 5-9. In winter, these bulbs can't survive.
It's divided into the following zones.
| | |
| --- | --- |
| Zone | Climate |
| 3-4 | Colder region |
| 5-9 | Warm climate |
Iris bulbs grow in well-drained soil. It's especially essential during the storing period.
It's leaves turn to yellow when flowering. So let it flower naturally to build a food reserve for future blooming.
How to Store Iris Bulbs
Tools:
Spade
For storing iris bulbs you will need a good quality spade. Check this from below box.
Sale
ESOW Garden Tool Set, 3 Piece Cast-Aluminum Heavy...
[3 PIECE GARDENING SET]: Traditional Set Built To Last. Ideal for a variety of tasks including pruning, digging, weeding, loosening soil, aerating, transplanting, etc.
[COMFORTABLE HANDLES]: Ergonomical and soft-grip handle, which made of High Quality TPR material that reduces the pressure on the wrist and hand. Reduce hand pain and fatigue while digging, weeding, planting and cutting. Also there are suitable for large or small sized hands. More labor saving and more comfortable in long-term grip and use. A hole at the top of each handle for clutter-free storage
[QUALITY HEADS]: Heavy duty Cast-aluminum high hardness, durable, not easy to rust and broken. Polished cast-aluminum blades and tips are shiny, rust-proof, extremely sturdy and easy to clean. Full-size adult gardening tools use advanced alloy materials to effectively withstand the harsh surface conditions.
Pruning shears
Pruning shears are important tool for performing this task. If you love gardening this tools will help you a lot.
Sale
Fiskars Gardening Tools: Bypass Pruning Shears,...
Quality Garden Tools: Designed to help you cultivate a better garden, Fiskars garden and yard tools are equipped with smart technologies and award-winning, ergonomic features that make it easier and more enjoyable to transform your outdoor space.
Maximum power and precision: All-steel blade stays sharp longer; Rust-resistant, low-friction coating helps glide through wood; Self-cleaning sap groove keeps blades from sticking; Non-slip grip handle and easy-open lock make control and storage easy
Long-lasting and reliable: All-steel design provides excellent durability for lasting value. Fiskars pruning shears and tools are built to last and backed by a full lifetime warranty.
Follow the below 4 steps;
Remove the bulbs
Curing the bulbs
Preserve the bulbs indoor
Replant the irises
Step 1: Remove the Bulbs
Dig up the bulb: Dig up the small hole, which is 2-3 inches deep, where the iris are growing. Do it by using a spade. Do it carefully without damaging them. 
Dig until you reach the bulb, then put the spade aside and start digging with your hand.
Now uncover the bulb, do it carefully.
Wear gloves to avoid any irritation. If you don't wear gloves, it can damage or cause scratches on your fingers and palm.
Examine this bulb; the bulb may have some roots growing inside the bulb. In this bulb, don't damage the roots and try to keep as possible roots intact. If you don't keep these roots intact, then it can affect its survival and preservation.
Brush off soil
The next step is to brush the excess soil from the bulb and roots. Do it carefully without damaging roots and bulbs. You can also do it with your hands.
After brushing, remove it, take any strong bag, and put all bulbs in the bag.
While picking up this bag, hold it nicely; you don't throw it or shake it; otherwise, all your effort will go down.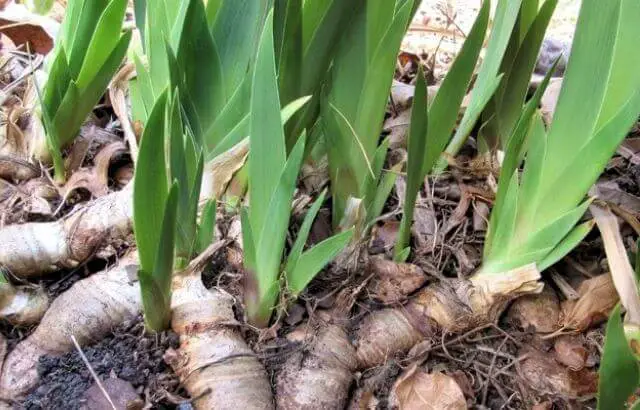 Inspect the Bulb
Now you have to inspect the bulb condition either it's all right or suffering from any disease. 
If you see a bulb rotten or have any disease, then discard it.
You can do it by looking down holes caused by pests or seeing any disease in it. The same discard it. 
If you keep such a plant, it can damage all your bulbs inside the bag and rot in the container.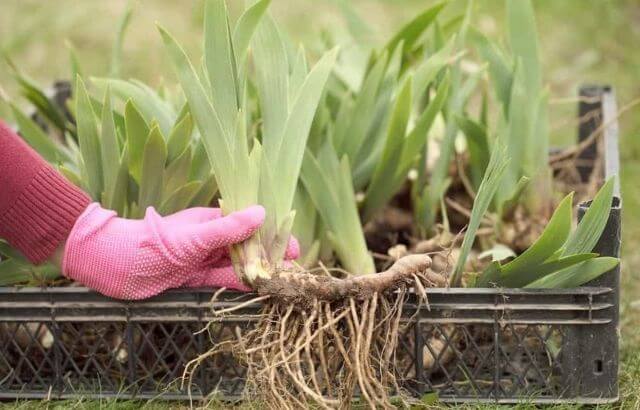 Trim the Leaves
If your bulb doesn't have any leaves, you can skip this step.
Trim the excess growth leaves with pruning shears.
It can prevent rotten leaves.
It will allow the bulbs to store energy while storing.
Dry the Bulbs
Artificial drying out can damage the bulbs.
So it is necessary to place blubs in sunlight for 1-2 days until it completely dry for curing.
If the weather is not sunny, then place the bulbs in the window for 3-4 days until they are completely dry.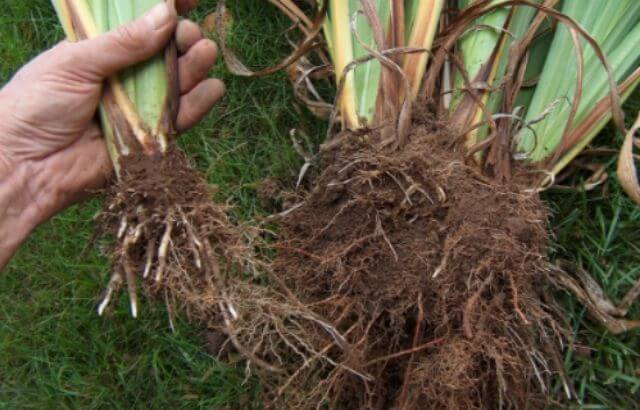 Step 2: Curring the Bulbs
Place the bulbs in a cool place:
After bulbs are completely dried, they will need to cure before storing.
Put in the ventilated room for two weeks at 21 ̊C temperature.
Excessive dryness in bulbs will cause the bulb to die when replanted.
Keeping the bulb away will prevent excessive dryness.
Choose a room without a window, such as a garage or a basement.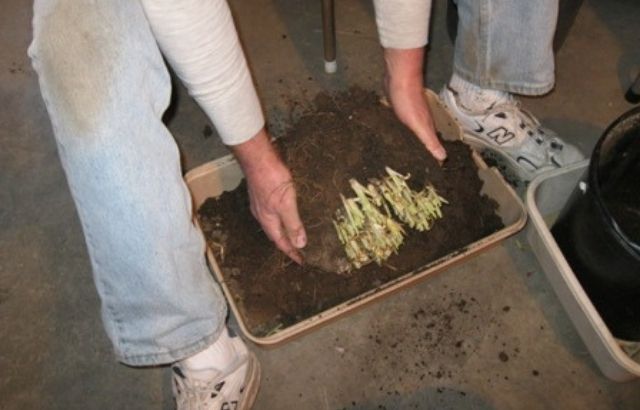 Store in a ventilated shallow container:
A good quality shallow container will hold all of your bulbs in a single layer.
Putting the bulb in a container doesn't need a lid to cover it because it needs excessive air.
Wipe out the container completely. 
You can use this container as long as it's dry.
Don't store bulbs in a layer as it can cause the lower layer bulbs to rot or dry out.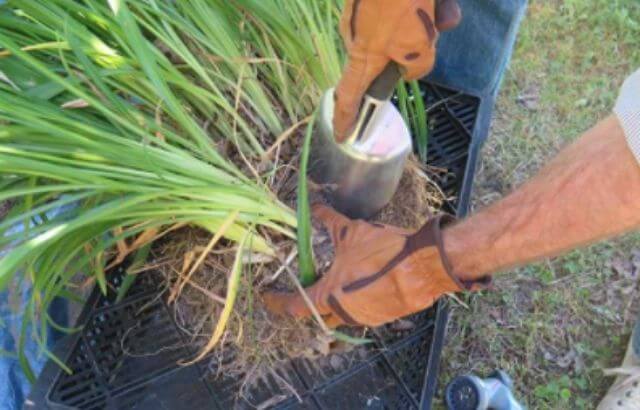 Make a mixture of sand, damp moss, and other components:
Fill up your container with a mixture of sand, damp peat moss, and wood shavings. This will act as a cover for your bulbs.
Then mix the medium layer using your hand.
Put all ingredients in equal parts.
Coat the Bulbs in an Anti- Fungal powder:
While using any chemical, you must use some precautions such as mixing the bulbs in a chemical in a ventilated room.
Once the curing is done, now coat the bulbs in an anti-fungal powder to prevent them from spoiled.
Check the bulbs every day:
After storing, check the bulbs every day to ensure it doesn't get any disease after taken out of the plant.
You must check to ensure it's not rotting or drying out.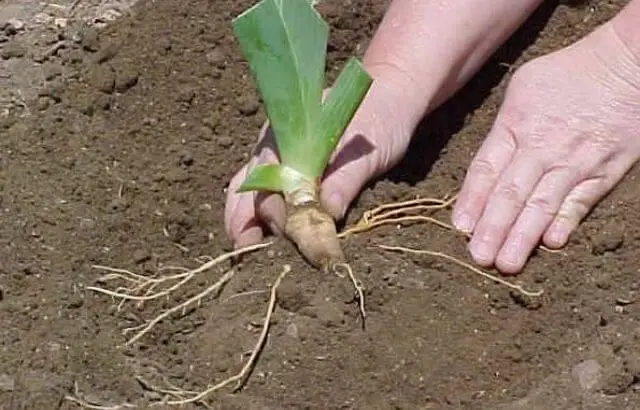 Step 3: Preserve the Bulbs Indoor
Wrap the bulbs in Newspaper:
If you don't have a storage mix, then wrap it in Newspaper.
Don't use 1 newspaper for multiple bulbs; wrap it separately.
The Newspaper will keep it dry and separate them into the container.
Place wrapped bulbs in a container in a cool location: 
You can use the same container for placing wrapped bulbs. 
Don't pack tightly. 
If you want to put these in layers, then put Newspaper between both layers.
There mustn't be any pests near the stored bulbs.
Place container in a cool and dry place.
Step 4: Replant the irises
After the bulbs are stored, you can replant them. 
If the bulbs start to destroy, replant them immediately.
It would help if you considered the place where you want to replant them back.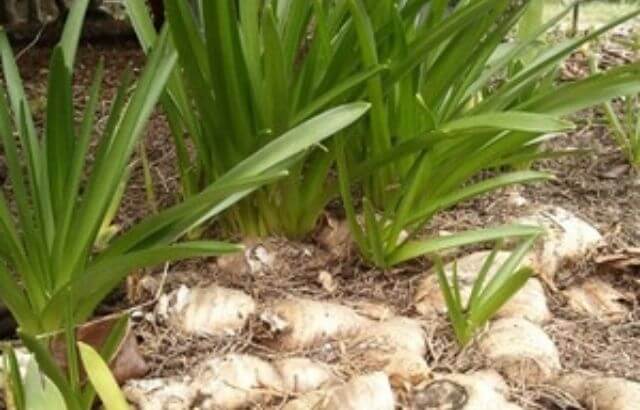 Frequently Asked Questions
How long can you store iris bulbs?
You can store iris bulbs for a month. But when you store, you must check every day because when a plant is taken off, it gets diseases. Also must inspect; after storing it's not rotting or drying out. If you see these symptoms, replant them immediately.
How do you store iris bulbs for the winter?
In areas with warm climate zoning from 5-9, you can leave the iris bulb in the ground the whole year. But for winter, it's better to store them.
Dig them in late summer and store them in a dry and cool place to keep them dry.
How do you store iris bulbs after they bloom?
When you store iris bulbs, then store it in a cool and dry place, with low light. You must choose a location where the temperature is 21 ̊C. 
Dig them in late summer.
Remove all dust from all bulbs.
Store them dry sand container.
Otherwise, store it in a net or cloth sack.
Should I soak iris bulbs before planting?
Yes, you can store iris bulbs before planting for 10-15 minutes only. Otherwise, water is only used to remove brown spots from bulbs.
When can I remove iris bulbs?
The best time to remove the iris bulbs in the late summer. At this time, you can remove bulbs with the help of a spade.  
Dig up the Bulb: 
Dig up the small hole, which is 2-3 inches deep, where the iris are growing. Try to dig it by using a spade. Do it carefully without damaging them. 
Dig until you reach the bulb, then put the spade aside and start digging with your hand.
Now uncover the bulb, do it carefully.
Trim the leaves:
If your bulb doesn't have any leaves, you can skip this step.
Trim the excess growth leaves with pruning shears.
It can prevent rotten leaves.
It will allow the bulbs to store energy while storing.
Last Words
To finish this topic, storing iris bulbs for later use is not difficult but demands proper attention and time to prevent damage and rot. I fully explain the method for how to store iris bulbs with a proper instruction guide. After storing, you must check it every day to ensure it's not drying. Replanting these iris flowers can give you a bloom of flowers. These flowers can make your garden attractive and adorable. 
Read More: How to Build a Raised Garden Bed Against a Fence