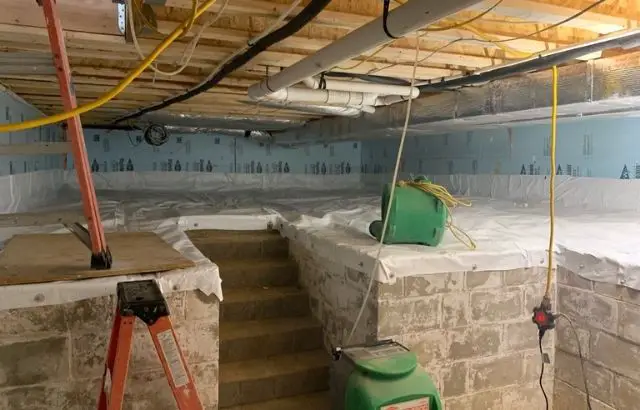 How to Dig Out a Basement in an Existing House | A Step By Step Guide
Disclaimer
Articles, products, and services offered on this site are for informational purposes only. We are part of the Amazon Services LLC Associates Program, an affiliate advertising program. Amazon.com is compensated for sales resulting from links on our website.
Please review our disclaimer before acting based on anything you read or see.
Many homeowners have found it more cost-effective to extend their properties with rising property prices than to move. So it is essential to know how to dig out a basement in an existing house. A large portion of living homeowners has discovered that moving nowadays involves significant expenses. Moving from a three-bedroom house to a four-bedroom place could add anything from $250k upwards to your current mortgage. In most cases, the new dwelling is an extended townhouse, and an additional bedroom above the garage space would be established. In this article, I will guide you on how to dig out a basement in an existing house.
The new bedroom is usually a tiny storage room. Apart from the additional mortgage below, there is an indication of other costs associated with the move: The figures above assume the sale of a house/property. Many companies operating in the United States, offer basement diggings service that is cost-effective than moving and creating a storage room.
For digging under the house and basement, conversions carry many regulations and permits. Each is unique and depends mainly on the condition and structural capacity of your existing property. You can dig out basement or convert most of them, and they can often provide you with the most attractive and largest living room in your home, which also increases the value of your property.
Legal Facts to Know about Digging out a Basement in an Existing House
It is imperative to understand that most companies are highly professional and ensure that a skilled and highly trained workforce does all work. Who will work quickly and efficiently with the minimum of hassle and inconvenience? Get a good quotation for your basement, where you can save both money and headaches down the road.
There is no doubt what you will need to get building code approval for your excavation also no question that you will need the services of an architect. For every designed load you intend to place on an existing floor, a calculation will need to demonstrate that the soil can support it.
You will also need to comply with fire regulations at every point in your excavated basement building or conversion. Some properties may not require planning permission, provided the basement extension is the first extension and does not exceed 50 cubic meters in a terraced property and 70 cubic meters in others.
This condition only applies when the properties do not lie in a conservation area and no new light wells were created in the front of the property.
All apartments generally require planning and homeowner's permission.
Once plans have been approved by you and signed, they will be sent to the Local Authority for determination under Section 63 of the Town and Country Planning General Development Act 1990, approximately 2-3 months for approval to be granted.
After receiving planning approval, building and fire safety plans are made and sent to the local authority's building control department for design evaluation. Systemic calculations are then used to support the proposed design and are then verified and approved by the systemic engineer's department. Support will be available in 4 to 6 weeks.
Once approved, the necessary Statutory Notice of Commencement is given to the Local Authority Building Control Department under Regulation 14 of the Building Regulations 1985 (as amended in 1994).
The contractor shall obtain the following permits from his local authority before work commences.
Dumpers and use and storage of systems on the highway (Local Authority Highways Section).
Waste disposal containers (New Roads and Street Works Act 1991).
If done correctly, excavating or converting a basement will significantly increase the value of your home.
A prospective buyer's surveyor will verify the permits for the conversion and your compliance with the relevant regulations. Don't take chances and try to do everything the right way.
Construction, as a rule, is carried out in 10 stages.
How to Dig Out a Basement in an Existing House
Week 1:
To dig out a basement from a crawl space, you must start by choosing a separate access area to the front of the property.
Create an initial exterior opening (when possible) to the basement area and provide
Weather-resistant and secure
Provision of external toilet facilities
Provide footings where necessary
Temporary supply of electricity and toilet to the basement.
Week 2-8
Remove dirt, create a trench around the property's perimeter, expose existing foundations and shore up where necessary.
Week 9-11
Once all shoring is complete, excavate most of the soil and dispose of it accordingly.
Week 12-13
Cut existing masonry and prepare to receive structural steel bearing spreader plates.
Install structural steel bearing spreader plates approximately 100 x 600 x 20 mm to support the steel beams.
Install high strength steel beams (RSJ) and universal beams (UB) coated with an intumescent coating to provide a minimum fire resistance of 30 minutes.
Week 14
Create a new reinforced concrete wall and a new basement floor slab with a moisture-proof membrane depending on the desired soil type.
Week 15-17
Supply and repair of a cavity drainage waterproofing system including base to slab drainage, sump, and pump for discharge (2 submersible pumps no. with backup alarm: basement masters to supply), in addition to a top layer of screed over the membrane.
Week 18-20
The building and formation of external light at the front and rear of the property are required.
The approximate size of 2M x 1M by 1.8M deep with drainage and new windows to match existing windows above and metal railings around the light well opening is final.
A cat ladder needs to be installed in any natural light well as a secondary means of escape.
Week 21-23
Now, a dry line around the perimeter of the external foundation walls. The cavity will be filled with padded insulation.
Interior partition walls with a dry lining system of metal studs or wood partition walls (whichever is most suitable) filled with cushioned insulation.
Ceilings: New suspended ceilings to be constructed below the existing floor joists, insulated with cushioned insulation, finished with gypsum plasterboard with plaster finish on the exposed side to create a half-hour fire-rated ceiling.
Everything will be arranged first for the electrical and plumbing to get finished.
12.5 mm gypsum board and skim.
Week 24-25
Install a new ladder to a level, softwood rope ladder with enclosed rungs to provide access to the converted area.
Complete all Second fixings: to include: -Electrical, plumbing, skirting boards, doors architraves.
Week 26
Coordinate final inspection with Building Control Department to have work approved. Clean up the site and hand over the outcome.
What is the Digging out a Basement Cost?
If you want a complete subway basement, the project will cost tens of thousands of dollars even under the best circumstances. However, you may not be able to recoup that cost when you sell your home because adding a basement doesn't necessarily add more livable square footage.
An exception might be a walkout basement, which is an option if your home is on a hillside or slope.
Full Basements
To note: Dates and length of work indications are approximate. Some jobs may take longer, and others may be quicker.
There are three types of basement conversions, and prices vary between the following.
Retro Fit: All homes/apartments without existing basements/basements can have new habitable rooms in the basement. Price approximately $4,000 plus VAT per square meter.
Basement Conversion: An existing basement needs to be expanded in both height and area to create new habitable rooms—price approximately $3,676.47 plus VAT per square meter.
Basement Renovation: Where an existing basement/cellar requires waterproofing and adaptation. Approximate price $1,942.29 plus VAT per square meter.
These prices may vary depending on whether or not digging out a basement by hand is required.
Options beyond a New Basement
Before embarking on a significant project and this certainly qualifies as one, it's essential to be clear on how you plan to use the new space. If you need additional storage, adding a storage unit in the backyard or expanding your attic may be practical and less expensive.
If you dream of more living space, consider expanding your home upward or adding on to the second floor.
How to Dig Out a Basement in an Existing House: FAQs
How much does it cost to dig a basement under an existing house?
You can add a basement to an existing house for $20,000 to $150,000. A typical scenario you will encounter is a house with a partial basement and a small crawl space. You can expect to spend around $50,000 for partial installations.
Read More: How Much Does It Cost To Build A Basement
Is it worth digging out a basement?
Digging out the basement to obtain higher ceilings is an expensive undertaking. You will need to make structural changes to your home to gain ceiling height.
Depending on the size of your basement, the cost of digging out and sustaining it could cost $50,000 to $90,000. But you'll gain an entire floor, so it's worth it.
Can you add a basement to a house that doesn't have one?
Having a basement is a fantastic way to add living space, storage, and value to your home. And just because your house doesn't have one now doesn't mean you can't have one at all. Learn can you build a basement under an existing house or not.
Bottom Line
Having a home with a basement can be of great benefit to the homeowner of a living room. It adds both economic and visual value to your home, making it more attractive to future buyers and allowing you to conceive a new space of tranquillity. Always remember before starting the project that you have the necessary systems and money. An unfinished basement can be a significant headache.