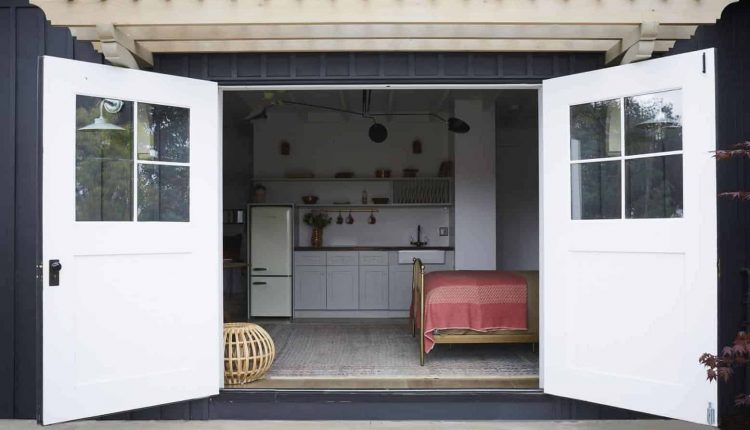 How to Build a Room in a Garage | A Step By Step Guide (6 Steps)
Disclaimer
Articles, products, and services offered on this site are for informational purposes only. We are part of the Amazon Services LLC Associates Program, an affiliate advertising program. Amazon.com is compensated for sales resulting from links on our website.
Please review our disclaimer before acting based on anything you read or see.
If you find that your home doesn't have the spaces you want, consider renovating your garage to add more living space. You already have your foundation, walls, and roof, so remodeling or adding a garage is as easy as doing renovation by yourself. You will learn how to build a room in a garage.  
How to Build a Room in a Garage
Here are the basics you need to know before you get started.
Step 1: Decide whether to add or renovate
The first step is to decide what kind of spaces you want to create. If you need more spaces, e.g., a cave, you may need to remodel and renovate the entire area. 
It would help if you also thought about where to park your cars. When planning your garage, think about what to do with all the different items you keep there. You may want to add a shed for permanent storage of these and other household items.
Step 2: Obtain a Building Permit
You may need a building permit if you plan to install windows, plumbing, electricity, heating, ventilation, air conditioning, or other major changes. It is important to make sure that everything matches the code and that no repairs are illegally made. This could result in a fine or headache if you decide to sell your home in the future. Visit your local building department and get these permits ahead of time to make sure everything is in order before you start converting your garage space.
Step 3: Wall Design
You have to start building new walls, which may not be necessary with a full renovation. If you are unfamiliar with drywall and electrical appliances, you can ask a contractor to help you with this. The contractor can also provide structural strength and wall insulation.
While you may not need additional room dividers for a major renovation, you will still want to add a perimeter wall. Most garages are basic, and you can cover the interior with an extra layer of drywall or drywall. Panel siding does not require as much work and may be the easiest option for you. The only downside is that you don't have that kind of insulation. 
Adding insulation increases costs, but it goes a long way in keeping your room quieter and more comfortable and your cooling/heating costs in your new garage space to a minimum.
Step 4: lay the floor.
Now you can go to the floor. Since you probably have a concrete floor, this is ideal for carpet tile or laminate floors. If you want to lay a regular carpet, you can as it is the simplest solution.
Step 5: Evaluate the Ceiling Options
Most garages have very simple ceilings with exposed elements. Consider adding a false ceiling to hide the fact that you once parked your car here. They are relatively easy to install and will blend your new garage space with the rest of your home. Other ceiling options are vaulted, girded, or sloped. The choice depends on aesthetics, simplicity, and cost.
Read More: How To Install Garage Door Springs And Cables
Step 6: Add Windows
Not many garages have windows. If they have windows, they are usually large and small.
You can add multiple windows to make the view have air. Since garage insulation is usually not the best, install energy-efficient windows. Double sash windows are usually easier to use and provide good protection against air escaping from your new garage space.
Now you have the spaces you need for your new office. Before starting work, check with your local hardware store or contractor to assess how complex your project will be. You must also confirm that all required measures are taken.
How to Make an Enclosed Space in a Garage?
Do you want to add extra amenities to your home? A workshop, storage room, or hobby room can be built into an enclosed space within a large garage. These enclosed garage areas add value to your home and help organize the disarray of a massive open garage. Building an enclosed space is simple and inexpensive.
Step 1
Measure the intended area for an enclosed space. It is advisable to avoid the hassle of reconfiguring the wiring by locating the room with electrical access and ceiling lighting already installed. Plan the room so that the two new walls are connected to the outer walls of the garage with a rack. Use the sensor on the post to locate the wall posts and mark them with a pencil.
Learn More: How To Run Overhead Electrical Wire To Garage
Step 2
Construct a frame for one of the two new walls of the closed space. Trim 2×4 posts to make a rectangular frame with vertical support posts 18 in. apart on all four sides. Use 3-inch nails (two per hairpin) to secure the frame. The frame should cover the full length of the room, from floor to ceiling.
Step 3
Build the frame for the second wall in a different way. But leave a hole in the frame to match the dimensions of the door and frame. There should be no bolts on the floor where the door is located unless there is a deliberate reason to lift the door.
Learn More: How To Frame A Garage Door Jamb
Step 4
Lift a wall and slide it in. Nail the frame to the wall with 3-inch studs. If possible, secure the top of the frame to the ceiling or rafters with 3-inch nails.
Step 5
Lift the second wall and put it back in place. Fasten it to the exterior wall with 3-inch nails, and then nail the frame to the open end of another new wall frame.
Step 6
Attach the panels to either side of the newly framed walls. The pieces should be close together without overlapping. Use 1-inch trim nails for this.
Step 7
We put the door in the frame. Knock the door frame into the hole in the wall. Ensure the door is level and can rotate freely on the hinges before attaching it to the wall studs.
Step 8
Install the doorknob hardware according to the manufacturer's instructions.
Frequently Asked Questions 
Do I need a permit to build a garage room?
Internal work that does not involve building extension usually does not require a building permit. Irrespective of the work needed, planning clearance may be required if you plan to convert the garage into a separate home (regardless of who will live there).
How much does it cost to build a room on the roof of a garage?
It typically costs between £18,000 and £30,000 to build a superstructure over a garage, depending on whether it is a single or double garage. You may need to build a new garage, perhaps because you need a stronger foundation to accommodate your expansion plans – if so, there are some additional costs.
What does it cost to construct a garage room?
The average cost of converting a garage is between $6,000 and $19,000, according to HomeAdvisor. The total cost will depend on the size of your garage, the type of spaces being built, and the amount of professional help you need with your contract.
Can I build an apartment above my garage?
By law, you cannot rent an apartment above the garage if it does not meet the building regulations and does not pass the inspection. Building regulations compliance is also very important if you plan to sell your home later.
Is adding or building cheaper?
Adding an expansion is usually less expensive than purchasing a new home with the same size as your existing home, including an extension. In any case, the final cost of selling your old home and buying a new home will make this option overkill.
Can I build a room in my garage?
As long as you follow building codes, remodeling your garage can create any living space. Depending on your home's zoning, building a self-contained living space, such as an apartment, may face more obstacles than converting a garage into a private room.
Learn More: Is It Safe To Live In A Garage
Can I build an office in my garage?
The simple answer is yes, it is possible to convert the garage into an office. With benefits such as utilizing the available spaces instead of spending money on building an extension, this makes a lot of sense.    
Conclusion
Building a garage may not be easier than most people think. 
In many cases, the renovation of a residential garage requires obtaining a building permit and adapting the garage space to current regulations. Think of installing sprinkler systems, extra ventilation, insulation, and even replacing the garage's parking space.