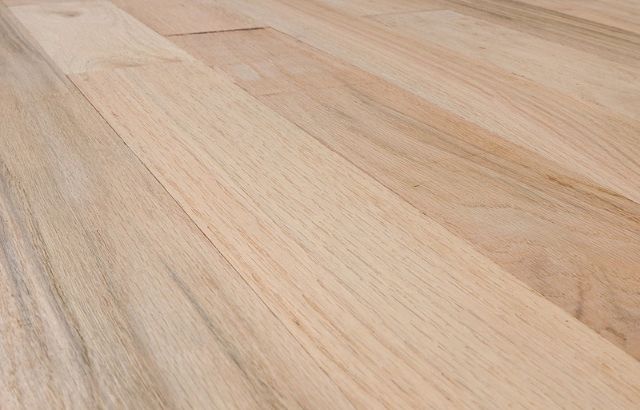 How to Clean Unfinished Hardwood Floors | An Expert Guide
Disclaimer
Articles, products, and services offered on this site are for informational purposes only. We are part of the Amazon Services LLC Associates Program, an affiliate advertising program. Amazon.com is compensated for sales resulting from links on our website.
Please review our disclaimer before acting based on anything you read or see.
Cleaning unfinished wood is difficult since there is no varnish protective coating to protect the wood from damage. However, because of this, this type of wood should be cleaned more frequently than finished wood. Here's how to clean unfinished hardwood floors.
With a gentle hand and with safety precautions in mind, you can clean your unfinished hardwood floors with brushes and vacuums or a variety of other dusting techniques.
Wood gives the home warmth and beauty that other elements cannot offer. However, being an organic substance requires continuous care to prevent it from deteriorating and maintaining the color that gives it personality and strength.
To keep wood always alive, some homemade tricks will help keep this material clean and shiny so that it remains in perfect condition and can continue to shine.
How to Clean Unfinished Hardwood Floors: Methods
We know that clean, unsealed wood floors are often a headache for many. Starting with cleaning your hardwood and ending with the floor setting, it can be a total mess.
Read More: How To Remove Orange From Wood Floors
However, you must follow these step-by-step techniques that could help you improve your hardwood floors' look.
Learn More: How Many Coats Of Water-Based Polyurethane On Hardwood Floors
Method 1: Cleaning Dust and Debris
Use a soft brush
To improve the appearance of your unfinished floor, you will only need a soft brush that is good for removing small pieces of debris trapped inside the grooves and ridges of unsealed wood floors.
Use the soft brush to gently clean out any dirt trapped in the crevices and then vacuum.
For best results, make gentle strokes with the brush's bristles over the wood's surface area.
A flexible brush will also prevent damage to the wood since a delicate brush is used.
Also, you can use a microfiber mop or broom.
Clean hardwood floors with a microfiber cloth
Using a microfiber cloth to gently wipe the surface of an unfinished piece of wood is a simple and easy technique for cleaning hardwood floors. Learn to match the hardwood floor.
This procedure is best for surface dirt that is not deeply ingrained.
Run the microfiber cloth along the wood to remove excess dust and dirt.
Make sure the microfiber cloth is pre-cleaned. It can be washed in the laundry room with soap and water or in the washing machine and put in the dryer before use.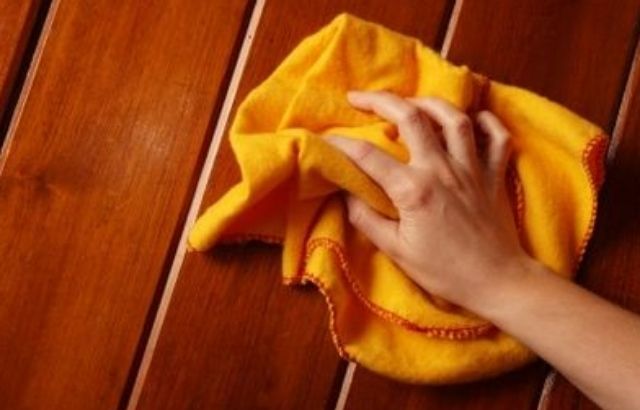 Perform routine cleaning
To prevent unfinished wood from needing more aggressive cleaning techniques, it is best to perform periodic maintenance cleaning.
After some time, if you do not treat the wood, you have to apply more treatments that can be hazardous to unsealed wood floors' cleanliness.
This means dusting or sweeping the unfinished wood flooring frequently and clean it with a microfiber cloth twice a month.
Read More: How To Remove Glued Down Wood Flooring
Method 2: Remove dirt and stains.
Vacuuming with a vacuum and stiff brush
A rustic brush on the unfinished wood surface can be very useful to remove residues from the wood.
Clean the unfinished wood and vacuum up any loose fragments.
Be careful not to rub the wood's stiff bristles too hard, which can spoil their wood.
This procedure is most effective on unfinished wood that is in good condition.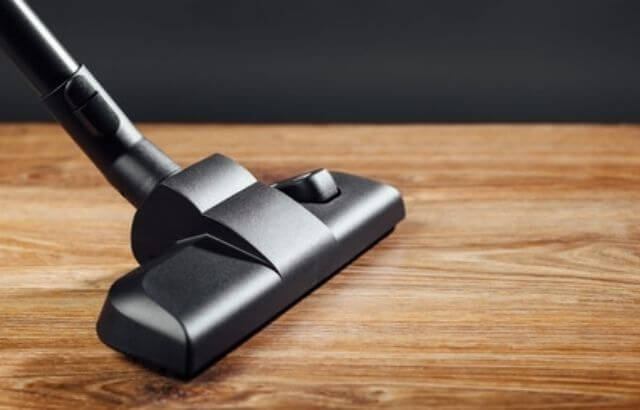 Read More: How To Clean Cherry Wood Floors
Use adhesive glue
This type of rubber material is sometimes used in the cleaning of unfinished wood.
It is very sticky and flexible, which means it can get into the smallest crevices on the wood's surface, attract dirt, and stick to the rubber.
Apply the glue to the surface and gently knead it to work with the grain of the wood.
As it darkens, you can tear off the top layer to reveal new layers to do more work.
As it darkens, the top layer can be torn off to reveal new layers to do more work.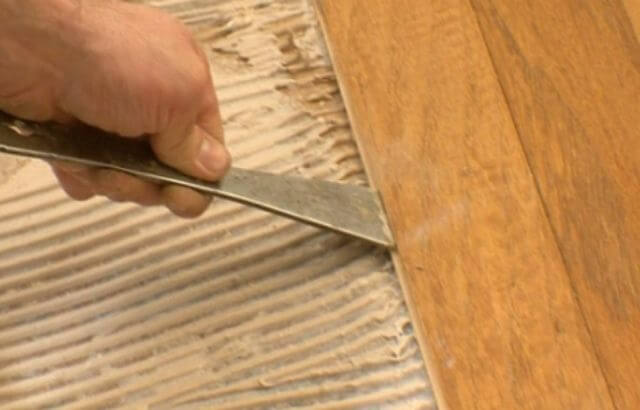 Employ wiping compounds
Stripping compounds are items used to remove dirt from bare wood surfaces.
Apply a small amount of the stripping compound to the unfinished wood's surface and use a few cotton balls to work the cleaning material into the wood grain.
Gently roll the cotton balls in a circular motion for best results. Once finished, vacuum the stripping compound residues from all the wood.
Avoid rubbing the wood too hard, as this could damage it.
Once the stripping compound turns gray, it is no longer effective and must be reapplied.
Apply mineral spirits
This is a type of solvent that painters often use to clean their used brushes.
Listen to a napkin with the mixture and rub the surface of the unfinished wood.
Be sure to wear gloves while handling mineral spirits and avoid directly inhaling the fumes.
Since this is a liquid type of treatment, be very careful and apply mineral spirits sparingly not to damage the wood.
Method 3: Damage prevention
Avoid wet cleaning methods.
Soak can be extremely damaging to unfinished wood. Being exposed to the detergent can cause unfinished wood to swell or warp in size and shape.
Your outcome will likely be different from what you expected.
Using a wet cleaning method may also make the wood more difficult to finish later if that is part of your final plan for the unfinished wood.
Test your cleaning method
To avoid potentially damaging the unfinished wood, you should try testing your proposed cleaning method beforehand. 
Choose a small, inconspicuous piece of board that will not be very noticeable if the wood is accidentally damaged.
Choose a piece that is in the wood's backside or is less visible for testing.
Selecting a few small parts to test in advance will ensure that the cleaning method chosen will result in an overall uniform surface for the finished product. Choose a small, inconspicuous piece of wood that will not be too noticeable if you accidentally damage the wood.
Be gentle
When cleaning unfinished wood, you must work slowly and use a gentle technique. 
The finish or varnish applied to many types of wood protects it from the elements and is damaged very easily.
Without it, unfinished wood is quite susceptible to scratches and other types of destruction.
Use caution when brushing the wood's surface or vacuuming the wood. This can cause lasting imperfections if it is too rough.
Can Wood be cleaned with Vinegar?
A bad option is usually to clean the wood with undiluted vinegar. In addition to leaving watermarks, the acid in vinegar may "eat away" certain types of finishes. However, a cup of vinegar diluted with water may be helpful.
However, to make unfinished wood floors shine, a homemade treatment of half olive oil and half white vinegar can polish stained and oiled wood finishes very well. It should be rubbed well once applied with a soft, clean cloth.
Learn More: How To Remove Glued Down Wood Flooring
How to Remove Water Stains on Wood
As with carpet stains, it is best to treat water spots on wood as soon as possible after they occur. Remove excess moisture and try one of the following home remedies, depending on what you have in the house:
Apply shaving cream. Leave on for 5 minutes and dry.
Apply real mayonnaise on a cloth. After 10 minutes of the stain, you can wipe it off.
Gently apply metal cleaner. Leave on for 5 minutes and wipe off excess.
How to Clean Unfinished Hardwood Floors: FAQs
Can you use Murphy's Oil Soap on unfinished wood?
Some chemicals can discolor or even warp the wood, so use only natural cleaning products. Murphy's Oil Soap is one option for mineral spirits.
Alternatively, you can use Murphy soap to clean your unfinished floors. This mild cleaner will remove dirt and grime without having to worry about toxic fumes.
How do you clean unfinished floorboards?
Mix 1 tablespoon of Murphy's Oil Soap in a half-gallon of warm water. The solution is applied to a small section of the floor with a standard mop. Do not over wet the mop. Dry the wet section with a clean towel before moving on to the next section.
Can I leave my wood floors unfinished?
Let it shine. Leaving floors bare and raw can feel wrong, but if they've been installed correctly and sanded so they don't chip on your feet, unfinished floors can be quite beautiful and just as durable as those with a finish.
Conclusion
Unfinished wood floors have never been treated with stains or sealers. New owners of older homes often tear up old carpets to discover an unfinished floor underneath with dents, dings, and hundreds of carpet staples.
Using a gallon of water or harsh cleaners on these floors will warp the wood or cause discoloration.
However, three highly effective products will help disinfect and clean your unfinished wood floor: mineral spirits, white vinegar, and Murphy's oil soap. These entire combined can be a great help to your floor. Clean unfinished wood floors before staining can be bad for your wood.
Keep your wooden floors in perfect condition and like new is possible. We tell you everything you need to know to clean wood furniture practically and effectively.
Wooden furniture is undoubtedly a classic accessory for the home. We often inherit our wooden furniture from our parents or grandparents, for whom, in addition to a decorative or organizational function, it can have a great emotional value.
Therefore, knowing how to clean a wooden cabinet properly will not only make your home look great but can also preserve your family's memories for many years to come.