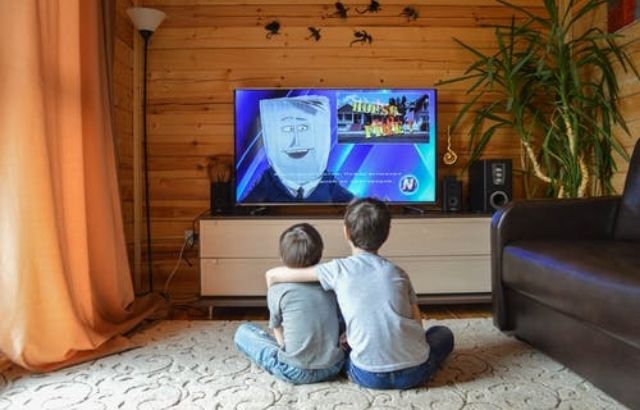 How to Hide TV Components | Easiest Methods Ever
Disclaimer
Articles, products, and services offered on this site are for informational purposes only. We are part of the Amazon Services LLC Associates Program, an affiliate advertising program. Amazon.com is compensated for sales resulting from links on our website.
Please review our disclaimer before acting based on anything you read or see.
Electronic TV elements are not the real beauty of your living space, no matter how high definition or how much you've bought for them. If feasible, do everything possible to get the smaller electronic gadgets accessible and hide them in some way so they don't become an evil eye in your living space. For that, we bring you different ways to learn how to hide TV components.
How to Hide TV Components
Entertainment Center
The simplest way to hide electronic gadgets from your TV is to place them inside an entertainment center behind doors.
Open the doors to watch TV and close the doors when you're done. Your satellite or cable receiver and TV will be hidden as long as you remember to close the doors.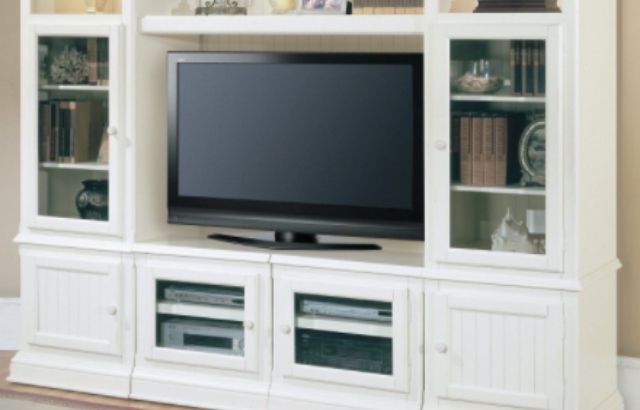 Secret Panel
If you have added space behind your TV or on a nearby wall, install a mystery panel to locate your TV elements.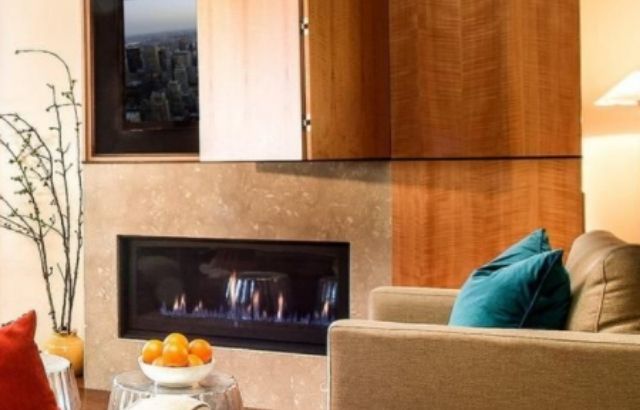 Glass or fabric front cabinets
You can place your TV elements inside a cabinet with a closed-door filled with glass or fabric.
Traditional infrared remotes must direct light from the remote to the satellite or cable box for the receiver to work.
Controlling the Hidden TV Set
Of course, when the whole thing is hidden, you're going to want to be able to control it. There are a few different control systems that are used with most AV remotes.
Infrared and Bluetooth: Unless you want to continue opening the door behind which your AV set is installed or have to leave the room to monitor your TV set.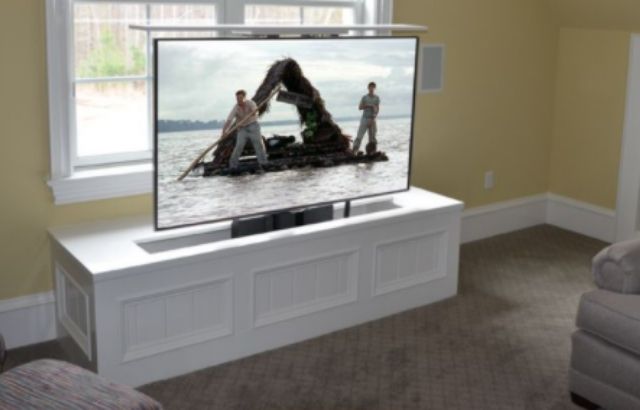 Infrared remote controls
If something gets in the way of your remote control and the TV, it's possible that the TV won't receive the command and won't respond.
So, when you choose your settings, you should keep this in mind.
There are some different resolutions, but the most common would be an IR emitter—the receiver system in which a subtle IR remote is placed in opposition to the TV. As a result, it can receive the commands from the AV set with a connecting cable, usually a coaxial or data cable that feeds an IR emitter in front of the AV set.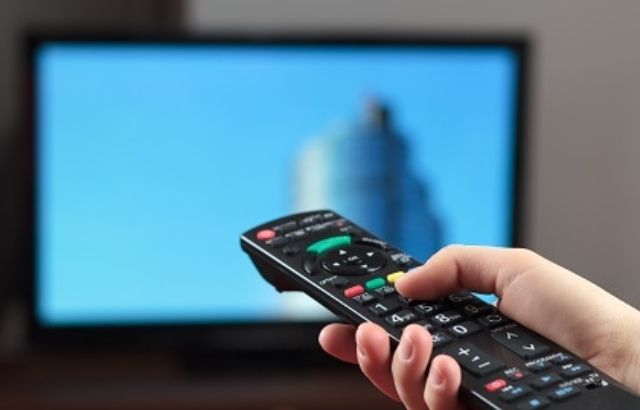 Radio Frequency Remote
Instead of using a Traditional infrared remote, you can use a Radio Frequency Remote to help hide the TV elements. Infrared remotes need the small to "see" the box. However, radiofrequency remotes do not.
Radiofrequency remote controllers work much like a parking door opener, making it easy to hide your TV elements in a fully enclosed cabinet, closet, or other room.
Several newer remotes already have built-in radio continuity capability; you only need to change your cable or satellite receiver's configuration. You can search online for your particular receiver model or your particular remote model to see if they have the ability to switch to radio continuity.
Bluetooth Remote Controls
Instead of using light frequencies to monitor the TV set, Bluetooth uses much lower radio frequencies in the spectrum.
The virtue of this is that the signal is not as affected by elements between your remote control and the set, so you should not point the remote control at the TV. As long as the remote control is close to the TV and the AV set, it will receive the commands you press on the remote control.
This means that it is often unnecessary to pay particular attention to the set's control because even inside a closed cabinet or sector, the remote control will continue to walk.
Bluetooth is becoming more familiar with Sky Q and game consoles like Xbox and PlayStation that choose a Bluetooth remote control.
The disadvantage of Bluetooth remotes is that, of course, if it is out of the controller's wireless range, it will not work and may require an added set to assist it in doing so.
Wireless Receiver
Several cable and satellite companies currently have wireless receivers.
Wireless receivers accept you to store your receiver anywhere out of sight.
After all that work to build a more beautiful home theatre system, you can't help but be distracted by these unbearable TV cables and wires you can't get rid of. HDMI cables, game consoles, Android boxes, Blu-ray player and other media players, cable boxes, and more.
Read More: How To Build A Home Security Camera System
On the appearance side, fortunately, there are some creative ways to hide TV cables near your entertainment center. Fortunately, there are numerous options available.  Most of the equipment you will need for your TV will be carried by an HDMI cable.
So, you more than likely need to route 2 or 3 of these. (smartaerials.co.uk)
Creative Ways to Hide the TV Cables in your House
Cable ties
While this doesn't hide your cables and cords, this is where the flanges offer value. By arranging your lines in just one strand, you look more coordinated, determined, and beautiful.
Assuming you have a TV wall mount where you are very limited in what you can do with your TV cables, using cable ties may be your best satisfaction.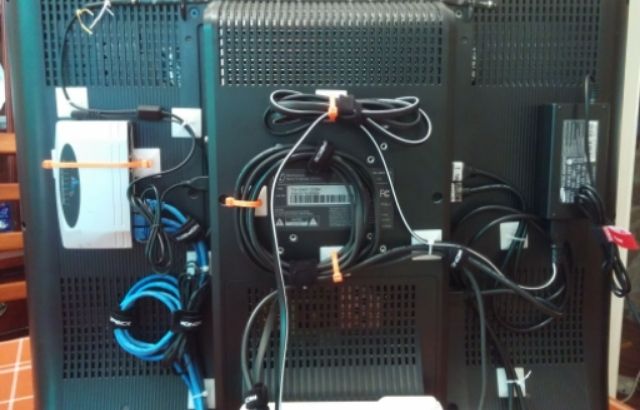 Use a TV stand
Some TV stands have an open back. Use it. Press your stand against the wall and make the TV cords out of view—a smart way to creative ways to hide TV cords. 
TV stands come in many different shapes and varieties, and each model is designed to fit different types of TV sets.
For your flat-screen TVs, you can select from numerous flat-screen TV stands, which have distinctive ways of hiding your TV cords. There are also TV mounts for LED, OLED, and other types of TVs.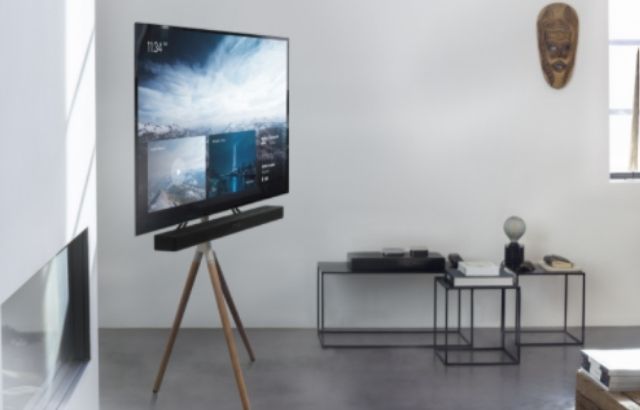 Piping
Another creative way to hide the cords from the TV is to use tubes. TV cords are going to look a lot more organized in a cable wrap or pipe. Consolidate all the cables into a hanging line made of foam.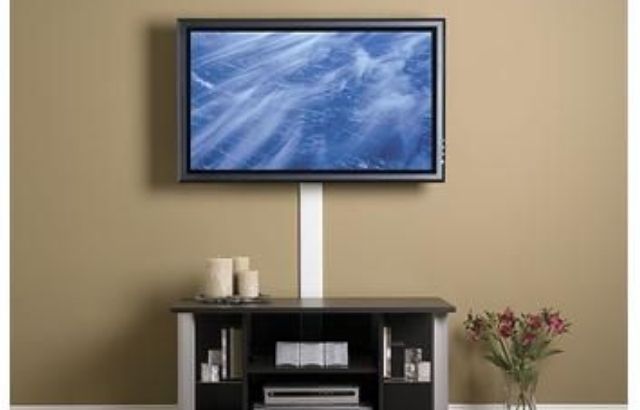 Tape it up
If you use a wall mount, you may have at least one or two cords hanging out. Tie them up, cover them with tape, and paint them for hiding components wall mounted TV. You hide them in plain sight with simplicity.
Another option is to purchase a cable corrector. These kits offer a plastic rail through which you can feed cables or cords or hide a cord.
Read More: How To Tighten Cable Railing
Usable in neutral colors, a cable corrector kit is an excellent way to add a unique dynamic to your home theatre system. Yes, you can hide home theater components.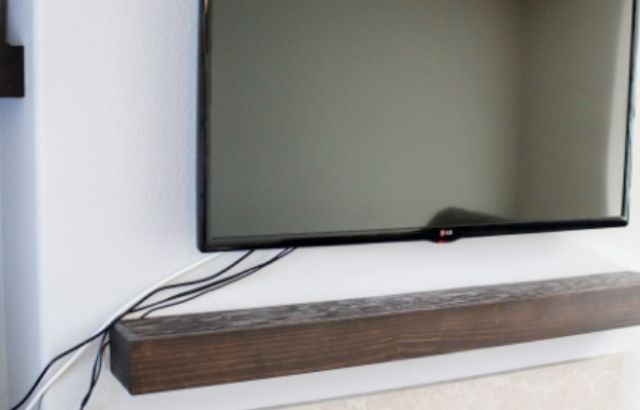 Draw It
A creative way to hide cords from the TV is to use a drawer or box. If your flat screen is on a TV mount, consider arranging a drawer or box as you would a shelf. Place your cords there. If your TV is on a shelf or television cabinet, use a drawer inside the rack or cabinet. With a power drill, there are several things you can do to change a piece of furniture to accept cords in and out.
Use your furniture
The preferable way to hide the television cords is not to use a wall-mount and a television stand. Furniture like shelves has a natural silhouette.
You can add anchor cords during the edges with command cord clips.
Press the clips into place over 30 seconds, and they should stick. Then hook the cords one by one. They will run neatly along the legs of your cabinet or stand.
Use artificial plants
Another occasion to disguise their abundance of wire and television cords comes with the use of fake vegetation. No watering or care is required.
As mentioned above, they give your television livelihood an exclusive look. Adding vitality, the vegetation also offers you a spectacular first flat behind which you can combine your cards with simplicity. This is another smart way to hide TV wires.
Your skirting board
Cables and cords are tripping hazards.
If they are close to the ground, cut them along the entire skirting board. Buy a cable channel to align it with your basement. A high-definition one is self-adhesive and strong on impact.
Use fabric
This is a little difficult because if done wrong, it can cause a considerable fire commitment. Choose a fabric that already matches the color of your walls.
A contrasting color can be very nice. Install the fabric from the ceiling to the floor in a large strip.
You may want to use a wood frame to locate the fabric and hold it in place. Cut a hole the size of a TV in the material and pass the cords over the length.
Hide the TV cables on the wall
Hide the TV cords on the wall using recessed cable plates. The way to do this is, first, to use a beam finder.
Locate two pole-free parts of the wall behind, preferably one behind where the TV will be mounted and the other with an outlet.
Make cuts with a razor. Place two cable plates. Insert the cords inside and outside the wall. That way, you have hidden everything.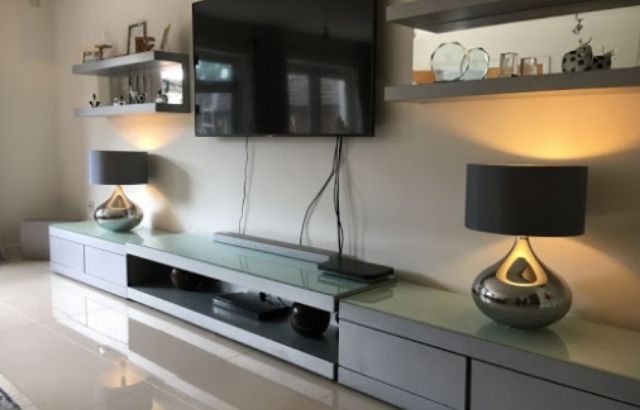 Hiding TV Cables in a Book
Hollow out a book. Put your cords, consoles, routers, or modems in there. Alternatively, a folder works fine anyway. This approach is about combining television cords with your environment. This unexpected way of disguising and hiding your cables is ideal for all those who enjoy a 'literary aesthetic.'
To keep things neater, try using a palette bit to drill a hole in the bottom of your credenza so that you can drag an extension cord into the cabinet and hide all the plugs inside.
How to Hide TV Components: FAQ
How do I hide television accessories?
Hook up the laces to the back of your furniture.
Run the cords through a television stand.
Hide the TV cables in plain sight.
Place the TV cords behind the wall.
Tuck the cord chaos into the tube.
Slide them into a drawer.
Place them using the skirting board complements.
Store cables and routers in a "book."
How can I hide my media equipment?
Hiding your AV set from view is one of the top ways to do this. You can arrange your AV set like your Sky box, game console, or DVD/Bluray player in a cabinet or under the stairs to hide the TV cables and not have to look at it or the wires connected to it.
How to Hide Your Cable Box?
Paste the emitter inside the cabinet online with its elements. Then put the receiver on the outside. It's as easy as that. If you don't like the receiver's look, you can connect a very subtle infrared receiver to the primary receiver and stick it close to your TV.
Conclusion
On many occasions, the use of remote control becomes unfeasible for one reason or another. Watching your TV's wires can be unbearable for many. The preferable way to avoid this may be to use the creativity and imagination that each of us has. Spread your ideas, and get started!
Read More: How to Mount TV on Stone Fireplace