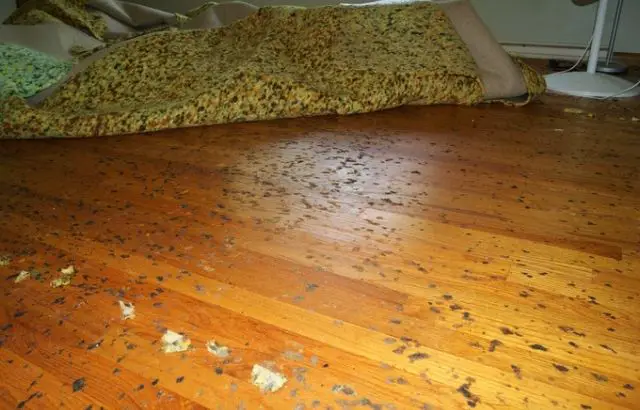 How to Clean Hardwood Floors After Removing Carpet | Expert Tips
Disclaimer
Articles, products, and services offered on this site are for informational purposes only. We recommend using caution and seeking professional advice. This site provides general information. We are part of the Amazon Services LLC Associates Program, an affiliate advertising program. Amazon.com is compensated for sales resulting from links on our website.
Please review our disclaimer before taking action based on anything you read or see.
This article is meant to educate us on how to clean hardwood floors after removing carpet and other sub-topics discussed in the paper.
Wood is a widely used material for house floors both for its quality and its beauty. However, it must also be emphasized that it is a very delicate material that requires some special care. That is why we need to learn how to clean hardwood floors and make them look spotless again.
How to Clean Hardwood Floors After Removing Carpet
Never drag chairs or any other furniture on the wooden floor. That way, you will protect it. Do not use shoes, high heels, or any other material that may scratch the hardwood's surface.
When cleaning the dust, instead of using a broom, it is advisable to vacuum with a brush. In this way, you will not risk removing the varnish that is applied on the wooden floor.
Always keep the floor free of moisture, as it can cause damage, such as lifting the slats. For this reason, when cleaning hardwood wooden floors after removing carpet, avoid using abundant water and dry everything as best you can.
If a liquid spill or water seeps into the windows when it rains, you must act immediately. Dry everything with a soft cloth so that the water does not penetrate inside the slats and damage your wood.
If the floor has been on display for a long time, spread newspapers over the entire affected area to absorb moisture. Now pay attention to more tips on clean hardwood floors and not settle for this alone.
It is advisable to always have a unique wood floor cleaning towel on hand. These will prevent the hardwood floor from varnish from scratching during maintenance.
If you want to keep your floors clean and shiny, it is best to use a specific commercial cleaning product. This must be designed exclusively for wooden floors so that in this way, it becomes more durable.
These will also ensure that you protect the floor from substances that can damage it, and you will not take unnecessary risks. And you must read the instructions for the product on how to clean hardwood floors with it.
On the Amazon website, you can find various hardwood floor cleaning products. 
You should also avoid exposing the hardwood floor to direct sunlight. If the room is not being used, it is advisable always to keep the curtains closed. These will contribute to the hardwood floors losing their color and shine prematurely.
Also, note that it may undergo a natural color change process when the flooring is newly laid. So don't panic if your new hardwood floor is changing color, as this is normal.
How to Clean Hardwood Floors After Removing Carpet: Tools and Materials Required
To renovate your hardwood floor after removing the carpet, you will need the following tools and materials. We have recommended them from Amazon.
Mop
Sale
Turbo Microfiber Mop Floor Cleaning System -...
EFFECTIVE - Designed to pick up dirt, dust, pet hair, and other debris, these mops for floor cleaning know how to make a clean sweep around the home, apartment, dorm, or office.
SWIVEL ACTION - Take this hardwood mop for a spin! It features a 360-degree rotating head to effortlessly wipe up messes in every direction, especially under furniture and hard to reach areas.
ADJUSTABLE - Our floor duster has a sturdy, aluminum, telescoping handle that extends up to 60" for easy cleaning on windows, walls, under the couch, and every other nook and cranny.
Electric sandblaster
Sale
LE LEMATEC Sandblaster Gun Kit, Includes NPT...
Turn your trash into treasure with the Sandblaster Gun Kit. This amazing tool supports unlimited media types making it a versatile tool for any home or shop.
Save Time With The Sandblaster. Stop struggling with old, outdated tools. The Paint Stripper is here to help you take care of business quickly and easily. Whether you're removing rust, cleaning pool tiles, or etching glass, this powerful tool will make the job a breeze.
LE LEMATEC Portable Sandblaster is constructed from the highest quality standards and materials by an American owned and operated business. Feel good for supporting your country.
Respiratory mask
Sale
3M Half Facepiece Reusable Respirator 6300, Gases,...
COMFORTABLE: Soft, lightweight half mask respirator with easy-to-adjust head straps for a customized fit.
DURABLE and REUSABLE: Respirator can be disassembled, cleaned, and reused. Supplied with reclosable storage bag.
HELPS REDUCE EXPOSURE to particulates and a wide variety of gases and vapors when used with approved cartridges and filters.
Vacuum
Kenmore Intuition Bagged Upright Vacuum Lift-Up...
Lift-Up enables versatile handheld freedom to clean above floors and stairs. Simply press a button to lift away from the floor nozzle to clean all of your hard to reach areas.
No Touch Bag Technology eliminates the annoyingly stains process of emptying and cleaning a full cup with a single button press to get rid of your stains. No need to touch dirty cups or bags again, hands free operation and self-sealing bags keep your home environment clean – no touch and no messy cleanup!
PowerFlow bag chamber is designed to enable strong suction even as the bag fills. This means that you can still expect excellent cleaning up until your bag needs emptying.
Dyeing
Sale
Oreck Commercial Orbiter Hard Floor Cleaner...
MULTI-PURPOSE CLEANING: Commercial grade cleaner and effective on all types of flooring surfaces. Sand, refinish, strip, scrub, wax, and polish, as well as deep clean your carpets.
EASY TO MANEUVER: Brush head rotates in a random orbital pattern to glide over the floor and prevent brush marks, swirls, sanding marks and gouges.
DEEP CLEAN CARPETS: Dry cleans carpets so it won't leave a soapy or sticky residue that can attract dirt and cause rapid re-soiling. It's also safe for use in homes with children and pets
Automatic Carpet Cleaner
Sale
Hoover Smartwash Automatic Carpet Cleaner,...
AUTOMATIC CLEANING TECHNOLOGY: Push forward to clean and pull back to dry
AUTO-CLEAN MOTION SENSING DESIGN: Eliminating the guesswork means no triggers or buttons
AUTO-MIX: Precisely mixes and dispenses solution for the cleanest results
How to Remove Stains on Hardwood Floors
Hardwood floors add class and elegance to any home, and if properly maintained, they can last for many years. An unavoidable part of maintenance is stain removal. When treated early enough, most stains can be removed. The trick knows which removal method to use for what type of stain. Anyway, your first step is the same: sweep the floor.
Sweep
Clean all dust and debris from your floor with a broom. These allow you to attack the stain rather than the dirt on top. It also allows you to examine the nature of the stain better and determine how to remove it.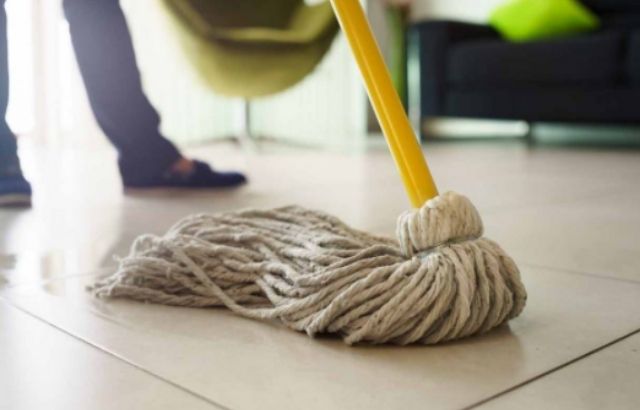 Clean with detergent
Mix mild detergent and warm water in a bucket. Dip a cloth in the solution and wring it out to remove any excess liquid. Now, rub the stained area. Some light stains should come off quickly when cleaned this way.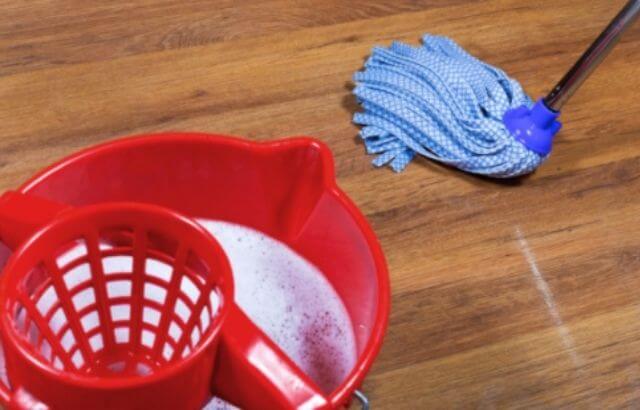 Apply denatured alcohol.
If the stain remains but appears to be light, treat it with denatured alcohol. Put some on a cloth and rub the stain until it disappears. Dip another cloth in some warm water, pat dry, and rub the area again to remove the alcohol once the stain is gone.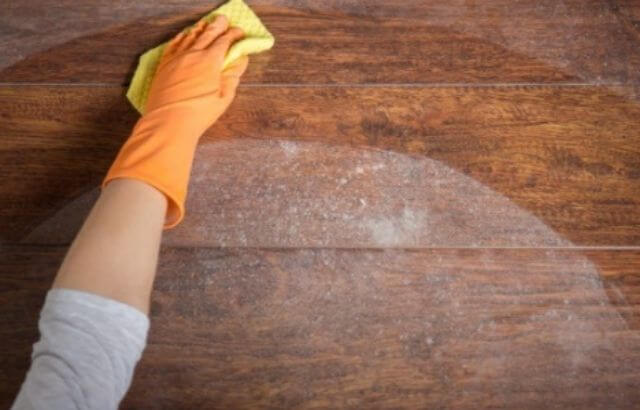 Remove alcoholic beverages, fruit juices, food, or ink stains.
Stains caused by alcoholic beverages, fruit juices, non-greasy foods, or ink require a stronger detergent. Mix one cup of commercial hardwood floor cleaner with one gallon of warm water in a bucket. Dip a microfiber mop in the bucket and squeeze out the excess. Next, mop the stained area to clean the stain. If the stain persists, continue to the next step.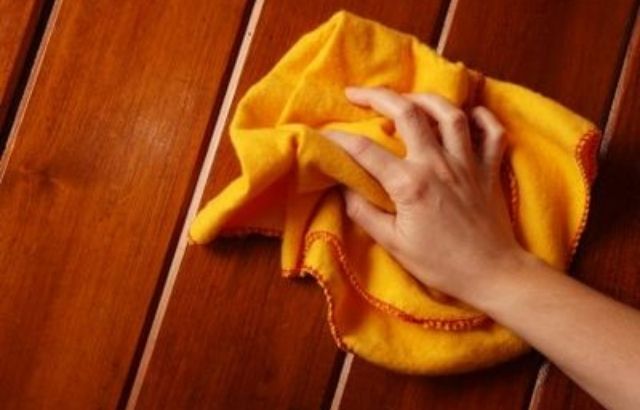 Apply white vinegar.
Mix a cup of white vinegar and cold water in a bowl. Dampen a cloth with the solution and rub the stained area. Once the stain clears, use a damp cloth to remove the vinegar.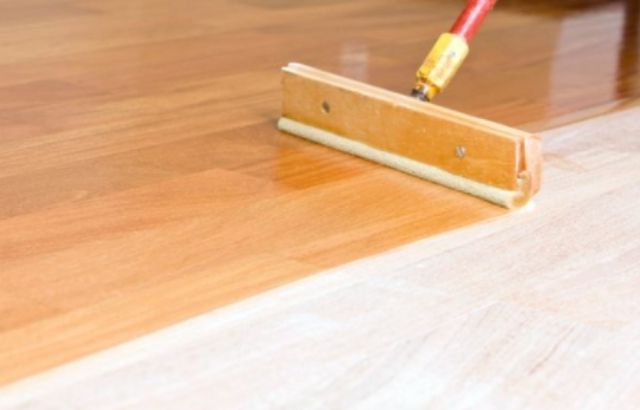 Treat grease, iodine, or bloodstains
For grease, iodine, or bloodstains, adds a cup of ammonia and a cold water cup. Dampen a cloth with the solution and rub it over the stain. If it doesn't come off quickly, saturate the cloth and try again. Spread the fabric over the color until it disappears. Dampen another cloth with running water and wipe it over the treated area until all ammonia traces have been removed.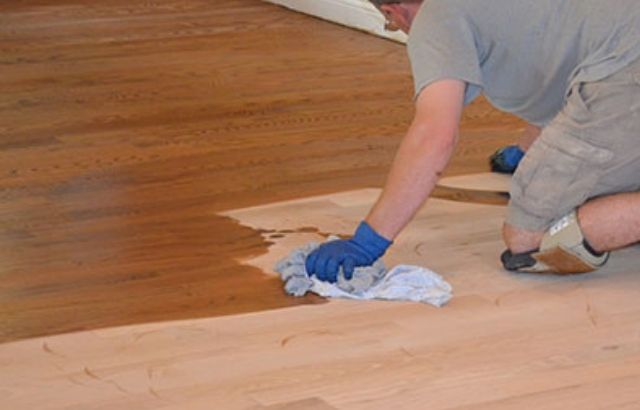 Urine Stains on Pets
For fresh urine stains, dampen a cloth with hot water and wipe the stain with a little powdered detergent. Use another cloth dampened with hot water to wipe off the dust.
Stubborn urine stains require a solution of liquid bleach and hot water. Mix a cup of bleach with 10 cups of hot water. Dampen a cloth with the solution and apply it to the stain. Once the stain clears, use another damp cloth to wipe off the bleach.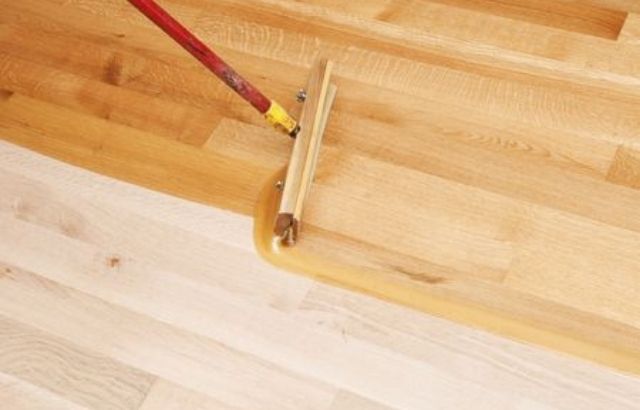 How to Remove Dark Stains From Hardwood Floors
The finish of hardwood floors is tough but sometimes wears down, and if the water is left on an old finish, it penetrates the wood and produces an unsightly stain. You can usually remove dark stains from hardwood floors without removing the finish; But once the wood is discolored, there is no alternative but to remove the finish to make the stain disappear. If you work carefully, you will only have to remove the finish covering the stain, and after treating the wood to remove the stain, you can repair it.
Instructions
Sand the finish that covers the stain with an orbital sander with 100-grit sandpaper. Use the sander to sweep the edges of the spot inward to make the task of refinishing easier.
Make a 50-50 mixture of household bleach and water and dampen a cloth with this solution. Spread it on the stain and leave it for 30 minutes. Remove the fabric and let the wood dry. If the stain is still visible, repeat the procedure with oxalic acid, which is more vital than bleach. Mix oxalic acid with water according to the directions on the container. Both bleach and oxalic acid lighten the wood a bit, so you'll need to stain it again to match the rest of the floor.
Sand the natural wood by hand with 120-grit sandpaper to remove bleach crystals and flatten the texture lifted by the effect of the bleach solution—sand following the grain of the wood.
Touch up the natural wood with a stain that matches the rest of the floor. Rub it in with a cloth, let it absorb for a few minutes, then remove the excess with another cloth. Let it dry for two to three hours.
Spread the clear floor finish over the repair with a paint pad, following the wood's grain. Let the finish dry. If it's water-based, it will dry in two to three hours. If it's oil-based, it will take eight hours or more.
Sand the finish lightly by hand, then spread another coat. Let it dry, then applied another coat if necessary.
How to Clean Old Hardwood Floors
Old wood floors are usually beautiful and robust. With a little care, you can restore them and bring them back to their former glory. Scrape it off to remove materials like dried paint, wax build-up, and carpet pieces that might have covered it. You can remove stains with special cleaners for these floors or mineral spirits. Use hydrogen peroxide to remove strong odours from pets. If necessary, buff and refinish the old floor, but try not to sand it down unless necessary. After you've brought an old floor back to life, you'll need to frequently sweep, vacuum, and mop it to keep it looking its best.

Step-1:
Sweep every day. Daily maintenance will help keep your old hardwood floors looking their best. Sweep or mop every day to remove dirt, dust, pet hair, and other debris. 
A microfiber towel will also be great for removing dust.
Step-2:
Vacuum once a week using the open floor setting. Vacuuming your hardwood floors will remove dust and dirt between each tile. This setting will help prevent the vacuum from scratching it. A hose attachment with a soft-bristle brush will also be an effective way to avoid streaks.

Step-3:
Mop once a month using a terry cloth mop and wood floor cleaner. It would help if you only use cleaners that are labeled for these floors. Don't use vinegar, ammonia, or harsh chemicals. Spray a liberal amount of the cleaner directly onto the floor, then wipe with a terry cloth mop. 
You will have to use mineral spirits if it has a loose finish. In this case, you shouldn't use water-based wood floor cleaners.
Don't use wet mops, and always use as little moisture as possible when cleaning hardwood floors.

Step-4:
Clean up spills as soon as you can. Coffee, ink, paint, and dirt from pets are some things that can cause long-lasting stains. You will need to clean up these and other spills immediately to prevent stains from settling. Use a slightly damp cloth and don't over-soak the floor.
Last Words
We believe you have learned a lot regarding this article on how to clean hardwood floors after removing carpet, cleaning old damaged wood floors, removing stains on hardwood floors, and other subtopics discussed in the content of the article.
Read More: How Often Should You Replace Carpet