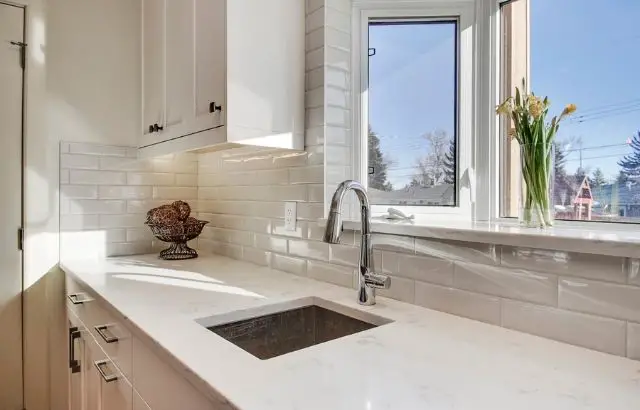 Kitchen Countertop Dimension | Making The Right Choice Of Kitchen Countertop
Disclaimer
Articles, products, and services offered on this site are for informational purposes only. We are part of the Amazon Services LLC Associates Program, an affiliate advertising program. Amazon.com is compensated for sales resulting from links on our website.
Please review our disclaimer before acting based on anything you read or see.
When it comes to kitchen remodelling, almost any size, shape, or colour countertop is available if you are willing to pay for customization. It's important to know which kitchen countertop dimension is ideal. Fortunately, standard sizes are available out-of-the-box, saving tons of money compared to a custom countertop of a similar system. Normally the standard width for kitchen countertops is 25 inches. Depending on your specific space, this number can fall within the range of 24 ½ to 25 ½ inches.
| | |
| --- | --- |
| Kitchen Island Countertops | 27 inches wide |
| Kitchen Base Cabinets | 24 inches wide |
| Kitchen Countertops | 25 inches wide |
Although various lengths are available, the width of a kitchen countertop is pretty standard, with less than an inch of variation from one countertop model to another.
Why is Width Important?
Just as knowing the standard kitchen counter height and depth is essential, so is the width. The kitchen counter width refers to the distance between the front and back of the countertop. The interior design community and industry have determined many standards over time.
Read More: How Do I Get Rid Of Ants On My Kitchen Counter
Because countertop width is one of the critical elements in designing a kitchen or bath space, it took a lot of research to determine the best measurements. For designing a kitchen you must hire a kitchen designer or you must learn yourself becoming a kitchen designer. As a result, your kitchen will look stunning. Having a wide countertop can allow you to place all the appliances you want while maintaining the aesthetics and elegance of your kitchen. However, please discuss the different sizing options available to you.
Standard Kitchen Dimensions
There are no dimensions that are considered standard for kitchens, unlike base cabinets and wall cabinets. However, the most common width of a kitchen countertop is 25 inches, and the width refers to the depth of the countertop from front to back.
This standard kitchen slab width is joint that many suppliers sell countertops by the linear foot, which means per foot of length in a 25-inch wide countertop. For some makes and models, 25 inches are 25 1/2 inches or a fraction of an inch wider than that. Any of these tops will fit over a standard 24-inch deep base cabinet.
If you are interested in a slightly larger size, read the small print or labelling on the product to determine the exact size.
Countertop Length and Thickness
Large department and home improvement retailers also sell pre-cut countertops in a few standard lengths, such as 4, 6, 8, or 10 feet. They also sell pieces with an angled side to handle corners but still in these same lengths.
Some stores stock any length of worktops you need to fit a space. To do so, the worktop is ordered and picked up at a later date. Be sure to mention the angles needed for countertops that span two adjacent walls.
Ask about the price of custom cutting as well since some establishments could charge for the service. By system, a typical countertop depth varies. Countertops typically range in depth from 1 inch to 1 1/2 inches for materials other than stone.
As natural stone, such marble or quartz, is often denser than wood or lamination over wood-based systems, 3/4-inch and 1/4-inch thick worktops are available for purchase. Stone countertops that are 3/4 inches thick weigh far less than their more substantial counterparts, but they may be more susceptible to fracture or fracturing.
By system, table thickness varies. The thicker stone, nevertheless, is ideal for high traffic areas.
Adequate counter space next to the stove
Try to have at least 12 inches of counter space on at least one side of your stove. The same goes for the sinks, preferably on the open side of the door. This gives you room to place ingredients and tools while you work.
Kitchen Island Widths
With kitchen island countertops, the size varies greatly depending on the purpose of the island and the amount of space available in the kitchen. The typical large area kitchen island usually has a depth of 4 feet, sometimes a little wider. This accommodates two base cabinets under the countertop.
Learn More: How To Calculate Linear Feet For Kitchen Cabinets
Narrower islands are about 2 feet wide. Another standard option features a base cabinet underneath and a bar seat on one side. In this case, provision for at least 24 inches of countertop width should be provided for the cabinet side of the island, plus another 18 inches for the countertop side.
In many cases, it is easier to buy the island, complete with a countertop.
Base Kitchen Cabinets
On average, standard kitchen cabinet sizes are 24 inches. With the average kitchen countertop, this leaves about an inch of edge overhang from the cabinet. However, the countertop manufacturer's measurements may cause the length of the overhang to change by about a half-inch.
Learn To Restore Metal Kitchen Cabinets.
Standard base Kitchen Cabinets are about 34.5 inches tall, but a thick countertop increases the height by about 36 inches.
Standard base cabinets under an island tend to measure more than 36 inches, although more than 40 square inches of seating space should always remain on surfaces.
Learn To Remove Kitchen Cabinets Without Damage.
Bathroom Countertops
Slightly more specific, bathroom counters are typically 19 ½ to 22 ½ inches wide. However, bathroom counters are arguably the most versatile when it comes to size. In today's age, bathrooms range from those in tiny homes and studio apartments to those consuming more than 200 square feet in large residential homes.
Public bathrooms always pose additional customizations, the dimensions of which do not tend to align with those of the homes.
Bathroom base cabinets
Talking about bathroom base cabinets refers to cabinets in the bathroom vanity, which exist in almost every bathroom unless one has a freestanding or pedestal sink.
Bathroom base cabinets vary in width, usually between 18 and 21 inches wide.
Height, depth, and width of wall cabinets
Wall-mounted cabinets serve to store food and light kitchen utensils. They are attached directly to wall studs with screws.
In some cases, such as when a bank of upper cabinets on a peninsula or island form, tall cabinets suspend from the ceiling or attached to hanging soffits. The most visible standard wall cabinets in a kitchen can serve as a masterpiece.
Some homeowners save money by buying fundamental cabinets for base cabinets but splurge on wall cabinets with more accessories, such as glass inserts or in-cabinet lighting. Standard heights are 12 to 42 inches, while their standard depths tend to be 12 to 24 inches. As for Standard widths, they tend to be 9 to 48 inches in 3-inch increments.
Install cabinets and countertops correctly.
If installing DIY cabinets and countertops items that would not recommend heavy systems such as granite or quartz, measure the desired height of the base cabinet from the floor, mark the measurement on the wall and install the cabinets so that the top of the cabinets line up with the mark.
Then attach the build-up strips with screws to the top of the base cabinets if necessary. 
Then, depending on the system, attach the countertop to the build-up strips with construction adhesive or screws. At this point, your countertops should be at the perfect height.
Countertops and other Impression specialties
Ultimately, most countertops are standard enough that some brands sell pre-cut countertops.  When your home design project requires more style, customization, or touches that make it unique, several companies may help you with this theme.
Many of them have craftsmen who are the best of the best and take pride in creating custom countertops for the home and more. However, the essential part is to appreciate the reputability and years of experience of the stonemasons who apply traditional French carving—the most advanced techniques to build impressive pieces that will last a lifetime.
Kitchen Countertop Dimension: FAQs
What is the standard size of a kitchen countertop?
The standard kitchen counter height is 36 inches (3 feet) above the floor. Kitchen islands designed for bar-style seating can go up to 42 inches.
How deep should kitchen countertops be?
Make sure countertops are deep enough to protect your base cabinets. The standard depth of base cabinets is 24 inches, but the center of countertops should be 25 inches when installed.
The one-inch ledge shelf top should protect the base cabinets from debris and spills that may fall from the countertop.
How many square feet is a kitchen countertop?
You need to know what the average square footage of countertop is in most kitchens. The answer is 30 square feet. In case you can't figure it out, 30 square feet is 5.48 feet by 5.48 feet.
Bottom Line
Today countertops are a fundamental part of our kitchens, just like cabinets and such. It is essential to know the measurements you want to use for a sound installation and to avoid unnecessary expenses of money in the future.