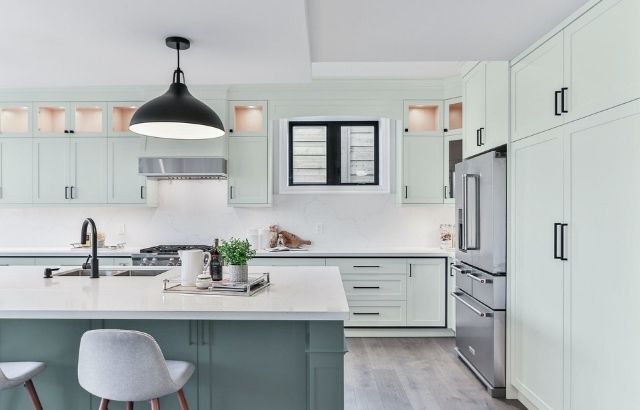 What Type of Paint is Best for Kitchens | Top 5 Paints Perfect For Kitchen
Disclaimer
Articles, products, and services offered on this site are for informational purposes only. We are part of the Amazon Services LLC Associates Program, an affiliate advertising program. Amazon.com is compensated for sales resulting from links on our website.
Please review our disclaimer before acting based on anything you read or see.
For painting a kitchen, it is necessary to clarify the change you want to obtain. This will facilitate the selection of the color and the type of paint to be used. The kitchen is an area where you spend most of your time. It is just as important as any other area of the home, but few people value it. Preparing meals and snacks every day requires a space that manifests tranquility, freshness, harmony, dynamism, and natural touch. The colors provide all these sensations. These are selected in combination with the material of our kitchen cabinets and accessories. Likewise, your walls must be easy to clean and resistant. At this point, we think: What type of paint is best for kitchens?
Learn More: How To Restore Metal Kitchen Cabinets
The resistance conditions will depend on the gloss of the paint in the kitchen. Therefore, according to the brightness, manufacturers commonly catalog the types of paint in five classes. These classes are established according to the level of a gloss of the paint when it dries.
Thus, the many paint kinds include eggshell, satin, gloss, and semi-gloss. Very shiny or semi-gloss paintings are ideal for use in restaurants.
Identification of Paint Sheens
Paint chemistry integrates resins and binders that make some paints glossier than others, and we can differentiate the level by the amount of light they reflect.
These compounds provide a finish that is not only glossy but also smooth and hard. Therefore, those paints that are composed of high levels of pigments will wear faster and flatter in gloss.
So this means that when painting with those that are more glossy, you should apply three coats. This is to fully cover the walls as they contain less pigment and more binder.
Don't forget that the kitchen is an area where it is normal and very repetitive for spills and splashes to happen. This means that you need to wash them constantly.
What Type of Paint is Best for Kitchens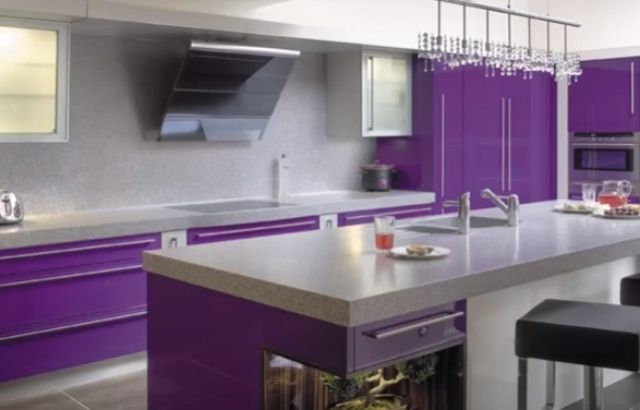 High gloss
Because of its brightness, it is used in areas where it is necessary to keep cleaner than usual. It is also applied in the wood since it supports the frequency of vigorous cleanings. However, some people believe that they are too bright for walls. 
This gloss factor easily exposes surface defects. It lasts longer than other paints and is the easiest to wash. Its gloss will fade over time. It is the best paint for kitchen walls and ceilings.
Semi-gloss paints
They are applied especially on walls that live a lot of traffic. For example, it is used in carpentries, bathrooms, kitchens, doors, moldings, cabinets, and corridors. It withstands constant washing. 
Semi-gloss finishes have durability, are easy to clean, and their shine lasts over time. It makes surface imperfections visible. It is the best paint for kitchen walls washable.
Eggshell 
Because of the low brightness they contain, they are ideal for low-traffic areas such as living rooms or bedrooms. They are highly recommended for ceilings. It resembles satin paints. You can get the best paint brand for kitchen walls if you use this material.
Matte paint
It conceals the imperfections in the surfaces because they absorb the light and do not reflect it. That is to say. It is ideal for eliminating defects. They keep the dirt because they are flat paints. These paints provide soft colours.
They do not resist frequent washings. They wear them easily. For these reasons, they are useful in areas where there is not so much traffic. For all these characteristics, they are called flat paints.
Satin 
They are applied on walls of any home area since they have less brightness but are easy to wash. This characteristic has made these paints very popular. They exhibit elegance and are very varied. 
The satin finish is excellent for kitchens and bathrooms. This finish is opaque to glossy. It is resistant to constant washing, so many apply them in children's rooms. They have the disadvantage of being less resistant to humidity due to their smooth finish. 
As you can see, there is a variety of paints to beautify the spaces of the home. They also have characteristics that make us differentiate them and select the most suitable. 
This selection is subject to the uses that each one has. For example, the best paint for washable kitchen walls will be the one with the greatest durability and resistance to scrubbing.
Selecting the Type of Paint
But now, let's see how we can make this selection an easier and more efficient way.
Select the desired colour.
Choose the type of paint you already know which is the most recommended. Remember that the colour will look the way we want if the right paint is chosen. Consider the duration of each one as well as its resistance to washing.
Select paintbrush brands recognized in the market. 
Paints applied in homes can be oil or water-based.
Their application is used to apply them and wash the utensils used, such as brushes. The water-based ones are washed with soap and water. Avoid living brush marks, BTW.
The oil-based ones need some paint thinner. On the other hand, they differ in that latex paint (water-based) expels less odor when applied and dried than the others. For a long time, people considered oil-based paint to be a better option because of its durability.
But it turns out that its composition contains environmental pollutants. When they are applied and the time comes for them to dry, they contaminate the environment. That is why they are not widely used nowadays. However, this situation is no longer a concern because matte or latex paints are durable. They do not need solvents and do not have polluting agents.
Different paint finishes are relevant to select the paint to paint in the kitchen. And in the case of kitchens, you can combine the paint finish with other finishes.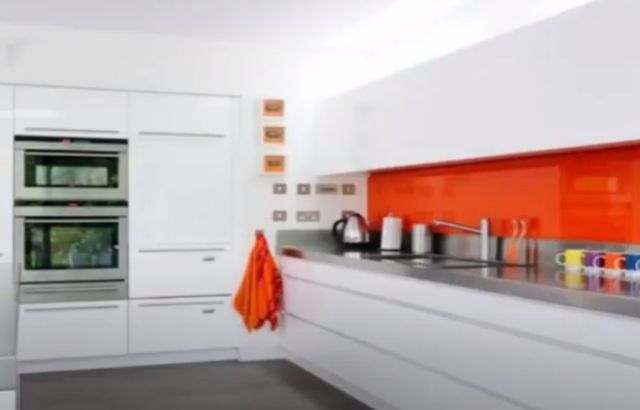 What Type of Paint is best for Kitchens: FAQs?
Do you need special paint for kitchens?
Of course, you do. The walls, ceiling, cabinets of a kitchen are high traffic areas. Besides, there are usually spills and splashes that we don't want to stay there. 
Read More: How To Remove Kitchen Cabinets Without Damage
For these reasons and for the cleanliness that your kitchen must-have, it is necessary to use special paints.
What is the most durable paint for kitchen cabinets?
The best paints are glossy (high gloss or semi-gloss) in the kitchen area, as they will help to reflect light. This factor will increase its durability over time. Glossy finishes are the best choice.
Is eggshell paint good for kitchens?
An eggshell finish is not suitable for kitchens. As mentioned above, they are used in spaces or surfaces where there is almost no traffic. This is the opposite case of a kitchen. In the kitchen, more durable and resistant paint is required. Remember that this area gets dirtier than others. Besides, spilt fluids can be greasy and difficult to remove. So the paint must withstand heavy washing like the glossy ones.
Conclusion
Selecting suitable paint is simple considering the aspects mentioned here. The performance of paints can be elevated and is related to the good condition of your walls.
On the other hand, keeping this area neat is vital. That is why you should select paints that resist several washes. 
With this information, you will no longer have to go to a paint expert. From the comfort of your home, you can choose what suits you best. You will also save more money.
We often pay more attention to less relevant tasks to our well-being for example, buying a painting that stands out in the living room. But it turns out that there are things that deserve more attention, such as choosing the right paints for our kitchen.
The paints' quality involves several aspects: resistance to moisture and heavy washing, adhesion, which must be studied when painting.
The conditions that the kitchens walls live day by day require a resistant and washable type of paint. Besides, it is always desirable to have tranquility and freshness in that space. This will depend on the colour you choose.
Analyze if in that space there is enough or little light. This influences elcoloraemplear.es. That is to say, there are many factors, for example, in a space area where there is little illumination where you will alter the appearance of certain pale or grey colours.
On the contrary, in a space with good lighting, the colours are enlivened.
Analyze the usefulness that each type of paint can provide, compare and select. In this way, you will obtain very effective results. Also, you will be able to give it your personal touch that will help you feel good and in harmony while cooking. 
It is very important to recognize the influence that a good paint finish has on people's mood. And if it is in your hands to give that touch in your kitchen, do not think twice. Trust the tools we have given you in this article and customize your kitchen. Put your interest and spend the necessary time selecting the paint for your kitchen, and you will not regret it. Skip the trendy elements. Remember that it is your kitchen, so it is your style that should stand out.