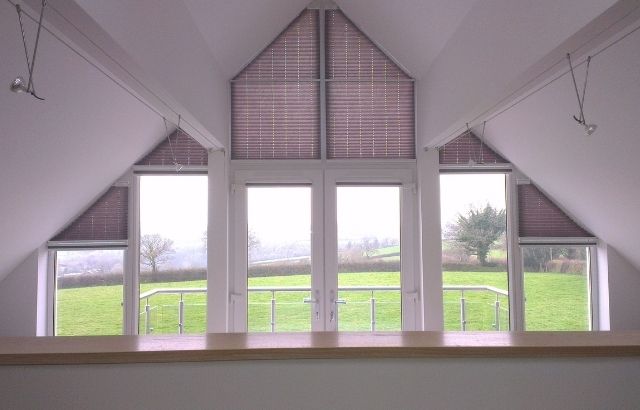 How to Cover Odd Shaped Windows | A Step By Step Guide
Disclaimer
Articles, products, and services offered on this site are for informational purposes only. We are part of the Amazon Services LLC Associates Program, an affiliate advertising program. Amazon.com is compensated for sales resulting from links on our website.
Please review our disclaimer before acting based on anything you read or see.
Installing the windows in our home is often a job that some people find very difficult. However, window treatments are a daily necessity. In the absence of reliable and good quality window coverings, our homes are exposed to the wrath of nature and nosy neighbors that can disturb the peace in our home. Therefore, today, we bring you how to cover odd shaped windows.
There are several different angled windows treatments available. Most of them can be modified about the window's dimensions, whether in the dining room, kitchen, bedroom, or bathroom. It all depends on the style of window you have in your home.
Read More: How To Repair And Paint Sash Windows
In this procedure, it is always ideal for counting on a professional's help in the matter. However, if you want to do it by your own will, you must consider each of the steps that we leave you and count on each of the materials so that your activity is perfectly adapted to your needs. 
Follow our instructions to measure yourself.
How to Cover Odd Shaped Windows
Custom shades for exteriors
This is the most foolproof method to deal with a rare window scenario that doesn't require much effort.
Having custom blinds or curtains made indoors requires considering the shape of the windows. Shutters for odd-shaped Windows can be of great help.
Learn More: How To Hang Two Curtain Rods On One Window
However, leaving them outside requires no such thought, except that they need to be wide enough to cover their length and breathing.
Custom exterior rollers shutters can be easily installed and, once closed, require little space. This also applies with a roller shade.
By doing this, you may improve the curb appeal of your house outside and shield it from bad weather conditions including direct sunshine, heat, UV rays, and glare.
You would have an almost unlimited view of the outside world as you sleep in your room, and your house is safe and secure.
Also, you can now open and close with various commercially available motorized options built for your convenience and practicality.
There is no cumbersome manual cable operation, just the push of a button, ensuring your convenience.
It should be noted that, if it is desired to hang curtains on odd-shaped Windows, you should analyze what type of curtain you require.
Read More: How To Hang Blinds On Vinyl Windows
For slanted skylights
Skylights are window openings built into the roof primarily to let in a good amount of sunlight.
Having a skylight makes it possible to solve high electricity costs, as they prove to be excellent energy-saving options throughout the day.
However, in the high summers, the house heats up in an instant, and the fact of being in a house with skylights without curtains on the windows can create discomfort and inconvenience.
In this case, you end up paying high electricity costs for air conditioners. In such a case, you can opt for room darkening or cellular or honeycomb curtains that filter light to cover your rooftops.
They require a full configuration to be installed on skylights, but once they are in place, they are one of the best window decorating options to keep the heat out and give the room privacy and comfort.
You can opt for thinner textures available in single-cell shades, intended primarily for light filtering. Double-cell fabrics in honeycomb shades can be sought after in case you need complete (or at least 90%) protection against heat. That is why this is the best way to maintain good light control.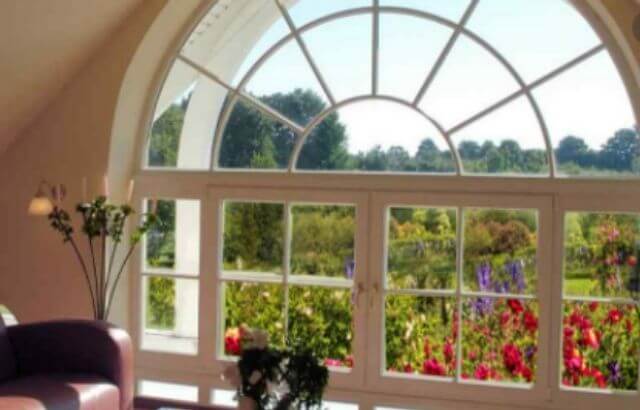 For arched windows
There are several options you can opt for before designing your arched windows. These windows are unusually beautiful and fascinating to look at, and you can try a combination of different dressing ideas. On the internet, you can find various window covering options for these types of windows.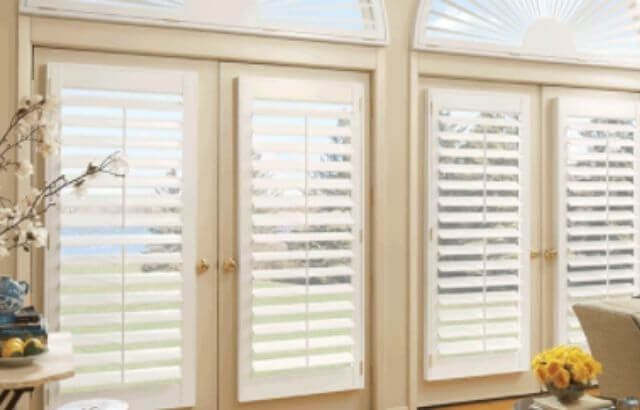 Frosted glass
This is a DIY method to make them more translucent so that only diffused light can pass through.
You can have a professional install them for you, or you can have them sandblasted acidly etched or clear laminated glass. The advantage of having frosted glass in a window is its permanence and ease of maintenance. Since it is perpetually etched into the window, there is no need to close or open it, as is the case with draperies, curtains, or shutters.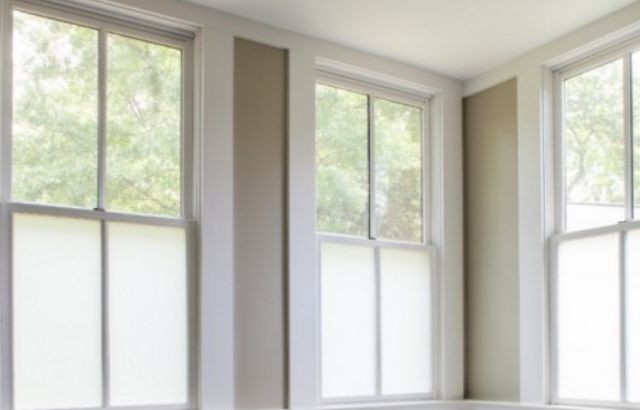 Read More: How To Clean The Leaded Glass Window
Valances
You can choose to install valances at the top of the window instead of traditional draperies. It is the best option to choose irregular windows, as an elegant design or print can add charm and beauty to the window structure. Since they usually cover the upper half of the window, you can select invisible valances that serve as effective light filters but do not eliminate the window's shape.
They fit various sizes and come in various sizes and colors that make them elegant and stylish.
For multiple windows
A French or Palladian-style bay window framed by smaller, rectangular windows on either side gives a traditional and elegant Victorian atmosphere. These windows have visitors intrigued and excited with their sophisticated interiors.
You can have curtains or pairs of panels in raw silk or vivid prints to cover every part of the window for windows of this type. This can also be applicable if you want to cover triangle-shaped Windows. One of the best options is to place solar shades.
This will help you control your home's sunlight level and avoid unnecessary sound disruption and ultraviolet glare.
Also, they can be mixed with several shades. Consider the option of cladding the main window with a layer of aluminum or synthetic wood/wood shades and cover the rest with sheer shades.
That will prevent a perfect blend of sunlight diffusion and blackout properties and will give your room a warm, haughty look.
You can try combining different ideas for several windows that are far apart in a room: Honeycomb blinds with aluminum blinds, Graber blinds, blinds with curtains, Venetian blinds with sheers, etc.
Triangle-shaped window blinds can be a great option.
For asymmetrical windows
Asymmetrical windows are a very complicated type of window where one side always threatens to be exposed, regardless of the quality of window treatments you choose. You can start from any corner and set up curtains of pairs of panels with rod pockets across the top of the windows. You can also look for window coverings for trapezoid-shaped windows. Velcro fasteners or ties can be attached or closed, giving the room an elegant look that will pay equal attention to both the windows' unique shape and the curtains' restraint and class.
However, if you are embarrassed by the asymmetrical shape, you may consider keeping the curtains closed and let their design speak for you.
Choose bold colors that provide an interesting contrast to the color of the walls, or choose patterns such as graphics, polka dots, or Aztecs, as any of these do a great job of drawing attention away.
Why Uniquely Shaped Windows require a Professional Touch.
Designing the perfect window coverings for specialty shape Windows requires many factors to fall perfectly into place.
Your custom-designed coverings must:
Highlight your unique shape
Meet your privacy and light control requirements
Be made of durable, high-quality material.
Meet your requirements for functionality and security
Match the look of your home
Be one thing that brings happiness into your own life.
The most important thing is to verify what types of windows you want to cover and what method is most feasible for you.
How to Cover Odd Shaped Windows: FAQs
How can I cover my window cheaply?
Home-made elements can be placed on the window to block visibility or create your cover using film or glass paint. Hanging blinds, curtains, or shutters may be a better alternative.
How do I cover my eyebrows with arched windows?
A quick, inexpensive, and effective solution to block sunlight from arched windows is to paint the glass. You can block the light by applying dark-colored acrylic paint on the window's clean surface, and it can be easily removed.
Read More: How To Hang A Stained Glass Window
How do I hide uneven windows?
Use houseplants as an attractive distraction.
Hang curtains. 
Hang an interesting mobile above the window. 
Use mirrors for distraction and reflection. 
Install a glass film. 
Create an outdoor screen. 
Cover the ugly window and create a new one.
Conclusion
Creating this perfect solution on your own can be overwhelming. But also, a simple mistake along the way can cost you money, time, and energy. For example, common mistakes DIY window treatment designers make:
I am choosing a fabric or material that doesn't look right with the space's current design.
They were providing incorrect window measurements and having to reorder on their own.
Inadequate installation result in damage and other inconveniences.
Even if you consider yourself a master do-it-yourselfer, enlisting the help of a window treatment designer who specializes in unique windows will guarantee you the perfect solution. It is always important to check what window treatment options you have available.
Plus, they will save you time and money in the long run.
So some of the tips you can apply to cover your oddly shaped windows. However, these methods are not the only foolproof methods that act as excellent window protection ideas. We recommend letting your imagination do the talking and being as creative as possible. Hope you have learned how to cover odd shaped windows.